What to Know in Washington: Democrats Sense New Midterm Optimism
Republicans still likely to gain House, but Senate now toss-up
Court temporarily delays Graham testimony in Georgia probe
Congressional Democrats are increasingly optimistic they can limit Republican gains in the House and even keep control of the Senate, as a raging debate on abortion crowds inflation as a key issue and the tumult around Donald Trump drags on the GOP.
The House is almost certain to flip to Republican control after the November midterm elections. Democrats now have only a nine-seat advantage, and independent analysts forecast a net gain of as many as two dozen seats or more for the GOP, partly assisted by partisan redistricting in Republican-controlled states.
The Senate, now divided 50-50, is increasingly looking like a toss-up, with Democrats' prospects enhanced by inexperienced GOP candidates in Pennsylvania, Ohio, Georgia and Arizona who've underperformed in polls—despite Trump's backing and President Joe Biden's dismal approval ratings. Wisconsin and Nevada also are battlegrounds.
Senate Minority Leader Mitch McConnell (R-Ky.) has been lowering his expectations in recent weeks. "I think there's probably a greater likelihood the House flips than the Senate," he told reporters in Kentucky. "Senate races are just different, they're statewide. Candidate quality has a lot to do with the outcome."
The one result of the November election that's likely baked in is legislative gridlock and an end to Biden's hopes of advancing his agenda through Congress in the final two years of his first term. If congressional control is split between both parties, the House and Senate are unlikely to agree on any major new initiatives, and if Republicans take control of both chambers, they won't have a big enough majority to overcome a Biden veto of legislation. Read more from Laura Litvan.
A nationwide $10 million campaign rolling out this week seeks to talk up Democrats' climate and tax bill, which carries historic funding to cut carbon emissions and transition to clean energy. "The storms are stronger. The fires are bigger. We are facing a climate emergency," a narrator says in one 30-second ad as images of catastrophe flash on screen. But then, a reprieve: "And after decades of inaction, a president is finally doing something to fight it." Read more from Leslie Kaufman.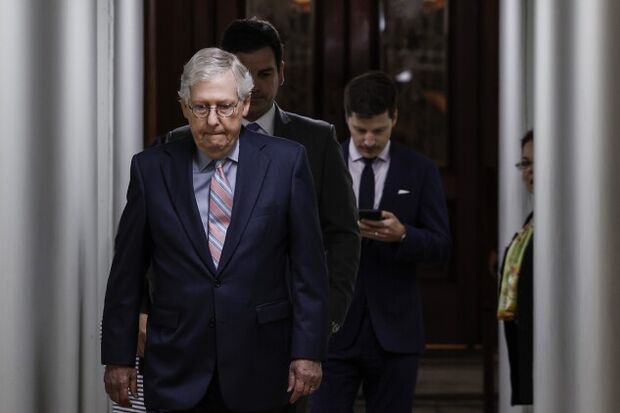 More in Elections & Politics
A federal appeals court is temporarily delaying Sen. Lindsey Graham's testimony to a Georgia grand jury investigating efforts by Donald Trump and his allies to overturn his 2020 election, giving the Republican another shot at narrowing his subpoena. The 11th Circuit Court of Appeals on Sunday ordered Graham's (R-S.C.) testimony to be held in abeyance until a lower court again reviews his emergency motion to partially quash or modify the subpoena.
The appeals court referred the matter back to a trial judge for the limited purpose of determining whether Graham "is entitled to a partial quashal or modification of the subpoena" under the Speech or Debate Clause of the Constitution, according to the ruling Friday. Read more from Erik Larson.
FBI Director Christopher Wray defended the actions that his agents have taken as part of an investigation into Trump's handling of classified documents in response to heightened criticism and threats of violence. "We don't cut corners," said Wray said in an email to FBI personnel obtained by Bloomberg News, Chris Strohm and Ben Penn report.
Biden's nominee to lead the National Archives, Colleen Shogan, faces a hostile path to confirmation as GOP senators vow to "absolutely demand answers" from the former Library of Congress official after the National Archives sparked the search of Trump's home. Read more from Mike Dorning, Jason Jeopold, and Laura Litvan have more.
Meanwhile, the Department of Justice must release a 2019 memo advising then-Attorney General Bill Barr on how to address the conclusion of the Mueller investigation and the department's decision not to charge former Trump, a federal appeals court ruled. Zoe Tillman has more on the ruling.
A caucus of Indiana Republicans in the future 2nd district elected Rudy Yakym III to replace the late Rep. Jackie Walorksi (R) on the ballot in November after she and two of her staffers died in a car accident. Yakym won on the first ballot. Republicans from the current 2nd district also nominated him for the Nov. 8 special election, Emily Wilkins reports.
The Indiana Democratic Party will choose their nominee for the special election on Tuesday. The district is heavily Republican and Yakym is expected to win in November. Yakym served as finance director for Walorski when she first won her seat in 2012. He was endorsed by Walorski's widower, Dean Swihart.
As she faces a tough re-election contest, Rep. Marcy Kaptur (D-Ohio) released an ad Friday lambasting Biden for "letting Ohio solar manufacturers be undercut by China," and closes the television spot by distancing herself from her party's leader, Christian Hall and Mark Niquette report.
Soaring housing costs and gasoline prices in Nevada have handed Republicans an opportunity to flip a Senate seat and reverse years of Democratic gains in the state. Many Nevada voters say that inflation has soured them on Biden, a distaste that threatens the re-election prospects of a fellow Democrat, Sen. Catherine Cortez Masto, in her race against Adam Laxalt (R). Read more from Steven T. Dennis.
Inflation showed signs of easing in the US in July, but a lot depended on where you live. The Bureau of Labor Statistics reported that consumer prices rose 7.3% over the 12 months through July in the Northeast, 9.4% in the South. So-called core inflation, which excludes volatile food and energy prices, is better at capturing trends and makes the contrast clearer. Read more from Justin Fox.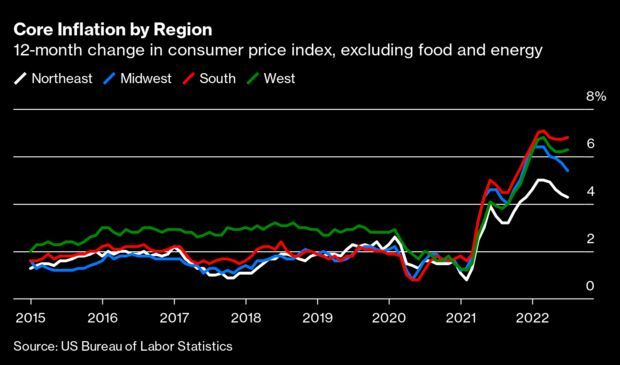 Happening on the Hill
CONGRESS' SCHEDULE
Both chambers are on recess.
In a role some describe as thankless, Rep. Michael Guest (Miss.) has a new job as the top Republican on a panel that enforces ethics rules for House lawmakers—replacing the late Rep. Jackie Walorski (Ind.) for the remainder of the year. Zach C. Cohen looks into the thorny issues for the panel.
Puerto Rico should cancel its landmark contract with Luma Energy amid growing anger over continuing blackouts, Jenniffer Gonzalez, the commonwealth's sole representative to the US Congress and a potential gubernatorial candidate, said. Read more from Jim Wyss.
Sen. Joe Manchin (D-W.Va.) said he was willing to kill a popular consumer tax credit for the purchase of electric vehicles if the industry didn't adhere to controversial new sourcing requirements, giving automakers a take-it-or-leave-it ultimatum that finally got both sides to agree. Keith Laing recaps his comments.
Congress has quietly replaced a farm loan assistance program for racial minorities that was under threat from White farmers' legal challenges. The new provision no longer mentions race. Instead, it offers loan relief for distressed borrowers and additional aid for farmers, ranchers, and foresters who have experienced discrimination. Read more from Maeve Sheehey.
Defense & Foreign Affairs
Biden is facing a difficult choice after Indonesia's announcement that Vladimir Putin and Xi Jinping will attend this year's Group of 20 summit: join an event with two leaders hesought to isolate, or skip the gathering and forgo a chance to shape its outcome. Courtney McBride overviews challenges for the November gathering.
Ukrainian President Volodymyr Zelenskiy should take part in a Group of 20 summit in Bali if Putin attends, the White House said Friday, Justin Sink reports.
Russia's invasion of Ukraine is at a near-operational standstill, with neither side currently able to launch an offensive that would materially affect the course of the conflict, according to an assessment from Western officials. Emily Ashton and Marc Champion have more.
Biden spoke with fellow Western leaders looking to revive a nuclear deal with Iran, as the US weighs a response to Tehran's position on the latest proposal. Biden spoke Sunday with German Chancellor Olaf Scholz, French President Emmanuel Macron and UK Prime Minister Boris Johnson. The four countries were among the signatories of the original deal, which also included Russia and China. Read more from Josh Wingrove.
The US will continue with talks on releasing billions of dollars in Afghanistan's foreign-held assets, Reuters reports. The State Department and Treasury officials told independent analysts at an Aug. 11 briefing they will pursue the talks despite frustration with the pace of the discussions, two of the people said. Read more from Reuters.
MORE IN DEFENSE NEWS
A month of testing and exercises with the Pentagon and international partners was in support of Joint All-Domain Command and Control, which aims for interoperability and data-sharing across all offices of the Defense Department, Amanda H. Allen reports.
The US and South Korea began their biggest joint military exercise in five years, after a hiatus on large-scale drills failed to entice North Korea's Kim Jong Un to make concessions in disarmament talks. The drills are expected to involve thousands of military personnel, and will run for two weeks. Read more from Jeong Ho-Lee.
A delegation of Japanese lawmakers and a US state governor are making overlapping visits to Taiwan—pushing back against Chinese efforts to isolate the island after House Speaker

Nancy Pelosi's

(D-Calif.) visit earlier this month. Read more from Betty Hou and Samson Ellis.
Around the Administration
PRESIDENT'S SCHEDULE
Biden has no public events scheduled.
The Energy Department is eager to bring on hundreds of people as it advances $62 billion for energy infrastructure such as hydrogen, carbon capture, and electric transmission—projects poised to grow following the Democrats' climate-tax bill signed into law last week. Daniel Moore overviews the hiring effort.
A new facial recognition standard is being developed between the National Institute for Standards and Technology and the Homeland Security Department that will change how vendors develop tools targeted at government customers. Josh Axelrod explains the higher expectations to come.
US airlines should buy meals and hotel rooms for passengers suffering lengthy flight delays, Secretary of Transportation Pete Buttigieg said in a letter to major carriers. A new website will also be launched before the busy Labor Day weekend for travelers with airline-by-airline policies on services they provide when flights are canceled or delayed. Read more from Alan Levin.
The US is ramping up efforts to crack down on businesses, particularly in the digital asset space, over transparency. Last week the Federal Deposit Insurance Corporation issued letters to crypto exchange FTX US, and four other companies demanding they take immediate steps to correct "false or misleading statements" about certain products being eligible for insurance protection, Allyson Versprille reports.
WHAT ELSE TO KNOW TODAY
A monkeypox clinical trial that will likely begin within the next month at the NIH will evaluate the federal approach to increasing vaccine supply with smaller, more superficially administered doses, answering critical questions as cases climb. Read more from Jeannie Baumann.
Pfizer was ordered by US regulators to test the effects of an additional course of Paxlovid among people who experience a rebound in Covid after treatment, putting the drug through new studies as reports of the mysterious phenomenon continue to mount. Read more from Fiona Rutherford and Robert Langreth.
There's no telling whether unions and rail companies will agree to recommendations offered by a Biden-appointed board. If they don't, it could lead to a national rail strike of 115,00 workers this fall, ahead of the November midterms. Ian Kullgren breaks down the situation.
With assistance from Katrice Eborn, Andrew Small, and Emily Wilkins
To contact the reporter on this story: Brandon Lee in Washington at blee@bgov.com
To contact the editors responsible for this story: Giuseppe Macri at gmacri@bgov.com; Loren Duggan at lduggan@bgov.com