What to Know in Washington: Democrats Seek to Tie Trump to Riot
House Democrats used searing video footage from last month's deadly rampage at the U.S. Capitol to begin Donald Trump's second impeachment trial on a dramatic note, yet the prosecution remains far from winning enough GOP votes to convict the former president.
The proceedings enter a second full day today, when Democratic impeachment managers will present their opening arguments for convicting Trump for his role in encouraging a mob of loyalists to disrupt the election tally by both chambers of Congress. A conviction would require 17 Republican GOP votes — a tall order for the nine prosecutors.
The prosecution team previewed their strategy yesterday as the Senate considered constitutional questions about the trial with a 13-minute video montage juxtaposing Trump's fiery speech to the crowd before the attack with scenes of his supporters overwhelming barriers, smashing windows, fighting police, even trapping one officer in a door while he cried out in pain. Senior aides familiar with the managers' plans said more video including some never shown publicly will feature prominently as the team makes its case over two days. Opening arguments are set to begin at noon.
Republican senators gave the House team high marks for its presentation even though many argue the former president can't be impeached because he is out of office. Some GOP lawmakers also faulted the rambling arguments of one of his defense lawyers, saying that he often didn't address the constitutional issues being debated. Mike Dorning, Billy House and Laura Litvan preview today's proceedings.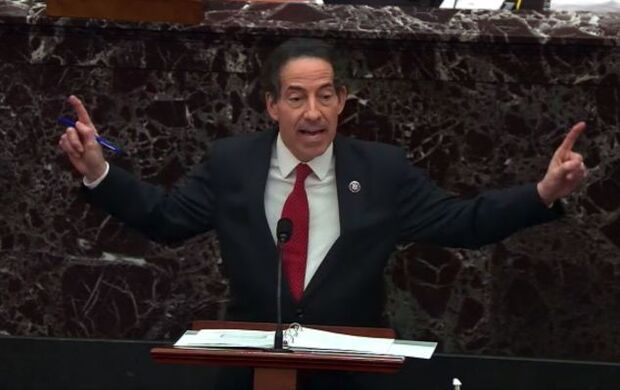 Trump Absent From Trial, But His Team Is Speaking: Donald Trump isn't attending his unprecedented second impeachment trial and is banned from tweeting, but his team is making sure Republicans feel his presence. The former president was in his private quarters at his Mar-a-Lago resort in Florida as the proceedings unfolded on television, according to people familiar with the matter. At the same time, his allies were actively tweeting and re-tweeting posts in Trump's all-caps, exclamation-pointed style from multiple accounts, defending him as Democratic House managers laid out their case on the first day of his trial in the Senate. Read more from Mark Niquette, Laura Litvan and Jennifer Jacobs.
Meanwhile, an attorney for Trump told officials in Palm Beach yesterday that the former president should be allowed to live at Mar-a-Lago because he's an employee of his private club. Trump relocated to Mar-a-Lago after departing the White House, drawing complaints from local residents who argue he shouldn't be allowed to live there permanently because of zoning rules. The real estate developer turned politician converted the property from a residence into a club in 1993. Read more from Prashant Gopal and Alex Wittenberg.
McConnell Signals Impeachment Is a Conscience Vote: Senate Minority Leader Mitch McConnell (R-Ky.) is signaling to fellow Republicans that the final vote on Trump's impeachment is a matter of conscience and that senators who disputed the constitutionality of the trial could still vote to convict the former president, according to three people familiar with his thinking. He has also suggested that he hasn't made up his mind how he'll vote, two of the people said, even though he voted yesterday to declare it unconstitutional for the Senate to hear the case against a former president. Read more from Jennifer Jacobs.
Also Happening on the Hill
House Plans Medicaid, Drug Price Changes: The House Energy and Commerce Committee's stimulus proposal would make big changes to Medicaid, Alex Ruoff and Erik Wasson report. It offers states more money to expand their public health insurance programs for the poor and gives them the ability to claw back money from price increases of certain drugs. The plan, released last night, would end Medicaid drug rebate caps, which are currently set at 100% of a drug's average manufacturer price, for certain medicines. Once that cap is reached, drug makers can raise their prices without increasing the net rebates that must be paid. A congressional advisory committee warned in 2019 that ending the rebate cap could prompt drug companies to leave the Medicaid program or reduce research.
Democrats Back $350 Billion for State, Local Governments: House Democrats are backing President Joe Biden's proposal for $350 billion in funding for state and local governments, according to draft stimulus legislation released last night, Erik Wasson reports. House Oversight and Reform Committee Chair Carolyn Maloney (D-N.Y.)'s bill, slated for committee action on Friday, sets up a new dedicated state and local fund in order to bypass the traditional appropriations process which is not eligible for budget reconciliation.
States would receive $195 billion and that money would partly be distributed based on the share of unemployed workers. The District of Columbia would get the same share as states, unlike in last year's relief bill. Local governments would receive $130 billion, partly based on population, with a carve-out for smaller communities. Territories would receive $4.5 billion and tribes $20 billion. The bill also would spend $570 million to pay for 600 hours of paid leave for federal and postal workers to use for Covid quarantine or to care for infected loved ones.
Farm Aid Included in Aid Plan, Through Commodity Purchases: Food aid for hungry Americans and commodity purchases for hurting agriculture producers topped the list of priorities within the fiscal 2021 budget reconciliation bill released by House Agriculture Committee Democrats, Megan Boyanton reports.
The proposal would allot about $4 billion for the agriculture secretary to purchase commodities, such as fresh produce and dairy, and aid the food supply chain. There's also more than $1 billion for the Supplemental Nutrition Assistance Program, formerly referred to as food stamps. The House Agriculture Committee will consider the proposal today. The initiative would also set aside $1 billion for the agriculture secretary to provide outreach and technical assistance to farmers and ranchers from socially disadvantaged groups, along with grants and loans to improve land access for them.
Senate Panel Sets Hearings for Garland: The Senate Judiciary Committee will hold a nomination hearing for Merrick Garland, Biden's pick for attorney general, on Feb. 22 and Feb. 23, according to a statement from panel leaders, Chelsea Mes reports. The panel will vote to advance Garland's nomination on March 1.
Politics & Influence
Trade Associations Still Backing Election Objectors: When 139 House members and eight senators objected to the results of the presidential election last month, corporate America revolted. More than 30 major companies vowed to cut off donations to those officials. The biggest business donors were not companies, but rather the nation's most powerful trade associations. And unlike corporate donors like AT&T that have stopped giving funds to these elected officials, only two of the top five trade associations have pledged to pause giving. None said they would permanently end donations. Read more from John Dunbar and Aaron Kessler.
First Woman to Lead Largest U.S. Business Lobby: Suzanne Clark, the president of the U.S. Chamber of Commerce, will take over as chief executive officer of the powerful Washington lobbying group next month. Clark will replace the chamber's longtime chief, Tom Donohue, the group announced. The chamber is facing challenges that include economic fallout from the pandemic and Democratic control of Congress and the White House, Ben Brody reports.
New Voting Machine Standards Call for Paper Ballot Copy: A federal agency overseeing elections is set to approve new voluntary standards for voting machines that include a call for a paper trail for each ballot cast so that all votes cast can be recounted and audited. The standards developed by the U.S. Election Assistance Commission follow the contentious 2020 election in which Trump's campaign challenged results in key states. The new EAC standards — known as Voluntary Voting System Guidelines 2.0 — would call for all new voting systems to provide "software independent" election results, said commission head Ben Hovland. Read more from Kenneth P. Doyle.
From the White House
Schools Bid Pits CDC Science Against Union Clout:Biden's push to reopen U.S. schools is running headlong into his pledge to support teachers, who are demanding more coronavirus testing, vaccinations and other safety measures before returning to classrooms. The president has pledged to follow the science as he nudges schools toward welcoming more students back to class, while also enjoying broad support from teachers and their unions. Yet that loyalty may be tested as soon as this week, when the U.S. Centers for Disease Control and Prevention is expected to release new, detailed guidance for schools seeking to reopen.
School administrators around the country have sought to put teachers back in classrooms before more, or even all of them, are vaccinated, citing scientific studies — including work by the CDC — that shows the risk of transmission on campuses is low. Read more from Josh Wingrove.
Biden Faces Economic Challenge on Manufacturing Jobs: Biden began his presidency much as his predecessor did, promising to restore hope to a blue-collar middle class battered by decades of relentless job losses from automation and foreign competition. But the realities of trying to stoke U.S. manufacturing employment in the wake of an economic crisis are quickly endangering his plans. After a period of recovery last year, U.S. factory payrolls stagnated in recent months, then went into reverse in January. The country is on course to repeat a pattern seen in every recession since manufacturing jobs peaked in June 1979: a structural step-down in employment even amid a sustained expansion in output.
As Biden starts to lay out plans for the long-term economic rebuilding program designed as a follow-on to his $1.9 trillion Covid-19 relief bill, the business calculus of American manufacturing looms as a headwind. Read more from Shawn Donnan and Joe Deaux.
Biden DHS Re-Opens Trump-Era Surveillance Rule: U.S. Customs and Border Protection is reopening comments on a controversial, 11th-hour Trump administration facial surveillance rulemaking that is aimed at noncitizens but would capture biometrics of Americans, as well. The Biden administration, taking several immigration advocates by surprise, announced the new comment period will run 30 days from today until March 12. Shaun Courtney has more.
Lawyer Fired Amid Oracle Pay Case Reinstated: The Labor Department has reinstated Janet Herold as its Western region's senior legal officer, following her termination in the final weeks of the Trump administration, according to an email obtained by Bloomberg Law. Her return as regional solicitor comes after she filed a complaint against Trump's Labor Secretary, Eugene Scalia, claiming he retaliated against her. Read more from Ben Penn.
Iran's Rouhani Urges World to Rejoin Nuclear Deal:Iran's President Hassan Rouhani said his country will start fully complying with the nuclear accord as soon as the U.S. and other world powers that brokered the deal do the same. The 2015 agreement that limited Iran's nuclear program in exchange for sanctions relief unraveled after Trump abandoned it three years later and Rouhani is now banking on Biden to help rescue his legacy of engagement with the West. Read more from Golnar Motevalli and Arsalan Shahla.
To contact the reporter on this story: Zachary Sherwood in Washington at zsherwood@bgov.com
To contact the editors responsible for this story: Giuseppe Macri at gmacri@bgov.com; Loren Duggan at lduggan@bgov.com; Michaela Ross at mross@bgov.com