What to Know in Washington: Democrats Scramble to Save Agenda
Senate Democrats are searching for a path forward on their economic agenda after Sen. Joe Manchin yesterday rejected their current effort, with plans to meet tomorrow to discuss the legislation. The scramble comes as coronavirus cases rise in the U.S., and President Joe Biden set to address the surge tomorrow.
Here's what Bloomberg Government is tracking for Monday.
Biden's Schedule:
The president arrives in Washington from Delaware at 9:15 a.m.
Biden today will meet at 1:30 p.m. with members of the White House Covid-19 response team to discuss the omicron variant.
Schumer Plans Vote as Democrats' Seek Solution
The Senate will vote "very early" in 2022 on President Joe Biden's economic agenda despite moderate Sen. Joe Manchin's (D-W.Va.) rejection of the roughly $2 trillion package, Senate Majority Leader Chuck Schumer (D-N.Y.) said today, Erik Wasson reports.
"Senators should be aware that the Senate will, in fact, consider the Build Back Better Act, very early in the new year so that every member of this body has the opportunity to make their position known on the Senate floor, not just on television," Schumer said in a letter to fellow Democrats.
Manchin blindsided the White House yesterday with his rejection of the roughly $2 trillion package. Schumer's letter shows Democratic leaders plan to make Manchin go on record with his objections.
Manchin's announcement caught the White House off guard, coming after weeks of negotiations between Biden and Manchin and just a day after the Senate adjourned for the holidays, in the hopes of regrouping in the new year.
Senate Democrats will meet virtually tomorrow night for a caucus meeting to discuss their agenda, Schumer announced in his letter.
The White House and Schumer will work to determine whether they can salvage some of the tax-and-spending bill to address Manchin's demands while maintaining the support of the rest of the fractious Democratic caucus. Several moderates suggested trimming the bill by cutting the number of programs, but such a bill would be a tough sell because each lawmaker will fight for their own competing priorities to be included. Read more from Josh Wingrove and Jennifer Jacobs.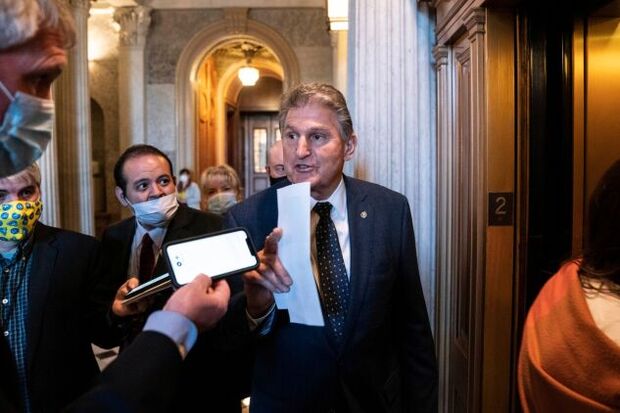 WHAT'S AT STAKE FOR BIDEN'S AGENDA:
Senate Settles Nominations, Sets 2022 Plan
The Senate on Saturday adjourned for the year after lawmakers struck deals on a long list of Biden's nominees and other matters and now will be out until Jan. 3, Nancy Ognanovich reports. Lawmakers agreed to begin the new year with votes on more of Biden's picks for the federal circuit courts.
The deal Schumer announced early Saturday morning permitted the chamber to clear more than 40 of Biden's ambassadors, nine district court judges, and other nominees for posts throughout the government. It also allowed the Senate to limit debate on two more of Biden's circuit court judges and pave the way for their confirmation soon after lawmakers return to work.
"These judges will bring sorely-needed diversity to the judiciary: not just demographic diversity, but also professional diversity, adding to the breadth and width and depth of knowledge possessed by the courts," Schumer said in a statement.
Schumer said the Senate's first vote on Jan. 3 will be to confirm Gabriel Sanchez to serve on the U.S. Court of Appeals for the Ninth Circuit. Schumer and Minority Leader Mitch McConnell (R-Ky.) also agreed to an early confirmation vote for Holly Thomas to also serve on the Ninth Circuit.
Schumer gave in to demands by Sen. Ted Cruz (R-Texas) for a vote on legislation to sanction Russia for its development of the Nord Stream 2 gas pipeline across the Baltic Sea. Schumer agreed a vote on that bill (S. 3436) will occur no later than Jan. 14. Daniel Flatley has more on that measure.
The Senate confirmed nine federal trial court judges as part of negotiations. Lawmakers voted to confirm four district court judges for seats in California, two in Michigan and one each in Minnesota, New Mexico, and Washington. Read more on the judges from Seth Stern.
The confirmed ambassadors are for posts throughout the world and include Biden's picks to represent the United States at the European Union and in countries that include France, Belgium, Ireland, Spain, Sweden, and Vietnam. Separately, the Senate confirmed former Chicago mayor Rahm Emanuel to serve as U.S. ambassador to Japan on a roll call vote of 48 to 21 with some Republicans joining Democrats in backing the pick.
While these and many other nominees were approved as part of what Schumer called "a good day's work," Sen. Rick Scott (R-Fla.) refused to allow other nominees he had blocked to advance before adjournment. Those included many nominees for top jobs at the Transportation and Commerce departments. Scott said he placed holds on the nominees in order to force the DOT and Commerce secretaries to testify about supply chain holdups.
The actions significantly reduced the backlog of Biden nominees awaiting confirmation votes and eliminated the possibility that many of the top picks would be returned to the White House at the end of the session. As part of the bipartisan deal, leaders agreed that most nominees already in the pipeline will remain in status quo and not have to be renominated. However, the agreement does require a select list of nominees to be resubmitted in January, including Biden picks that Scott blocked from confirmation.
Schumer is also planning action on voting rights and Senate rules, he said in his letter today. Schumer said the chamber could consider voting rights legislation as early as the first week of January. "Previous attempts to simply debate such legislation have been obstructed by Republican filibusters," he wrote. "With that in mind, I would ask you to consider this question: if the right to vote is the cornerstone of our democracy, then how can we in good conscience allow for a situation in which the Republican Party can debate and pass voter suppression laws at the State level with only a simple majority vote, but not allow the United States Senate to do the same?"
Schumer then said Senate Democrats will seek to change the chamber's fillibuster rules to overcome Republican opposition to the voting rights measure. "If Senate Republicans continue to abuse the filibuster and prevent the body from considering this bill, the Senate will then consider changes to any rules which prevent us from debating and reaching final conclusion on important legislation."
Meanwhile, two Democratic senators announced yesterday they've tested positive for Covid-19. Sens. Elizabeth Warren (D-Mass.) and Cory Booker (D-N.J.) both said they are experiencing mild symptoms
"Thankfully, I am only experiencing mild symptoms & am grateful for the protection provided against serious illness that comes from being vaccinated & boosted," Warren said on Twitter.
"My symptoms are relatively mild. I'm beyond grateful to have received two doses of vaccine and, more recently, a booster – I'm certain that without them I would be doing much worse," Booker wrote on Twitter.
Biden to Issue 'Stark Warning' on Infections
Biden is set to warn the nation of the dangers of remaining unvaccinated against the coronavirus in a planned speech tomorrow as the omicron variant takes hold in the U.S. and the nation experiences a spike in cases. "We are prepared for the rising case levels, and @POTUS will detail how we will respond to this challenge," Press Secretary Jen Psaki said in a Twitter post. "He will remind Americans that they can protect themselves from severe illness from Covid-19 by getting vaccinated and getting their booster shot."
Biden's planned remarks come amid rising Covid-19 hospitalizations and deaths in the U.S., with outbreaks that have forced the cancellation of Broadway shows and football games. Countries worldwide are weighing new border controls and restrictions on indoor gatherings. The president will announce new steps the White House is taking to help communities in need of help, while also issuing a stark warning of what the winter will look like for the unvaccinated, an administration official said. Read more from Jennifer A. Dlouhy and Jennifer Jacobs.
Biden's warning comes as the U.S. government said it's over-counted the number of Americans who are at least partly vaccinated against the coronavirus, state officials warn, meaning millions more people are unprotected as the pandemic's winter surge gathers steam. Last weekend, the CDC revised a bellwether metric—the share of people 65 and older with at least one shot. It reduced the proportion from 99.9% to 95%, without changing its raw shot totals. Josh Wingrove has more.
An effective shutdown of the U.S. likely won't be necessary as Covid-19 surges again, though hospitals will be tested by the expected rush of cases from the omicron variant, according to Anthony Fauci, head of the National Institute of Allergy and Infectious Diseases. Alan Goldstein has more.
The Biden administration's Covid-19 shot-or-test rule for large employers can go into effect now that a federal appeals court in Cincinnati lifted another tribunal's order halting the emergency standard. The harm caused by keeping the rule frozen outweighs that of letting it go into effect, the court said. Read more from Robert Iafolla.
ALSO AROUND THE ADMINISTRATION:
Biden's administration still sees no "pathway back" to a revived nuclear deal with Iran after the latest round of talks in Vienna even though key powers, including Russia and China, are unified, National Security Adviser Jake Sullivan said Friday. David Wainer and Nick Wadhams have more.
A Florida man who was one of the first to plead guilty to crimes stemming from the Jan. 6 riot at the Capitol was handed down five years in prison for assaulting law enforcement officers, the longest such term yet. Robert Palmer was sentenced Friday after admitting to attacking police with a fire extinguisher, a wood plank, and a pole that he launched like a spear. Read more from Erik Larson.
What Else We're Reading
Katie Britt's getting a boost from her former boss, the top Republican on the Appropriations Committee, in her bid to replace him in the Senate. Sen.

Richard Shelby

plans to use his own campaign funds and sway with colleagues to help Britt overcome Donald Trump-backed primary opposition. Amid a whirlwind of fundraisers and meetings for Britt this month in Washington, many of Shelby's colleagues described her as extremely well-qualified to succeed him after he retires next year and possibly even win a slot on the powerful committee that oversees $1.3 trillion in annual spending. Read more from Nancy Ognanovich and Kenneth P. Doyle.
The 2022 House elections in Texas will feature more competition in the March primaries than in November, after Republican redistricting crafted almost all of the 38 districts as one-party bastions. It's possible there will be only one highly competitive race next fall in the nation's second most-populous state. That's according to a Bloomberg Government analysis of the 2020 election results in the new districts, as well as the slate of candidates who met this week's filing deadline to compete in the first-in-the-nation congressional primary. Read more from Greg Giroux.
Former Sen. Johnny Isakson, an affable Georgia Republican politician who rose from the ranks of the state legislature to become a U.S. senator known as an effective, behind-the-scenes consensus builder, died Sunday at 76, the Associated Press reports.
With assistance from Nancy Ognanovich
To contact the reporters on this story: Zachary Sherwood in Washington at zsherwood@bgov.com; Brandon Lee in Washington at blee@bgov.com
To contact the editors responsible for this story: Giuseppe Macri at gmacri@bgov.com; Loren Duggan at lduggan@bgov.com; Michaela Ross at mross@bgov.com