What to Know in Washington: Democrats Scale Back on Stimulus
Democrats are making a bid to break the standoff on a new stimulus package with Speaker Nancy Pelosi and Senate Minority Leader Chuck Schumer scaling back demands on a relief plan, as President-elect Joe Biden urged Congress to find a bipartisan path forward.
Retreating from the $2.4 trillion pandemic relief package they had been pushing before the election, Pelosi (D-Calif.) and Schumer (D-N.Y.) said a $908 billion proposal from a bipartisan group of lawmakers should serve as the baseline for negotiations with congressional Republicans and the White House.
"We and others will offer improvements, but the need to act is immediate and we believe that with good-faith negotiations we could come to an agreement," the two Democratic leaders said in a statement.
The state of the economy, the fast emergence of coronavirus vaccines, pressure from party moderates and Biden's election all likely influenced the move by Pelosi and Schumer, which was the first real break by either side from long-held positions. The compromise plan would cover a shorter period of time than the leaders' earlier proposal, providing aid through the winter, with Democrats hoping the Biden administration will help pass another significant relief bill next year.
All that now puts pressure on Senate Majority Leader Mitch McConnell (R-Ky.) — who has circulated a plan that largely followed the contours of an earlier roughly $500 billion proposal that was rejected by the Democrats — to negotiate a deal that can be attached to a year-end spending bill.
Congress has a short window to act this year. And it's still not clear whether President Donald Trump would sign any relief measure beyond what McConnell has already proposed, despite previously endorsing a $2 trillion-plus stimulus. Both parties expect Biden to propose a bigger tranche of spending once he takes office on Jan. 20 as the pandemic continues threatening the recovery.
While some parts of the economy are doing well and various figures have showed continued improvement, many analysts are increasingly warning that growth will slow further or even deteriorate in coming months with the pandemic still causing shutdowns and impeding consumers. Initial filings for unemployment benefits have increased for two straight weeks, while restaurant reservations have cooled amid the virus spike and colder weather.
Biden yesterday encouraged bipartisan action on a stimulus, saying whatever relief plan that could get through Congress now "wouldn't be the answer but it would be immediate help." Speaking at an event in Delaware, he said whatever Congress passes would only be a "down payment" on what he'll be proposing. Read more from Erik Wasson, Laura Litvan and Billy House.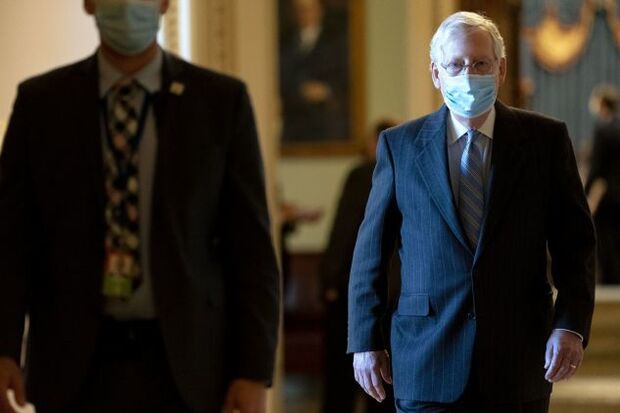 Furman Says U.S. Should Open Taps on Stimulus: Low interest rates call for a revolution in thinking about government debt and borrowing and should strengthen Biden's resolve in putting fiscal stimulus at the top of his agenda, according to Harvard University professor Jason Furman. The new administration must get Covid-19 under control, but also spend to ensure that Americans are able to resume consumption once that happens, the former chair of President Barack Obama's Council of Economic Advisers told Bloomberg's Stephanomics podcast.
The U.S. needs to think about fiscal policy "very differently" given the low interest rate environment and stop focusing on debt, Furman said. Low debt servicing costs mean more public investments, such spending on children, education, infrastructure and research, are able to pay for themselves. "They cost money up front, you get higher wages, a stronger economy later on so it doesn't actually cost you anything," he said. "I don't think you want to think about paying for something when the bigger danger we have is that we won't do enough of it." Read more from Lucy Meakin and Stephanie Flanders.
Jobs Report Preview: U.S. employment gains probably slowed only modestly in November despite a record surge of coronavirus cases that still threatens to limit or even reverse hiring in coming months. Tomorrow's jobs report will show nonfarm employers added 478,000 people to payrolls and the unemployment rate fell 0.1 percentage point to 6.8%, according to economists surveyed by Bloomberg. While those would be the smallest improvements since the rebound began in May — and leave the economy 9.6 million jobs short of pre-pandemic levels — the labor market is in better shape than analysts expected it to be a few months ago. Read more from Olivia Rockeman and Henry Ren.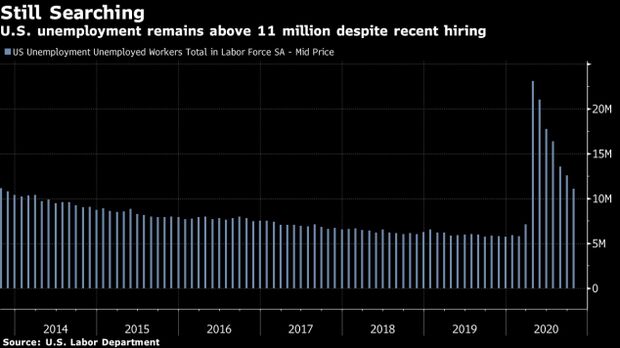 The Presidential Transition
Biden's Considers HHS Secretary Picks: Biden is preparing to announce several of his administration's health leaders as soon as next week as he considers two governors and a former surgeon general to lead the Department of Health and Human Services, according to people familiar with the matter. The candidates to lead HHS include Rhode Island Gov. Gina Raimondo, New Mexico Gov. Michelle Lujan Grisham and former Surgeon General Vivek Murthy, now a co-chair of the Biden transition's coronavirus advisory board.
After Bloomberg News reported yesterday that Grisham was a top candidate and CNN reported that Grisham was "the leading contender," a person close to the transition dismissed the idea that she had any advantage in the process. Another person said Biden has not yet decided on his pick for the post. Grisham has already been offered — and turned down — the Interior secretary job, two people familiar with the matter said. Read more from Jennifer Epstein and Josh Wingrove.
'Jim Crow' Land Ownership Spurs Black Farmers' Appeals: Heirs' property is a type of collective ownership passed down, often to multiple relatives, without a will. The operators can't qualify for certain federal programs, receive disaster assistance or use their land as loan collateral. Those hurdles have contributed significantly to farmers losing their land, with more than 60% of all Black-owned land estimated to be heirs' property, according to the Federation of Southern Cooperatives/Land Assistance Fund. Black farmers and other producers struggling with heirs' property ownership now want Biden's Agriculture Department and its new secretary to help them find ways to hold onto their land. Congress and the agency offered some remedies in the 2018 farm law, but legislators and advocates say more assistance is needed. Read more from Megan U. Boyanton and Elizabeth Elkin.
Feds Look to Biden to Unlock Cases Frozen for Years: The U.S. Merit Systems Protection Board is tasked with protecting the job rights of about 2.1 million civilian federal workers. The board hasn't had a quorum of two members since January 2017 or any members at all since February 2019, leaving about 3,000 cases frozen without a board to hear them. Even if Biden moves quickly to nominate new members and the Senate confirms them in short order, it could take years for the new board to make its way through the backlog. About half the board's backlogged cases involve employee removals, said William Wiley, a San Francisco-based management-side attorney who was chief counsel to the MSPB chairman during the late 1990s and early 2000s. Read more from Louis C. LaBrecque.
Also Happening on the Hill
House Sends Bill Curbing China Stock Listings to Trump: The House approved legislation that could ultimately lead to Chinese companies — including behemoths like Alibaba and Baidu — getting kicked off American exchanges if regulators aren't allowed to review their financial audits. The legislation won bipartisan support in the House after easily clearing the Senate in May. The bill is now headed to Trump, who is expected to sign it, in his administration's latest parting shot at Beijing. Read more from Daniel Flatley and Ben Bain.
Trump isn't letting his election loss stop him from beating up on China. On Wednesday alone, his administration restricted travel visas for members of the Chinese Communist Party and banned cotton imports from a military-linked firm it accused of "slave labor." The question now is just how bad things could get in the next seven weeks before Biden takes over. Read more.
Senate Passes Bill to End Per-Country Cap on Green Cards: The Senate passed legislation to repeal a provision that prevents nationals of any one country from obtaining more than 7% of the employment-based green cards available in a year, Genevieve Douglas and Adam M. Taylor report. The bill was passed by unanimous consent after the Senate agreed to a substitute amendment from Sen. Mike Lee (R-Utah). The amended language has a nine-year transition period to reserve a shrinking portion of visas for countries other than India and China. It also would set aside 4,400 visas per year for seven years for nurses and physical therapists.
Road to Legal Weed Runs Through Georgia: Marijuana isn't technically on the ballot in Georgia's Jan. 5 Senate runoff elections. But it might as well be: Cannabis advocates and trade groups are zeroing in on the state in hopes of ousting—or converting to their cause—its two Republican senators, Kelly Loeffler and David Perdue, who'll face Democratic opponents Raphael Warnock and Jon Ossoff, respectively. How the races go will determine which party controls the U.S. Senate, and that could be pivotal for the future of the $17 billion U.S. cannabis industry.
The House is set to consider a measure tomorrow that would legalize marijuana and remove it from federal drug schedules under the Controlled Substances Act. But Senate Republicans don't favor legalization. If Georgia elects two Democrats, that would flip Senate control, making possible the end, or at least a significant de-escalation, of the almost 50-year war on cannabis. Read more from Tiffany Kary and Ben Brody.
What Else to Know Today
Labor Board Alleges Google Retaliated Against Activists: Google illegally fired, interrogated and surveilled activist employees, a regional director of the National Labor Relations Board alleged in a complaint yesterday. The complaint, issued on behalf of the agency's general counsel, accuses the Alphabet unit of violating the New Deal law that protects employees' right to engage in collective action about workplace issues, including non-union workers like Google's. According to the regional director, Google broke the law by questioning and terminating employees because of their activism, maintaining rules restricting legally protected organizing, and enforcing other rules in a discriminatory manner. Read more from Josh Eidelson and Mark Bergen.
Facebook Accused of Squeezing Rival VR Startups: Virtual-reality startups are accusing Facebook of using a familiar playbook to muscle out rivals in what could be the digital platform of the future — prompting a new line of scrutiny from U.S. competition enforcers. Facebook is the world's biggest virtual-reality hardware maker thanks to its 2014 acquisition of Oculus for $2 billion. Its practices are now drawing the attention of the Justice Department's antitrust division, which is talking to developers about their interactions with the company, according to two people familiar with the matter. Read more from David McLaughlin.
The U.S. and China don't agree on much these days. Germany and France share a border and a currency but are frequently at odds. The U.K. and India like to march to their own drum. But there's one issue on which all these countries see eye to eye: Technology companies are too big, too powerful, and too profitable. And that power is only likely to intensify, leaving governments with no choice but to confront it head-on by taking the companies to court, passing new competition laws, and perhaps even breaking up the tech giants. Shelly Banjo has more on the global effort to crack down on Big Tech.
Warp Speed and U.K. Vaccine Drive Leave Europe Behind: With Covid-19 vaccines coming soon, the countries likely to pull ahead in protecting their populations aren't a big surprise. Britain has become the first Western country to clear a shot, and after plowing as much as $18 billion into Operation Warp Speed, the U.S. is in a prime position. But the European Union is forecast to trail its peers in immunizing tens of millions of people as vaccines from Pfizer, Moderna and AstraZeneca near the finish line. That could leave the bloc vulnerable to the pandemic and buoy U.K. efforts to demonstrate the country is better off on its own following Brexit. Read more from James Paton.
It will take years for U.S. cities to fully recover from Covid-19 and during that time "a lot of small businesses won't survive." Those are among the takeaways from a survey of mayors released today from the Boston University Initiative on Cities. The survey, conducted from June through August, doesn't take into account the latest challenge of distributing virus vaccines to local residents. Read more from Alex Tanzi.
Ivanka Trump Questioned in Suit Over Inaugural Cost: Ivanka Trump was interviewed by District of Columbia lawyers in a lawsuit accusing Donald Trump's inaugural committee of illegally overpaying for events at a hotel owned by his family business. The deposition of the president's daughter, a top White House aide, was taken Tuesday and is one of many key interviews taken in recent months, according to a court filing, which also disclosed that First Lady Melania Trump has been subpoenaed for documents. Read more from Joel Rosenblatt.
Sidney Powell's Georgia Fight Gets Appeal: Former Trump campaign lawyer Sidney Powell's attempt to force Georgia officials to allow a forensic examination of voting machines that she claims are central to a vast and implausible election fraud conspiracy will get expedited review from the federal appeals court in Atlanta. Powell appealed after a judge declined to grant her request for a temporary order forcing audits of Georgia's Dominion Voting Systems machines she claims have ties to "communist money." Read more from Erik Larson.
Larry Hogan Doesn't Rule Out a 2024 Run: Maryland Gov. Larry Hogan (R) said he wouldn't rule out a run for president in 2024, and that he intends to play a role in the future of the party. "I do want to be a part of the discussion about where we go as a party and where we go as a country so I'm going to try and continue to be involved and speak up and let people know what I think we should do," Hogan said in a response to a question about a possible presidential bid during a taped interview on "The David Rubenstein Show: Peer-to-Peer Conversations," which appears on Bloomberg TV. But Hogan, a rare Republican critic of Trump, said he wasn't "ready to launch any campaigns" and that he remained focused on his current role until his term ends in January 2023. Read more from Ari Natter.
Saudis, Qataris Near U.S.-Brokered Deal: Saudi Arabia and Qatar are nearing a preliminary deal to end a rift that's dragged on for over three years, prodded by a Trump administration seeking foreign policy wins during its waning days in the White House, three people familiar with the talks said. The tentative agreement does not involve the three other Arab countries that also severed diplomatic ties with Qatar in June 2017—the United Arab Emirates, Bahrain and Egypt. Read more from Fiona MacDonald and Matthew Martin.
To contact the reporters on this story: Zachary Sherwood in Washington at zsherwood@bgov.com; Brandon Lee in Washington at blee@bgov.com
To contact the editors responsible for this story: Giuseppe Macri at gmacri@bgov.com; Loren Duggan at lduggan@bgov.com; Michaela Ross at mross@bgov.com