What to Know in Washington: Democrats Restive on Infrastructure
President Joe Biden's quest to enact his $4 trillion economic agenda enters a turbulent new phase today as the House comes back into session and Democratic representatives ramp up pressure on the Senate to produce a bipartisan compromise or stop prolonging the effort.
Addressing the demands of progressive Democrats to go it alone will be a major challenge for Speaker Nancy Pelosi (D-Calif.) and her top lieutenants in the coming weeks. She'll need to keep an eye as well on moderate Democrats, who are leery about any solo package in the absence of the party having enough Senate votes to power it through.
Tensions have risen in the run-up to White House acting budget director Shalanda Young and Biden counselor Steve Ricchetti's meeting tomorrow with House Democrats to discuss Biden's proposed programs. That will mark the caucus's first in-person get-together since the pandemic erupted.
A key challenge is that the fast-track budget process that progressives want to use — the same one deployed for the $1.9 trillion March pandemic-relief bill — will only be available if all 50 in the Senate Democratic caucus agree to take that step. Two key members — Joe Manchin (D-W.Va.) and Kyrsten Sinema (D-Ariz.) — are not in favor of that course without trying a bipartisan deal first. While talks on that front continue, there's no guarantee a Senate compromise could pass the Democratic-controlled House. Read more from Erik Wasson and Billy House.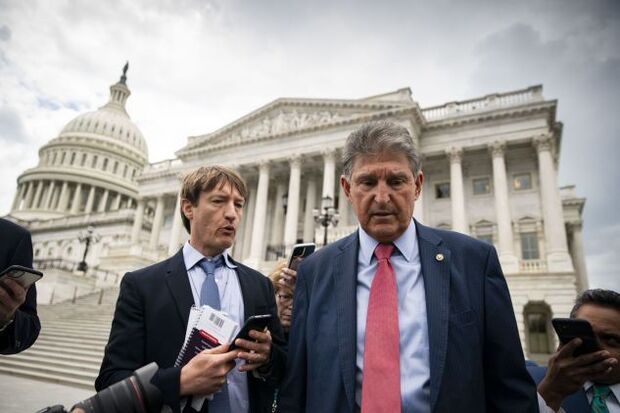 Collins Touts Plan: The infrastructure spending package developed by a bipartisan group of senators will be "targeted" and "responsible," one of its architects said yesterday. Sen. Susan Collins (R-Maine) continued to call for spending to be confined to traditional priorities like repairing roads, bridges and airports, and split off from the broader proposals of the Biden administration like elder care funding. Collins is among a bipartisan group of 10 senators that has formulated a $1.2 trillion deal on an infrastructure bill they will pitch to Biden. Read more from Anna Edney.
Happening on the Hill
Today's Agenda:
The House returns and is scheduled to vote on a rule setting up consideration later this week of legislation to compel disclosure of environmental, social, and governance metrics to shareholders of public companies, and to repeal the law authorizing the war in Iraq that began in 2003.
The Senate plans to vote on Biden's first federal appeals court judge nominee.
Click here for a complete list of the week's hearings and markups.
Schumer Navigates Legislative Hurdles: Deadlines to keep the U.S. government funded and avert a default on the national debt are looming over Senate Majority Leader Chuck Schumer's (D-N.Y.) pursuit of a full slate of key legislative priorities. The oncoming battles will help define the summer on the Hill and could limit the ambitions of the majority leader, who hopes to shepherd Biden's agenda within the confines of a razor-thin majority, internal party divisions and aggressive Republican opposition.
Schumer's navigating dexterity will be key to Biden's success in his first year in office and to whether Schumer can hold onto the top leadership spot after the 2022 elections. "We're moving now into the difficult phase," said Bill Hoagland, senior vice president of the Bipartisan Policy Center. "The honeymoon's over." Read more from Nancy Ognanovich.
Judicial Picks Navigate GOP Wary of Knowledge Gaps: Biden's judicial nominees with experience as federal public defenders are pleasing progressives seeking more professional diversity while providing fodder for Republicans questioning whether they're prepared to handle complex civil litigation. Republicans say they're concerned by the knowledge gaps as well as about whether progressives want public defenders because they might bring sympathetic views of criminal defendants to the bench. To observers, such questions are just another form of judicial confirmation partisan posturing and ignore the fact that no judge is familiar with every area of law at the outset. Read more from Madison Alder.
Pelosi Demands Trump-Era Attorneys General Testify: Speaker Pelosi demanded that three senior Trump-era officials testify under oath over the Justice Department's effort to secretly subpoena data from House Democrats and the news media. Former attorneys general William Barr and Jeff Sessions, as well as former Deputy Attorney General Rod Rosenstein, must explain subpoenas that were levied against two of Trump's rivals, Pelosi said. Read more from Riley Griffin.
Republicans Want ProPublica Probe by Watchdog: Senate Finance Republicans called for an investigation by the Treasury Department's inspector general of tax administration into the source of an anonymous leak containing years of tax data on billionaires to ProPublica. If the IRS is the source, the leak "constitutes a serious breach of privacy and is a criminal violation of our tax laws," the lawmakers wrote. Read more from Meg Shreve.
Politics & Influence
Booze Makers Lobby Against Trump Tariffs: The alcohol industry has mounted a multi-pronged campaign to prod lawmakers and administration officials to reverse Trump-era trade actions they say have hammered their profits on key products like whiskey and beer. They're calling for the removal of tariffs imposed on whiskey by the EU and U.K. as part of an unrelated trade dispute. Beer brewers are also being harmed by U.S. aluminum tariffs, groups argue. Megan Wilson has more.
Trump-Era DOJ Sought Data on White House Counsel, Times Reports: The Justice Department subpoenaed data from Apple of Donald McGahn, who was then serving as White House counsel, and his wife in early 2018, the New York Times reported. The report was the latest instance of alleged actions by the Justice Department during the Trump administration to secretly obtain information. Records of at least two House Democrats and members of the news media were also sought as part of investigations into leaks, according to recent reports. Read more from Riley Griffin.
Activists Demand Biden Block Other Pipelines: Environmentalists emboldened by last week's defeat of Keystone XL are pressuring Biden to kill permits for other oil and gas pipelines, warning their votes depend on the administration blocking infrastructure for fossil fuels. "If you need and want us, as I know the Biden team does, to come out in stronger numbers for 2022, then you have to do right by our community," the head of Bold Alliance said. Read more from Jennifer Dlouhy and Robert Tuttle.
Around the Administration
Today's Agenda: Biden is in Brussels today for a NATO summit. This afternoon he will meet with Estonia's Prime Minister Kaja Kallas, Latvia President Egils Levits, and Lithuania President Gitanas Nausėda at NATO headquarters. Biden today also plans to meet with NATO Secretary General Jens Stoltenberg. This evening, Biden will meet with Turkey President Recep Tayyip Erdogan.
Biden Aims to Not Let U.S.-Russia Ties Get Worse: Biden has a modest goal when he sits down with Russian President Vladimir Putin in Geneva this week: make sure the U.S.-Russia relationship doesn't get any worse. Putin heads into the June 16 summit with a similar objective, but also pleased to be on the same stage with the U.S. president despite being accused of election interference and encouraging a barrage of cyberattacks.
With both sides agreeing that ties are at a post-Cold War low, there's no expectation of the strategic friendship that ex-President Donald Trump sought, or a grand nuclear breakthrough like that achieved by Ronald Reagan and Mikhail Gorbachev. Putin has signaled he's only further entrenching Russia in Ukraine and pressing ahead with a crackdown on opposition leaders, while U.S. sanctions are staying put. Read more from Nick Wadhams, Jennifer Jacobs and Ilya Arkhipov.
Biden Gets G-7 Wins on Vaccines, China: Biden entered his first international summit looking for a breakthrough on vaccine pledges for low-income countries, a united front on China and to tee up his meeting with Putin. It wasn't perfect. But, for Biden, it was enough. Biden left the U.K. yesterday after a meeting with Group of Seven leaders who took pains to show unity, even in cases where they found themselves quietly at odds. Biden clamored for a crackdown on China before settling for a more modest condemnation, and emerged having quelled complaints about U.S. vaccine hoarding with a new donation. Josh Wingrove and Jennifer Jacobs recap Biden's trip.
Still, there was a lot riding on the G-7 summit, and a fair few telling moments came out of it. It was the first G-7 to be held in two years, and will serve as a blue-print for international gatherings in the post-pandemic age. It was the first meeting of major leaders after four turbulent years of Donald Trump in the White House, where he frequently tore into decades-long alliances and understandings. It was also the final summit for German Chancellor Angela Merkel, who has served as a bulwark for Europe for 16 years. But the political the spin and bona-fide attempts to reconnect belied the very real differences among leaders who had either never met, or had not seen each other for a while or were new on the scene. The circumstances were unique, and everyone had something to prove. Read more from Flavia Krause-Jackson, Arne Delfs and Ania Nussbaum.
U.S. Condemns Attack on Syria Hospital: The U.S. deplored a "barbaric" attack on a hospital in northwestern Syria, a day before Biden and Erdogan are due to meet in Brussels. Turkey blamed U.S.-backed Kurdish forces for the attack on Saturday on the hospital in Afrin province, which killed at least 14 people and wounded 32 others. The Kurdish militants denied involvement and the U.K.-based Syrian Observatory for Human Rights blamed Syrian government forces. Read more from Selcan Hacaoglu.
Iran Warns Time Running Out: Iran warned there was "little time left" for world powers to revive the 2015 nuclear deal as efforts to clinch an agreement before key elections failed to overcome the main sticking points over the weekend. Saeed Khatibzadeh, spokesman for Iran's Foreign Ministry, said "technical, political, legal and practical issues remain," while insisting there was no impasse at the talks in Vienna. He reiterated Iranian claims that a broad agreement on how to lift U.S. sanctions on Iran's energy industry had been agreed but gave no details. Read more from Arsalan Shahla.
To contact the reporters on this story: Zachary Sherwood in Washington at zsherwood@bgov.com; Brandon Lee in Washington at blee@bgov.com
To contact the editors responsible for this story: Giuseppe Macri at gmacri@bgov.com; Loren Duggan at lduggan@bgov.com; Michaela Ross at mross@bgov.com