What to Know in Washington: Democrats Remain Split on Agenda
Congressional Democrats are at odds over both the tax and spending sides of a bill to enact the bulk of President Joe Biden's economic agenda, even as party leaders aim to have an outline of a deal by the end of the week.
The chances for agreement — which seemed in reach late Tuesday — receded yesterday as Democratic leaders intensified a search for alternatives to the corporate and individual tax hikes they'd worked on for months. That's amid opposition from Sen. Kyrsten Sinema (D-Ariz.). Democrats also are reworking the bill's climate provisions, after Sen. Joe Manchin (D-W.Va.) said he can't support a clean power program favored by Biden.
The eleventh-hour moves to appease the two senators — whose crucial votes are seen as the hardest to win — demonstrate the massive changes that lawmakers must make to the tax and spending plans the White House published in the spring.
Should Democrats nix a proposed corporate tax hike to 26.5% from 21%, they would set aside a promise to make the largest businesses shoulder more of the tax burden. It also would leave Democrats with a more than $540 billion hole in the roughly $2 trillion total they need to raise to offset the cost of spending plans that include climate, health care and early-childhood programs. Read more from Laura Davison and Erik Wasson.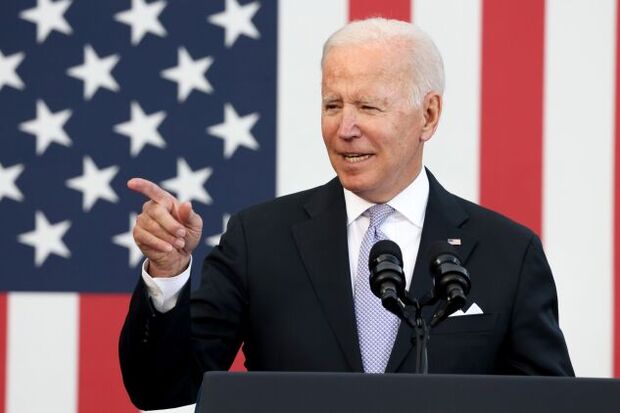 Also Happening on the Hill
Today's Agenda:
The House is scheduled to vote on a resolution recommending the chamber find former Trump administration adviser Steve Bannon in contempt of Congress for refusal to comply with a subpoena.
Senators plan to vote on Biden judicial and Labor Department nominees.
Click here for a complete list of today's hearings and markups.
House to Vote on Seeking Prosecution of Bannon: The Democratic-controlled House is poised to cite former Trump adviser Steve Bannon with criminal contempt of Congress, an action that will throw a politically fraught decision into the lap of Attorney General Merrick Garland. The House vote this afternoon is likely to figure prominently when Garland testifies before the House Judiciary Committee earlier today. If passed as expected, the contempt citation — stemming from an investigation into the Jan. 6 riot at the U.S. Capitol by supporters of former President Donald Trump — would be referred to the U.S. attorney for the District of Columbia, who would decide along with Garland on whether to prosecute. Read more from Chris Strohm and Billy House.
Senate GOP Again Blocks Voting Rights Bill: Senate Republicans blocked an overhaul of U.S. election laws from reaching the floor for debate, adding to a string of Democratic defeats that is straining ties with civil rights groups and minority voters. The bill failed to advance yesterday on a 49-51 vote, well short of the 60 needed to overcome a filibuster, highlighting Democrats' meager power in a chamber evenly split between the two political parties and leaving the legislation all but dead. Read more from Laura Litvan.
Biden's Pick for China Envoy Draws Sharp Lines With Beijing: Biden's pick to be ambassador to China drew sharp lines with Beijing over its "aggressive" actions in the Indo-Pacific but said "American strength" gives the U.S. key advantages in the relationship between the world's two largest economies. Nicholas Burns, a longtime diplomat who previously served as U.S. ambassador to NATO and Greece, said China has been the aggressor in its relationship with Taiwan, Vietnam, Japan and the Philippines. He also said he's skeptical about Chinese intentions on issues like 5G technology. Read more from Daniel Flately and Peter Martin.
Emanuel Says Nissan Director's Case To Be Priority: Rahm Emanuel, nominated as the next U.S. ambassador to Japan, said he will make it a priority to look into the criminal trial of a former Nissan Motor director who was charged with helping Carlos Ghosn understate his compensation. Greg Kelly, an American citizen, was arrested in Japan on the same day as Ghosn in 2018 on allegations of financial misconduct. The trial against Kelly, 65, is in its final stages, with closing arguments scheduled in Tokyo next week. "I've already started to inquire about this and I want a report on my desk," Emanuel told a Senate committee at his confirmation hearing yesterday. Read more from Reed Stevenson.
GOP Presses Court Pick on Transgender Bathroom Access: A Biden nominee for the nation's largest federal appeals court faced pointed questions from Republicans about her position in briefs opposing restrictions on transgender bathroom access. Senate Judiciary Committee GOP members drew the hot-button issue into the hearing yesterday by asking Holly Thomas, a nominee to the San Francisco-based U.S. Court of Appeals for the Ninth Circuit, whether she agreed with language in briefs she signed while working for New York State's solicitor general. Read more from Madison Alder.
Politics & Influence
Democrats Take Edge in Cash Ahead of Midterms: The Republican National Committee raised more than its Democratic rival in September but saw its cash advantage eclipsed as the two parties stockpile money before the 2022 midterm elections, according to their latest filings with the Federal Election Commission. The Democratic National Committee brought in $11.4 million and spent $9.5 million in September. Along with the Democratic Grassroots Victory Fund, an allied committee that raises money for the DNC and its state affiliates, the party started October with a combined war chest of $74.5 million. That topped the $70.7 million that the RNC has amassed. The GOP raised $12.7 million while spending $16.6 million in September. Read more from Bill Allison.
Trump Plans to Regain Social Media Presence With New Company: Former President Donald Trump yesterday announced a deal that would enable him to regain a social media presence after he was kicked off Twitter and Facebook platforms. The former president's new enterprise will be in operation by the first quarter of 2022, according to a press release from the Trump Media and Technology Group. It says it plans to start a social media company called Truth Social. The moves, if all goes according to plan, would occur well ahead of the 2022 midterm elections. Read more from Jennifer Jacobs and Mark Niquette.
Facebook Spends $5.1 Million on Lobbying as Leaks Shine Light: Facebook spent $5.1 million on lobbying in the third quarter, again boosting its Washington expenditures as internal documents leaked by a whistleblower sparked fresh allegations of misleading Congress, the public and securities regulators. Read more from Anna Edgerton and Bill Allison.
Huawei Technologies continued to bolster its lobbying operation in Washington even though a spending surge hasn't dented restrictions on its ability to do business in the U.S. The Shenzhen-based company spent $1.4 million on lobbying in the third quarter, a 29.2% increase from its sharp uptick in spending the previous quarter. That puts the company's expenditure up 1,270% from the third quarter of 2020, Anna Edgerton and Bill Allison report.
Cryptocurrency companies and associations also built up their lobbying muscle in the third quarter as Congress and regulators discuss new rules for the industry. Crypto players hired dozens of new lobbyists in a frantic — but unsuccessful — bid to fight off a provision in a bipartisan infrastructure bill that would increase tax-reporting requirements for crypto companies. Anna Edgerton and Bill Allison have more.
Around the Administration
Today's Agenda: Biden and Vice President Kamala Harris deliver remarks at the 10th anniversary celebration of the Martin Luther King, Jr. Memorial shortly before noon. At 6:45 p.m., Biden and First Lady Jill Biden will travel to Baltimore, where Biden will participate in a CNN town hall at 8 p.m. The Bidens will return to the White House by 10:30 p.m.
Biden Has Few Tools, Clock Ticking on Supply Chain: A supply-chain crunch that stretches from overseas manufacturers into American ports and retail stores threatens the U.S. holiday shopping season. Biden and his administration have been working for months to smooth out bottlenecks, but his power to influence what is almost entirely a private-sector problem is limited.
While Republicans point to the supply chain as further evidence the president is mismanaging the economy, the issues are deep-rooted. Overwhelming volume generated by record, pandemic-induced consumer demand is swamping a system that was already creaking under the weight of high demand, low investment, labor shortages and regulatory battles. Josh Wingrove, Jill R. Shah and Brendan Case examine where the supply chain is under stress in the U.S., what its executives, workers and experts say Biden could do about it, and what he's actually doing. Read the story here.
Republicans are blaming Biden's focus on his spending plan for prolonging backlogs at ports and shortages of goods. A group of 160 House Republicans sent a letter to Biden yesterday calling for an end to negotiations on Democrats' social spending and tax package and for the administration to instead focus on the nation's supply chain troubles. The backup at U.S. ports has become a main issue for lawmakers from both parties this week. Read more from Lillianna Byington.
FDA Clears Moderna, J&J Covid Boosters: The Food and Drug Administration cleared a broad path for millions of Americans to receive Covid-19 vaccine booster doses, as the nation looks to bolster its defenses and prevent another virus surge. The agency said in a statement yesterday that Moderna recipients 65 and over can get a third shot, as can adults 18 and up with higher risk of severe illness or with frequent virus exposure. All J&J recipients are eligible for a booster dose two months after their first. Robert Langreth has more.
U.S. to Unveil Climate Finance Strategy in Glasgow: The U.S. Agency for International Development plans to release its drafted game plan for strategically targeting climate finance with an eye on bolstering mitigation and adaptation efforts during a United Nations climate summit opening Oct. 31. USAID wants to make structural and systematic changes to "meet the goals of net-zero emissions by mid-century and to build resilience in climate-vulnerable countries," a senior official said. Jennifer Dlouhy has more.
Striking John Deere Workers Get Visit From Vilsack: The head of the Agriculture Department greeted John Deere assembly-line laborers on strike during a visit to Iowa yesterday. Thousands of workers at Deere opted to picket after the corporation and United Auto Workers struck an impasse in labor negotiations last week. "The UAW is important to me," said Secretary Tom Vilsack, who previously served as Iowa's governor. "I'm here today for you," he said on the picket line. Read more from Megan Boyanton.
CFPB to Press Apple, Google, Amazon on Data: The Consumer Financial Protection Bureau is set to demand information about how Apple, Facebook, Google, Amazon and other technology firms collect, use and market consumer financial data, according to two sources familiar with the matter. The bureau is expected to announce the demands, which come in the form of 55 questions, today, said the industry sources, who spoke on condition of anonymity to discuss the matter. Evan Weinberger has more.
FTC Report on Internet Privacy to Scrutinize Ad Practices: The Federal Trade Commission's forthcoming report on internet service providers' privacy practices is expected to bring scrutiny to whether the industry's control over content production and distribution impacts targeted advertising. The report, set to be released at a public meeting today, is looking at the personal information that internet companies collect on consumers or their connected devices and if that information is shared with third parties such as advertisers. Read more from Andrea Vittorio.
Musk Angry as NHTSA Taps 'Biased' Safety Adviser: Elon Musk and thousands of Tesla's die-hard fans and customers are in an uproar about NHTSA's new pick to be its chief safety adviser. Their target is Mary "Missy" Cummings, a Duke University professor critical of Tesla's Autopilot software who was picked this week for the National Highway Traffic Safety Administration position. The former Navy pilot is also on the board of a Swedish firm that Musk has scorned. Read more from Dana Hull and Gabrielle Coppola.
To contact the reporters on this story: Zachary Sherwood in Washington at zsherwood@bgov.com; Brandon Lee in Washington at blee@bgov.com
To contact the editors responsible for this story: Giuseppe Macri at gmacri@bgov.com; Loren Duggan at lduggan@bgov.com; Michaela Ross at mross@bgov.com