What to Know in Washington: Democrats Pursue Doomed Debt Move
Democrats are pursuing an almost certainly doomed strategy to avert a government shutdown and stave off a federal default, raising the likelihood of financial-market stresses that will ultimately force U.S. lawmakers' hands.
While the House last night approved a bill to keep the federal government funded past the end of the fiscal year on Sept. 30 and to suspend the debt limit for more than a year, blanket Republican opposition means it's assured of failing in the Senate.
Once that Senate rejection — expected in coming days — is complete, the clock will be ticking until the government runs out of authorization to keep many operations running past month-end. Sometime later in October, according to Secretary Janet Yellen, the Treasury Department will exhaust its capacity to keep paying U.S. obligations.
While multiple scenarios are possible, close observers of fiscal negotiations have penciled in the Democrats eventually opting to remove the debt limit from the stopgap spending bill. That would ensure the bipartisan passage of the government funding measure, with Democrats raising the debt ceiling using a fast-track process that bypasses the filibuster, removing the need for GOP votes. Read more from Laura Davison and Christopher Anstey.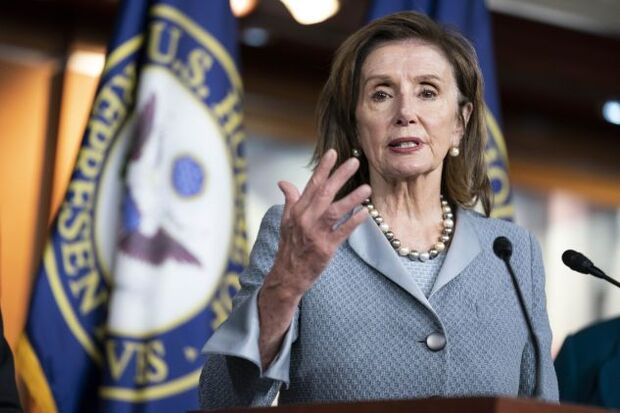 Republican Alternative: Senate Minority Leader Mitch McConnell (R-Ky.) and Sen. Richard Shelby (R-Ala.) introduced a new stopgap measure that keeps the government funded through Dec. 3 but does not suspend or increase the debt limit, Se Young Lee reports. The Senate bill includes funding for disaster aid, assistance for Afghan allies and Israel's Iron Dome missile defense system. The bill "removes the Democrats' ill-conceived language on the debt limit," Shelby said.
Treasury Borrowing Panel Warns of Debt Risks: The leaders of the committee of bond dealers and investors that regularly advises the Treasury Department stressed to Secretary Janet Yellen yesterday their worry over potentially dire risks to the financial system if Congress fails to lift or re-suspend the debt limit. "If left unresolved, this situation would put the U.S. government at risk of missing debt payments—an outcome that would have severe consequences," the panel wrote. Read more from Liz Capo McCormick.
Meanwhile, the Senate's top Republican on the Banking Committee is dismissing the threat of the federal government defaulting on debt, arguing the Treasury would act to prioritize debt payments and delay others if necessary. "There's absolutely 0.0% chance that anybody wouldn't get coupon and principal payments on U.S. debt securities on time," Sen. Pat Toomey (R-Pa.) said yesterday in an interview with Bloomberg News. "The worst that could possibly happen is there might be some vendors who would get paid a little later than they were expecting to get paid for services they provided to the government." Read more from Steven T. Dennis.
Happening on the Hill
Today's Agenda:
Pentagon Cuts, Afghanistan Investigations Set for House Debate: Lawmakers who want to rein in the Pentagon budget will get the chance to make their case this week as the House debates the fiscal 2022 defense authorization. Among the 476 amendments pending to the annual defense policy measure are a couple that seek to reduce the total amount that would be authorized for Pentagon programs in the fiscal year beginning Oct. 1. More than a dozen Democrats on the panel rebuffed Biden's request for a small DOD boost compared to large increases for domestic agencies. The vote on the amendments would give the whole House a chance to weigh in on the defense topline. They're likely to fail because Democrats need Republican support to advance the measure, and the GOP is firmly against cutting defense spending. Read more from Roxana Tiron.
Republicans to Fight Clean Power Program With 'Byrd' Rule: Republicans intend to challenge a key climate-change program in the Democrats' $3.5 trillion tax-and-spending measure with the same maneuver that helped knock out provisions on immigration. They plan to seek a ruling from the Senate parliamentarian that the Clean Electricity Performance Program violates the Byrd Rule's prohibition on leveraging budget reconciliation maneuvers to advance policy changes with "merely incidental" budgetary impacts. Jennifer Dlouhy and Ari Natter have more.
Biden's CFPB Pick Chopra Moves Closer to Senate Confirmation: Biden's nominee Rohit Chopra moved one step closer to winning Senate confirmation to lead the Consumer Financial Protection Bureau. The Senate yesterday passed a motion, 49-48, to discharge Chopra's nomination from the Banking Committee. The procedural step is the first of three Senate votes Chopra would need to win confirmation. A final vote on Chopra's nomination is expected later this week or early next week. Read more from Evan Weinberger.
Powell Draws Scorn From Republican Senator: Sen. Toomey criticized Federal Reserve Chairman Jerome Powell yesterday for tolerating what he called the politicization of the country's central bank. In an interview with Bloomberg News, Toomey, unlike many other Republicans, didn't endorse Powell for another term as Fed chair. His criticism comes as Biden weighs whether to renominate Powell or tap a Democratic successor. Steven T. Dennis has more.
Facebook, Google Defend Data Practices Amid Antitrust Claims: Facebook and Google executives defended their data practices yesterday under pressure from lawmakers, telling a Senate committee that their services offer net benefits to both consumers and small businesses. Facebook's Steve Satterfield said it invests heavily in its products to create the best tools for users, while Google's Markham Erickson defended data use as a major part of how the company innovates. Anna Edgerton and Rebecca Kern have more.
End of U.S. Travel Ban Spurs Push for New Tourism Legislation: Lawmakers and the travel industry are pitching smoother security lines, faster visas, and upgraded airports as ways to ease the return of tourism when the U.S. reopens to vaccinated foreigners in November. Senators said they are working to pull together a big travel and tourism bill at a Senate Commerce, Science, and Technology subcommittee hearing yesterday. Read more from Lillianna Byington.
Around the Administration
Biden to Meet With Democrats: President Joe Biden will meet in the Oval Office this afternoon with House and Senate Democrats to discuss the party's economic and infrastructure plans.
Biden to Host Vaccine Summit, Pledge Doses: Biden will call for 70% of the world to be vaccinated by this time next year during a virtual vaccine summit he'll host today that's intended to spur countries, businesses and organizations to set firm targets to defeat the coronavirus pandemic. Biden will pledge a U.S. order of 500 million doses of Pfizer-BioNTech's vaccine for donation abroad, pushing the total U.S. donation pledge above 1.1 billion doses as he leans on other nations to do the same, according to officials familiar with the event.
The summit attendees will include foreign leaders, private sector figures and representatives of non-governmental organizations, and include a mix of speeches and recorded statements. Starting at 11 a.m., Biden will lead one of four sessions, on vaccinating the world, while Vice President Kamala Harris will lead another. Read more from Josh Wingrove.
Climate, Covid Dominate U.N.: Biden and Xi Jinping boosted their efforts to help other nations address climate change as fears over the global environment and the Covid-19 pandemic dominated the first day of world leaders addressing the annual United Nations General Assembly. Biden said in his speech yesterday morning that the U.S. would double funding to aid developing countries cope with climate change, helping bring the world closer to a $100 billion annual target sought ahead of a climate conference in Scotland next month. Hours later in a prerecorded video, Xi said China will stop building coal-fired power plants abroad, a move long sought by climate activists. Read more from David Wainer.
Biden, Morrison, Johnson Celebrate Sub Deal: Biden and the leaders of Australia and the U.K. celebrated their new defense pact in meetings yesterday, predicting an agreement that's angered France would nonetheless benefit the world. U.K. Prime Minister Boris Johnson said at the White House the deal, which calls for Washington and London to provide nuclear subs to Australia, "has great potential to benefit the whole of the world in security." Read more from Jenny Leonard and Jennifer Epstein.
U.S. Urges Supreme Court to Uphold Roe v. Wade: The federal government urged the U.S. Supreme Court to reaffirm the right to an abortion and strike down Mississippi's ban on abortions after 15 weeks. If "states are permitted to ban pre-viability abortion, the effects are likely to be felt most acutely by young women, women of color, and those of lesser means," the administration said in its brief. Decades of reliance on Roe v. Wade and Planned Parenthood v. Casey requires the court not jettison those decisions, it added. Kimberly Strawbridge Robinson has more.
FAA Asks Airlines to Turn Up Heat on Unruly Travelers: The federal regulator charged with keeping the nation's airways safe met yesterday with representatives of passenger airlines and urged them to take more aggressive steps to reduce the incidents of unruly passenger behavior that have been on the rise during the pandemic. Keith Laing has more.
U.S. Antitrust Regulators Say American-JetBlue Deal Illegal: U.S. antitrust enforcers sued American Airlines and JetBlue Airways to unwind their agreement to coordinate flights in the U.S. Northeast, saying the pact violates antitrust laws by eliminating competition between them. David McLaughlin and Mary Schlangenstein have more.
DOJ's Gupta Warns of Antitrust Crackdown: Consolidation in agricultural markets is fueling higher prices for consumers and lower prices paid to farmers, according to Associate Attorney General Vanita Gupta, who promised aggressive antitrust enforcement in the industry. Read more from David McLaughlin.
To contact the reporters on this story: Zachary Sherwood in Washington at zsherwood@bgov.com; Brandon Lee in Washington at blee@bgov.com
To contact the editors responsible for this story: Giuseppe Macri at gmacri@bgov.com; Loren Duggan at lduggan@bgov.com; Michaela Ross at mross@bgov.com