What to Know in Washington: Democrats Post Stopgap Funding Bill
Senators revealed a stopgap funding bill late Monday night to keep the government running through Dec. 16 and provide billions in aid to Ukraine, but they face a challenging path to averting a shutdown this weekend.
Senate Democrats unveiled the text of the bill that carries over $12 billion in aid for Ukraine and legislation by Sen. Joe Manchin (D-W.Va.) to expedite the energy-permitting process, which most Senate Republicans oppose. The measure will need bipartisan support in the Senate, where 60 votes are required to clear a procedural hurdle. Congress has until 11:59 p.m. Friday to avert a shutdown. Lawmakers will aim to strike a full government funding deal in December.
Lawmakers made "significant progress" toward a funding bill "that is as clean as possible," Sen. Richard Shelby (R-Ala.), the top Senate GOP appropriator, said in a statement. "But, if the Democrats insist on including permitting reform, I will oppose it."
The bill includes nearly $12.4 billion in appropriations to aid Ukraine, plus an authorization for the president to draw down $3.7 billion worth of the US military's stocks, according to a summary from the Senate Appropriations Committee. Biden requested $11.7 billion for Ukraine. Read more from Jack Fitzpatrick.
Ukraine: The bill would provide $12.4 billion to Ukraine to aid its war effort against Russia, slightly more than the $11.7 billion requested by the White House. It would also authorize the White House to transfer up to $3.7 billion more in US defense equipment to Ukraine.
Disasters: The bill would provide $2 billion for unmet needs from recent disasters and a $1 billion to bolster home heating assistance.
User Fees: The Food and Drug Administration would be authorized to collect user fees for five years, preventing a funding shortfall that threatens layoffs.
Afghans: The bill provides money to assist resettlement of Afghan refugees but does not provide the smoother path to permanent residency that advocates had sought.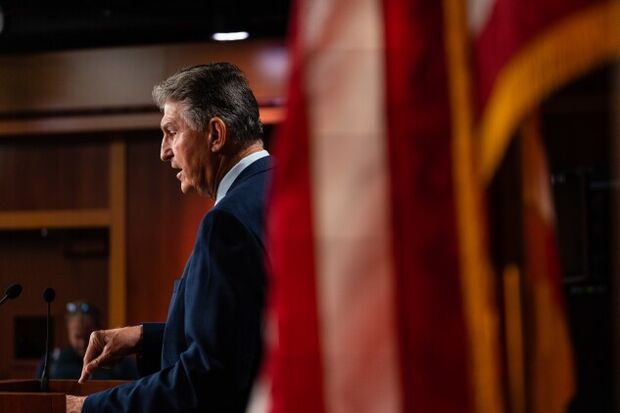 Manchin's Permitting Provision: Senate Democratic leaders included the permit provision authored by Manchin in the stopgap bill as part of a deal with to secure his vote on Democrats' climate-and-tax bill in August. The text would also green-light federal approval of Equitrans Midstream's stalled $6.6 billion natural gas pipeline running through his home state.
Still, Manchin hasn't yet lined up the 60 votes for his bill required under Senate rules and has spent days prodding Republicans to accept a compromise version of the permitting changes to fossil fuel projects they have championed for years. Most Republicans have little interest in voting for Manchin's bill, which they regard as payback for his role in helping Democrats achieve a victory for President Joe Biden with the climate legislation.
If the bill fails to get 60 votes in the Senate on Tuesday, Senate Majority Leader Chuck Schumer (D-N.Y.) is expected to pull out the permitting language and try again. House Speaker Nancy Pelosi (D-Calif.) said last week that if the Senate stalls the House is prepared to vote on a slimmed-down stopgap bill to avert a shutdown. Read more from Erik Wasson.
The US Chamber of Congress is lobbying Congress for passage of Joe Manchin's bill that would make it easier to obtain permits for energy-related projects, while saying some changes are needed. "Now, there is an opportunity to make more progress, and Congress should take it," the lobbying group said. Read more from Erik Wasson and John Harney.
User Fees Agreement: The deal, which omits previous proposals for expanded agency oversight tools, would guarantee money from industry user fees to the FDA for fiscal 2023 through 2027. Sen. Richard Burr (R-N.C.), ranking member of the Senate health committee, told reporters Sept. 22 he and Chairwoman Patty Murray (D-Wash.) agreed on a "practically clean" bill to reauthorize user fees. Read more from Celine Castronuovo.
Also Happening on the Hill
CONGRESS' SCHEDULE
The Senate returns at 3 p.m. and holds a procedural vote on the stopgap funding bill.
The House returns tomorrow.
Join Bloomberg Government's Sept. 28 webinar for more on the 2022 midterm elections, with a focus on the House races key to controlling the chamber. Find out more and sign up here .
Republican lawmakers are asking why OSHA continues to work on a Covid-19 standard for the health-care industry in the wake of Biden's comments that the virus' threat has ended.
Staffers in the office of Rep. Andy Levin (D-Mich.) unanimously voted to approve a union, according to the Congressional Workers Union, the primary staff organizing group.
Democrats are pitching a plan that would allow the US government to buy and sell crude from its emergency reserves for a profit and use that money to fund electric-car charging infrastructure.
Around the Administration
PRESIDENT'S SCHEDULE
At 1:15 p.m., Biden delivers remarks on lowering health-care costs and strengthening Medicare.
The White House says a long-awaited summit will help end hunger in America within the decade. But growing unease among Republicans could endanger the administration's ability to effect change.
Hunger is spreading among Americans with steady but low-paying jobs, reversing Biden's early success in cutting food scarcity by nearly a third and threatening to worsen as the country teeters on the brink of recession. Read more.
While US gasoline prices have come down from the highs seen this summer, they're clearly still weighing on Biden, who on Monday repeated demands for oil companies to charge less.
Biden's decision to forgive some federal student debt will cost the US Treasury at least $400 billion, the Congressional Budget Office estimated.
Biden lashed out at airlines over "hidden fees" he said took money from Americans already facing persistent high inflation, as he unveiled plans for new rules that would force air carriers and internet-service providers to be more transparent about charges.
Rick Bright, a former US health official who condemned the Trump administration's Covid-19 response, is leaving a Rockefeller Foundation pandemic prevention effort just over a year and a half after being tapped to lead it.
Attorney General Merrick Garland wants to expand the Bank Secrecy Act to non-fungible tokens to deter money laundering.
Encrypted messaging apps like WhatsApp and Telegram have hindered federal white collar criminal probes as alleged wrongdoers seek to hide their incriminating chats.
Huge electric batteries moved swiftly along an Eos Energy Enterprises assembly line near Pittsburgh last week, supported by a new 30% investment tax credit under the climate-and-tax legislation that became law in August.
WHAT ELSE TO KNOW TODAY
To contact the reporter on this story: Brandon Lee in Washington at blee@bgov.com
To contact the editors responsible for this story: Giuseppe Macri at gmacri@bgov.com; Michaela Ross at mross@bgov.com