What to Know in Washington: Democrats' Plan to Rein in Police
Bloomberg Government subscribers get the stories like this first. Act now and gain unlimited access to everything you need to know. Learn more.
House and Senate Democrats plan to release a broad police overhaul bill today, hoping to turn the energy of the nationwide Black Lives Matter demonstrations into concrete legal changes that could make it easier to prosecute police abuse and misconduct, a Democratic aide said yesterday.
A draft version of the Justice in Policing Act would curb the doctrine of "qualified immunity" for police action, opening the door to more criminal prosecution and civil lawsuits. The threshold for defining "police misconduct" would be dropped from willfully violating constitutional rights to doing so with knowing or reckless disregard. For civil lawsuits, the measure would weaken the qualified immunity that broadly protects officers from being liable for damages for rights violations.
Sen. Cory Booker (D-N.J.), a co-sponsor of the bill, said yesterday on NBC's "Meet the Press" that the measure is intended to "create real, substantive change, not just lip service from politicians."
The Congressional Black Caucus has sought a vote this month on the legislation. Senate Minority Leader Chuck Schumer (D-N.Y.) urged the Senate to vote on a policing bill before leaving Washington for a two-week recess July 3.
The bill would ban choke-holds like the one used by police in the Minneapolis death of George Floyd last month, as well as no-knock warrants such as the one that caused the death of Breonna Taylor in Louisville in March.
Lynching, a premeditated extrajudicial murder by a mob, would become a federal crime for the first time under the measure. The murder of Ahmaud Arbery in February is widely seen as a modern-day lynching.
The measure would also establish a national registry of police violations and federal officers would be required to wear body cameras.
The bill would also place new limits on federal funding for local and state police, requiring bias training and the use of de-escalation tactics in order for funding grants to be approved. It would also stop transfers of military weaponry to state and local police.
The bill has the backing of Speaker Nancy Pelosi (D-Calif.) and Schumer, who will appear at a press conference this morning as the measure is released. Senate Majority Leader Mitch McConnell (R-Ky.) hasn't ruled out Republican backing for some type of legislation, although Republicans have resisted some proposals in the past. Read more from Erik Wasson.
Sen. Elizabeth Warren (D-Mass.) introduced a bill Friday that would enhance the federal government's ability to probe police departments with a pattern of discriminatory practices. Warren's measure would hold police departments accountable when officers use excessive force, a statement from Warren's office claims.
Trump Uses 'Defund Police' Against Biden: President Donald Trump is seeking to tie Joe Biden to activists' calls to "defund the police" in an attempt to paint his likely 2020 opponent as weak on crime and vilify Democrats pushing for police reform, even though Biden hasn't embraced the slogan.
Two weeks of protests have Trump on the defensive and are giving Democrats an opening to pursue curbs on law enforcement supported by their diverse base. But Trump is trying to turn the defunding demands into a political liability for Biden and grab the support of voters alarmed by scenes of protests, along with law enforcement groups that have been traditionally popular in the U.S.
Activists who call for defunding police take a range of positions, including shifting money to programs to address economic and social ills that disproportionately affect blacks and other people of color. But the rallying cry evokes the idea of abolishing police, providing a potent and tweetable attack on Democrats, even those like Biden who haven't embraced it.
Trump and Biden's dueling approaches over the protests and police brutality will be on display today. The president plans to host a roundtable with law enforcement at the White House while the Democratic candidate travels to Houston to meet with the family of George Floyd before his funeral. Read more from Jordan Fabian.
Acting Homeland Security Secretary Chad Wolf said the idea of defunding police departments to address problems with racial injustice is "absurd," arguing that such a move would deprive officers of necessary training and leadership. Joe Light has more.
A veto-proof majority of the City Council in Minneapolis pledged yesterday to "begin the process" of dismantling its police force. Council members, who signed the dismantling pledge before hundreds of onlookers, said they did not have immediate plans for what would replace the force but would consult with the community on a new structure for public safety. Read more.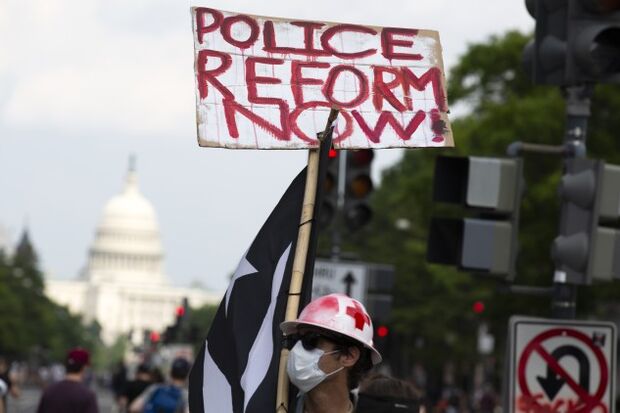 Also in Protests & Unrest Responses
Trump Tells National Guard to Withdraw: Trump tweeted yesterday that he ordered the National Guard to start withdrawing from the nation's capitol "now that everything is under perfect control." For a second day he suggested crowds at Saturday's events were smaller than expected. Mayor Muriel Bowser told Fox News that no arrests had been made during Saturday's demonstrations, which were the largest of the nine days of events in the nation's capital but had more of a peaceful, even festive atmosphere and a notably reduced law-enforcement presence. Read more.
On Friday, the Trump administration announced it's withdrawing active duty troops from the Capital Region, as violent protests subsided and Bowser (D) said the "extraordinary" federal law enforcement footprint in the region had inflamed tensions. Defense Secretary

Mark Esper

offered a verbal order for any remaining units in the D.C. area to return to their home bases, Army Secretary Ryan McCarthy said. Ari Natter has more from Friday.
Attorney General William Barr yesterday denied that Trump wanted 10,000 active duty troops sent to U.S. city streets to quell unrest. Barr, in an interview with CBS's Face the Nation, pushed back on reports by several news organizations that the president initially made the demand before backing down after resistance from Barr and other top White House officials. Read more from Joe Light.
Facebook, Twitter Pull Trump's Floyd Video: Twitter and Facebook removed a Trump campaign tribute to Floyd over copyright claims, the latest escalation in a confrontation between the social media firms and one of their most influential users. The Team Trump account posted a video collage of images and clips depicting peaceful protests, moments of mourning, and police officers hugging civilians in the wake of Floyd's killing. Vlad Savov and Melissa Cheok have more.
Trump blasted Twitter's decision to remove the tribute, saying in a post on Twitter that the company is "fighting hard for the Radical Left Democrats." It's "a one sided battle. Illegal. Section 230!" he said, referring to provisions he's asked federal regulators to look into in the Communications Decency Act that insulate companies from liability for content posted by users, Ben Livesey reports.
NYT Opinion Editor Resigns after Cotton Op-Ed: The New York Times says its editorial page editor James Bennet resigned following public furor over the paper's decision to publish an op-ed by Sen. Tom Cotton (R-Ark.) under the headline "Send in the Troops." The paper concluded the op-ed didn't meet its standards after a review on Thursday. Read more from Yueqi Yang.
Also in Elections, Politics & Probes
Trump's Week Could Be Turning Point: Trump endured one of the grimmest weeks of his presidency, as days of unrest in U.S. cities emerged as the biggest test yet of his capability to lead in a crisis and put new strains on his pitch for a second term. Yet, for Trump and his supporters it, was also a week that ended on a high note. An unexpected surge in May hiring, despite the pandemic, and an easing of tensions on American streets allowed him to declare Friday, in an extemporaneous speech, that "it's the greatest comeback in American history."
That optimism underscored why the first week of June will likely be seen as an inflection point for Trump's presidency in one way or another, seared into both the minds and the votes of an ailing population. In five days, he either solidified perceptions that he's an authoritarian leader with no capacity to unify a broken nation, or re-established himself as an able shepherd of the nation's economy, regardless of how voters otherwise feel about him. Read more from Justin Sink and Mario Parker.
Eight out of 10 U.S. voters said they believe things are out of control in the country, a NBC-Wall Street Journal poll showed yesterday. Just 15% said the U.S. was "under control." Majorities of Americans are still concerned about the spread of Covid-19, pessimistic about the economy returning to normal this year, and are down on Trump's ability to unite the country, the survey showed. Read more from Ros Krasny.
Ex-Generals Come Out Against Trump for Plan to Militarize U.S.: Colin Powell became the latest retired U.S. military leader to speak out against Trump, saying the president "drifted away" from the Constitution in weighing a plan to have active-duty military members patrol the nation's streets. "We have a Constitution, and we have to follow the Constitution, and the president has drifted away from it," said Powell, a retired Army general and President George W. Bush's first secretary of State. "He lies. He lies about things. And he gets away with it, because people will not hold him accountable," Powell, who also served as chairman of the Joint Chiefs of Staff, said yesterday on CNN's "State of the Union."
Retired generals and admirals who spoke out with unprecedented vehemence in recent days were galvanized by the use of force against demonstrators outside the White House and by Trump's threat to invoke the Insurrection Act of 1807 to send active-duty troops into states roiled by protests even if governors objected. Trump has backed away from such moves in recent days while continuing to tweet his calls for "LAW & ORDER!" Read more from Tony Capaccio and Bill Faries.
Biden Clinches Democratic Nomination: Biden Friday night formally clinched the Democratic presidential nomination, according to the Associated Press tally, officially setting off his general election campaign to unseat Trump. Read more from Tyler Pager and Gregory Korte.
Biden's Michigan Lead Surges to 12 Points: Biden leads Trump by 12 points in the key battleground state of Michigan in a new poll released yesterday, double the margin in the survey in January. The former vice president is up 53% to 41%, according to the EPIC-MRA of Lansing survey conducted from May 30 to June 3. The RealClearPolitics average of Michigan polls has Biden leading by 4.2 points. Read more from Emma Kinery.
Harris' Attorney Record May Hurt VP Chances: Sen. Kamala Harris' (D-Calif.) prospects for becoming Biden's running mate might be complicated by her own record as a prosecutor, in spite of her strong words in support of those protesting police brutality across the U.S. Some of the longstanding anger and discontent over the treatment of African-Americans by police and prosecutors has at times been directed at Harris, who was district attorney of San Francisco and later California attorney general. Read more from Jeffrey Taylor.
Trump Campaign Hires Ex-Aide Miller: Trump's re-election campaign is hiring former aide Jason Miller to serve as a senior adviser, Politico reported. Miller will provide additional support to campaign manager Brad Parscale, Politico reports. Miller served as chief spokesman for Trump's 2016 campaign. He was tapped as White House communications director after the election before backing out due to reports that he had an extramarital affair with another campaign official.
Energy Industry Jilts Trump: The oil and gas industry, long one of the most reliable sources of campaign cash for Republican candidates at all levels, is turning a cold shoulder to Trump. Reeling from the worst oil-price crash on record and wary of Trump at the best of times, energy companies and their employees are donating far less to his re-election campaign than they did to his first run, and also much less than they've showered on Republican presidential candidates in the past.
Trump raised $1.1 million from oil and gas company employees between May and November in 2016, the only period he actively raised donations during his first presidential run. But in the 40 months since, when he's relentlessly been raising re-election cash, they've given him $654,103. Read more from Jeffrey Taylor and Bill Allison.
Obama Urges 2020 Graduates to Vote for Change: Former President Barack Obama urged Class of 2020 graduates to vote for change, saying protests alone won't end discrimination and injustice that have sparked almost two weeks of nationwide demonstrations. Speaking during a virtual commencement address on YouTube, Obama called on young Americans to play their part in democracy "even if it all seems broken."
"I've noticed that there have been some debates among young people about how useful voting is compared to direct action and civil disobedience in ending discrimination in our society," he said. "The fact is that we don't have to choose, we need both." Read more from Yueqi Yang.
Reopening Efforts
FDA Says No Link Between Reopening, Cases: The White House Coronavirus Task Force has yet to see a relationship between states' reopening efforts and growing Covid-19 cases, Food and Drug Administration Commissioner Stephen Hahn said. "I do worry about the protests and the lack of masks," Hahn said on an HHS podcast this weekend. Hahn said the federal government's "Operation Warp Speed" to create a vaccine can become a pathway to "expediting medical product development" for other diseases. Read more from Shira Stein.
Democrats Focus on Economic Pain While GOP Celebrates Jobs Data: Democrats and Biden plan to counter Trump's claims that the economy is back on track by highlighting Americans' lingering pain from the coronavirus shutdown along with more deeply rooted inequalities, party and campaign officials say.
Biden has promised to unveil new economic policy proposals in the coming weeks. He plans to describe the investments and strategies he would adopt if elected to create new jobs and encourage sustainable growth, said campaign spokesman Andrew Bates. Trump's "incompetence didn't only contribute to a death toll of over 109,000 Americans, but it also made him accountable for the loss of millions of jobs that didn't have to be lost," Bates said. Biden's proposals will "generate a surge of new jobs in office, rebuilding the American middle class and bringing everyone along so we build back better." Read more from Jennifer Epstein.
State Programs Offer Path to Rehiring: Several small businesses are tapping into state-run programs that pay rehired workers a pro-rated portion of jobless benefits to offset reduced hours and supplement the wages they receive. Work sharing, also called short-time compensation, is expanding rapidly in the U.S. as it helps stores avoid layoffs and begin rehiring some of the millions pushed into unemployment by the pandemic. In late February, under 12,000 Americans claimed shared-work benefits. By mid-May, it rose to 193,938. Read more from Catarina Saraiva and Reade Pickert.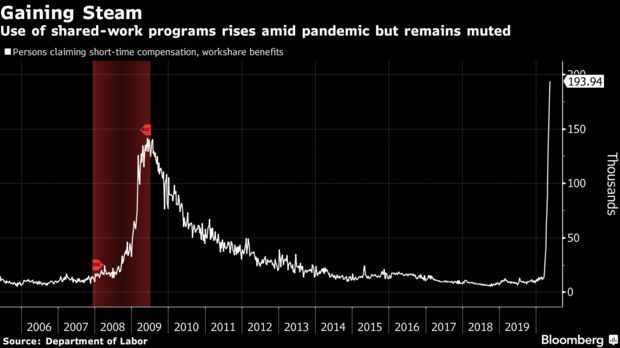 Wall Street Doubts Fed's $600B Virus Lending Plan: The Federal Reserve is about to launch a $600 billion gambit to save swaths of U.S. businesses and tens of millions of jobs threatened by the coronavirus crisis. Wall Street is far from confident the Fed can pull it off. At issue is the Main Street Lending Program, and failure could have consequences for the U.S. economy and for Trump's re-election. Federal Reserve Chairman Jerome Powell has labeled the small-and-medium-sized companies eligible for Main Street loans the U.S.'s "jobs machine," because they employ some 68 million Americans. Widespread bankruptcies among these firms would be a clear setback for the pandemic recovery. Read more from Saleha Mohsin and Davide Scigliuzzo.
American Jobs Are Returning But An Ugly Summer Still Looms: The slow awakening of the American economy from its pandemic lockdown helped provide the first positive jobs headline of the summer as millions of workers furloughed temporarily started their return to work in May, according to a Friday report from the Labor Department. Yet that also masked a grim reality for the millions still waiting to go back to work, still waiting for benefits, or losing their jobs permanently. Read more from Shawn Donnan.
What Else to Know Today
Courts Try Out Social Distancing, Video for Grand Juries: After months of being shuttered by the coronavirus pandemic, the doors at federal courthouses around the nation are slowly starting to swing open with the convening of socially distanced grand juries. Read more from Madison Alder.
China Vehemently Denies Virus Cover-Up: China lambasted suggestions that it hid information about the coronavirus outbreak, arguing in a newly published white paper that it acted transparently and warned the world of developments in a timely enough manner. John Liu, Claire Che and Moxy Ying have more.
Meanwhile, Global Times Editor-in-Chief Hu Xijin asked "Who is more like Nazi Germany?" in a Twitter post in response to a comment made by Secretary of State Mike Pompeo comparing China's effort to tighten its grip on Hong Kong to Germany's conquest of much of Europe before and during World War II. Read more from Tiago Ramos Alfaro.
Trump Stuns Berlin With Pullout Plan: German Chancellor Angela Merkel was caught off guard by Trump's decision to withdraw 9,500 troops from Germany by September. The U.S. decision to pull over a quarter of U.S. troops out of Germany follows years of tensions between Trump and Merkel over her country's military spending. Read more from Nick Wadhams and Arne Delfs.
Iran Sanctions Case Being Dropped: In a rare move, federal prosecutors are seeking to pull a criminal case against an Iranian banker convicted of violating U.S. sanctions. Ali Sadr Hashemi Nejad was found guilty in March of helping to funnel $115 million through the U.S. financial system to Iranian entities from a construction project in Venezuela. Read more from Chris Dolmetsch.
Iran said it's also prepared to agree to more prisoner exchanges with the U.S. if Washington is also ready to release Iranian nationals now in detention, the state-run Islamic Republic News Agency reported yesterday, Arsalan Shahla reports.
To contact the reporters on this story: Zachary Sherwood in Washington at zsherwood@bgov.com; Brandon Lee in Washington at blee@bgov.com
To contact the editors responsible for this story: Giuseppe Macri at gmacri@bgov.com; Loren Duggan at lduggan@bgov.com; Michaela Ross at mross@bgov.com
Stay informed with more news like this – from the largest team of reporters on Capitol Hill – subscribe to Bloomberg Government today. Learn more.