What to Know in Washington: Democrats Pivot Back to Stimulus
With Donald Trump's impeachment trial behind them, Democrats are quickly pivoting back to President Joe Biden's priorities, particularly his $1.9 trillion stimulus plan and confirming the rest of his cabinet.
Lawmakers face a short turnaround to approve another round of stimulus payments, jobless compensation and funding for schools and vaccines before key benefits from the last round of pandemic aid expire on March 14. In less than four weeks, Democrats must pass a bill out of the House and get all 50 Senate Democrats to back the legislation.
That will likely require amending some provisions, such as the $15 federal minimum wage requirement, that at least two Democratic Senators — Kyrsten Sinema (Ariz.) and Joe Manchin (W.Va.) — say they won't support. Any changes made in the Senate would mean that the bill would have to go back to the House for another vote.
The eagerness of congressional Democrats to move past Trump was evident from start to end of the shortest Senate impeachment trial in history. The agreement on the trial format between Senate Majority Leader Chuck Schumer (D-N.Y.) and Republican leader Mitch McConnell (R-Ky.) kept the proceedings compressed. Although Democrats expressed disappointment in the outcome, they said they are ready to put the former president behind them and focus on Biden's priorities.
"We in Congress need to move forward with delivering the expanded unemployment checks, the stimulus checks, the reinvestment in our economy that the American people so desperately need and deserve," Sen. Chris Coons (D-Del.), who is close to Biden, said Sunday on ABC's "This Week" program. Read more from Laura Davison.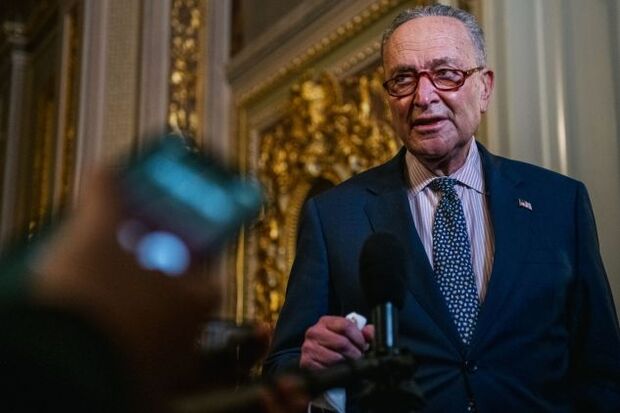 Trump's Presence Endures
Trump Allies Lash Out, Foreshadowing GOP Civil Conflict: Trump's allies lashed out at the Republican senators who voted to convict him in the impeachment trial touched off by last month's Capitol insurrection, showing the challenge the party would face in breaking with the former president after his acquittal.
Sen. Lindsey Graham (R-S.C.) proclaimed on Sunday "the Trump movement is alive and well" as he reveled in the former president's dominance of the party, just a day after the Senate acquittal. And two state parties, Louisiana and North Carolina, moved within hours of the trial's conclusion to censure Republicans who voted to convict Trump on Saturday, a sign of his following among the GOP's rank and file.
The rebukes underscore the former president's role as a force within the Republican Party, even as it's still not clear how active he plans to be in shaping the GOP in the next election cycle and beyond. Trump has suggested he may run for president again in 2024. Even if he doesn't make another White House bid, and even without his social media dominance, the former president remains an asset to the candidates he endorses.
Trump also may be a threat to his Republican opponents, including some of the seven senators who voted to convict the former president Saturday, and the 10 House members who voted for his impeachment in January. Trump is said to be eager to exact revenge on Republicans who crossed him. And conservatives are already lining up to challenge Trump's Republican foes in primaries. Read more from Jennifer A. Dlouhy and Mike Dorning.
Republican Efforts to Restrict Voting Risk Backfiring on Party: Republican lawmakers in battleground states are rushing to enact stricter voting laws that Democrats worry could dampen Black and Hispanic turnout, but the moves could end up backfiring because of the changing face of the GOP coalition. The flurry of legislation includes attempts to impose voter ID requirements and roll back pandemic-related expansion to mail-in access, steps that may inadvertently limit the participation of many of the older, rural and blue-collar voters that Republicans now depend on. Read more from Ryan Teague Beckwith.
Republican Perdue May Seek Senate Return: Former Sen. David Perdue (R) has taken a preliminary step toward running again in Georgia after narrowly losing his seat in a runoff election last month, a move that would set up a sequel to the epic contests that gave Democrats control of the Senate. Perdue filed a statement of candidacy yesterday with the Federal Election Commission to challenge Democratic Sen. Raphael Warnock (D) in the 2022 election.
Sept. 11-Type Panel for Attack Gains Momentum: Speaker Nancy Pelosi (D-Calif.) said Congress must create an independent Sept. 11-type commission to investigate the Jan. 6 ransacking of the Capitol now that former Trump's impeachment trial has ended. In a letter yesterday to fellow House Democrats, Pelosi said retired Army Lieutenant General Russel Honore has already been reviewing security needs and will continue to make proposals to ensure that it doesn't happen again. Multiple Republican lawmakers echoed her call over the weekend. Read more from Billy House.
Around the Administration
Biden Urges Lawmakers to Act on Guns: Biden called on Congress to move forward on gun-reform legislation, including a ban on assault weapons, in a bid to help prevent another mass shooting in the U.S. The president asked Congress to "enact commonsense gun law reforms," including requiring background checks on sales, banning assault weapons and high-capacity magazines, and paring back immunity for gun manufacturers, he said, Colin Keatinge reports.
Faith-Based Partnerships Office Relaunched: Biden has re-established a White House office that coordinates federal policy with religious and community groups, reflecting his promise to promote equitable treatment for Americans. Such groups are vital to addressing the needs of underserved communities, including people of color, Biden said in an executive order Sunday. Read more from Jenny Leonard.
Biden Aide Feels Heat on Equality Vow: As the Biden administration seeks to address racial inequities across the U.S., he has turned to former Rep. Cedric Richmond (D-La.) to help keep a promise to end discriminatory practices ranging from housing to voting rights, a task complicated by risk of alienating Republicans whose votes are needed on key legislative priorities. But the former Congressional Black Caucus chair is also facing mounting pressure from the other side of the ideological spectrum. Read more from Mario Parker.
Steps Taken to Undo Trump-Era Medicaid Work Rules: The Biden administration on Friday notified several states it was taking steps to withdraw moves from the Trump administration to preserve requirements that Medicaid beneficiaries work as a condition of having coverage. Centers for Medicare & Medicaid Services acting director Elizabeth Richter notified Arkansas, Georgia, Ohio, Nebraska, Indiana, Arizona, Wisconsin, South Carolina, and Utah. Christopher Brown has more.
DeJoy Plan Would Slow USPS Mail: U.S. Postmaster General Louis DeJoy is concocting a plan that would lead to slower mail delivery and raise postage rates, The Washington Post reports, citing two people familiar with the plan. The move would eliminate a two-day delivery tier for local first-class mail, lumping all mail into a three-to-five day delivery window, the Post report says. Read more from the Post.
Don't Let Down Guard on Virus, CDC Head Warns: A top Biden administration health official warned Americans not to get complacent about rapidly falling Covid-19 cases, as a potentially more infectious and lethal variant spreads in the U.S. The U.S. has seen over 1,000 cases of the strain first identified in the U.K., with infections across at least 39 states, Centers for Disease Control and Prevention Director Rochelle Walensky said. Read more from Jennifer A. Dlouhy and Alyza Sebenius.
Term Limits Among Options for Biden Panel: Allowing cameras in their courtroom, establishing term limits for Supreme Court justices, or slowly adding lower court judges are ways a bipartisan commission appointed by Biden could recommend reshaping the judiciary. Those potentially significant changes would fall short of adding new members to the high court, the idea embraced by progressives to overhaul the judiciary in a hurry. Read more from Madison Alder.
Energy Crisis Deepens, Nearly 5 Million in the Dark: The energy crisis crippling Texas's power system continued to spread, with nearly 5 million people across the U.S plunged into darkness as authorities fought to avoid a total collapse of the grid. Homes and businesses from North Dakota to Texas are losing power in the middle of an unprecedented deep freeze that has broken daily temperature records in hundreds of places. Biden has approved an emergency declaration for Texas. Read more from Brian K. Sullivan and Naureen S. Malik.
Defense & Foreign Affairs
U.S. Wary of Beijing's Role in WHO's Covid-19 Probe: The White House issued its strongest criticism yet of the World Health Organization's handling of the investigation into the origins of the coronavirus and China's involvement in the probe's findings. "We have deep concerns about the way in which the early findings of the Covid-19 investigation were communicated," National Security Adviser Jake Sullivan said in a statement Saturday. Jenny Leonard has more.
European Allies to Offer Biden Vows of Allegiance: European allies are preparing to welcome Biden's administration with a commitment to increase their defense spending and a potential plan to enlist NATO as a counterweight to China. "China and Russia are at the forefront of an authoritarian pushback against rules-based international order," North Atlantic Treaty Organization Secretary General Jens Stoltenberg told reporters in Brussels yesterday. A summit of NATO leaders with Biden, later this year, "will be a unique opportunity to start a new chapter for transatlantic relations," he said. Read more from Viktoria Dendrinou and Nikos Chrysoloras.
Biden Faces S. African Push on Trade: South Africa is concerned about striking a new trade deal with the U.S. and prefer to maintain existing relations with the world's largest economy, the nation's top trade official said. South Africa is currently party to the "Generalized System of Preferences" and the "African Growth and Opportunity Act," which together allow most of sub-Saharan Africa duty-free access to U.S. imports, S'thembile Cele and Loni Prinsloo report.
WTO Formally Appoints Okonjo-Iweala as Leader: The World Trade Organization selected Ngozi Okonjo-Iweala to be the first woman and first African as its director, tasking the former Nigerian finance minister and a development economist with restoring trust in a rules-based global trading system roiled by protectionism and the coronavirus. Bryce Baschuk has more.
To contact the reporters on this story: Giuseppe Macri in Washington at gmacri@bgov.com; Brandon Lee in Washington at blee@bgov.com
To contact the editors responsible for this story: Zachary Sherwood at zsherwood@bgov.com; Loren Duggan at lduggan@bgov.com; Michaela Ross at mross@bgov.com