What to Know in Washington: Democrats Make Voting Rights Gambit
Democrats are pushing forward with a plan today to advance voting rights priorities, but they still face long odds in the Senate to overcome Republican opposition. President Joe Biden's pick to serve as Federal Reserve vice chair heads to the Senate today, where Lael Brainard plans to warn about the threat of inflation to the central bank's work.
Here's what Bloomberg Government is tracking for Thursday.
Congressional Schedule:
The Senate meets at 10 a.m. and plans to consider a bill to impose sanctions on the Nord Stream 2 pipeline.
The House starts at 9 a.m. and is scheduled to vote on legislation combining two of Democrats' voting rights bills.
Click here for a complete list of today's hearings and markups.
Biden's Schedule:
Biden will provide an update at 10:30 a.m. on the administration's Covid-19 response.
The president will travel to the Capitol at 1 p.m. to meet with Senate Democrats to discuss voting rights legislation.
Press Secretary Jen Psaki and National Security Advisor Jake Sullivan hold a press briefing at 3p.m.
Democrats Launch Voting Bill Gambit
Senate Majority Leader Chuck Schumer (D-N.Y.) said he'll try to break a logjam on two voting-rights measures and start debate on the Senate floor as soon as today, but Republicans could still block a final vote on the measure. The move comes as Democrats in the chamber continue a long-shot bid for an elusive agreement to change the filibuster rules and get the legislation to Biden's desk.
Schumer told all Senate Democrats he plans to use a procedural gambit to prevent Republicans from blocking the beginning of debate. The House today is on track to pass legislation that combines two bills that were held up in the evenly split Senate in 2021 and then send them to the Senate, which can use the legislation to bypass the typical 60-vote threshold to proceed. Schumer pointed out Republicans can still scuttle it later before a vote on final passage.
"With this procedure, we will finally have an opportunity to debate voting rights legislation – something that Republicans have thus far denied," Schumer said in a memo to Democrats that was obtained by Bloomberg News. "Of course, to ultimately end debate and pass the voting rights legislation, we will need 10 Republicans to join us, which we know from past experience will not happen, or we will need to change the Senate rules as has been done many times before."
Biden plans to go to Capitol Hill to step up pressure on Senate Democrats to change the filibuster rules and enable passage of voting legislation. Biden and Senate Democratic leaders are seeking to pressure reluctant Senate Democrats to change Senate filibuster rules so that the voting rights legislation could clear the chamber on a simple majority vote. It takes 60 votes to end a filibuster — essentially endless debate — and move forward on most legislation. Read more from Laura Litvan.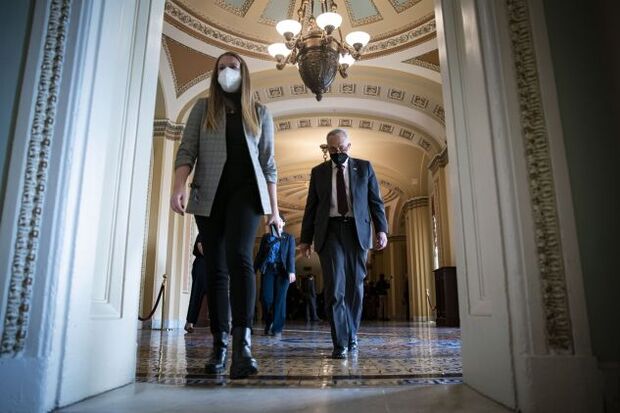 BGOV Bill Summary: Voting options, election procedures, and campaign finance rules would be modified by a House amendment to the Senate-passed H.R. 5746, which would also require federal approval before voting changes can be implemented in states and localities with a recent history of discrimination. The amendment would combine text drawn from two separate voting-focused measures. Adam M. Taylor has more in the BGOV Bill Summary.
The voting rights legislation is a key part of Democrats' agenda, as leaders move aggressively to advance their top priorities which also include Biden's economic overhaul as they face a midterm fight in November to keep control of Congress. Bloomberg Government legislative analysts held a webinar yesterday looking at what's ahead for 2022. Lawmakers are working to cut a deal on government funding for the rest of fiscal 2022, before they can even turn to the next fiscal year. Analysts also examined other critical items that Congress is eyeing, including China competition and biomedical research. Find a recap of BGOV's webinar here.
ALSO HAPPENING ON THE HILL:
The Senate will vote today on a bill from Sen.

Ted Cruz

(D-Texas) to impose sanctions on the Nord Stream 2 pipeline. The Biden administration opposes the legislation, which the White House argues would undermine U.S. efforts top deter Russia from further aggression against Ukraine, Daniel Flatley and Jennifer Jacobs report.
Sen. Joe Manchin's (D-W.Va.) opposition is threatening to derail Biden's massive social-spending plan, but he does want to expand at least one of the measure's climate provisions: a tax credit to keep nuclear plants operating.

Manchin

backs the credit for nuclear plants that is tucked inside Biden's Build Back Better legislation. Under the version passed by the House, a credit of as much as $15 per megawatt-hour could be claimed for the next six years. Manchin, whose support is necessary for Senate Democrats to pass the legislation on a party-line vote, wants the tax credit to last 10 years instead, according to three people familiar with the matter. Read more from Jennifer A. Dlouhy and Ari Natter.
Fed's Brainard Says Curbing Inflation Is 'Most Important Task'
Federal Reserve Governor Lael Brainard said tackling inflation and getting it back down to 2% while sustaining an inclusive recovery is the U.S. central bank's most pressing task.
"Inflation is too high, and working people around the country are concerned about how far their paychecks will go," Brainard said in remarks prepared for a confirmation hearing today before the Senate Banking Committee. "Our monetary policy is focused on getting inflation back down to 2% while sustaining a recovery that includes everyone. This is our most important task." The hearing will be held at 10 a.m.
Brainard was nominated by Biden to serve as Fed vice chair, succeeding Richard Clarida who resigned this month, two weeks before the end of his term in the wake of new questions about his personal trading. Read more from Craig Torres.
The White House is working to finalize Biden's remaining picks for the Fed, White House National Economic Council Director Brian Deese said. "We are working closely with congressional leadership to finalize those additional nominees and are confident that we can move them on a schedule that will mean that they can be in place at the appropriate cadence," Deese told reporters. Sarah Bloom Raskin, a former deputy Treasury secretary, is a top contender for the vice supervision chair at the Federal Reserve, Bloomberg News reported previously. Read more from Josh Wingrove.
MORE NOMINATIONS:
Elections & Influence
The panel investigating the Jan. 6 insurrection at the U.S. Capitol has asked the House GOP leader, Kevin McCarthy (R-Calif.), to answer questions about his correspondence with former President Donald Trump and others before and after a mob stormed the building. "We also must learn about how the president's plans for January 6th came together, and all the other ways he attempted to alter the results of the election," Rep. Bennie Thompson (D-Miss.), who's chair of the select committee, wrote in a letter to McCarthy requesting the interview. Read more from Billy House.
The swing state of Georgia became the crux of American politics in the 2020 election cycle. Not only did Georgians choose a Democrat for president for the first time in decades, helping Biden clinch a victory, but they also elected two Democrats to the U.S. Senate in January 2021, giving the party razor-thin control of that chamber. With Republican Gov. Brian Kemp delivering his state of the state address Jan. 13 and unofficially kicking off his fight for reelection, the spotlight is about to return. Read more from Margaret Newkirk.
Kansas Gov. Laura Kelly is the is the only incumbent Democrat running for re-election in a state that voted for Trump in 2020. She has to figure out how to retain her base—she won with 48% of the vote in 2018—while also appealing to admirers of the former president, who carried 56% of the state's vote in 2020. A big difference this time: She's running on her own record as the executive who is leading Kansas through the Covid-19 pandemic rather than focusing on her work as a state senator to undo the starve-the-government tax policies of former Gov. Sam Brownback (R). Read more from Stephen Joyce.
David McCormick, who stepped aside this month as CEO at giant hedge fund Bridgewater Associates, filed paperwork needed to enter the Republican primary for a Senate seat in Pennsylvania. The first-time politician filed a statement of candidacy with the Federal Election Commission yesterday. McCormick is jumping into the race to succeed Republican Pat Toomey, who is retiring, in a field that includes celebrity physician Mehmet Oz, among others. McCormick was raised in Pennsylvania, but the Gulf War veteran has long operated in the rarefied worlds of Washington and Wall Street. Read more from Katherine Burton.
Around the Administration
The U.S. military will deploy new help to hospitals in New York and New Jersey as they grapple with a wave of hospitalizations driven by the omicron variant. Biden will announce today that his administration is deploying military doctors, nurses and others to six hospitals in six states, including Coney Island Hospital in Brooklyn and University Hospital in Newark, the White House said. The workers are relief teams dispatched to ease pressures on overwhelmed health centers. Biden will make the announcement in a speech on the latest in his administration's pandemic response, focusing on surge teams and aid sent to states. He'll be joined by Defense Secretary Lloyd Austin and Federal Emergency Management Agency Administrator Deanne Criswell. Read more from Josh Wingrove.
Some of the world's largest technology firms are meeting at the White House today in an effort to improve open-source software security, U.S. officials said. Companies such as Amazon, Apple, Meta Platforms and Google will join senior leaders from a wide swath of federal agencies, including the Pentagon, the National Science Foundation, the Commerce Department and the Department of Homeland Security. Read more from Jack Gillum.
The Taliban want the international community to work with its government to distribute humanitarian aid flowing into Afghanistan amid plans by the U.S. to bypass the militant group and channel funds through United Nations agencies. Acting Deputy Prime Minister Abdul Salaam Hanafi proposed a committee to be set up to coordinate aid worth billions of dollars during a meeting on late yesterday with U.N. representatives. Read more from Eltaf Najafizada.
To contact the reporters on this story: Zachary Sherwood in Washington at zsherwood@bgov.com; Brandon Lee in Washington at blee@bgov.com
To contact the editors responsible for this story: Giuseppe Macri at gmacri@bgov.com; Loren Duggan at lduggan@bgov.com; Michaela Ross at mross@bgov.com