What to Know in Washington: Democrats Make Progress on Agenda
Congressional Democrats made significant headway in breaking their stalemate on President Joe Biden's economic agenda yesterday by jettisoning or trimming portions of the multitrillion-dollar tax and spending package.
The progress came after Biden met with representatives of both wings of the party at the White House and as Senate Majority Leader Chuck Schumer (D-N.Y.) put pressure on Democrats to sew up a deal this week.
Among the expected targets for cuts is a program that would provide two years of tuition-free community college. The extension of the expanded child tax credit, meanwhile, will likely be one year as opposed to four, according to a persona familiar with the discussion. Lawmakers are also discussing keeping health care expenditures under $250 billion, the person said.
Those changes could slice hundreds of billions of dollars from the overall cost of the plan as Democrats look to scale back a $3.5 trillion framework to roughly $2 trillion to bridge differences in the party. Slim majorities in both the House and Senate mean that nearly every congressional Democrat will have to vote for the plan. Read more from Laura Davison, Emily Wilkins and Erik Wasson.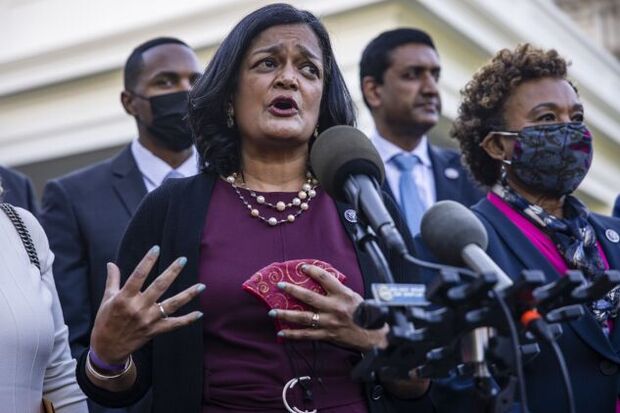 Democrats to Drop Community College: Democrats agreed top drop two years of free community college from the bill. Congressional Progressive Caucus Chair Pramila Jayapal (D-Was.) and Rep. Ro Khanna (D-Calif.) confirmed that the community college provision would fall by the wayside as Democrats struggled to reduce the size and scope of the measure to satisfy party moderates. Community college made up $109 billion of the multi-trillion dollar plan. Read more from Emily Wilkins.
Women Workers to Benefit From Home Care Funds: Home-based health care should be seen as a jobs program for women of color and a cure for what ails the American economy, supporters of Biden's proposal for a massive infusion into the industry say. Labor groups and key Democratic senators say spending as much as $250 billion over a decade on home health care would create more than 500,000 new jobs in the sector. Money for home-based health care is among the provisions considered vulnerable as Democrats work to trim Biden's agenda. Read more from Alex Ruoff.
State Grants Emerge as Clean Power Plan Fallback: A White House-backed clean power program that was rejected by Sen. Joe Manchin (D-W.Va.) could be resurrected as a grant program that would reward states that increase clean energy. Lawmakers have been working on a Clean Energy Challenge Grant Program for states as an alternative, Rep. Jared Huffman (D-Calif.) said in a telephone interview following a meeting with Biden and progressive lawmakers at the White House. "My understanding is it a set of pretty significant incentives to get most states to achieve clean energy," Huffman said. "The point I made to the president is we have find something that achieves the same power sector emission reductions because without it we are off track." Read more from Ari Natter.
Neal Not Backing New Bank Reporting Deal Yet: House Ways and Means Chair Richard Neal (D-Mass.) said he has yet to sign off on a deal to amend the Democrats' original plan for the IRS to collect more information on financial accounts. Neal said he's encouraged by the raise to a $10,000 annual inflow or outflow threshold for reporting to the IRS, but said he hasn't seen other details in the deal announced by Senate Democrats yesterday—with the Treasury Department's blessing. Colin Wilhelm has more.
Happening on the Hill
Today's Agenda:
House lawmakers are scheduled to consider as many as 18 bills under expedited floor procedure.
The Senate plans to vote on Biden's nominee to be an Education Department assistant secretary before a procedural vote on Democrats' bill to overhaul elections.
Click here for a complete list of today's hearings and markups.
Infrastructure Battle Puts China Chip Bill on Back-Burner: A bipartisan push to make the U.S. more competitive with China and bolster domestic chip production risks falling by the wayside as Congress grapples with a packed year-end agenda in an ever-more-divided Capitol. The Senate-passed legislation, which includes $52 billion to strengthen the U.S. semiconductor industry and other provisions to aid the technology sector, marked a rare piece of cooperation over the summer between progressives and conservatives. But the popular legislation was quickly overrun by infighting among Democrats over Biden's economic agenda, as well as a feud with Republicans over the debt ceiling and government spending. Daniel Flatley checks in on the state of play on the measure.
Congress Could Break Habit of Buying Extra F-35s: Hiccups in the delivery schedule for Lockheed Martin F-35 Joint Strike Fighter aircraft are prompting Senate lawmakers to hold off on adding money for the Pentagon's costliest program ever. "The fact-of-life realities do not justify supporting additional aircraft at this time," Senate Democrats said in a statement accompanying their fiscal 2022 defense appropriations proposal. It's a rare decision for the congressional committees overseeing the Pentagon's budget not to increase funds for the $398 billion program. Roxana Tiron has more.
ACA Extras Cost $553 Billion, Add Millions to Public Plans: Obamacare enhancements at the core of Democrats' health agenda would cost $553.2 billion and extend coverage to nearly 4 million Americans over a decade, according to a nonpartisan analysis by the Congressional Budget Office released yesterday. Enrollment in Medicaid and individual health plans subsidized by Obamacare would increase by 4 million and 3.6 million respectively, according to the report. Read more from Alex Ruoff.
Riot Probe Panel Recommends Holding Bannon in Criminal Contempt: The House committee investigating the Jan. 6 riot at the U.S. Capitol voted unanimously last night to recommend that the full House hold former Trump administration adviser Steve Bannon in criminal contempt for defying the panel's subpoena for documents and testimony. The resolution will now go to the House floor for a vote that requires a simple majority to pass. That vote is expected to come tomorrow. Read more from Billy House.
Biden Pick for OSHA Head, Doug Parker, Moves Toward Senate Vote: Senate Majority Leader Chuck Schumer (D-N.Y.) has filed a motion to limit debate on the nomination of Doug Parker to head the Labor Department's Occupational Safety and Health Administration, a move that is aimed to put him on a path to confirmation. Parker, who is head of the California Division of Occupational Safety and Health, was approved by the Senate Health, Education, Labor, and Pensions committee by a vote of 13-9 on June 16. He is nominated to serve as assistant secretary of labor for occupational safety and health. Read more from Bruce Rolfsen.
Trucking Agency Nominee Faces Panel Vote: A key role in the Biden administration's struggle to overcome major supply chain disruptions could move closer to being filled today. Meera Joshi, the nominee to lead the agency that regulates trucking, will face a vote in the Senate Commerce, Science and Transportation Committee. Joshi, who already serves as deputy administrator of the Federal Motor Carrier Safety Administration, has navigated mounting concerns as truckers deal with port congestion. Read more from Lillianna Byington.
Portman Exit Could Change Ohio's Judicial Screening: Ohio Republican Rob Portman's planned exit from the Senate puts in jeopardy more than a decade of bipartisan judicial screening that's helped his home state get federal trial court judges confirmed no matter who is president. The bipartisan commission used by Portman and Democrat Sherrod Brown helps explain, in part, why the state has been able to agree on judicial nominees. Under Biden, it is the first split-delegation state to have nominees in the pipeline. Read more from Madison Alder and Alex Ebert.
Grand Jury Indicts House Republican: Rep. Jeff Fortenberry (R-Neb.) was indicted in a U.S. investigation of a $30,000 campaign contribution he allegedly received from Lebanese-Nigerian billionaire Gilbert Chagoury. The Chagoury Group founder figured into a previous controversy over whether Hillary Clinton's bid for the White House in 2016 was tainted by the non-profit Clinton Foundation's acceptance of foreign contributions while she was secretary of state. Read more from Peter Blumberg.
Around the Administration
Today's Agenda: Biden travels to Scranton, Pa., today to speak at 5:15 p.m. at the Electric City Trolley Museum on his economic agenda.
Biden Taps Acting NHTSA Chief to Be Permanent Head: Biden has nominated a former California environmental regulator and the acting chief of the National Highway Traffic Safety Administration to run the agency full time. Steven Cliff has been the NHTSA interim chief since January. He is a former deputy executive at the California Air Resources Board, which regulates auto emissions in the Golden State. NHTSA is now in its fourth year without a permanent administrator. Keith Laing has more.
Bidens Not Deemed Exposed After Mayorkas Tests Positive: Biden and first lady Jill Biden aren't considered close-contact exposures to Homeland Security Secretary Alejandro Mayorkas, who tested positive for Covid-19 three days after attending an outdoor event with them. Biden, who received his booster shot three weeks ago, isn't considered at risk because his most recent encounter was more than 48 hours before his positive test and occurred outdoors, the White House said. Read more from Josh Wingrove and Ellen Gilmer.
Russia Hosts Taliban for First Talks Since Pullout: Russia is hosting a delegation from the Taliban along with regional powers in the first such meeting since the chaotic U.S. withdrawal from Afghanistan in August brought the radical Islamic movement to power. A deputy prime minister of the interim Afghan government, Abdul Salam Hanafi, who played an important role in peace negotiations with the U.S., is the most senior figure attending the Moscow talks. Read more from Henry Meyer.
North Korea's New Missile Speeds Up Threat of Submarine Strike: North Korea said it test-fired a new type of ballistic missile from an existing submarine, potentially slashing the time before U.S. and allied forces in the region would need to be concerned about nuclear strikes from the sea. Kim Jong Un's regime heralded the launch, saying it "demonstrates the military muscle" of the state, its official Korean Central News Agency reported today. Read more from Jeong-Ho Lee and Jon Herskovitz.
Venezuela Move to Leave Mexico Talks 'Unfortunate': Secretary of State Antony Blinken called Venezuela's decision to withdraw from talks with the political opposition "deeply unfortunate," saying the move showed how President Nicolas Maduro put his own interests ahead of his country's. Speaking at a news conference in Quito, Ecuador, Blinken said the extradition of Colombian businessman Alex Saab, an ally of Maduro's, had been "going on for the better part of a decade." He denied any link between the move and the U.S. push for Maduro to clear the way for democratic elections in Venezuela. Read more from Stephan Kueffner and Nick Wadhams.
World View of U.S. Rebounding, Gallup Finds: Global approval of U.S. leadership rebounded to match a record during the first year of Biden's presidency, snapping back from all-time lows hit in 2020, according to Gallup's Rating World Leaders report. The median approval of U.S. leadership surged to 49%, matching the high set in 2009, according to Gallup's poll across 46 countries. That's a 19 percentage point jump from last year. Read more from Brody Ford.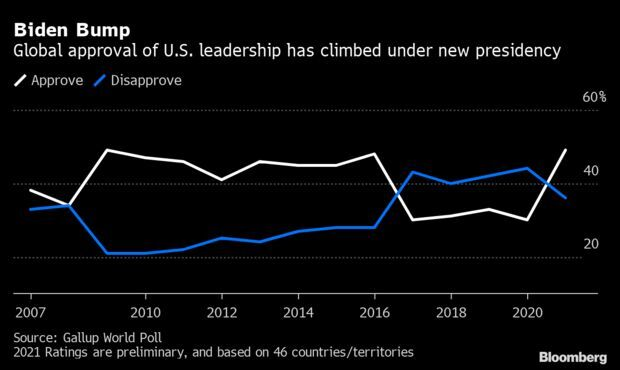 To contact the reporters on this story: Zachary Sherwood in Washington at zsherwood@bgov.com; Brandon Lee in Washington at blee@bgov.com
To contact the editors responsible for this story: Giuseppe Macri at gmacri@bgov.com; Loren Duggan at lduggan@bgov.com; Michaela Ross at mross@bgov.com