What to Know in Washington: Democrats' Investigation Bid Stunted
House Democrats once again fell short in a high-profile attempt to dig into what they say is President Donald Trump's possible misconduct — this time with a failed strategy to get access to his financial records before the November election.
The Supreme Court's ruling yesterday that the House didn't sufficiently justify its bid to subpoena documents from Trump's accountant and banks almost certainly spoiled any chance Democrats had of getting the records before the November election, and delivered a dose of criticism of them for reaching too far.
Chief Justice John Roberts in the 7-2 opinion said the House position would leave "essentially no limits on the congressional power to subpoena the president's personal records."
It was a stinging setback for Democrats, coming five months after their effort to remove Trump from office over his dealings with Ukraine failed along nearly partisan lines.
Democrats say they want to dig into Trump's conflicts of interest, the possibility that foreign actors have financial leverage over him and reports that his businesses have links to Russian money-laundering operations. Democrats say each of those areas is a possible subject of legislation.
Trump denies any wrongdoing and has said he would release the returns after an audit is complete.
Democrats jammed out a series of subpoenas in the spring of 2019, targeting tax records they had been demanding Trump release since he began his bid for the presidency in 2015. Then they spent nearly a year in court trying to enforce congressional authority.
But the Supreme Court, including the four liberal justices, said two lower courts were too deferential to Congress when they upheld the subpoenas. The high court ordered new scrutiny to determine whether the subpoenas were clearly focused on valid legislative goals and didn't excessively burden the president. Read more from Steven T. Dennis and Erik Wasson.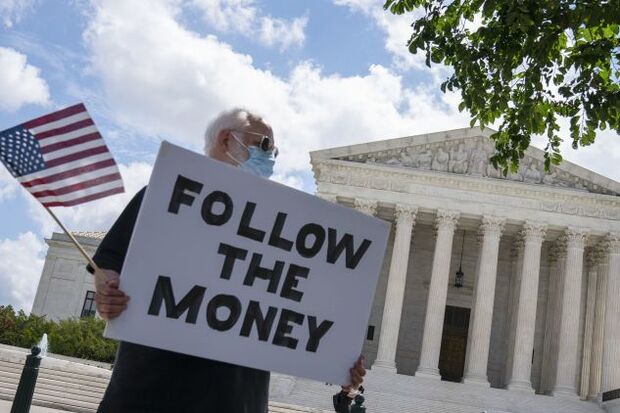 Battle Continues: The Ways and Means Committee's reliance on tax code Section 6103 could help bolster their quest for Trump's personal and business tax returns, legal scholars said yesterday, despite the setback. That code section gives certain congressional committee chairs the authority to request the tax returns of any individual. Reliance on that provision "contrasts with the more aloof and distant general claims of committees," said University of Baltimore law professor Charles Tiefer. Read more from Colin Wilhelm, Aysha Bagchi, and Kaustuv Basu.
Trump Seeks to Harness Court Losses For 2020: Trump is seizing on a string of losses at the Supreme Court to galvanize his political base with calls to remake the judiciary with more conservative judges, a key issue that fueled his first presidential run.
Trump has promised a new list of potential Supreme Court nominees this summer, repeating the gambit he used to calm doubts about him among some Republicans in 2016, and demanded even more justices as conservatives reel over unwelcome decisions in major cases despite a 5-4 majority on the court.
The latest blow came in another ruling yesterday, when a 7-2 court rejected Trump's bid to kill a New York grand jury subpoena for his tax returns. The ruling was coupled with the separate decision that knocked down House Democrats' subpoenas, but it added to stinging defeats on abortion, gay rights and immigration that have seen conservative justices side with the liberal minority.
The rulings set the courts up as a potential major battleground between Trump and Joe Biden, as some Democrats also move to mobilize progressive voters against Trump's reshaping of the judiciary. And the stakes are high — the two oldest justices — Ruth Bader Ginsburg, 87, and Stephen Breyer, 81 — are both liberals and could potentially retire during the next administration. Read more from Josh Wingrove and Jennifer Jacobs.
What to Watch Today
Trump Heading to Covid-Stricken Florida: Trump is heading to coronavirus-stricken Florida today as he ramps up public appearances ahead of the election. But the trip for a political fundraiser and an anti-drug-trafficking event seems certain to be overshadowed by surging cases of the virus that has killed more than 4,000 Floridians.
Trump — eager to restart economic activity before November's election — claimed earlier this week the country was "in a good place." He disagreed with public health officials who blamed the resurgence on states opening up too quickly. Florida was among the most aggressive in easing restrictions, with Gov. Ron DeSantis (R) allowing bars, restaurants, and entertainment venues to resume operations in early June. Justin Sink and Jennifer Jacobs preview the trip.
Appropriations Markups: The House Appropriations Committee is scheduled to mark up the fiscal 2021 Interior-Environment and Legislative Branch appropriations bills.
Today's Hearings:
Unequal Effects of Covid-19: The House Homeland Security Emergency Preparedness, Response, and Recovery Subcommittee scheduled a hearing on the unequal effects of Covid-19.
Russia: The House Foreign Affairs Europe, Eurasia, Energy, and the Environment Subcommittee holds a hearing on managing threats from Russia and will hear testimony from former Defense Secretary Leon Panetta.
The Coronavirus Pandemic
Trump to Sign Orders on Prescription Drugs: White House Chief of Staff Mark Meadows, in an interview with Lou Dobbs on Fox Business Network, said Trump is planning to sign three executive orders on drug pricing. Meadows said he was talking with Trump about the orders yesterday, without providing more details. His remark came as Sen. Chuck Grassley (R-Iowa) is planning to push for a vote on a drug pricing measure (S. 2543), following Gilead Sciences' announcement that it's pricing a treatment of remdesivir at $2,340. Read more on that effort by Alex Ruoff.
Florida Deaths Hit Record: Florida reported records in both Covid-19 deaths and new hospitalizations yesterday, grim numbers that reflect a new surge in infections sweeping the U.S. from the Southeast to California. Florida had 120 deaths among residents, compared with 48 a day prior. Cumulatively, deaths among Floridians climbed by 3.1% to 4,009, according to the study. The seven-day average of deaths in the state was also at the highest on record. Jonathan Levin has more.
Meanwhile, the pandemic's merciless march through the Sun Belt is killing record numbers of Americans there, overrunning hospitals and exhausting supplies. The daunting numbers and reports of shortages make clear that state and federal governments have failed to prepare for the new onslaught four months after it emerged. Vivid videos and reports of suffering in the Northeast didn't move Sun Belt states, many run by Republicans who support Trump, to prepare adequately.
Texas Covid-19 deaths topped 100 for the first time and rose 3.7% to a cumulative 2,918, setting a death record in the state for the third day in a row.
Quinn Snyder, an emergency physician in Mesa, near Phoenix, said patients were flooding in from other parts of Arizona and as far as New Mexico. "We've been discussing putting people in fluoroscopy suites, in radiology suites, everything to housing people in tents," Snyder said. "We're rearranging deck chairs on the Titanic as we speak." Read more from Jonathan Levin and Emma Court.
Economy Caught in Tug-of-War Over Reopening Schools: The U.S. economy is caught in the middle of Trump's tug-of-war to reopen schools — and could end up damned no matter what happens. The full-fledged restart the president is pushing for would boost economic growth by allowing parents to go back to work instead of staying at home to care for their children. But it also would risk a more-rapid spread of viral infections that are already surging in some states, sapping the momentum of the nascent recovery.
"It's really important for students to have good learning opportunities," said Emiliana Vegas, co-director of the Center for Universal Education at the Brookings Institution. "The problem in the U.S. right now is reopening the schools in the midst of rising numbers of cases. No country has done that so far." Read more from Rich Miller.
Retail Seeks More Aid Amid Pandemic: Industry lobbyists are pushing Congress to expand Covid-19 relief tax breaks that provided a liquidity bump to some of the nation's largest retailers, as the pandemic has shuttered long-struggling shopping malls across the U.S. The lobbying push comes as dozens of retail chains—such as Urban Outfitters, Abercrombie & Fitch, Gap, and Express—have disclosed tens and in some cases hundreds of millions of dollars in benefits from the CARES Act. The typical fixtures of American malls often took advantage of a provision allowing companies to carry losses back to earlier years to trigger refunds of previous taxes paid, as well as a tax credit meant to discourage employee layoffs. Read more from Lydia O'Neal.
Elections, Politics & Probes
Biden Offers Economic Revival Plan: Offering a contrast with Trump's insistence that the economy is bouncing back, presumptive Democratic nominee Joe Biden framed his economic agenda yesterday for the general election and sought to cut into the one policy area in which he lags Trump in public opinion polls. A centerpiece of Biden's plan is intended to foster manufacturing and encourage innovation, adopting some ideas from his progressive primary rivals, as well as a buy-American focus, but avoiding the big-ticket proposals like the Green New Deal.
"I have no illusion how tough the road ahead is going to be for our country," Biden added. Read more from Jennifer Epstein.
Texas GOP Suing Houston for Canceled Convention: Texas Republican Party leaders sued the Democratic mayor of Houston for ordering the cancellation of next week's state Republican convention in the city, which is the epicenter of an uncontrolled Covid-19 outbreak. Mayor Sylvester Turner's order on Wednesday was a political decision designed to rob Texas Republicans of their free speech and assembly rights, according to the suit filed in state court in Houston. Read more from Laurel Brubaker Calkins.
TikTok Teens Try To Trick Trump: Thousands of TikTok users flocked to the Apple App Store in the past few days to flood Trump's 2020 campaign app with negative reviews. Just on Wednesday, 700 negative reviews were posted on the Official Trump 2020 app and 26 positive ones, according to tracking firm Sensor Tower. TikTok fans are retaliating for Trump's threats of banning the app, which is owned by China's Bytedance, and is hugely popular in the U.S., especially with teens. Read more from Shelly Banjo and Misyrlena Egkolfopoulou.
White House Pressured NOAA on 'Sharpiegate: Political leaders at the White House and Commerce Department pressured the National Oceanic and Atmospheric Administration to back up Trump's false claims that Hurricane Dorian would strike Alabama, Commerce's internal watchdog said in a report released last night.
The highly detailed, 115-page report offers a striking look inside several agencies and the White House, painting a picture of significant levels of political interference. Read more from Stephen Lee.
Trump Wins Court Hold on Hotel Emoluments Suit: A U.S. appeals court extended a temporary hold on subpoenas issued to the Trump Organization and other entities in a lawsuit accusing Trump of illegally profiting from his Washington hotel. The extension by the federal appeals court in Washington all but assures that a pair of Democratic attorneys general won't get to see the financial information before the presidential election in November. Read more from Erik Larson.
Barr Gives Update on Trump-Sought FBI Probe: A criminal investigation into whether FBI officials acted improperly while probing Trump's 2016 presidential campaign and his associates may produce some results by the end of summer, Attorney General William Barr said. Read more from Chris Strohm.
What Else to Know Today
Top General Breaks with Trump on Confederate Symbols: The Confederacy was an "act of treason" and the decision to name U.S. Army bases for generals who supported slavery was a political one, the top military officer told members of the House Armed Services Committee. Gen. Mark Milley, the chairman of the Joint Chiefs of Staff, called for taking "a hard look" at renaming military bases that bear Confederate generals' names, contradicting Trump, who has opposed changing names. Read more from Travis J. Tritten, Roxana Tiron and Glen Carey.
Trump Rebuffed Over School Guidance: The Government Accountability Office contradicted a central Trump administration rationale for rescinding Obama-era guidance curbing suspensions of minority students, finding no link between campus shootings and school discipline. Suburban and rural schools with wealthier and low-minority student bodies were more likely to be targeted for school shootings, the GAO reported. Read more from Andrew Kreighbaum.
Harvard 'Flooded' With Worries of Barred Students: Foreign students ready to attend college in the U.S. are being turned away by a federal government ban on visas for those whose classes are online only, a lawyer for Harvard University told a judge weighing its request to freeze the change. Read more from Janelle Lawrence and Clare Roth.
SCOTUS Ruling May Worsen Disparities: The Supreme Court's decision to uphold the Trump administration's regulations that widen an employer's ability to deny workers birth control coverage could have dire consequences for Black and low-income people, health advocates warned. Lydia Wheeler has more.
China Vows Retaliation After U.S. Sanctions: China pledged to retaliate after the U.S. sanctioned a top member of China's ruling Communist Party and three other officials over human rights abuses in the far western region of Xinjiang. "We urge the U.S. to withdraw this wrong decision, stop interfering in China's domestic affairs and stop harming Chinese interests," Chinese Foreign Ministry spokesman Zhao Lijian told a daily briefing in Beijing today. Read more.
U.S. Commander Sees Iran in 'Disarray': The top American commander in the Middle East says he sees Iran's decision-making abilities in "disarray" after a U.S. drone strike killed a senior Iranian commander in January, but he doesn't expect the lull to last. After a surge in tensions earlier this year following the killing of Quds force commander Qassem Soleimani in Iraq, and additional damage done to the Islamic Republic from the Covid-19 pandemic, Marine General Kenneth McKenzie said he expects the Islamic Republic's military to regroup and focus on trying to get U.S. troops out of the region. Just not yet. Read more from Tony Capaccio.
U.S. Plans Actions on France's Digital Tax: The U.S. plans to announce further details in the long-running dispute with France over taxes on technology giants including Amazon, Google, and Facebook. The tariff list to be released will be in the $500 million to $700 million range in goods, according to people familiar with the matter. Read more from Jenny Leonard and Saleha Mohsin.
Europe Wrests Initiative From Trump: European diplomats have moved to seize back the initiative on one of their continent's most intractable fronts after U.S. efforts under Trump for a diplomatic victory unraveled last month. It's the latest salvo between the U.S. and the European Union in the Balkans, where officials have accused the Trump administration of freezing them out of talks between Serbia and Kosovo that were to culminate in a White House meeting between the leaders. Read more from Patrick Donahue and Jasmina Kuzmanovic.
Trump's Entry Into African Diplomacy Stumbles: Trump's biggest foray into African affairs has not turned out well. The U.S. president's bid to resolve a long-running dispute over a Nile dam has failed to make a breakthrough, joining his unsuccessful efforts in crises from North Korea to Kosovo. Read more from Antony Sguazzin.
To contact the reporters on this story: Zachary Sherwood in Washington at zsherwood@bgov.com; Brandon Lee in Washington at blee@bgov.com
To contact the editors responsible for this story: Michaela Ross at mross@bgov.com; Giuseppe Macri at gmacri@bgov.com; Loren Duggan at lduggan@bgov.com