What to Know in Washington: Democrats' High-Water Mark vs. Trump
Democrats scored a series of damaging revelations about Donald Trump when they launched their impeachment investigation, but now they'll begin a crucial election year with the challenge that the most dramatic moments are likely behind them.
Even by the time Nancy Pelosi (D-Calif.) banged her speaker's gavel on Trump's impeachment — once for abuse of power, again for obstruction of Congress — the House chamber was full of history but devoid of excitement. Now the process has settled further into a languor that lawmakers attribute to the inevitability of the outcome.
"I guess it was anti-climatic," said Rep. Mike Quigley (D-Ill.), adding that the response he has heard in his solidly Democratic district has been positive. "At some point in time, people just came to expect this."
That means Democrats will head into 2020 as Trump has the last say in the impeachment process on the friendly turf of the Republican-led Senate. Months before he runs for re-election, and with the facts of the case already shrugged off by his supporters, Trump could conceivably enter the House chamber to deliver the State of the Union address on Feb. 4 with Republicans celebrating his rapid acquittal by the Senate. Read more from Billy House and Steven T. Dennis.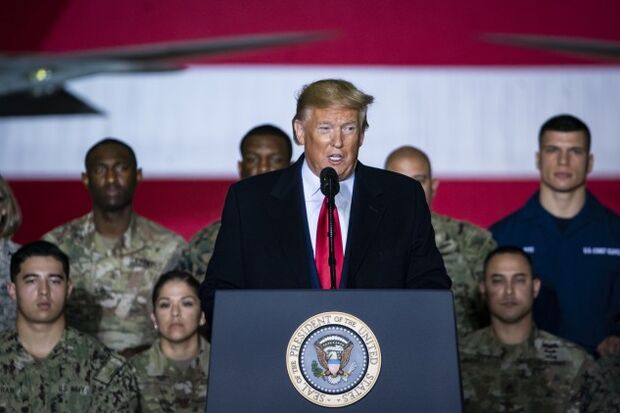 Pelosi's Delay Debated: Lawmakers and administration officials sparred yesterday about the delay by Pelosi in sending articles of Trump's impeachment to the Senate. Plans for a Senate trial are on hold, since Pelosi hasn't forwarded the articles, in what's seen as an attempt to pressure Senate Majority Leader Mitch McConnell (R-Ky.) to allow witnesses. He has said he wants a quick trial.
"We are quite confident that this position is untenable and she's going to move it along. She will yield. There is no way she can hold this position," Marc Short, chief of staff to Vice President Mike Pence, said on Fox News Sunday. Short said Trump is frustrated by Pelosi's delay, but "also anxious to get not just acquitted but exonerated in the Senate."
Sen. Cory Booker (D-N.J.), a 2020 presidential hopeful, said Pelosi has "been a lightworker in dark times" and will do the right thing. "Those articles will come over," Booker said on NBC's Meet the Press. "What she's just trying to do is to make sure the best possible case for a fair trial happens." Read more from Stephen Cunningham and Hailey Waller.
Trump, Giuliani Speak: Trump spoke briefly with personal lawyer Rudy Giuliani, who's under federal investigation, on Saturday night during a gathering at his private resort in Palm Beach, Fla. Trump and the former New York mayor saw each other at the event, a Studio 54-themed party at the Mar-a-Lago club, said Giuliani spokeswoman Christianné Allen. The president and Giuliani said a quick hello but didn't have a full meeting, said a person familiar with the matter.
Giuliani is under investigation for possible campaign finance violations and a failure to register as a foreign agent as part of a probe into his financial dealings, yet Trump has stuck by him so far. Some Republicans have sought to put distance between the two men. Read more from Jordan Fabian.
Trump Asked About Aid Before Zelenskiy Call: New documents show Trump asked about U.S. military aid to Ukraine a month before the call with Ukrainian President Volodymyr Zelenskiy that went on to trigger the impeachment investigation into Trump. The heavily-redacted emails, obtained under a Freedom of Information request by the Center for Public Integrity, also show that administration officials ordered a hold on the aid about an hour after the leaders' call on July 25.
Trump asked about a June 19 article in the Washington Examiner newspaper referencing the aid. Michael Duffey, an official at the Office of Management and Budget, wrote to the Pentagon requesting more detail about the funding, according to an email from Duffey to the Pentagon comptroller. "The President has asked about this funding release, and I have been tasked to follow-up with someone over there to get more detail." Read more from Daniel Flatley.
Christian Editor Doubles Down: The editor-in-chief of evangelical magazine "Christianity Today" doubled down yesterday on his rebuke of Trump. Mark Galli appeared on CBS's "Face the Nation," days after arguing in an editorial that Trump should be removed from office because the nation's trust was betrayed by his attempts to "use his political power to coerce a foreign leader" to discredit one of his political opponents. "I am making a moral judgment that he is morally unfit, or, even more precisely, it's his public morality that makes him unfit," Galli told CBS. Read more from Daniel Flatley.
Elections & Politics
Costner Helps Buttigieg Attract Big Iowa Crowds: The star power of Kevin Costner helped attract big crowds for Pete Buttigieg in Iowa yesterday, when the Oscar winner endorsed the 2020 hopeful. "I see Pete as a man of his moment," Costner said of the South Bend, Ind., mayor, during an event at the Indianola High School. "Moral courage speaks with a certain clarity." Taking the stage, Buttigieg thanked Costner, the star of 1989's "Field of Dreams," for "making Iowa as heavenly as it can be on this December day." Read more from Jennifer Jacobs.
(Michael Bloomberg is also seeking the Democratic presidential nomination. Bloomberg is the majority owner of Bloomberg Government's parent company.)
Trump Dubs Hirono 'Not the Smartest': Trump tried out a fresh line of rhetoric on Saturday when he dubbed Sen. Mazie Hirono (D-Hawaii) "nasty, nasty, horrible" and "not the smartest person on the planet." Trump spoke of Hirono at the Turning Point USA Student Action Summit in West Palm Beach, Fla., while critiquing Democratic environmental policies during a lengthy, grievance-filled speech. It's not the first time Trump has taken on Hirono. In March he referred to her as a "crazy female senator" and "like a crazed person." She at the time termed that "a badge of honor." Read more from Jordan Fabian.
Foreign Affairs
Bolton Knocks Trump for North Korea 'Failure': Former U.S. National Security Advisor John Bolton told news service Axios that Trump's administration should admit its approach to end North Korea's nuclear arms program has "failed." Bolton suggested the Trump administration is bluffing about stopping North Korea's nuclear ambitions and it would be "very unusual" for his former employer to say that they got it wrong, he said in an exclusive interview released today.
Bolton said the U.S. could be doing more to tighten sanctions choking North Korea's economy, which would force the hand of leader Kim Jong Un. "The idea that we are somehow exerting maximum pressure on North Korea is just unfortunately not true," he told Axios. Read more from Jihye Lee.
China to Cut Tariffs: The Chinese government said it will cut import tariffs for goods including frozen pork, pharmaceuticals, paper products and some high-tech components starting from Jan. 1, according to a statement from the Ministry of Finance. In addition to frozen pork, the import of which may relieve meat shortages due to the outbreak of swine fever, China will reduce levies on products including frozen avocados, non-frozen orange juice, new asthma and diabetes drugs, key components and machines for manufacturing integrated circuits, and some logs and paper products, it said. Read more.
USMCA Seen as Model for Easing Partisan War Over Trade: Trump's top trade negotiator and senior Democrats have declared that with House passage of a rewrite of NAFTA, they've found a formula for Republicans and Democrats to forge trade deals despite Washington's deep partisan divide. The U.S.-Mexico-Canada Agreement was passed by the House in a bipartisan vote last Thursday after starting as a partisan fight between Trump, who has sought to make trade a centerpiece of his presidency, and Democrats who raised alarm about protections for workers and the environment.
It's not clear if the dynamic can be replicated in other trade deals. There are other reasons the agreement, known as the USMCA, may have won bipartisan support: unusual political conditions ahead of 2020 elections, long-standing ties between Robert Lighthizer, Trump's trade czar, and key Democrats, and an intensive campaign by the White House to pressure to vulnerable Democrats in swing districts. Read more from Justin Sink and Shawn Donnan.
U.S. Won't Reimpose Steel Tariffs on Brazil: Trump told Brazilian President Jair Bolsonaro on Friday he won't reimpose tariffs on steel and aluminum from the Latin American nation, a person familiar with the discussions said. The American president had a phone call with his Brazilian counterpart to discuss trade, he said on his Twitter account. This comes amid uncertainty over whether the White House planned to follow through with a threat to impose the duties on Brazil and Argentina. Read more from Justin Sink.
Five Sentenced to Death in Khashoggi Murder: A Saudi court found eight people guilty for the murder of Jamal Khashoggi, a killing that strained relations with key allies, but didn't have enough evidence to incriminate officials close to Crown Prince Mohammed bin Salman. Five people will be executed, three will be imprisoned for a total of 24 years and three others were found not guilty, according to a statement read out at the public prosecutor's office in Riyadh today. In total, 11 people stood trial for the killing that took place at the kingdom's consulate in Istanbul last year. Read more from Donna Abu-Nasr and Reema Alothman.
Around the Administration
Trump Pick Ozerden in Limbo: Two of Trump's appeals court selections didn't make it out of the Senate before lawmakers adjourned for the year, and the re-nomination prospects in 2020 for one of them are unclear. Andrew Brasher, tapped for the U.S. Court of Appeals for the Eleventh Circuit, is likely to be sent back to the Senate by the White House as early as January. But Halil Suleyman Ozerden, nominated to the Fifth Circuit, lacked support from key Republicans in 2019 and his future as a nominee remains clouded.
"I'm hopeful that the president early next year will nominate a strong constitutionalist with a proven record of fidelity to law and faithfulness to the Bill of Rights," Sen. Ted Cruz (R-Texas) said. He's one of two Republican Judiciary Committee members to oppose Ozerden's nomination over their belief he didn't measure up for one of the most conservative courts in the country covering Texas, Louisiana and Mississippi. Read more from Madison Alder.
Trump 2-for-1 Order Survives Legal Challenge: A federal court scrapped a watchdog group's legal challenge to Trump's 2017 executive order that aimed to slash two regulations for every new one issued. The U.S. District Court for the District of Columbia on Dec. 20 dismissed the lawsuit from Public Citizen, the Natural Resources Defense Council, and Communication Workers of America. The groups alleged that the decree, dubbed the 2-for-1 order, unlawfully constrained agency actions aimed at protecting the environment, ensuring worker safety, and meeting other congressional mandates. Read more from Ellen M. Gilmer.
States Press Ahead With Privacy Laws: States across the country will keep moving on privacy regulation next year as Congress struggles to come up with a broad federal law, lobbyists and privacy attorneys say. California's new privacy law takes effect Jan. 1. New York legislators are debating whether to force companies to disclose how customer data is sold, Washington state lawmakers want to limit facial recognition, and Colorado's attorney general wants more enforcement powers.
Even though companies don't have to worry about a comprehensive federal privacy law soon, they may have to deal with several new state laws, privacy attorneys said. States will use momentum from California's privacy law to push efforts to craft new bills to hold tech companies accountable for data use failures, they said. Read more from Daniel R. Stoller.
Boeing Returns Space Capsule to Earth: Boeing successfully landed its new CST-100 Starliner spacecraft yesterday after a two-day flight cut short by a software glitch during the vessel's ascent that ruined its plan to dock with the International Space Station. The Starliner touched down at White Sands Missile Range in New Mexico at 5:58 a.m. local time, 35 minutes after flight controllers fired an engine burn to de-orbit the craft, marking the first time NASA had landed a capsule built for humans on land. Read more from Justin Bachman.
Young Climate Activists Press U.S. Court: Young climate activists who sued the U.S. in 2015 to force changes in government policy said the Trump administration's actions increase the urgency for the case to go to trial. "Another six months have passed without decision," the youths said in a filing in the San Francisco federal appeals court this weekend, "while defendants continue to act in ways that further endanger plaintiffs' lives, liberties, and property, as supported by additional, new evidence."
The administrations of both Barack Obama and Trump have repeatedly sought to kill the case, arguing the courts lack the authority to direct the executive branch to develop a comprehensive plan to cut greenhouse gas-emissions across the U.S. economy. A trial might take as long as four months, which would help keep attention on climate change through the 2020 elections. Read more from Peter Blumberg.
Keystone Legal Challenge Clears Hurdle: Native American tribes cleared a hurdle in their lawsuit to block the Trump administration's permit for the proposed Keystone XL oil pipeline from Canada. A federal judge in Montana on Friday rejected the Trump administration's request to throw out the lawsuit. The tribes claim that a permit issued in March by the president to TC Energy would allow the pipeline to disturb cultural sites and water supplies in violation of tribal law and treaties. Read more from Tom Korosec and Edvard Pettersson.
To contact the reporter on this story: Zachary Sherwood in Washington at zsherwood@bgov.com
To contact the editors responsible for this story: Brandon Lee at blee@bgov.com; Loren Duggan at lduggan@bgov.com