What to Know in Washington: Democrats Get Wake-Up Call for 2022
Republican Glenn Youngkin emerged victorious in Virginia's gubernatorial election, building momentum for the GOP heading into 2022 midterms that will decide which party controls Congress. The result is a stinging blow to Democrats, and blunts some of the progress that the party has made this week ahead of a potential vote on President Joe Biden's economic agenda. Negotiations on Democrats' $1.75 trillion tax and spending plan will continue today.
Here's what Bloomberg Government is tracking for Wednesday.
Congress Agenda:
The House plans to meet at noon with votes planned on 11 bills under expedited floor procedure and possible consideration of a bill to protect older workers from age-based discrimination.
The Senate is in at 10 a.m. to continue work on nominees to serve in the Biden administration. This afternoon, the chamber will hold a procedural vote on a elections and voting measure from Democrats that is unlikely to garner enough Republican support to advance.
Click here for a complete list of today's hearings and markups.
Biden's Schedule:
Biden returned overnight from the United Nations COP26 climate change summit in Glasgow, Scotland.
He is scheduled to receive his daily briefing at 1 p.m., and has no public events scheduled.
GOP's Youngkin Sends Democrats a 2022 Wake-Up Call From Virginia
Republican Glenn Youngkin shook off his Virginia opponent's attempts to yoke him to former President Donald Trump and in winning, returned some suburban and independent voters to the GOP, an omen for President Joe Biden and Democrats hoping to keep control of Congress next year.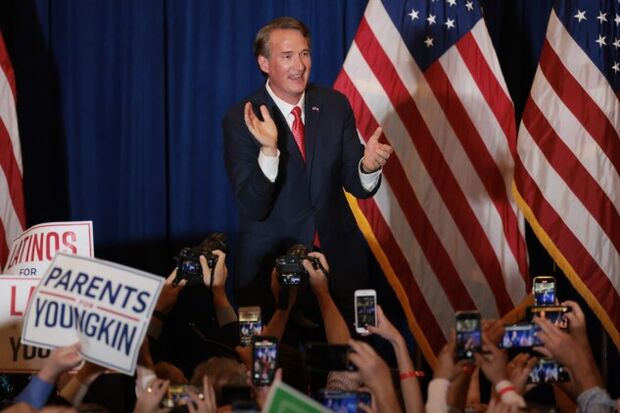 Youngkin's defeat of Democrat Terry McAuliffe—a former governor and Democratic National Committee chair—makes him the first Republican candidate since 2009 to win a governor's race in the state, where Biden beat Trump by 10 points only a year ago. His victory offers Republicans a road map for how to prevail in the crucial 2022 midterm elections, including with a focus on issues like education that are core to suburban voters.
And in New Jersey, Democratic Gov. Phil Murphy was fighting a much tougher-than-expected battle against Republican Jack Ciattarelli for another term, even though Murphy had been heavily favored to win by a comfortable margin in a state Biden won even more decisively, by 16 points.
Youngkin rejected Trump's help several times during the campaign, failing to participate in a tele-rally Trump held on Monday. But Trump's voters didn't seem dissuaded, aided by Youngkin's praise of the former president in the primary campaign. "Trump was on the ballot for the people he attracts, but not on the ballot for the people he repels," said Republican strategist Sarah Longwell, who previously led an anti-Trump GOP group.
In his acceptance speech, Youngkin never mentioned Trump or national political issues. He said he plans to cut taxes, invest in education and law enforcement. "This is our Virginia to build together and we are going to go to work on day one," Youngkin said. "There are always those, those that say that hill is too steep to climb, but we are empowered."
Yesterday's outcome shows strains in the coalition of suburban, independent and Black voters who helped Biden win the White House. Since June, his approval rating in Gallup polling has fallen 14 points, to 42% this month, hurt by inflation concerns, the tumultuous U.S. withdrawal from Afghanistan and his failure to deliver promised infrastructure and social safety-net legislation. Read more from Mark Niquette and Ryan Teague Beckwith.
Shontel Brown won the special election against Republican Laverne Gore for Ohio's 11th congressional district, AP projected, keeping the seat within Democratic Party control, Daniela Sirtori-Cortina reports. Brown, Cuyahoga County councilwoman, takes the seat previously held by Marcia Fudge, who resigned in March to lead the Department of Housing and Urban Development. For more on Brown, read her BGOV Profile by Greg Giroux.
Republican Mike Carey defeated Democrat Allison Russo in the special election for Ohio's 15th congressional district, NBC and CNN project, Daniela Sirtori-Cortina reports. Carey, who was endorsed by Donald Trump, will claim a seat previously held by Republican Steve Stivers, who resigned in May to lead the Ohio Chamber of Commerce. For more on Carey, read his BGOV Profile by Greg Giroux.
In other elections across the country, New York City elected Democrat Eric Adams to be its next mayor, making the Brooklyn borough president set to become the second Black mayor in the city's history. Further north, Bostonians elected Michelle Wu as mayor the first woman and a person of color. In the Midwest, more than a year after the killing of George Floyd prompted global protests, Minneapolis voters handily rejected a proposal to overhaul the city's approach to policing.
Democrats' Economic Plans Imperiled by Moderates
A handful of fiscally conservative House Democrats threaten to torpedo Speaker Nancy Pelosi's (D-Calif.) plans to vote on President Joe Biden's $1.75 trillion economic agenda this week even as the fractious party coalesces around deals on drug pricing and the state and local tax deduction.
Pelosi huddled behind closed doors yesterday with fellow Democrats and emerged saying she is hopeful they could finalize the massive tax and spending bill by the end of the day, a remarkably quick turnaround for a party that has spent weeks haggling on the package's details.
But with the narrowest of majorities and only three votes to spare, Pelosi's plans for a swift vote could be scuttled by at least five Blue Dog Democrats who said they won't support the legislation without more deficit information from the Congressional Budget Office and the Joint Committee on Taxation. In a letter to Pelosi, they echo comments made Monday by Sen. Joe Manchin (D-W.Va.). Read more from Billy House and Erik Wasson.
Defense Authorization Bill Hangs by a Thread: Longer-than-expected negotiations over the tax and spending bill are impeding lawmakers' ability to finish a crucial measure setting policy and funding—including promotions and reenlistment bonuses—for U.S. troops. Working days are dwindling fast on the Senate's legislative calendar, and Republicans and key House Democrats are ramping up the pressure on Senate leaders to take up the National Defense Authorization Act that the Armed Services panel approved in July. Read more from Roxana Tiron.
Around the Administration
Biden Keeps Pressure on OPEC+: Biden predicted the world would learn more about whether OPEC nations plan to increase oil production "sooner than later" after pressuring world leaders to boost output during international summits this week. "If you take a look at gas prices, and you take a look at oil prices, that is a consequence of, thus far, the refusal of Russia or the OPEC nations to pump more oil," Biden told reporters in Glasgow. "And we'll see what happens on that score sooner than later." The oil cartel is expected to meet tomorrow to consider whether to raise output. Read more from Justin Sink and Jennifer Epstein.
Biden Says He'll Announce Fed Pick 'Fairly Quickly': Biden said he'll announce soon his choice of nominees for chair and other vacancies on the Federal Reserve, amid a scandal over stock trades by central bank officials. "We'll be making those announcements fairly quickly," he said yesterday in Glasgow. Biden has started meeting with top White House and Treasury advisers to review candidates to lead the central bank ahead of the expiration of Chair Jerome Powell's term in February. It remains unclear whether he is leaning toward reappointing Powell. Jennifer Epstein and Justin Sink have more on the Fed nomination watch.
Pipeline Agency Expands Federal Authority: More than 400,000 miles of natural gas gathering pipelines will come under the federal authority for the first time, according to a rule published by the Pipeline and Hazardous Materials Safety Administration. The move represents a relatively quiet assertion of power by the pipeline agency as Biden's administration announced a multi-agency crackdown on methane emissions during the COP26 climate summit in Scotland. "This is a really significant rulemaking," said Bryn S. Karaus, an attorney at Van Ness Feldman LLP's pipeline safety practice. Read more from Daniel Moore.
CDC Gives Go-Ahead for Pfizer's Pediatric Covid Vaccine: Younger children across the U.S. are now eligible to receive Pfizer's Covid-19 vaccine, after the head of the Centers for Disease Control and Prevention granted the final clearance needed for shots to begin. CDC Director Rochelle Walensky recommended the vaccine for children from 5 to 11 years old. The decision ushers in a new phase in the U.S. pandemic response, widening vaccine access to some 28 million more people at the same time that Americans who received shots earlier in the pandemic are lining up for booster doses. Read more from Fiona Rutherford.
To contact the reporters on this story: Zachary Sherwood in Washington at zsherwood@bgov.com; Brandon Lee in Washington at blee@bgov.com
To contact the editors responsible for this story: Giuseppe Macri at gmacri@bgov.com; Loren Duggan at lduggan@bgov.com