What to Know in Washington: Democrats Face Time Crunch on Agenda
Senate Majority Leader Chuck Schumer (D-N.Y.) faces staggering policy challenges — President Joe Biden's economic agenda, voting rights legislation and another risky debt limit fight — constrained by GOP leader Mitch McConnell's (R-Ky.) hardball tactics and Democratic disunity in the 50-50 Senate.
Schumer has set an end of the month deadline to break a deadlock among Democrats over Biden's multi-trillion-dollar economic plan. That would pave the way for the House to clear a separate bipartisan infrastructure bill. Backed up after that is a Dec. 3 deadline to fund the government and once again raise the government's debt ceiling.
While House Speaker Nancy Pelosi (D-Calif.) also has to manage party divisions on Biden's plan, Schumer must deal with McConnell and a Republican minority that can throw roadblocks in front of the rest of the Democratic agenda, including voting rights, immigration and a host of other 2020 campaign promises Schumer may never be able to deliver.
"From here on, it's only going to get more difficult," said Democratic strategist Jim Manley, who was a top aide to former Senate Majority Leader Harry Reid. "There's no more kick the can down the road. Schumer has to make some decisions not everyone will be happy with." Read more from Laura Litvan.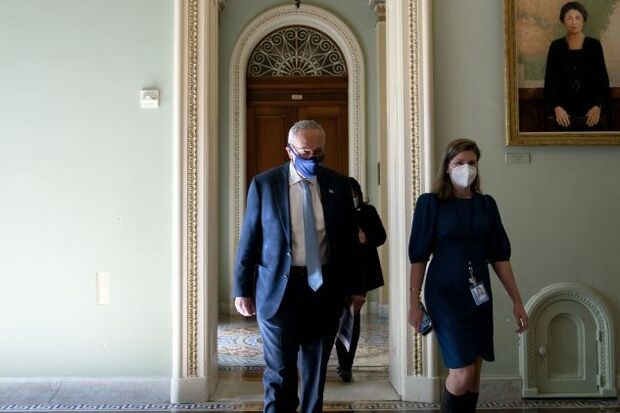 Manchin's Opposition May Doom Clean-Power Plan: Sen. Joe Manchin (D-W.Va.) has told the White House and congressional leaders that he will not support including a key clean-power provision in the Democrats' spending package, putting at risk a central element of the legislation designed to fight climate change, according to a person familiar with the matter, Ari Natter reports.
A final decision about the fate of the program, which would pay utilities for using clean energy and penalize those that don't, hasn't been made, said the person, who asked not to be identified discussing non-public deliberations. But without the support of Manchin, who holds a swing vote on the package, it's not likely to survive, the person said.
"Senator Manchin has clearly expressed his concerns about using taxpayer dollars to pay private companies to do things they're already doing," Sam Runyon, a spokesman for Manchin said. "He continues to support efforts to combat climate change while protecting American energy independence and ensuring our energy reliability."
Manchin raked in hundreds of thousands of dollars from donors in the energy industry in the third quarter, including some from contributors who normally back Republicans, according to his latest report with the Federal Election Commission. West Virginia is America's second-biggest coal producer after Wyoming. Manchin, who doesn't face voters until 2024, pulled in more than $400,000 from the oil and gas sectors. Bill Allison has more.
Also Happening on the Hill
Today's Agenda:
The Senate plans to vote on Biden's nominee to be a judge for the U.S. First Circuit Court of Appeals.
The House returns tomorrow.
Click here for a complete list of the week's hearings and markups.
Pre-Midterm Incumbents to Talk Up Roads: House Democrats are getting a head start on ensuring that federal funding in the bipartisan infrastructure package translates to shovels in the ground back home before next year's midterms. As the legislation remains tied up in disputes over the even larger social spending measure, a number of congressional Democrats in competitive districts say they're using the extended negotiation period to lobby transportation officials in their states so their preferred local projects get consideration once the House acts.
The infrastructure package is set to play a key part in Democrats' message to voters in the 2022 elections, particularly for those in swing seats who'll try to convince voters Congress is taking concrete actions to improve their lives in a time of economic and health-care anxiety driven by the pandemic. The surge in funding would spur construction in places the public notices, including highways, bridges, rail, and water projects. Read more from Emily Wilkins.
Treasury Open to Changes to IRS Data Gathering: The Biden administration intends to accept congressional changes aimed at saving its controversial financial data collection policy, a measure Democrats see as a key part of efforts to ramp up tax collection and help pay for their social spending package. Treasury Secretary Janet Yellen has publicly maintained that a $600 threshold is a necessary threshold for a new financial account information-sharing mandate with the IRS, but the White House now looks ready to agree to a compromise put forward by senior lawmakers after the proposal became a political lightning rod. Read more from Colin Wilhelm.
Lawmaker Moves to Set Up Biden Biomed Agency: Biden's proposal to create a biomedical innovation hub within the National Institutes of Health is getting another jumpstart after being held up in the annual appropriations process. Rep. Anna G. Eshoo (D-Calif.), head of a key House health panel, introduced a bill Friday to authorize the Advanced Research Projects for Health, a new NIH entity meant to catalyze cutting-edge discoveries through a public-private partnership approach rather than the grant process the agency has used for more than a century. Read more from Jeannie Baumann.
Biden Urges Congress to 'Hold Accountable' Jan. 6 Witnesses: Biden urged the congressional panel investigating the Jan. 6 insurrection at the U.S. Capitol to hold accountable any witness who refuses to cooperate with the probe, as lawmakers moved toward a contempt finding for one of former President Donald Trump's head aides. "I hope that the committee goes after them and holds them accountable," he said Friday. The remarks came as the House special committee examining the attack set a vote tomorrow to hold Steve Bannon in contempt after he didn't show for a deposition. Josh Wingrove and Justin Sink have more.
Politics & Influence
Democrats Swarm Virginia Governor Race: Democrats concerned by the tight race for Virginia governor are rushing to bolster Terry McAuliffe's campaign in a state that could set the national momentum for the critical midterms and the 2024 presidential election. So much is hanging on the race between former governor McAuliffe and Republican political newcomer Glenn Youngkin, a former CEO of the Carlyle Group, that some of the Democratic Party's biggest names are traversing the state on behalf of McAuliffe, a former Democratic National Committee chair. Read more from Ryan Teague Beckwith.
Trump's Picks Lag Cheney, GOP Incumbents: Three House Republicans targeted by Trump raised more money in the third quarter than his hand-picked candidates to defeat them, according to Federal Election Commission filings. Reps. Liz Cheney (Wyo.), Fred Upton (Mich.) and Jaime Herrera Beutler (Wash.) were among the 10 House Republicans who infuriated Trump by voting against him during his second impeachment proceeding. So far, Republican donors haven't followed him in backing their challengers. Read more from Bill Allison and Mark Niquette.
Thiel-Backed Senate Candidates Lag Opponents: Two Republican U.S. Senate candidates backed by technology billionaire Peter Thiel raked in donations from supporters of Trump and venture capitalists but lagged their opponents in fundraising, according to their initial filings with the Federal Election Commission. Blake Masters, who's running in Arizona and leads Thiel Capital and the Thiel Foundation, and Ohio venture capitalist and "Hillbilly Elegy" author JD Vance both reported raising more than $1 million in their initial quarter after announcing their candidacies in July. Read more from Bill Allison and Mark Niquette.
Math Quants Could Disrupt Redistricting: State judges bedeviled by weirdly shaped and obviously partisan congressional district maps can now get expert help from an unusual source: math nerds. Using sophisticated techniques drawn from statistics and geometry, mathematicians have developed tools that could play a huge role in a gerrymandering lawsuit filed in Ohio and during court fights expected in Georgia, Texas and Oregon. The algorithms can determine whether a map benefits one party or another, with the aim of providing courts and citizens with an objective gauge rather than relying on partisan arguments. Read more from Ryan Teague Beckwith.
Around the Administration
Today's Agenda: Biden has no public events scheduled.
Biden Praises Police in Memorial: Biden paid tribute to hundreds of police officers who died in the line of duty, singling out those killed or wounded after defending the U.S. Capitol during the insurrection on Jan. 6. Biden and First Lady Jill Biden attended the 40th Annual National Peace Officers' Memorial Service in front of the Capitol building on Saturday, which recognized officers killed in 2019 and 2020. Read more from Josh Wingrove.
Jobless Aid Cutoff Lawsuits Go On After Programs End: Lawsuits contesting states' early shutoff of enhanced federal jobless aid are likely to stretch into 2022, months after the federal programs expired nationwide—potentially testing the duration of a federal offer to fund the benefits retroactively. On the line are unpaid unemployment benefits estimated to exceed $2 billion across a half dozen or more states. Appeals rulings are awaited in Arkansas, Ohio, and Oklahoma, while cases are still ongoing at the trial court level in Tennessee and Texas. Read more from Chris Marr.
Fauci Says U.S. to Consider Mix-and-Match Boosters: Biden's chief medical adviser said he expects U.S. regulators to consider whether people who got the one-dose Johnson & Johnson Covid-19 vaccine should get an mRNA shot as a booster. "If you boost people who have originally received J&J with either Moderna or Pfizer, the level of antibodies that you induce in them is much higher than if you boost them with the original J&J," Anthony Fauci said on ABC's This Week yesterday. Ian Fisher has more.
CFPB Rules Pose Test for Student, Medical Debt: Debt collection firms are running into outdated billing procedures, particularly in student loans and medical debt, as they look to overhaul consumer communication practices as mandated by new federal rules. Beginning on Nov. 30, the Consumer Financial Protection Bureau's rules, the first federal regulations for the industry, require debt collectors to give consumers a clear description of the amount of money they allegedly owe. Evan Weinberger has more.
Sixteen Americans Kidnapped in Haiti: An Ohio-based religious organization said five children are among a group of 16 U.S. citizens and a Canadian kidnapped in Haiti during a trip to visit an orphanage. In a statement yesterday , Christian Aid Ministries said the hostages include five men, seven women and the children. "Join us in praying for those who are being held hostage, the kidnappers, and the families, friends and churches of those affected," the group said. A State Department spokesman in Washington said the U.S. is aware of the reports and didn't comment further on the incident. Read more from Jim Wyss.
Erdogan Says U.S. Offered F-16s to Turkey: The U.S. has offered Turkey a fleet of upgraded F-16 fighter jets, President Recep Tayyip Erdogan claims, potentially unlocking a standoff between the two NATO allies over a blocked order of more advanced F35s. The offer is being made to reimburse Turkey for the $1.4 billion payment it already made for the canceled F-35 fighters, Erdogan said at a press conference in Istanbul yesterday. Read more from Baris Balci.
U.S. Spies Say Kim Jong-Un Still Pursues Nuclear Arms: The U.S. continues to observe activity at North Korean nuclear sites that is "inconsistent with full denuclearization," the Defense Intelligence Agency said in a report released Friday. The conclusion, based on observations at the Yongbyon nuclear site and elsewhere, echoes assessments delivered to former President Donald Trump by U.S. intelligence agencies, despite Trump's efforts to engage in direct diplomacy with Kim Jong Un. Read more from Peter Martin.
To contact the reporters on this story: Zachary Sherwood in Washington at zsherwood@bgov.com; Brandon Lee in Washington at blee@bgov.com
To contact the editors responsible for this story: Giuseppe Macri at gmacri@bgov.com; Loren Duggan at lduggan@bgov.com; Michaela Ross at mross@bgov.com