What to Know in Washington: Democrats Face Debt Limit Dilemma
Bloomberg Government subscribers get the stories like this first. Act now and gain unlimited access to everything you need to know. Learn more.
President Joe Biden meets with congressional leaders today, and while Democrats have floated plenty of options to avoid the cuts Republicans have tied to raising the debt limit, each of them has drawbacks.
A vote on a clean debt limit increase, a short-term suspension, a House discharge petition, and an intervention by Senate Minority Leader Mitch McConnell (R-Ky.) are among the ideas pitched by Democrats. But congressional Republicans, led by Speaker Kevin McCarthy (Calif.), continue to insist on negotiations on their proposal (H.R. 2811) to slash and cap discretionary spending, rescind unspent Covid funds, and tighten safety-net work requirements.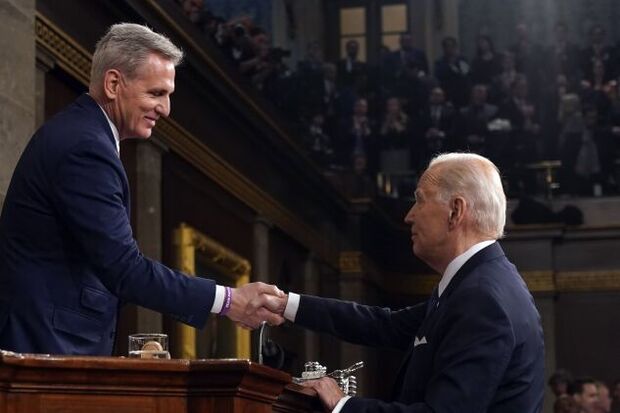 Democrats' uphill battles begin with the idea of a clean debt limit increase, which Republicans have said neither chamber would pass.
Biden has demanded a clean debt limit increase, and Senate Majority Leader Chuck Schumer (D-N.Y.) has teed up a process to consider such a measure without requiring it to go through a committee. But the bill would need 60 votes to end debate in the Senate, and it's not even clear Schumer could rally a majority around the bill.
BGOV OnPoint: Debt-Limit Standoff Heightened Ahead of Meeting
Democrats hold a 50-49 majority in the Senate, plus Sen. Kyrsten Sinema (I-Ariz.), who previously caucused with Democrats. Sen. Joe Manchin (D-W.Va.) has said Biden should negotiate with McCarthy and praised the speaker for managing to pass a debt limit increase through the House. Other moderates would be on the hook for a tough symbolic vote, too. And Sen. Dianne Feinstein (D-Calif.) is still absent as she recovers from shingles.
Democrats have also expressed mixed opinions about a short-term debt limit suspension, possibly bumping the deadline until later in the year, when it could be wrapped into a government-funding deal. House Budget ranking member Brendan Boyle (D-Pa.) said there could be "some advantages in syncing the timing between a debt ceiling increase as well as the appropriations calendar," on Bloomberg TV's "Balance of Power" last week, though he said it wouldn't actually solve the underlying disagreements on the debt limit.
Schumer has downplayed the utility of a short-term measure, saying lawmakers "should not kick the can down the road."
Lawmakers may get forced into a short-term deal if they don't make progress quickly — especially if debt limit talks threaten to interfere with the traditional August recess, which lawmakers hold "sacrosanct," Bill Hoagland, senior vice president at the Bipartisan Policy Center and a longtime former Senate GOP aide, said. Jack Fitzpatrick has more on lawmakers' thinking.
More on the Debt Ceiling
Treasury Secretary Janet Yellen said Monday that the administration will be forced into making "decisions" on how to proceed if Congress doesn't end up raising the federal debt limit in time.
Sen. Bill Cassidy (R-La.) portrayed a short-term boost in the debt ceiling as a potential "cooling-off period" for partisan impasse as the nation barrels closer to catastrophic default.
Government employees asked a federal judge to order Yellen to continue borrowing to keep the government open if political talks to raise the debt ceiling fail.
BIDEN'S AGENDA
Biden meets at 4 p.m. with congressional leaders to discuss the debt ceiling
White House Press Secretary Karine Jean-Pierre gives a briefing at 1 p.m.
CONGRESS' SCHEDULE
The Senate meets at 3 p.m. to consider a nomination to the International Bank for Reconstruction and Development
The House gathers at noon to consider three measures related to ocean acidification, weather and climate prediction research, and illicit drug research
Politics, Probes, and 2024
Two decades ago, a quarter of the states had both a Democratic and Republican senator. But in a sign of rising partisanship, the number of states with 'odd couple' senators has fallen to five and those rare pairings may be on the brink of extinction.
McConnell said Monday he won't simply back candidates aligned with former President Donald Trump after several of them flopped and cost Republicans the majority in 2022.
Conservative attorney Sidney Powell recently prevailed against an ethics case in Texas tied to her failed legal fight to overturn the 2020 election results in favor of Trump — even as she faces a new complaint in Michigan.
A New York judge barred Trump from posting evidence from his criminal case on social media, restricting his ability to make public statements about charges alleging he directed hush-money payments to an adult film actress.
Democratic members of the Senate Judiciary Committee have asked Harlan Crow, a billionaire Republican donor, to lay out in detail any gifts or payments made to Supreme Court Justice Clarence Thomas and his family, as a battle over the high court's ethics intensifies.
What Else We're Reading
Cassidy accused Biden of "mortgaging our country's financial health" by extending a pause in student loan payments while he pursues a plan to cancel some of the loan debt, though he acknowledged his measure to block the proposal does not have the votes.
Biden said striking film and TV writers should receive a contract that properly pays them for their work, weighing in for the first time publicly on a dispute that is bringing production delays to Hollywood and could herald more labor troubles this summer.
Rep. Raja Krishnamoorthi (D-Ill.) said he wants to keep a bipartisan approach, even as relations between the parties grow more fractious with the approach of the 2024 elections.
They've Got Next: Five Fresh Faces to Know in Government Contracts

Welcome to a new installment of "They've Got Next," a series spotlighting young lawyers who are raising the bar. This time, we're highlighting five young lawyers in government contracts you should know.
Working at the intersection of litigation, regulation, and government procurement, these lawyers navigate and often defend clients against bid protests. Some of the big-ticket work they've done includes defending against bid protests for a lease on the SEC's headquarters in Washington, D.C., and for a software award issued by the US Patent and Trademark Office. Read More
Read profiles of the five lawyers:
To contact the reporters on this story: Brandon Lee in Washington at blee@bgov.com; Michaela Ross in Washington at mross@bgov.com
To contact the editor responsible for this story: Kayla Sharpe at ksharpe@bloombergindustry.com
Stay informed with more news like this – from the largest team of reporters on Capitol Hill – subscribe to Bloomberg Government today. Learn more.