What to Know in Washington: Democrats Face Daunting Agenda
Lawmakers are preparing for a return to Washington next week, but Democrats' ambitious goal to pass President Joe Biden's tax and spending package is just one item on a hefty holiday season list that the party must check off. Today, Biden will assemble the members of his cabinet for a meeting at the White House as his administration works to implement the bipartisan infrastructure measure and combat rising inflation and consumer prices.
Here's what Bloomberg Government is tracking for Friday.
Biden's Schedule:
The president will participate at 8:30 a.m. in an Asia-Pacific Economic Cooperation leaders' meeting to discuss the Covid-19 pandemic and the world economy.
Biden will hold a cabinet meeting at 2:30 p.m. to discuss the rollout of the infrastructure effort.
Biden will depart for Camp David for the weekend at 5:40 p.m.
Democrats Race Clock to Rack Up Accomplishments
Democrats return from recess next week under a time crunch to build on their success clearing the infrastructure bill with a series of other priorities they hope to showcase to start the election year. Beyond the president's $1.75 trillion social spending and tax package, must-do items include appropriations bills to keep the federal government running and the Pentagon's annual budget bill.
House and Senate leaders are already tearing up their personal holiday plans as legislative work days dwindle and the push intensifies to make a dent in Biden's agenda.
Sen. Debbie Stabenow (D-Mich.), a member of Democrats' leadership team, said the caucus is working hard to get all the major pieces finished by next month and that "it's easy to move things fast once you get an agreement," according to an interview. "But I'm getting out my piano so we can do Christmas carols together here because we're going to be probably running right up to the week of Christmas," she said.
Rattled by a dismal showing in recent elections in Virginia and elsewhere, Democrats are under pressure to show voters they can bridge their divisions and fill their legislative promises as they prepare for a tough 2022 election when control of both chambers is up for grabs. Failure to do so would provide more fodder for Republicans who are eager to portray the opposition as ineffectual and focused on the wrong priorities. Read more from Nancy Ognanovich.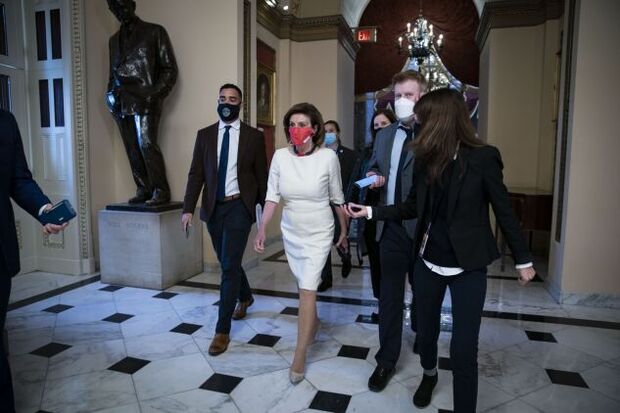 Sen. Joe Manchin (D-W.Va.) said yesterday that he opposes a provision of Biden's $1.75 trillion social spending and tax plan that would offer $4,500 more in tax credits for the purchase of an electric vehicle made in the U.S. by union labor. Manchin, in an interview with Automotive News, called the extra credit "wrong" and "not who we are as a country." Read more from Keith Laing.
Democrats' plan to undo President Donald Trump's $10,000 cap on the state and local tax deduction is likely to end up enshrining looser restrictions on the popular and politically important write-off for the foreseeable future. The ongoing debate over whether to expand the deduction, or SALT, as part of Biden's economic plan has been one of the messiest spats among fractious Democrats as they try to pass a final tax and spending package in the coming weeks. Some version of the SALT cap — currently slated to expire at the end of 2025 — may be here to stay as lawmakers trade a future of unlimited tax breaks for tax cuts now. Read more from Laura Davison.
Biden Team Debates Oil Price Actions
The White House is debating whether to act immediately to try to lower U.S. energy prices or hold off on dramatic measures in the hope markets settle, as Biden's concern about inflation runs up against climate, trade and foreign policy considerations.
For several weeks, a small group of top Biden aides has discussed measures to bring down the cost of gasoline, according to people familiar with the matter. Consensus has so far been elusive, with some Energy Department officials pushing back against tapping the Strategic Petroleum Reserve while White House aides lobby for a release, or the even more radical step of halting oil exports, the people said. They asked not to be identified because the talks are private.
The recent spike in U.S. gasoline prices to a seven-year high has put Biden in a quandary: He's trying to boost fuel production and bring down costs while remaining credible on environmental issues as the United Nations climate conference in Glasgow enters its final, crucial stage. Energy price inflation took on fresh urgency Wednesday after government data showed the sector helping to drive the U.S. consumer price index to a 31-year high.
"It's decision time for the Biden administration," said Bob McNally, president of consultant Rapidan Energy Group and a former White House official under President George W. Bush. Read more from Javier Blas, Jenny Leonard, Jennifer Jacobs and Ari Natter.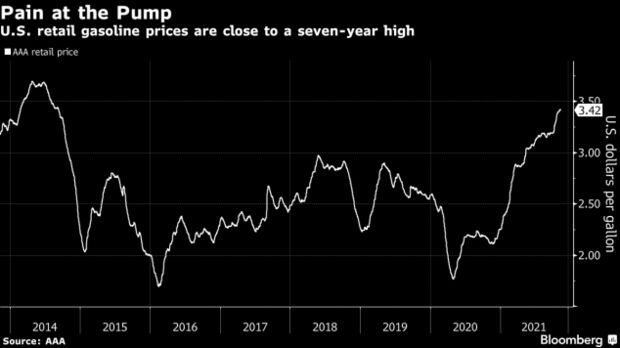 ALSO HAPPENING AROUND THE ADMINISTRATION
Top White House officials don't believe that Federal Reserve Chair Jerome Powell's sale of shares in a stock index fund last year disqualify him from being appointed to a second term, according to people familiar with the matter. Several key officials working on the nomination saw no reason for concern over Powell's trading, according to people familiar with the deliberations. No one has brought up Powell's trades in the meetings among a tight circle of advisers on the Fed chair search, two of the people said. Read more from Jennifer Jacobs, Saleha Mohsin and Steven T. Dennis.
The U.S. is raising the alarm with European Union allies that Russia may be weighing a potential invasion of Ukraine as tensions flare between Moscow and the bloc over migrants and energy supplies. With Washington closely monitoring a buildup of Russian forces near the Ukrainian border, U.S. officials have briefed EU counterparts on their concerns over a possible military operation, according to multiple people familiar with the matter. Kremlin spokesman Dmitry Peskov today dismissed the report as "empty and unfounded efforts to exacerbate tensions." Read more from Alberto Nardelli, Jennifer Jacobs and Nick Wadhams.
The U.S. joined rivals China and Russia to call on the Taliban to cut ties with terrorist groups and stop them from operating in Afghanistan after a recent spate of attacks that have been linked mostly to the Islamic State. The concerted push from these world powers and Pakistan, known as the "extended troika," to ensure the Taliban fulfilled their commitments followed a meeting in Islamabad yesterday and signals the growing concern of a spillover of terror activities in the region. The group also met with senior Taliban representatives on the sidelines of the meeting. Read more from Philip J. Heijmans.
Trump Gets Court Win to Shield Documents
Donald Trump won a temporary hold on the release of his presidential diaries, call logs and other records to a U.S. House panel investigating the Capitol riot.
The National Archives was set to release some of the documents today to a committee investigating the Jan. 6 riot but the U.S. appeals court in Washington granted the former president's request to prevent that for now. "The purpose of this administrative injunction is to protect the court's jurisdiction to address appellant's claims of executive privilege and should not be construed in any way as a ruling on the merits," a three-member panel of the appeals court said in a ruling yesterday. The court agreed to hear arguments in the case on Nov. 30.
Trump filed a lawsuit in October to stop the National Archives from handing the documents over to the panel, invoking executive privilege. U.S. District Judge Tanya Chutkan ruled in favor of Congress on Nov. 9, a decision that Trump promptly appealed. Read more from David Yaffe-Bellany.
Sen. Lisa Murkowski announced she will seek re-election next year in solidly Republican Alaska. Murkowski backed the second effort to impeach Donald Trump and has publicly quarreled with the former president. "I'm running for re-election to continue the important work of growing our economy, strengthening our Alaska-based military, and protecting our people and the natural beauty of our state," Murkowski said in a video today announcing her candidacy and setting up a proxy battle over the direction of the Republican Party. Read more from Kathleen Hunter.
Republican Jack Ciattarelli plans to concede the New Jersey governor's race to incumbent Phil Murphy (D) today, more than a week after the Nov. 2 election. The former state lawmaker will hold a press conference at 1 p.m. local time announcing the concession, according to a person with knowledge of the matter. Ciattarelli trailed by about 1 percentage point, or 29,000 votes, when the Associated Press called the race for Murphy on Nov. 3. Since then, a flood of mail-in and early ballots have been counted. As of Nov. 11, Murphy was ahead by more than 73,000 votes, according to the AP. Read more from Skylar Woodhouse and Sri Taylor.
To contact the reporters on this story: Zachary Sherwood in Washington at zsherwood@bgov.com; Brandon Lee in Washington at blee@bgov.com
To contact the editors responsible for this story: Giuseppe Macri at gmacri@bgov.com; Loren Duggan at lduggan@bgov.com