What to Know in Washington: Democrats Face Big To-Do List
Party looking for more legislative wins ahead of midterms
Marriage equality, elections overhaul on packed list
Senate Democrats, fresh off a string of legislative victories, return to Washington this week with a packed agenda before November's midterm elections, including passing billions more in Ukraine and pandemic aid.
The party's political fortunes have changed sharply amid the Supreme Court decision overturning a right to abortion, decreasing gas prices, strong job growth and the FBI's investigation into former President Donald Trump. Congressional Democrats are seeking to further blunt what was once expected to be a major Republican wave.
Republicans, who want to capture control of both chambers, will try to bruise Democrats over inflation and tar the Democrats' newly minted Inflation Reduction Act. Senate Minority Leader Mitch McConnell (R-Ky.) predicted last week a recession is likely and vowed the GOP would block big spending bills if they win back the House or Senate. Not to be outdone, House Minority Leader Kevin McCarthy (R-Calif.) declared the nation already in a recession, though the unemployment rate has remained near 50-year lows.
The House returns next week.
Steven T. Dennis lays out some of the items on tap as Congress returns to Washington. Read more.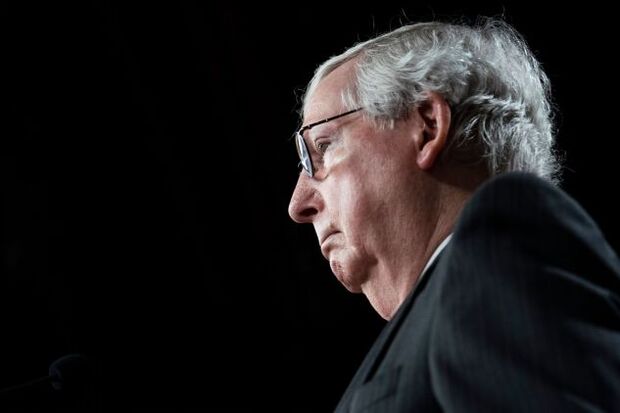 At the top of that list is extending government spending by Sept. 30. A continuing resolution will be needed to start the new fiscal year—although a host of policy riders, including language to streamline federal permitting for energy projects, could complicate final action. The White House also called for more pandemic and Ukraine aid. BGOV reporters delve into the September agenda in an OnPoint.
Happening on the Hill
CONGRESS' SCHEDULE
The Senate returns at 3 p.m. to vote on an appeals court nominee.
The House has no floor action planned until next week.
Rep. Jamie Raskin said he assumes former Vice President Mike Pence will voluntarily testify to the House Jan. 6 panel, but didn't rule out a subpoena. "He has a lot of relevant evidence," Raskin (D-Md.) told CBS Sunday. "In no one's case is a subpoena out of question, but I would assume he's going to come forward and testify voluntarily." Pence last month said he'd consider testifying if invited by the panel. Steven T. Dennis and Billy House have more.
Elections, Politics & Probes
A federal judge granted Trump's request for a neutral third party to review documents seized by the FBI from his Florida home and temporarily barred the government from using the trove to develop its criminal investigation into the former president. US District Judge Aileen Cannon, a Trump appointee, said in a Monday ruling that the government could continue to access the documents—many of them bearing the nation's highest classification markings—for the limited purposes of conducting a national-security review that's already underway. Read more from Erik Larson.
Trump was ordered to hand over all White House documents with classified markings under a May 11 grand jury subpoena, regardless of whether he believed he declassified them, the Justice Department said in a recent court filing. Months before the Aug. 8 search of Trump's Mar-a-Lago resort, his lawyers asserted he had "absolute authority to declassify documents," although they didn't claim he had actually done so, the Justice Department said. Read more from Erik Larson.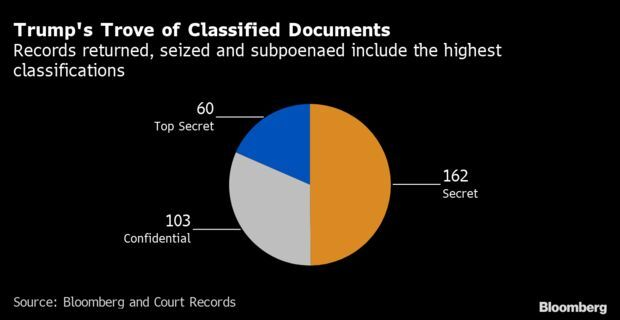 Trump used a Pennsylvania rally to vent his anger at an FBI search of his Florida home and President Joe Biden's attack on political extremism, staking his claim as Biden's election rival in 2024. Declaring Biden an "enemy of the state," Trump mixed support for two Republican candidates with a rejoinder to the president's remarks 48 hours earlier in Philadelphia, where Biden denounced what he called anti-democratic forces within the Trump movement. Read more from Gregory Korte and Mark Niquette.
Biden blasted Wisconsin Senator Ron Johnson Monday at a rally on Johnson's (R-Wis.) home turf in Milwaukee, accusing him and other Republicans of trying to strip Americans of their Social Security and other government benefits. Biden several times singled out Johnson — who polls indicate is trailing Democrat Mandela Barnes, the lieutenant governor, in his bid for a third term in November — citing also his opposition to a Democratic plan aimed at lowering prescription drug prices.
Later Monday, Biden visited a union hall in Pittsburgh, his third trip to Pennsylvania in a week. Prior to a speech there, he chatted with John Fetterman, the Democratic Senate nominee. Read more from Jennifer Jacobs and Alexis Shanes.
Biden vowed his administration would be the most pro-union in American history. But in a labor stronghold that has become a symbol for blue-collar defections from the Democratic Party, workers say they don't feel the wind at their backs from the White House. Macomb County, Mich., is home to an old guard of auto manufacturers and a new generation of young organizers in the service and cannabis sectors. Many say his efforts have merely been performative. Katia Dmitrieva and Jordan Fabian have more.
MORE IN POLITICS & PROBES
Trump's lawyers failed to meet a filing deadline in his bid to stop the US from being removed as a defendant in a lawsuit in which the former president had accused Hillary Clinton of conspiring against him during the Russia investigation. Read more from Erik Larson.
Civil rights leaders warned about the dangers White supremacy poses to the US following a meeting with Biden Friday. "White supremacy activity is a danger to our democracy," Derrick Johnson, CEO of the NAACP said after the White House meeting. Read more from Mario Parker and Akayla Gardner.
The Georgia Supreme Court denied an appeal by a group of voters who contend Rep.

Marjorie Taylor Greene

(R-Ga.) is ineligible to run for reelection because she encouraged and supported the insurrectionists who attacked the Capitol on Jan. 6, 2021. Read more from Kaustuv Basu.
Defense & Foreign Affairs
The US is weighing restrictions on investment in Chinese tech companies amid growing tensions between the two nations, according to people familiar with the matter. The investment curbs taking shape would likely come as an executive order to be signed by Biden in coming months, one of the people said. Among options being explored is a system to give the government authority to block investments outright, that person said. Jennifer Jacobs and Daniel Flatley have more.
John Sullivan, the US's ambassador to Russia, ended his tenure after almost three years and departed the country on Sunday, the US embassy in Moscow said on its website. His departure had been planned and is part of a normal diplomatic rotation after serving a full tenure as ambassador, according to a State Department spokesperson. The departure will allow Biden to nominate a new ambassador, subject to Senate approval, at a time of high tensions. Ros Krasny has more.
Russia fired its latest salvo in an escalating sanctions row over Putin's invasion of Ukraine, permanently banning 25 US citizens, including actors Ben Stiller and Sean Penn, from entering the country. Read more from Benjamin Harvey.
Ukraine's neighbor, Poland, may work with more than one partner on its first nuclear power plant as it's considering tech provided by companies from the US, France and Korea. Read more from Maciej Martewics.
An Iranian warship was forced to release two US unmanned vessels in the Red Sea, the US Navy 5th Fleet said in a statement. Jamaran, an Islamic Republic naval ship, seized two unmanned drone vessels around 2 p.m. local time Thursday before returning them to the US Navy at 8 a.m. the next day, according to the statement. The US used two guided-missile destroyers and choppers to secure the release, the statement said. Read more from Verity Ratcliffe.
Meanwhile, the European Union's chief diplomat on Monday played down the prospect of a rapid revival of the Iranian nuclear deal, saying the chances of an agreement between Tehran and world powers had faded. Read more from John Follain.
Around the Administration
PRESIDENT'S SCHEDULE
Biden holds a cabinet meeting at 1:15 p.m. at the White House.
Press Secretary Karine Jean-Pierre gives a press briefing at noon.
Biden will nominate Richard Revesz to lead the White House's regulations office, which hasn't had a permanent leader in nearly two years. If confirmed, the New York University law professor would lead the Office of Information and Regulatory Affairs, a unit that wields tremendous power over how federal agencies execute the president's agenda. A law professor for more than 30 years who once clerked for Justice Thurgood Marshall, Revesz specializes in climate regulation. Courtney Rozen has more.
The US is on track to hit ambitious emissions-reduction goals following recent climate legislation that encourages investment in green technology, Treasury Secretary Janet Yellen will say in a speech in Detroit on Thursday. The law, signed by Biden on Aug. 16, "represents the largest investment in fighting climate change in our country's history," Yellen will say, according to an excerpt provided to Bloomberg News. Christopher Condon previews the speech.
The FTC will continue to pursue a case personally against Mark Zuckerberg over Meta's acquisition of a virtual reality app, a lawyer for the agency told the agency's in-house judge on Friday. The Federal Trade Commission has asked its in-house court to force both Meta and Zuckerberg, its chief executive, to seek approval from the government before engaging in any future deals. The trial has been set for Jan. 19. Read more from Leah Nylen.
Flood maps used by FEMA are outdated and understate the risks to homes and businesses from flooding and extreme rain triggered by climate change, Director Deanne Criswell said. Those risks are in focus after floods in Jackson, Mississippi, overwhelmed the city's main water treatment plant a week ago, leaving more than 150,000 state-capital region residents without clean water. Criswell said there's no timeline for restoring service. Read more from Victoria Cavaliere.
WHAT ELSE
NASA said it needs to replace hydrogen-fueling equipment on its new moon rocket after scrubbing the launch for the second time in a week, a decision that means the spaceship won't fly until at least late September. Read more from Loren Grush.
Amazon and One Medical parent 1Life Healthcare received requests from the Federal Trade Commission for information about their proposed $3.5 billion deal, the health-care company said in a regulatory filing. John Tozzi has more.
The Interior Department acted within its authority when it temporarily halted new oil and gas leases in Wyoming last year, a federal judge said. Robert Burnson has more.
To contact the reporters on this story: Brandon Lee in Washington at blee@bgov.com; Michaela Ross in Washington at mross@bgov.com
To contact the editors responsible for this story: Giuseppe Macri at gmacri@bgov.com; Loren Duggan at lduggan@bgov.com