What to Know in Washington: Democrats Eye Swift GOP Deal on Guns
Sen. Murphy wants fast turnaround for gun action
Biden to meet with Powell amid stubborn inflation
Lawmakers are setting a tight timetable to negotiate new gun laws, with Democrats signaling they would accept limited progress in exchange for some action that would reduce gun violence in the nation. Republicans and Democrats are working through the weekend to prepare a proposal before Congress returns from recess in a week, Sen. Chris Murphy (D-Conn.) told ABC's "This Week" on Sunday. "We've got a short time frame."
Lawmakers are discussing expanded background checks, so-called red-flag laws and safer storage of guns, Murphy said on CBS's "Face the Nation." He said he's willing to back some Republican priorities including measures to "harden our schools," while limits on high-capacity magazines were unlikely to find bipartisan support.
Several Republicans are also indicating interest in emerging with legislation, spurred by the shooting at an elementary school in Uvalde, Texas, on Tuesday that left 19 children and two teachers dead. "We're actually on track to get something done," said Rep. Adam Kinzinger (R-Ill.) on "This Week." He said it's a "no-brainer" to raise the legal age to buy a gun to 21 from 18, but it isn't clear whether there's enough support for such measure.
Senate Minority Leader Mitch McConnell (R-Ky.) said on Thursday that he has deputized Sen. John Cornyn (R-Texas) to see if a compromise can be reached, but he indicated it should be narrowly focused. "I am hopeful that we could come up with a bipartisan solution that's directly related to the facts of this awful massacre," McConnell told reporters last week. Read more from Saleha Mohsin and Victoria Cavaliere.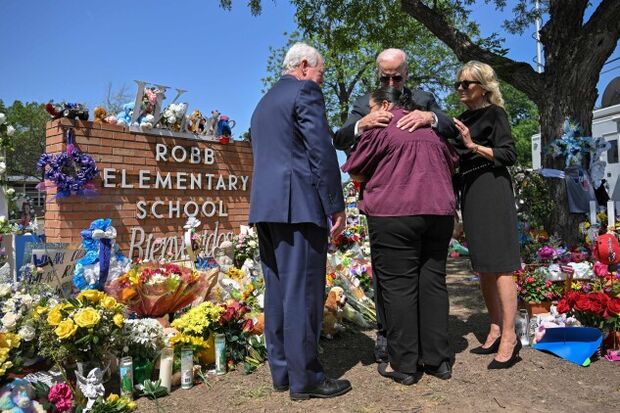 State of the Economy
Biden will hold a rare meeting with Jerome Powell amid the highest inflation in decades, which has frustrated Americans and hurt his standing with voters. The president and Federal Reserve chair will discuss the state of the American and global economy, according to a White House statement. It's the first meeting between the two since Biden in November announced his intention to nominate Powell for a second term, according to a record of the Fed chief's public schedule. Read more from Alister Bull.
Firmer consumer spending and a decisive narrowing of the merchandise trade deficit show the US economy is emerging in short order from a first-quarter pothole. Sustaining that momentum this year is more of a question as manufacturing and housing soften along with employment and wage growth. Inflation, while easing, remains high and the Federal Reserve will continue to press harder on the monetary policy brakes. Read more from Vince Golle, Olivia Rockeman, and Molly Smith.
US gasoline prices surged to another fresh record, the latest blow to motorists heading into the summer driving season. Average retail prices in the US reached $4.619 per gallon as of this Monday, according to the latest data from the American Automobile Association. That's up from $4.178 a gallon a month ago and is about 52% higher than a year-earlier. The hikes come even after Biden released millions of barrels of oil from the nation's strategic reserves. Read more from Jack Wittels.
Some supply strains in the US are easing, two years after a jump in demand started emptying shelves, snarling shipping and sowing the seeds of soaring inflation. A line of 25 cargo ships headed to Southern California's two big ports is less than a quarter of the record backup in January, and spot container rates have dropped almost 20% this year. And Flexport's average transpacific journey of 102 days is the quickest since November. But new warning signs are emerging as well. Brendan Murray has more.
The infant formula shortage took a dramatic turn for the worse, according to data on 130,000 stores across the US. Out-of-stock rates spiked to 70% nationally for the week ending May 21, up from 45% the prior week, Datasembly found. In many cities and states, the situation was far more dire. More than two-thirds of states had shortage rates over 70%, with California, Missouri, Minnesota, Nevada, Montana, Louisiana, Arizona and Utah over 80%, and Utah hit hardest at 89%, up from 49% the week prior.
Federal and local regulators have been taking steps to try to boost supply. The administration has invoked emergency powers under the Defense Production Act to speed production of formula, and the president ordered the use of government planes to import ingredients and formula, which he said would be faster than normal shipping routes. The FDA also announced it would ease import rules. At the local level, cities and states are enacting provisions to prevent price gouging. Martine Paris has more.
HHS Secretary Xavier Becerra invoked the Defense Production Act to ensure that Cargill can deliver the raw materials needed to maximize infant formula production, the department said on Friday. To deal with marketplace shortages, DPA authorities will allow Cargill to place certain orders for infant formula manufacturers before unrated orders, according to the Health and Human Services Department. Read more.
The Federal Trade Commission's study of competition questions around the national baby formula shortage highlights the severity and reach of the crisis. The commission said it will review mergers and acquisitions in the market and whether "regulatory barriers" prevented any foreign companies from entering it, among other issues. The move sets the FTC up to collaborate with other agencies on potential actions. Read more from Dan Papscun.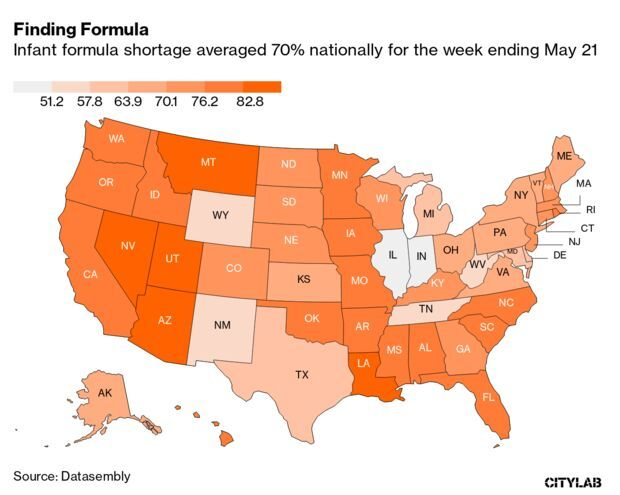 Also on Lawmakers' Radars
President Biden said Washington will not send Ukraine "rocket systems that can strike into Russia," Bloomberg News reports. The comment made Monday seemed to contradict previous reports the US would consider offering Ukraine the systems—some of which have a range of 300 kilometers—as part of a new military package expected to be announced in days. Ukraine has been calling for weeks for longer range multiple launch rocket systems it says are needed to halt Russian advances in the east.
Sen. Rob Portman (R-Ohio) has been championing to honor Ukraine's request for the system, saying in a statement on Friday that this has been one of Zelenskiy's "top requests from the West for some time and we must provide it urgently." He said again in a Twitter post on Sunday that the US president "must not deter itself from providing this assistance for fear of provoking Russia. The MLRS can help balance the field in Ukraine's favor and should be approved and shipped immediately."
Transportation labor groups are lobbying against a bipartisan push to enable more foreign-flagged vessels to carry US food aid exports. House and Senate lawmakers are working to waive requirements that 50% of US food aid exports ship on US-flagged ships amid disruption from Russia's war in Ukraine. The effort is under attack from unions and industry groups that say it's unnecessary and would hurt US companies and mariners. Read more from Lillianna Byington.
The Energy Department is asking Congress for funding to create a domestic source of enriched uranium, calling the country's reliance on Russian imports a "vulnerability" for both national and economic security. The letter from Energy Secretary Jennifer Granholm comes as the Biden administration continues to weigh slapping sanctions on Russia's state-owned atomic energy company, Rosatom, in response to the Kremlin's invasion of Ukraine. Ari Natter has more.
Finland is in "constructive" talks with Turkey regarding the questions raised over the Nordic nation's application to join the NATO alliance, Finnish Foreign Minister Pekka Haavisto told reporters in a joint news conference with US Secretary of State Antony Blinken last Friday. Blinken said he was confident NATO "will work swiftly" through the admission process of Finland and Sweden, adding that both countries' talks with Turkey will move forward. Read more from Bloomberg News.
Rep. Andy Biggs is the latest House Republican to formally object to being subpoenaed to testify before a House committee investigating the Jan. 6 insurrection at the Capitol. "I have major concerns regarding the illegitimate Jan. 6 Committee's subpoena deposition request," Biggs (R-Ariz.) said Sunday. He attached a letter from two attorneys detailing his objections, which echoed some assertions by House Minority Leader Kevin McCarthy (R-Calif.). Read more from Billy House.
Attorney General Merrick Garland warned of threats to US democracy, citing violence such as the attack on the Capitol by Donald Trump supporters, rollbacks in voting rights and possible legislative efforts to overturn the outcome of elections. "A democracy cannot survive if its citizens forsake the rule of law in favor of violence or threats of violence," Garland said in a commencement speech Sunday at Harvard University, his alma mater. Read more from Ian Fisher.
The FDA would have more power to push for post-market studies of drugs cleared through its accelerated approval pathway in a Senate package unveiled Friday to reauthorize the fees that help fund the agency. The accelerated approval changes in the proposal by Sens. Patty Murray (D-Wash.) and Richard Burr (R-N.C.), chair and ranking member of the Senate Health, Education, Labor and Pensions Committee, were among the provisions added to their draft, Celine Castronuovo reports.
Two House Democrats say they're open to a budget rider to stop the planned move of an EPA lab from Houston to Oklahoma, hatched under the Trump administration. "I think we have to use all the tools in our toolbox," said Rep. Lizzie Fletcher (D-Texas). "And certainly, that's a place where members of Congress do have the opportunity to weigh in." Staffers have told both Fletcher and Bloomberg Law they don't want to uproot their lives to relocate to Ada, a town of some 17,000, Stephen Lee reports.
What Else to Know Today
PRESIDENT'S SCHEDULE:
At 11 a.m., Biden will meet with New Zealand Prime Minister Jacinda Ardern.
At 1:15 p.m., he then meets with Federal Reserve Chairman Jerome Powell.
At 3 p.m., he meets with Korean band BTS to discuss anti-Asian hate crimes.
Chinese Foreign Minister Wang Yi mocked Biden's wide-ranging economic framework for failing to lower tariffs, in some of the strongest criticism yet of the US's plan to counter Beijing's influence in Asia. "The so-called Indo-Pacific Economic Framework recently rolled out by the US claims to build a free, open, and inclusive new order, but how can any economic frame call itself free if it doesn't lower tariffs?" Wang said during a visit to Fiji, according to a statement. Read more from Bloomberg News.
Meanwhile, Biden will meet New Zealand Prime Minister Jacinda Ardern on Tuesday, the White House said. "The two leaders will discuss strengthening cooperation to support the Pacific Islands region, and our work together on a range of issues, including the Indo-Pacific Economic Framework," according to the statement. Vice President Kamala Harris is also scheduled to meet with Ardern at the White House, Bloomberg News reports.
The US remains concerned about efforts to restrict and manipulate the recent visit to China by UN High Commissioner for Human Rights Michelle Bachelet and her team, press office of Secretary of State Antony Blinken said in a statement on Saturday. The US again called on China to cease its atrocities in the Xinjiang province, release those unjustly detained and allow independent investigators full access to Xinjiang, Tibet, and across China. Read more from Bloomberg News.
Elsewhere in the Asia-Pacific, Blinken and his Japanese and Korean counterparts said that a path to "serious and sustained dialogue" with North Korea remains open. However, the three officials in a statement published by the US State Department expressed "deep concern" about North Korea's launch of a suspected intercontinental ballistic missile and two shorter-range ballistic missiles on the heels of Biden's visit to the region. Sophie Jackman has more.
The US Supreme Court heads into the homestretch of the term with over half its work not complete and blockbuster opinions on abortion and gun rights coming as well as decisions on administrative law and immigration. With 33 decisions in argued cases outstanding, the high court has surprisingly opted not to issue opinions this week. The departure from usual practice that wasn't explained puts more pressure on the court if it plans to meet its customary deadline. Kimberly Strawbridge Robinson has more.
The administration's new rulemaking for carbon dioxide pipeline safety, and a nearly $4 million fine for a pipeline rupture in 2020, are seen as a step toward carbon capture goals that envision building out thousands of miles of pipelines, industry analysts said Friday. The Pipeline and Hazardous Materials Safety Administration's measures arrived Thursday with a long-awaited report into Texas-based Denbury's pipeline rupture that hospitalized at least 45 people in Satartia, Miss. Read more from Daniel Moore.
To contact the reporter on this story: Brandon Lee in Washington at blee@bgov.com
To contact the editors responsible for this story: Giuseppe Macri at gmacri@bgov.com; Loren Duggan at lduggan@bgov.com; Michaela Ross at mross@bgov.com