What to Know in Washington: Democrats Eye Gun Safety Compromise
Senate Democrats plan gun negotiations over recess
Biden to visit site of Texas school shooting on Sunday
Senate Democrats said they were a bit more optimistic about a compromise with Republicans on gun-control legislation responding to the massacre of 19 elementary school children and two teachers in Texas. Then they left town for a 10-day recess.
Many lawmakers will return home and meet voters as the carnage in Texas continues to dominate the news, giving added urgency to seeking some action—even if it's less comprehensive than many Democrats want—on school shootings.
"This feels different right now," said Sen. Joe Manchin (D-W.Va.), whose bill to expand background checks for firearms buyers in the aftermath of the nation's worst school shooting—at Sandy Hook elementary school in Newtown, Connecticut—a decade ago was blocked by Republicans.
Lawmakers said they plan to continue negotiations by telephone during the recess.
Sen. Chris Murphy (D-Conn.) said he would be willing to take more incremental steps than Democrats embraced in the immediate aftermath of the 2012 Newtown massacre, in which 20 children and six teachers were killed.
"I don't want to overstate my optimism though," Murphy, who has been one of the leading advocates to tougher firearms laws, said. "I've been Charlie Brown enough times to know that up until now the football has been pulled out from under me every single time."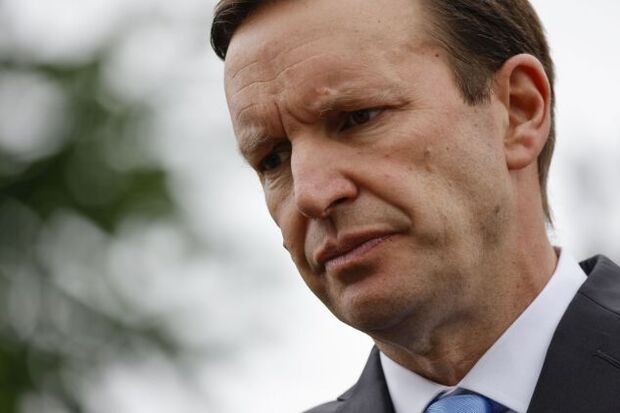 Sen. Richard Blumenthal (D-Conn.) also said he's hopeful the two parties can agree at least to a limited measure. He said he's getting some positive feedback on legislation he's co-sponsoring with Sen. Lindsey Graham (R-S.C.) that would give incentives to states to set up "red-flag" laws that allow courts to take weapons from people seen at risk of carrying out violent acts. Read more from Laura Litvan, Steven T. Dennis and Erik Wasson.
President Joe Biden will travel to Uvalde, Texas, on Sunday to honor the victims of the mass shooting, the White House announced. "The president and first lady believe it is important to show their support for the community during this devastating time and to be there for the families of the victims," Karine Jean-Pierre told reporters at the White House. Jordan Fabian has more.
Texas Governor Greg Abbott dropped plans to address the National Rifle Association's annual meeting in person, the Dallas Morning News reported. Abbott, the pro-gun Republican leader of the second-largest US state, was scheduled to be among GOP luminaries speaking ahead of former President Donald Trump's appearance at the NRA gathering in Houston on Friday. Read more from Joe Carroll.
Happening on the Hill
Vilsack Sees Formula Shortage Easing in Weeks: Parents impacted by the infant formula shortage should start to see more formula in stores over the next couple weeks, Agriculture Secretary Tom Vilsack told the Senate Agriculture Committee Thursday, Maeve Sheehey reports.
"Our hope and belief is that we're beginning the process of turning the corner on this," he said when Sen. Raphael Warnock (D-Ga.) asked when there would be relief from the crisis. The Agriculture Secretary noted that some problems will persist as the crisis resolves, adding that parents may need to continue using social networks to locate stores with stocked formula aisles.
Meanwhile, Vilsack is pressing Congress to renew child nutrition waivers by next month, when millions of children will no longer qualify for free school meals during summer vacation. The Department of Agriculture waivers, which give schools the flexibility to provide meals to children regardless of family income, are set to expire at the end of June. Maeve Sheehey has more.
A bipartisan group of US senators is floating landmark retirement access legislation that lacks the requirement that new workers be automatically signed up for retirement savings—breaking with a House version of the bill passed earlier this year. Sens. Patty Murray (D-Wash.) and Richard Burr (R-N.C.) released a discussion draft Thursday that compiles several bills into the Senate's latest version of SECURE Act 2.0. Lawmakers said the legislation builds off the House proposal, and Murray and Burr plan to introduce and mark up final legislation in the coming weeks. Austin R. Ramsey reports.
The Senate confirmed Steven Cliff to head the National Highway Traffic Safety Administration as the agency faces a record-high number of traffic deaths. The agency is in its fifth year without a Senate-confirmed administrator, even as NHTSA estimated traffic fatalities last year hit a 16-year high. The Senate also confirmed Christopher Coes to be an assistant secretary of transportation, Lillianna Byington reports.
A Senate proposal to overhaul the way that the FDA regulates diagnostics is raising questions over whether the agency has the resources it needs to undertake such a project. Inclusion of the VALID Act in the Senate's must-pass draft user fee measure marks a key step in realizing changes to how much oversight the FDA should exert over diagnostic tests. But the bill leaves a lot of text in brackets. Read more from Jeannie Baumann.
Senate Finance Committee Republicans want IRS Commissioner Charles Rettig to provide more details about tax return documents the agency destroyed while it dealt with a significant pandemic-related backlog. "The destruction of documents ensuring taxpayers did not underreport income or inflate a deduction is concerning," the 14 GOP senators on the committee wrote Rettig, Colin Wilhelm reports.
The US could announce a new package of military and security assistance to Ukraine as soon as next week, Se Young Lee reports, citing CNN. The US is leaning toward including advanced, long-range rocket systems sought by the Ukrainian government in the new aid package, according to unidentified officials.
Elections & Politics
A senior federal trial judge called the lack of an ethics code for Supreme Court justices "unimaginable" at a conference about judicial independence. "I think it's just unimaginable that we have a segment of our federal judiciary that's not subject to an ethics code," Reggie Walton, a senior judge on the US District Court for the District of Columbia, said Thursday at a Chicago event for judges, lawyers, and legal academics, Madison Alder reports.
A federal appeals court rejected a lower court's finding that a Civil War-era law protects Rep. Madison Cawthorn (R-N.C.) and other politicians accused of insurrection, but deliberately kept alive the question of whether the 14th Amendment bars anyone who commits insurrection from seeking public office. John Holland has more.
Around the Administration
BIDEN'S SCHEDULE:
The president will travel to Annapolis, Md., to deliver graduation remarks for the United States Naval Academy Class of 2022 at 10 a.m.
The Department of Agriculture is allowing farmers to use some conservation lands for crops as global supplies get disrupted by the war in Ukraine. Some lawmakers such as Sen. John Boozman (R) of Arkansas were pushing for the move, which could help boost world grain supplies, Michael Hirtzer reports.
The Biden administration is reaching out to the oil industry to inquire about restarting shuttered refineries, as the White House scrambles to address record high-gasoline prices. Members of the National Economic Council and other officials have inquired within the industry about factors that led some refining operations to be curtailed and if plans are underway to restart capacity, a person familiar with the matter said, Ari Natter reports.
The US Supreme Court let the Biden administration keep using its formulas for estimating the social cost of greenhouse gas emissions when regulating energy and infrastructure projects, giving the White House at least a temporary boost in its efforts to slow climate change. Read more from Greg Stohr.
A new SEC proposal for funds to disclose greenhouse gas emissions from their portfolios is forcing them to think twice about pursuing environmentally friendly investment strategies. The plan, which the Securities and Exchange Commission released May 25, would require funds focused on environmental factors to report the carbon footprint and intensity of the companies they invest in, Andrew Ramonas reports.
DHS and DOJ officials in a call with reporters Thursday outlined their plans for implementing a rule aimed to speed asylum claims that takes effect next week. The agencies will phase in the rule with hundreds of migrants per month at two Texas detention facilities. The process will initially apply only to migrants who are destined for six large US cities. Senate Republicans earlier Thursday fell short in their vote to end the rule through a Congressional Review Act resolution (S. J. Res. 46). Ellen M. Gilmer has more.
Two FBI agents who investigated Larry Nassar, the former U.S. women's gymnastics team doctor convicted of sexual abuse, won't face criminal charges, the Justice Department said. The FBI and Justice Department faced intense criticism for failing to properly investigate allegations against Nassar, Joel Rosenblatt reports.
The US and Taiwan are planning to announce negotiations to deepen economic ties, people familiar with the matter said, in a fresh challenge to Beijing, which has cautioned Washington on its relationship with the island. The talks would focus on enhancing economic cooperation and supply-chain resiliency, falling short of a traditional free-trade agreement, according to the people. Read more from Jenny Leonard.
Biden will meet New Zealand's Prime Minister Jacinda Ardern next week, the White House said. Ardern is currently on a trade and tourism visit to the US, Michael Bruning reports.
Fiji will join the U.S. in a wide-ranging economic initiative, making it the first Pacific Island country to do so as competition heats up between Beijing and Washington for influence in the Asia-Pacific. Read more from Ben Westcott.
Editor's Note: BGOV's What to Know in Washington will not publish on the Monday, May 30 Memorial Day federal holiday. We'll resume publication Tuesday, May 31.
With assistance from Maeve Sheehey and Ellen M. Gilmer
To contact the reporters on this story: Michaela Ross in Washington at mross@bgov.com; Brandon Lee in Washington at blee@bgov.com
To contact the editors responsible for this story: Giuseppe Macri at gmacri@bgov.com; Andrew Small at asmall@bgov.com