What to Know in Washington: Democrats Eye Fast Trump Impeachment
Speaker Nancy Pelosi is readying Democrats for a lightning-fast second impeachment of President Donald Trump this week that risks consuming Congress in a bitter political fight just as President-elect Joe Biden's administration is attempting to get off the ground.
With a groundswell of anger among Democrats over the storming of the Capitol on Jan. 6 by a mob encouraged by Trump, Pelosi (D-Calif.) said last night the House would take up a resolution to impeach Trump for the second time in less than two years unless Vice President Mike Pence and the cabinet invoke the 25th Amendment this week to remove Trump from office.
"In protecting our Constitution and our Democracy, we will act with urgency, because this President represents an imminent threat to both," Pelosi said in a letter to House Democrats. An article of impeachment accusing Trump of "Incitement of Insurrection" over his actions encouraging the mob that staged the deadly assault has drawn more than 200 Democratic co-sponsors and is set for introduction today.
One issue Democrats will have to weigh in determining the course ahead is Biden's agenda. With the Senate in recess, any trial for Trump could not begin until Jan. 20 at the earliest without the backing of all senators. And once a trial is under way, the Senate couldn't take up other business, including Biden's cabinet nominees and top-priority legislation such as boosting stimulus payments for most Americans.
Rep. James Clyburn (D-S.C.), a member of the House Democratic leadership, said yesterday the House could hold on to the articles of impeachment for as long as 100 days to provide some breathing room.
"I do have concerns, and so does Speaker Pelosi" about the impact on Biden's administration, Clyburn said on CNN's "State of the Union." "Let's give president-elect Biden the 100 days he needs to get his agenda off and running. And maybe we will send the articles some time after that."
Biden has trod carefully, saying on Friday that impeachment is a matter for Congress to decide. But he also said his inauguration would be the quickest way to get Trump out of office.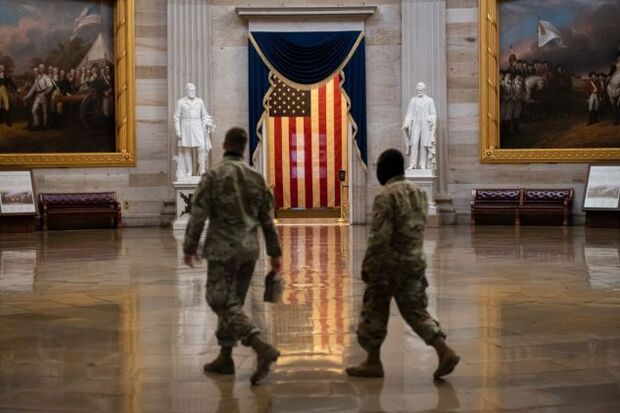 What to Watch Today: House Majority Leader Steny Hoyer (D-Md.) will first attempt today to gain unanimous consent for a resolution urging Pence to invoke the 25th Amendment of the Constitution "to declare the President incapable of executing the duties of his office," Pelosi said. With expected Republican objections, that resolution will get a roll call vote tomorrow. The House meets today at 11 a.m. in a pro forma session.
Pence, who's privately dismissed that course of action, will have 24 hours to respond, Pelosi said, and if he doesn't "we will proceed with bringing impeachment legislation to the floor." A vote on impeachment could happen as soon as Wednesday.
Pelosi and other members of her leadership team plan a conference call this afternoon to discuss the path ahead. Read more on how Democrats will move on impeachment from Daniel Flatley and Laura Litvan.
Trump Plans Defiant Final Week: Banned from social media and abandoned by some staff after inciting a riot at the U.S. Capitol, Trump and a dwindling circle of advisers plan a defiant final week in office, according to people familiar with the matter. Trump is confident Vice President Mike Pence and members of his cabinet won't attempt to remove him under the 25th Amendment, the people said. Pence is dismissive of the idea of trying to use that authority to drive Trump from office, one person said.
The president and some allies also believe Democrats are overreaching by trying to once again impeach him over Wednesday's mob at the Capitol, and think Senate conviction would be unlikely in any event.
Trump plans to run out the clock on his four years in office by highlighting what he believes are his biggest accomplishments, including the barrier his administration built on at least part of the U.S. border with Mexico. A trip to Alamo, Texas, near the border is expected tomorrow, a White House spokesman said. Read more from Jennifer Jacobs, Mario Parker and Josh Wingrove.
Fallout From the Capitol Riot
Schumer Warns of Additional Attacks: Senate Democratic Leader Chuck Schumer (D-N.Y.) warned extremist groups could be planning further attacks following their storming of the Capitol and urged the Federal Bureau of Investigation to remain on guard. "The threat of violent extremist groups remains high and the next few weeks are critical in our democratic process with the upcoming inauguration," according to a statement released by Schumer on Sunday. Read more from Sebastian Tong.
Lawmakers Exposed to Covid-19 During Attack: Lawmakers may have been exposed to the coronavirus while they were held in a secure room during Wednesday's attack on Congress, the Capitol's attending physician said Sunday. "Many members of the House community were in protective isolation in room located in a large committee hearing space," physician Brian Monahan said in a statement. "Individuals may have been exposed to another occupant with coronavirus infection." Read more from Billy House.
Hawley Election Gambit Trips Up Political Ambitions: Josh Hawley (R-Mo.), first-term Republican senator and a former Missouri state attorney general, is facing unrelenting blowback for his role in challenging Biden's defeat of Trump, as violent riots erupted at the Capitol. Hawley, along with Sen. Ted Cruz (R-Texas), led the doomed effort to stop Biden's certifications in key states, and both sought to raise campaign funds off their efforts. The onslaught has led to questions about Hawley's political future as the 41-year-old seemed to be positioning himself for a 2024 presidential run. Read more from Nancy Ognanovich.
Twitter Trump Ban Derided as Long Overdue: For four years during his presidency, Twitter allowed Trump to amplify attacks on his rivals, spread conspiracies and provoke other nations. Two days after his rallying cries culminated in an actual violent mob storming the U.S. Capitol, the platform took his favorite megaphone away, permanently banning his account. But many say that may be too little, too late.
The decision is unlikely to let Twitter off the hook after years of enabling the president, allowing a portion of America to be sucked into an angry alternate reality. The company is already facing criticism from Democratic politicians, who will take control of Congress and the presidency in less than two weeks. Those who study social media misinformation have long warned Twitter, Facebook and YouTube that the president's words could lead to real-world violence. Read more from Sarah Frier.
More Charges in Capitol Siege: Two men photographed carrying zip-ties in the U.S. Capitol on Wednesday were charged yesterday in a federal court in the District of Columbia in connection with the riots. The charges followed those of three men on Saturday, including a man seen wearing Viking garb and one photographed carrying the Speaker's lectern in the Capitol while mugging for the camera. Sebastian Tong and Luke McGrath have more.
Democrats Prepare for Power
Biden's Stimulus Plans Set Up Fresh Fight: Joe Biden's plan to pass a multi-trillion dollar economic stimulus package early in his administration faces challenges in a closely divided U.S. Senate, with a potential impeachment trial for Trump that could add to delays. Biden is set to release his proposals — the price tag for which has yet to be unveiled — on Thursday. The package will feature a range of support for state and local authorities long blocked by Republicans, a bump in direct payments to $2,000 and expanded unemployment benefits, along with funding for vaccine distribution, school re-opening, tax credits, rental relief and aid to small businesses.
Sen. Schumer is set to be majority leader with the barest possible control of the chamber — a 50-50 split. Deficit-hawk Democrats from conservative states, such as West Virginia's Joe Manchin and Montana's Jon Tester, will have equal influence with leftist progressive Bernie Sanders (I-Vt.). Read more from Erik Wasson, Laura Davison and Nancy Cook.
Trump Officials Still Slowing Transition: Some departments of Trump's administration are still withholding cooperation from Biden's team despite Trump's recent vow of "an orderly transition," incoming White House Press Secretary Jen Psaki said Friday. With the transfer of power less than two weeks away, Psaki said the transition was encountering "intransigence" in the Defense Department and Office of Management and Budget, as well as "other places that we've had ongoing concern." Read more from Emma Kinery.
Austin to Get Up to $1.7 Million From Raytheon: Retired General Lloyd Austin, Biden's pick for defense secretary, may get as much as $1.7 million in payments tied to the board seat he would be giving up at defense contractor Raytheon Technologies. "As soon as practicable but not later than 90 days after my confirmation, I will divest my financial interest in Raytheon," Austin wrote in his ethics agreement with the Pentagon and his financial disclosure report. Read more from Tony Capaccio and Bill Allison.
Biden Taps William J. Burns for CIA Director: Biden named William J. Burns as his nominee to run the Central Intelligence Agency, according to a statement. Burns is the president of the Carnegie Endowment for International Peace. He would be the first career diplomat to serve as CIA director, according to the statement. Read more from Magan Crane.
Obama DHS Alums in the Mix for Cyber Post: Biden's Homeland Security Department will rely on seasoned experts to lead top DHS agencies, several former Obama and Trump DHS officials said in interviews. Ur Jaddou, currently the leader of Biden's DHS transition agency review team, tops the list to lead the U.S. Citizenship and Immigration Services, the ex-officials said. Jaddou served for three years as the USCIS chief counsel. Robert Silvers, who served as assistant secretary for cyber policy and DHS deputy chief of staff among other homeland roles under President Barack Obama, also is a candidate for a top DHS or agency slot, the persons said. Neither has been offered a DHS post, which are in high demand, they said. Read more from Shaun Courtney and Genevieve Douglas.
Biden's HHS to Inherit Legal Fights: Legal battles left over from the prior administration are likely to dictate which health-care policy priorities Biden and his officials must focus on first. Fights are ongoing over the scope of Trump administration rules that scaled back Obamacare's anti-discrimination protections, gave health-care workers the right to refuse patients' care based on their religious beliefs, and expanded access to skimpier health plans. Court schedules in the cases could force the new administration to make some quick decisions come Jan. 20. Read more from Lydia Wheeler.
North Korea Greets Biden With Nuke Agenda: Kim Jong Un will put North Korea on a path to develop more advanced nuclear technologies and missiles, sending a chilling warning to Biden that the Asian leader is ready to ratchet up security tensions. Kim called the U.S. a "war monster" and his "biggest main enemy," at the first Congress of the Workers' Party of Korea in five years, according to the state's Korean Central News Agency. Jon Herskovitz and Jeong-Ho Lee have more.
Pence to Attend Biden Inauguration: Vice President Mike Pence will attend the inauguration of Biden and Vice President-elect Kamala Harris, breaking ranks with Trump, who is not attending. Pence plans to be at the Jan. 20 event, according to two people familiar with his plans who asked not to be identified discussing internal deliberations. Trump, in a final tweet before his account was permanently banned, said he "will not be going to the Inauguration." Read more from Mario Parker and Jennifer Jacobs.
What Else to Know Today
White House Pushed Georgia U.S. Attorney to Quit: The White House pressured the U.S. Attorney in Atlanta to quit because Trump was dissatisfied with a lack of cooperation from officials there on his unproven allegations of election fraud, The Wall Street Journal reports. U.S. Attorney Byung J. Pak, a Trump appointee, was told to step down a day before the Jan. 5 Georgia Senate run-off elections, the Journal reported, citing sources it didn't identify. Read more from Luke McGrath.
U.S., Allies 'Concerned' Over Hong Kong Arrests: Secretary of State Mike Pompeo and foreign ministers of the U.K., Canada and Australia expressed a "serious concern" about the arrest of 55 politicians and activists in Hong Kong, the governments said in a statement. Hong Kong's National Security Law breaches the Sino-British Joint Declaration and undercuts the "one-country-two-systems" framework, the statement said, Luke McGrath reports.
SCOTUS to Review Refinery Waivers: The Supreme Court will review the ability of oil refineries to win exemptions from federal biofuel-blending quotas, a blow to producers of ethanol and biodiesel that had challenged the waivers. The justices, without comment, agreed to hear an appeal by units of HollyFrontier and Wynnewood Refining, which said a 10th U.S. Circuit Court of Appeals ruling wrongly deprived small refineries of economic relief specifically authorized by Congress. Read more from Jennifer A. Dlouhy.
Trump Lawyers Get Argument Time in Climate Case: Trump administration lawyers will join the oil and gas industry to battle a climate case before the U.S. Supreme Court, a day ahead of Biden's inauguration. The high court approved the government's request to argue alongside lawyers for BP, Exxon Mobil and others facing climate liability claims. Ellen Gilmer has more.
Court Will Hear Koch-Backed Challenge to Donor Law: The U.S. Supreme Court will take up a challenge by a Koch-backed group to a California law forcing charities disclose their largest donors to state officials. Justices said Friday they plan to review the Americans for Prosperity Foundation appeal upheld by the Ninth Circuit. Kimberly Robinson has more.
Halt to 'Onerous' Trump Rule on Refugees Upheld: A nationwide preliminary injunction barring the Trump administration from enforcing an executive order on resettling refugees will remain in place after the Fourth Circuit on Friday found the measure likely violates the Refugee Act. Read more from Peter Hayes.
To contact the reporters on this story: Zachary Sherwood in Washington at zsherwood@bgov.com; Brandon Lee in Washington at blee@bgov.com
To contact the editors responsible for this story: Giuseppe Macri at gmacri@bgov.com; Loren Duggan at lduggan@bgov.com; Michaela Ross at mross@bgov.com