What to Know in Washington: Democrats Divided Over Agenda Cuts
Democrats are coalescing around a tax and spending plan totaling about $2 trillion, but the party's progressives and moderates remain divided over which pieces of President Joe Biden's agenda to pay for — and how long to pay for them.
Speaker Nancy Pelosi (D-Calif.) and Senate Majority Leader Chuck Schumer (D-N.Y.) must pick and choose from a Democratic wish list that includes free community college, subsidized child care, expanded Medicare benefits and a large investment in climate programs as they attempt to draft a bill that can pass both chambers.
House Democrats last month wrote a $3.5 trillion bill funding those programs and more largely through tax increases on the wealthy and corporations, but moderates balked at the cost. Biden has suggested as a compromise a roughly $2 trillion benchmark, a number that seems to be taking root within the caucus.
"I'm very disappointed that we're not going with the original $3.5 trillion which was very transformative," Pelosi told reporters yesterday. "The fact is that if there are fewer dollars to spend, there are choices to be made."
Central to those choices in the coming weeks will be debates about whether to eliminate programs entirely or do more but for shorter periods of time. Progressives say they want to include the full menu, while moderates say that carries the risk of programs eventually being cut by Republicans. Read more from Laura Davison and Billy House.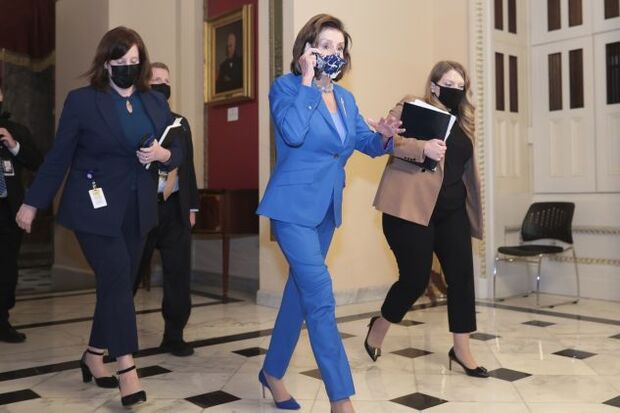 Democrats Eye Medicare Managed-Care Plans: Medicare managed-care plans say they'll have to increase premiums and reduce benefit offerings if Democrats cut their program reimbursements to help pay for new dental, vision, and hearing benefits in traditional Medicare. As Democrats work to trim their reconciliation package, recent research suggests that tweaking some of the Medicare Advantage payment formulas could save billions of dollars in overpayments that could help pay for the proposed benefit expansion. Read more from Tony Pugh.
Physicians Press Lawmakers on Medicare Payment Cuts: Physician groups yesterday called for congressional action by year's end to stop a series of potential Medicare payment cuts from taking effect in 2022. Medical providers had hoped to attach legislative fixes for the proposed cuts to the massive reconciliation package that Democrats are crafting. But the crowded legislative calendar and the drawn-out negotiations to finalize the proposal have dimmed their hopes for inclusion. Read more from Tony Pugh.
Happening on the Hill
House Clears Short-Term Debt-Cap Increase: The House yesterday approved a short-term increase in the government's debt limit, sending the legislation to Biden just days before the U.S. Treasury was at risk of running out of borrowing authority. The 219-206 vote staves off the threat of an immediate financial calamity, but sets the stage for another partisan confrontation on debt and spending in less than two months. Biden is expected to swiftly sign the bill to raise the statutory ceiling by $480 billion, a move designed to allow the Treasury Department to meet the federal government's obligations through Dec. 3. Treasury Secretary Janet Yellen had warned the current debt limit would be breached around Oct. 18 without congressional action. Read more from Billy House.
Oil Spill Renews Calls For Offshore Drilling Ban: An oil spill this month off the coast of California is pumping new life into congressional efforts to permanently ban new offshore drilling in federal waters and increase oversight of the oil and gas industry. Democrats in both chambers have been renewing calls since the spill to enact a ban on new offshore drilling in the Pacific and Atlantic oceans, as well as the Eastern Gulf of Mexico, through language already included in the House tax and spending package. The House Natural Resources Committee plans to consider two additional bills today that would increase accountability on offshore oil and gas facilities to report infrastructure problems and update federal safety regulations related to offshore pipelines. Read more from Kellie Lunney.
Senate Republicans Warn of 'Mission Creep' in Regional Fed Picks: Republicans on the Senate Banking Committee warned the boards of Federal Reserve banks in Boston and Dallas not to let politics influence their search for new presidents, and instead choose people who would avoid "mission creep" at the central bank. The Republicans, led by Sen. Pat Toomey (R-Pa.), wrote that they want candidates who would adhere to the "narrow statutory mission" of the Fed without regard to political pressure. They voiced their concerns in letters yesterday to Christina Paxson, chair of the board of the Federal Reserve Bank of Boston, and Greg Armstrong, chair of the Dallas Fed. Read more from Steven T. Dennis.
Politics & Influence
GOP's 'Colorblind' Redistricting Tactic Tests Voting Rights Act: Republican lawmakers redrawing states' political lines are adopting a "colorblind" redistricting strategy aimed at inoculating maps against Democratic lawsuits that argue they dilute minority voting power. The strategy, already used in Texas, North Carolina, Ohio, and Arkansas, seeks to protect Republican maps from lawsuits brought under Section 2 of the Voting Rights Act by drawing lines using partisan voting data and not considering racial data. Read more from Alex Ebert.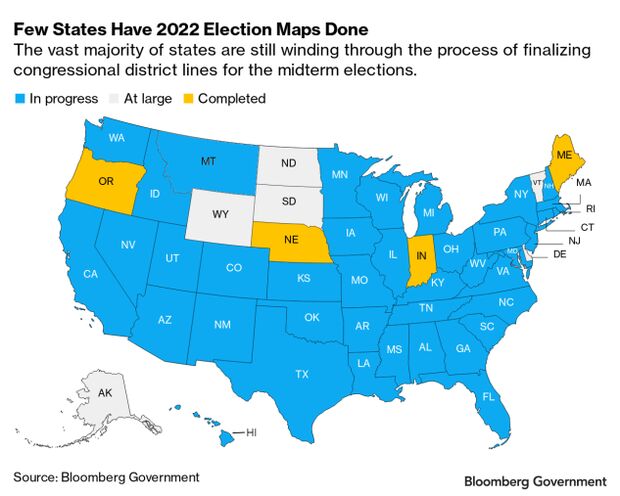 Coronavirus Speeds GOP's Shift Away From Pro-Business: The conflicts between businesses and Republican leaders like Texas Gov. Greg Abbott over vaccine mandates highlights the GOP's shift from a pro-business, anti-regulatory party to one that answers to a populist base. Similar disputes are playing out nationally as anti-vaccine politics have run into strategies by companies to operate their businesses safely and as they see fit. Read more from Mark Niquette.
Abbott last night blamed Biden for accelerating the trend of companies requiring that employees get the Covid-19 vaccination. Biden in September imposed new vaccine mandates on executive branch employees, federal contractors, and millions of health care workers. Last week, the president said his administration is moving forward with a plan to require businesses with more than 100 employees to ensure workers are fully vaccinated or face weekly testing. As a result, Abbott said he decided that he must issue a prohibition on such mandates, informed by conversations with Texans struggling with the specter of job losses, Joe Carroll reports.
Meanwhile, the U.S. Labor Department advanced an emergency regulation for final White House review that will force many private-sector companies to require employee vaccinations or virus testing. DOL's Occupational Safety and Health Administration sent the rule to the White House's regulatory office yesterday, the agency announced. The office will give its OK in as little as a day, Ben Penn reports.
Around the Administration
Today's Agenda: Biden at 11:15 a.m. is scheduled to sign legislation that would designate the Sept. 11 National Memorial Trail Route. Biden will meet at 1:45 p.m. with officials and stakeholders to discuss efforts to address the global transportation supply chain. He'll deliver remarks on the topic at 2:20 p.m. Executives from companies including Walmart, UPS and Home Depot plan to participate, White House Press Secretary Jen Psaki said at a press conference yesterday.
Biden Seeks to Spearhead New Attack on Supply-Chain Delays: Biden will turn his focus to supply-chain transportation bottlenecks today, as the congested Port of Los Angeles will announce a 24 hours a day, seven days a week effort to confront the squeeze on goods. A meeting at the White House will convene corporate executives, labor leaders as well as port officials, and Biden plans to highlight their efforts to ease distribution backlogs and respond to product demands that have grown during the coronavirus pandemic, two administration officials said on the condition of anonymity to preview the day's events. Read more from Jennifer Epstein.
Yellen Sticks with 'Transitory' View of Inflation: Treasury Secretary Yellen stuck with her assessment that elevated U.S. inflation will prove "transitory," while acknowledging it will take longer for the pace of price gains to return to normal. "I believe it's transitory, but I don't mean to suggest these pressures will disappear in the next month or two," Yellen said in an interview on CBS Evening News that aired last night. Yellen attributed the price spikes in many goods to the "huge disruption" from the Covid-19 pandemic to global supply chains, an effect that would slowly dissipate, Christopher Condon reports.
FCC in 'Holding Pattern' Waiting for Chair: The Biden administration's historic delay in appointing someone to lead the Federal Communications Commission is costing Democrats the ability to proceed on big-ticket policy items, even potential bipartisan ones, former officials said. The commission has been operating without a permanent chair for the longest period in its history. Acting chair Jessica Rosenworcel can only stay on the commission until the end of the current congressional session. If she departs without the Senate having taken any further action, the FCC would have a Republican majority. Read more from Maria Curi.
U.S. Plans Counter-Ransomware Event With Over 30 Partners: The National Security Council this week is facilitating an international counter-ransomware event with over 30 partners to "accelerate cooperation on improving network resilience," according to a White House statement. The event is also aimed at addressing the "financial systems that make ransomware profitable, disrupting the ransomware ecosystem via law enforcement collaboration, and leveraging the tools of diplomacy to address safe harbors and improve partner capacity," Leonard Kehnscherper reports.
U.S. to Ease Restrictions on Land Travel With Canada, Mexico: The U.S. will relax coronavirus restrictions at its land borders with Canada and Mexico for vaccinated travelers next month, allowing for the resumption of non-essential travel like tourism. The changes, announced by members of New York's congressional delegation, come after the White House previously announced its intention to begin allowing airline passengers from a broad swath of countries – including Canada, Mexico, and Europe – to enter the country with proof of vaccination and a coronavirus test in early November. Read more from Justin Sink.
China Reports Progress on U.S. Disputes Before Biden-Xi Summit: China said it set up a group with the U.S. to discuss disputes, ahead of a video summit between Biden and his Chinese counterpart Xi Jinping planned for later this year. Chinese Vice Foreign Minister Le Yucheng said in an interview with state broadcaster CGTN that the group had already "made some progress," without specifying details. Read more from Jenni Marsh.
IMF Chief Faces Tough Challenges: Kristalina Georgieva held on to her job as head of the International Monetary Fund. Now she faces the potentially bigger challenge of saving the institution's credibility. Late Monday, the IMF board affirmed its "full confidence" in Georgieva after deliberating over a law firm's audit accusing her of pressuring subordinates at the World Bank to adjust a report in China's favor in 2017. Minutes later, the U.S. Treasury took a sharply different tone: While the allegations didn't warrant Georgieva's removal, the law firm's report "raised legitimate issues and concerns," and the U.S. urged steps to "reinforce data integrity and credibility at the IMF." Eric Martin and Saleha Mohsin offer three credibility challenges hanging over the lenders in the wake of the scandal.
To contact the reporter on this story: Giuseppe Macri in Washington at gmacri@bgov.com
To contact the editors responsible for this story: Giuseppe Macri at gmacri@bgov.com; Loren Duggan at lduggan@bgov.com