What to Know in Washington: Democrats Detail Billionaire Tax
Senate Democrats released the details of a proposed levy on billionaires, a new and logistically risky approach to taxation that lawmakers hope will help fund Biden's social spending aimed at low- and middle-income Americans.
The plan, sponsored by Senate Finance Committee Chairman Ron Wyden (D-Ore.), is the result of weeks of negotiations among Democrats about how to find ways to raise taxes on the wealthy that nearly every member of the party can support. Wyden is betting that fellow lawmakers—and voters—will broadly back a plan that would shift more of the tax burden to the very wealthiest.
Even if the plan does pass, collecting the several hundred billion dollars that Wyden's office says it will raise depends on withstanding likely court challenges and loophole-seeking by those in the IRS's sights.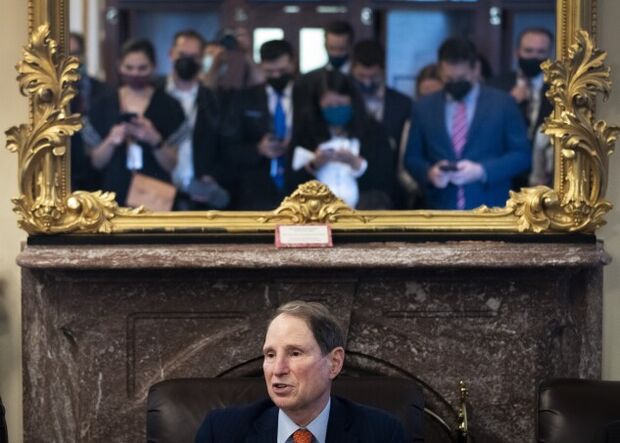 The idea gained momentum over the past week as a top alternative to fund a nearly $2 trillion plan to carry Biden's economic agenda, after Sen. Kyrsten Sinema (D-Ariz.) told her colleagues that she couldn't support the more straightforward approach of raising tax rates on top earners and corporations, effectively sinking that cornerstone of Biden's agenda.
"There are two tax codes in America. The first is mandatory for workers who pay taxes out of every paycheck. The second is voluntary for billionaires who defer paying taxes for years, if not indefinitely," Wyden said in a statement. "Two tax codes allow billionaires to use largely untaxed income from wealth to build more wealth."
The tax would apply to taxpayers who for three consecutive years have had assets worth at least $1 billion or have earned at least $100 million three years in a row. These thresholds mean about 700 people would be affected, according to a summary of the plan. Read more from Laura Davison.
Corporate Minimum Tax Plan Unveiled: Meanwhile, three key senators released legislation that would require some U.S. companies to pay a minimum 15% rate on profits they report to their corporate shareholders, in a bid to find consensus behind revenue-raising measures to fund Democrats' agenda. The proposal, sponsored by Wyden and Sens. Elizabeth Warren (D-Mass.) and Angus King (I-Maine), would require that companies that report more than $1 billion in profits to shareholders pay at least a 15% tax rate — even if they qualify for lots of tax breaks. Democrats are planning to use this as an alternative to raising the regular corporate income tax, after opposition to such a move from Sinema. That rate would stay at 21%. Sinema released a statement last night backing the idea. Read more from Laura Davison.
Progressives Skeptical on Infrastructure Vote: Progressives Democrats in the House aren't satisfied that an emerging framework gives them the details they need to clear the way for a vote on a $550 billion roads and bridges bill. Speaker Nancy Pelosi (D-Calif.) emerged from a meeting with Progressive Caucus Chair Pramila Jayapal (D-Wash.) hopeful that progressives would back the infrastructure package as the outline of a deal begins to emerge on the larger tax and spending package. Jayapal said she doesn't want a framework, she wants a bill. While progressives would welcome a verbal agreement on the tax and spending package by the end of the week, she said, there's no chance that infrastructure would get a House vote based on that. Read more from Jarrell Dillard.
Climate Change Deal in the Works: More than $500 billion of an emerging Democratic spending plan is targeted to fight climate change, making it one of the biggest portions of a bill likely to top $1.5 trillion, according to people familiar with the discussions. While details are still being worked out, the framework is expected to include expanded tax credits for renewable power, advanced energy manufacturing and electric vehicles, as well as incentives to support investments in electric transmission, energy storage and sustainable aviation fuel. Ari Natter and Jennifer A. Dlouhy have more.
Democrats Keep Immigration Options Open: House Democrats plan to advance an already rejected immigration proposal to offer a pathway to legal status for millions of undocumented people, though whether the provision will land in a final package remains to be seen. The proposal, known as the immigration registry update, was part of Democrats' backup plan in their sweeping tax and social spending package after the official who oversees Senate rules in September rejected their more ambitious proposal for a path to citizenship. Read more from Ellen M. Gilmer.
Private Insurers to Be Covered: Caps on drug price increases will extend to private, employer-sponsored insurance plans under Democrats' drug pricing legislation, Wyden said yesterday. Requiring drugmakers that increase their prices faster than inflation to pay back that excess amount to the federal government has widespread support among Democrats, Wyden said. Extending the policy to private plans would mean tamping down price hikes for millions more Americans, he said. "A lot of my colleagues very much like the anti-price gouging provisions that we've put out," Wyden said. "We figured out a way to extend that to the private sector." Read more form Alex Ruoff.
Paid Leave Push: House lawmakers heading influential caucuses pushed Biden to include paid family leave as part of the plan, even if it was less than the full 12 weeks initially proposed. Members of the Black, Hispanic, Asian Women's and Equality caucus attended a White House meeting last night, Emily Wilkins reports. Rep. Judy Chu (D-Calif.), chair of the Congressional Asian Pacific American Caucus, said it wasn't clear whether the asks for paid leave would lead to the proposals' inclusion. Instead, Biden focused on the bill's overall impact, calling it transformational. "There are things we all want in the bill, but we cannot let the perfect be the enemy of the good," she said. "That was the overarching message of the day."
Chu said the meeting confirmed for her that provisions funding child care and pre-kindergarten would be included in the bill — and tuition-free community college likely would not.
Happening on the Hill
Today's Agenda:
Biden Court Picks Fast-Tracked in Senate: Senate Democrats are embracing many of the hardball judicial confirmation tactics they once criticized Republicans for using as they press to fill dozens of federal vacancies before the 2022 midterm elections. They've retained GOP rules implemented during the Trump administration to expedite nominees to fill more than 100 judicial vacancies. Senate Majority Leader Chuck Schumer (D-N.Y.) said he plans to confirm another nine federal judges this week, including three for the influential circuit courts. There's an urgency to move quickly given that their tenuous hold on the 50-50 chamber—and with it, Biden's ability to put his imprint on the judiciary—may be short-lived. Read more from Nancy Ognanovich.
Lawmakers Want White House Hunger Conference: Urban and farm-state lawmakers want the White House to convene a conference on U.S. hunger, which hasn't happened since 1969, and intend to pass legislation calling for one before the end of the year. The effort is bipartisan and bicameral, meaning the bill could easily be included in one of several legislative packages expected to see action in the next few months, including the year-end spending measures. Read more from Megan U. Boyanton.
Senate Confirms Ambassador Picks: The Senate yesterday confirmed several of Biden's ambassador nominations, including former Arizona senator Jeff Flake to be ambassador to Turkey; former New Mexico senator Tom Udall to be ambassador to New Zealand and Samoa; and Cindy McCain to be U.S. representative to the United Nations Agencies for Food and Agriculture.
Politics & Influence
Texas GOP Creates House Pickup Opportunity: A Hispanic-majority congressional district in south Texas that was a Democratic stronghold until the 2020 election emerged from redistricting as the state's only battleground district and a test case for Republicans. The GOP is eyeing the 15th District, which runs from near San Antonio south to populous Hidalgo County on the U.S.-Mexico border, after making surprising gains in the heavily Hispanic Rio Grande Valley in 2020 that eroded the Democratic Party's longtime dominance. Read more from Greg Giroux.
Biden Targets Trump While Campaigning for McAuliffe: Biden campaigned for Virginia gubernatorial candidate Terry McAuliffe last night, lashing out repeatedly at former President Donald Trump and trying to tether him to Republican nominee Glenn Youngkin in the tight election contest. "To win the Republican nomination he embraced Donald Trump," Biden said, joining McAuliffe before a diverse crowd of about 2,500 at a park in the Washington suburb of Arlington, Va., a heavily Democratic area where McAuliffe needs strong turnout to win. "It was a price he had to pay for the nomination and he paid it," Biden said of Youngkin, "but now he doesn't want to talk about it any more. Well, I do." Read more from Ryan Teague Beckwith and Justin Sink.
Workers Press for Power in Rare Advance for Labor Movement: American workers—the ones involuntarily benched during the pandemic and the ones who labored through it at great risk so others could stay fed or entertained or alive—are now doing their best to be impossible to ignore. Private-sector union members are authorizing strikes at a rate rarely seen in modern America, with more than 100,000 workers recently threatening or mounting work stoppages in health care, higher education, telecommunications, transportation, television, mining, manufacturing, music, metals, oil, carpentry, whiskey, and cereal. The internet dubbed October #Striketober. Read more from Josh Eidelson.
Around the Administration
Today's Agenda: Biden will participate virtually at 8:30 a.m. in the annual East Asia Summit to discuss issues facing the Indo-Pacific region.
Gun Rights Group Backs Abortion Providers Over Texas Ban: A gun rights group is siding with abortion providers in the Texas dispute over the nation's strictest abortion ban. The law was designed with procedural quirks that are intended to insulate it from judicial review by allowing private citizens, not government officials, to enforce the ban. The move has been successful, allowing the law to go into effect for nearly two months and halting almost all abortions in the state after six weeks. But Erik Jaffe, who filed the amicus brief on behalf of the nonprofit group Firearms Policy Coalition, fears the law could be used to limit other constitutional rights, in particular the Second Amendment. Read more from Kimberly Strawbridge Robinson.
Vaccine-Wary Staff Threaten Supply Chain: Logistics companies in industries ranging from trucking to warehouses are warning that Biden's vaccine mandate will cause further supply chain backlogs. Groups representing them say substantial numbers of their employees are unvaccinated, and may quit or be let go at the height of the holiday season. The supply chain is already suffering as a shortage of workers, backlogged ports, and other challenges slow the movement of goods. Read more from Lillianna Byington.
Pfizer Vaccine for Younger Kids Wins Backing of FDA Panel: The benefits of a Covid-19 vaccine for young children made by Pfizer and BioNTech exceed its risks, according to a panel of U.S. experts, putting a shot for the youngest school-age children on track for a likely clearance. Fiona Rutherford reports.
FCC Picks Are Prelude to Net Neutrality Push: Biden's plan to nominate Jessica Rosenworcel to lead the Federal Communications Commission and Gigi Sohn to another agency seat sets the stage for a Democratic effort to restore net neutrality rules. With a Democratic majority in place, restoring net neutrality rules governing how internet service providers like AT&T and Comcast manage their networks is expected to be at the top of Democrats' wish list. Democrats likely are unable to move to reimpose the rules until the Senate acts on Biden's picks, however, because the FCC currently has two Democratic and two Republican members. For now, Rosenworcel can only remain at the agency until the end of the congressional session unless the Senate confirms her to another term. Read more from Maria Curi.
U.S. Silent on Joining Global Accord on Sustainability Standards: Mandatory sustainability reporting standards are brewing for companies in the run up to the UN Climate Change Conference starting this weekend, posing the question of what course the U.S. will choose if it spurns the route taken by other developed nations. Read more from Michael Kapoor.
Defense and Foreign Affairs
Milley Warns on China's Hypersonic Weapon Test: The U.S.'s top uniformed military officer called China's suspected test of a hypersonic weapons system a "very concerning" development in the escalating competition between Washington and Beijing. "What we saw was a very significant event of a test of a hypersonic weapon system. And it is very concerning," Gen. Mark Milley, chairman of the Joint Chiefs of Staff, said in an interview for "The David Rubenstein Show: Peer-to-Peer Conversations" on Bloomberg Television. "I don't know if it's quite a Sputnik moment, but I think it's very close to that. It has all of our attention." Read more from Peter Martin.
China Warns U.S. Support for Taiwan Poses 'Huge Risks' to Ties: China condemned the U.S.'s latest overture toward Taiwan, warning that ties between the two countries faced "huge risks" just weeks after Biden and Xi agreed to hold a video summit. U.S. Secretary of State Antony Blinken's call for greater participation by Taiwan in UN organizations violated the "one China" understanding between Beijing and Washington, Foreign Ministry spokesman Zhao Lijian told a regular news briefing today. Read more.
DOJ Curbs Trump-Era Zeal for China Spy Probes as Cases Sputter: The Trump administration went all-in on what it called its "China Initiative," with the Justice Department prosecuting Chinese and Chinese-American researchers it said were stealing U.S. secrets while hiding their links to the government in Beijing and the People's Liberation Army. Now, after a number of those cases fizzled in court and amid growing criticism that the initiative leads to discrimination against Asian-Americans, Justice Department leadership under Attorney General Merrick Garland is moving more cautiously. Read more from Chris Strohm.
Biden's G-20 Challenge is Convincing Allies: Biden entered office declaring that "America's back" and vowing a new era of engagement with the world. He arrives in Rome this week for a meeting of the world's largest economies facing deep skepticism that he can make good on that promise. Initial optimism that Biden would undo Trump's go-it-alone approach has faded after a calamitous Afghanistan withdrawal and other early moves that alienated allies. Closing the perception gap between his foreign-policy promises and the reality of his presidency so far is crucial for Biden. Read more from Nick Wadhams and Justin Sink.
Erdogan Says He'll Discuss F-35 Dispute with Biden: Turkish President Recep Tayyip Erdogan said he will meet Biden in Glasgow, where discussions will focus on how the U.S. can reimburse $1.4 billion Turkey paid to procure F-35 fighter jets. "The most important item will be our F-35 issue," Erdogan said yesterday, according to state-run Anadolu Agency, adding that he'll talk with Biden at the COP26 that starts Oct. 31. "We will need to discuss with them how they will repay us." Read more from Selcan Hacaoglu.
To contact the reporters on this story: Michaela Ross in Washington at mross@bgov.com; Zachary Sherwood in Washington at zsherwood@bgov.com
To contact the editors responsible for this story: Giuseppe Macri at gmacri@bgov.com; Loren Duggan at lduggan@bgov.com