What to Know in Washington: Democrats Are Slow to Ax Trump Rules
Democratic lawmakers are largely passing on opportunities within their control to swiftly overturn Trump administration regulations they loathe, even as the easiest path to do so is about to expire.
Democrats have acted on just one of six resolutions they've introduced using the Congressional Review Act, a law that allows legislators to strike the previous administration's last-minute regulations if both chambers approve it.
The Senate passed a repeal of former President Donald Trump's relaxation of restrictions on methane emissions from oil and gas wells, but have yet to consider the other five. The full House has yet to vote on any of them.
Regulatory policy veterans attribute the hesitance to several factors. CRA resolutions eat up precious floor time that Democrats would rather use to advance legislative priorities while they have control of the White House and both chambers of Congress. The executive branch can rewrite rules without trying to corral its party's swing voters in Congress.
And some Democrats are wary of limiting their ability to rewrite regulations. The law largely prevents agencies from issuing rules that are "substantially" similar to those that Congress cuts, though it's not clear what that really means and courts have never weighed in. Read more from Courtney Rozen.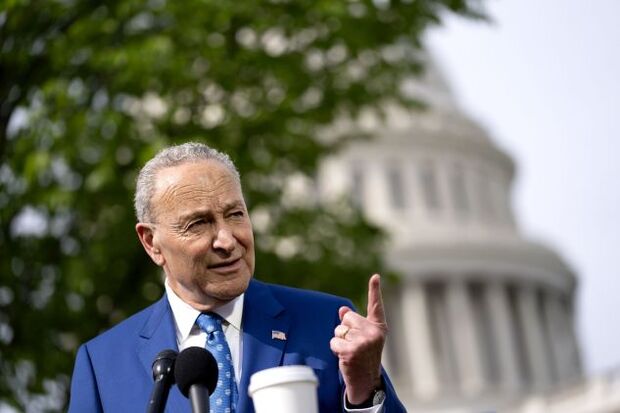 What to Watch in Congress
House to Vote on Debt-Collection, Pregnant Workers Bills: House Majority Leader Steny Hoyer (D-Md.) said the House will vote next week on the Pregnant Workers Fairness Act, which would bolster workplace protections for pregnant women requesting accommodations. The bill previously passed the House with overwhelming bipartisan support and was endorsed by worker advocacy groups and the U.S. Chamber of Commerce, Andrew Kreighbaum reports.
The House will also weigh a legislative package "aimed at reforming various aspects of the debt collection industry and curbing abuses," Hoyer said. Those measures "would also strengthen protections for small business lending, safeguard military service members from unfair debt collection," and help borrowers with student and medical debt, Hoyer said
Also on the House agenda next week is a slate of mental health measures to strengthen suicide-prevention efforts, authorize grants for school-based mental health services, and address disparities in mental health care among underserved communities, Hoyer said in a letter to his House colleagues.
Senate Considers Nominees: The Senate returns Monday following a week-long break, with floor work focused on Biden's nominees. The Senate will consider the nominations of Andrea Joan Palm to be deputy secretary of Health and Human Services and Cynthia Marten to be deputy secretary of Education.
Hearings:Click here for a complete list of the next week's congressional hearings.
Congress Weighs Options on Tech Regulation: Lawmakers seized on Facebook's latest political clash this week to renew a push to regulate large technology platforms, brandishing legislative threats to update antitrust statutes and limit a coveted liability shield to curtail the companies' power. The Facebook Oversight Board's decision to uphold the ban on former president Donald Trump spurred Republicans to call for antitrust reform to break up big tech platforms that they say censor conservative speech, while Democrats pressed for solutions to stop the spread of misinformation and hate speech online. Read more from Rebecca Kern.
Elections & Influence
Trump Fundraising Tactic Enters Congressional Spotlight: Senate Rules and Administration Committee Chair Amy Klobuchar (D-Minn.) plans to introduce legislation to ban the practice of campaigns automatically collecting recurring contributions, following a unanimous recommendation by the Federal Election Commission. Klobuchar said yesterday she would introduce the measure in response to the election panel's urging to combat the tactic's proliferation. Read more from Ken Doyle.
GOP's Virginia Gubernatorial Race Tomorrow: Seven Republicans will vie to be their party's nominee for Virginia's governor at a convention tomorrow, but a complex voting process will delay the announcement of a winner. Delegates will rank candidates by preference. If no one gets over 50% of first-choice votes, then the candidate with the smallest number is eliminated. Then the ballots are tallied again, with those that went to the now-eliminated candidate going to the delegate's next highest pick. The process repeats until a candidate gets more than 50%.
The process is a result of the coronavirus preventing the 53,524 registered delegates from gathering under one roof. Instead, they will meet at 37 polling locations, and ballots will then be shipped to a single location where they'll be counted by hand. The winner of the GOP primary won't be known for several days, and counting of the votes won't begin until May 10. Democrats will choose their nominee on June 8, Emily Wilkins reports.
Texas House OKs Election-Law Changes: Texas lawmakers today advanced broad changes to the state's election laws that would bolster protections for poll watchers and criminalize sending unsolicited absentee ballot applications to voters. In an overnight session that was lengthened as Democrats offered more than 100 amendments, the state House's substitute version of a bill (S.B. 7) touted by majority Republicans as a safeguard against voter fraud, passed a key vote, 81-64. Read more from Paul Stinson.
Increasing the Size of the U.S. House: The first 2020 U.S. census results released last week showed a population of more than 331 million people, or more than 761,000 per congressional district — a constituent-to-representative ratio much higher than in the legislatures of other developed countries. It raises the question: Is the U.S. House of Representatives too small, too large, or just the right size? Expanding House membership would require only tweaking a law, but there's been little enthusiasm in Congress to do so ever since House leaders in the 1920s nixed an increase above 435 on the grounds it would make Congress more inefficient and unwieldy. Read more from Greg Giroux.
Election Watchdog Closes Stormy Daniels Case: The Federal Election Commission deadlocked on continuing the inquiry into the payoff of an adult film star who claimed to have had a sexual relationship with Trump, meaning that the former president and his campaign won't face any penalties in the case. Trump's former personal lawyer Michael Cohen pleaded guilty in 2018 to violating campaign finance laws among other charges in connection with a $130,000 payment he made in October 2016 to secure a nondisclosure agreement from Stephanie Clifford, better known as Stormy Daniels, an actress in adult films. Read more from Bill Allison.
Biden's Economic Agenda
Biden 'Care Economy' May Hinge on States' Decisions: Biden's ambitious $400 billion plan to improve in-home care for the elderly and lift wages for millions of workers may be limited by states' ability to opt out, based on early proposals from Congress. The leading legislative draft in discussion would channel the funds through the U.S. government health-insurance program Medicaid and tie the money to higher reimbursement rates and training for in-home workers, according to congressional aides familiar with the matter who declined to be identified because the deliberations are private. Katia Dmitrieva, Alex Ruoff, Ben Penn, and Olivia Rockeman have more.
McConnell Decries Plan to Tax Capital Gains at Death: Senate GOP Leader Mitch McConnell (R-Ky.) ripped Biden's plan to kill a tax break letting the richest Americans transfer much of their wealth tax-free at death, calling it "a second estate tax." Biden's effort to boost taxes on capital gains in excess of $1 million is among the tax code changes he wants to make as part of an expansive package of spending on social programs. Read more from Steven Dennis.
Family Tax Credit Expansions Gain Momentum: Lawmakers and the administration are looking to build on federal tax credits supporting families that were expanded for 2021 under the American Rescue Plan. Expansions to the child tax credit have been pitched by lawmakers as consequential in lifting millions of children out of poverty. Bloomberg Government legislative analyst Naoreen Chowdhury reviews the background and data on child tax breaks, as well as legislative efforts to expand them. Read the analysis here.
Fixes for 'Decrepit' Rail Dividing Democrats, GOP: Democrats are pushing to support high-speed rail in Biden's infrastructure legislation, stressing how it could reduce the transportation industry's carbon footprint. "High-speed rail could be the technology that fully unlocks the potential of passenger rail travel in this country," Rep. Donald Payne Jr. (D-N.J.), chair of the House Transportation and Infrastructure railroad subcommittee, said at a hearing yesterday. Read more from Lillianna Byington.
Around the Administration
Today's Agenda: The Labor Department today will release employment figures for April, which are projected to show the U.S. added a million jobs last month. Biden will speak from the White House at 11:30 a.m. on the jobs report. Later today, Biden will meet with his "Jobs Cabinet" at 3:15 p.m., before department for Camp David at 5:30 p.m.
China, U.S. to Offer Clashing World Views at UN: The top diplomats from China and the U.S. will showcase their diverging views on how to address regional and global crises at the United Nations Security Council today. Secretary of State Antony Blinken and China's Foreign Minister Wang Yi will be joined at the virtual session by several other foreign ministers as they debate how to strengthen the international system. Read more from David Wainer.
Biden Pressures Drugmakers With Patent Move: Biden stunned both European allies and the pharmaceutical industry when his administration announced support on Wednesday for international talks on waiving patent protections for Covid-19 vaccines, but there are signals he's interested in a more modest compromise. U.S. Trade Representative Katherine Tai said the administration would back a World Trade Organization "process" to try and reach a deal to waive vaccine patents, and not a specific proposal from South Africa and India. Read more from Josh Wingrove.
Carbon Capture Said Key to 2050 Climate Goal: Removing carbon dioxide from fossil fuels is a critical part of the Biden administration's overall goal of reaching net-zero carbon emissions by 2050, Energy Secretary Jennifer Granholm told House appropriators yesterday. "We need both renewables and carbon management strategies in order to get to our goals," Granholm said at a House Appropriations Energy and Water Development Subcommittee hearing. Read more from Kellie Lunney.
SEC Chief Gensler Signals Cop Is Back on Beat: Wall Street's new overseer confirmed he won't back down from tough battles with the financial industry as he laid out an agenda for increased regulation in numerous contentious areas. Gary Gensler pledged yesterday to confront long-simmering issues in the stock market that led to this year's wild price swings in shares of GameStop and fueled concerns that retail investors are getting short shrift from popular trading apps. But Gensler didn't stop there. Read more from Robert Schmidt and Ben Bain.
The SEC is eyeing rules on environmental, social, and governance reporting by public companies after gathering feedback this summer from investors and others, Gensler said. Gensler didn't offer a specific timeline for ESG rulemaking at the hearing, but he said the SEC wants to "bring some consistency and comparability" to what companies report. Read more from Andrew Ramonas.
OSHA Covid Rule Drawn Out by Meetings: The White House's regulatory office has decided to spend more time reviewing an OSHA Covid-19 temporary emergency standard, granting a string of new meetings with union and business groups, even as the pandemic begins to show signs of subsiding. At least 30 meetings lasting through May 13 had been scheduled by the Office of Information and Regulatory Affairs as of yesterday. Read more from Bruce Rolfsen.
Walsh May Face Legal Battle on Gig Economy Issue: Labor Secretary Marty Walsh recently said gig workers "in a lot of cases" should be treated as employees rather than independent contractors. But the real question is whether the Biden administration has the appetite for a high-stakes legal war with a gig-economy heavyweight, or whether it will opt for a measured strategy. Read more from Ben Penn.
To contact the reporters on this story: Zachary Sherwood in Washington at zsherwood@bgov.com; Brandon Lee in Washington at blee@bgov.com
To contact the editors responsible for this story: Giuseppe Macri at gmacri@bgov.com; Loren Duggan at lduggan@bgov.com; Michaela Ross at mross@bgov.com