What to Know in Washington: DeJoy to Face Questions on Cutbacks
Postmaster General Louis DeJoy, under pressure from Democrats and some Republicans, will be asked today to justify U.S. Postal Service cutbacks before an election in which mailed ballots are expected to reach record numbers because of the coronavirus pandemic.
DeJoy, who Tuesday paused several operational changes at the post office, including reduced operating hours and a curb on overtime, also is likely to be questioned closely about post office finances at a hearing of the Senate Homeland Security and Governmental Affairs Committee.
The Postal Service is at the center of political clash between Democrats and President Donald Trump over voting and the integrity of the November election. It's also become entangled in the stalled negotiations over a new virus relief bill in Congress.
Republicans have been mounting a defense of the post office and of DeJoy, dismissing Democratic alarm over Postal Service operations and the possible effect on the November vote that will decide control of the White House and both chambers of Congress.
DeJoy "has already been subjected to character assassination as Democrats have put him in the cross hairs of another hyperbolic false narrative perpetrated to gain political advantage," Homeland Security Chairman Ron Johnson (R-Wis.) will say today, according to prepared remarks.
Senate Majority Leader Mitch McConnell (R-Ky.) dismissed concerns about the Postal Service not being able to handle an increased volume of mail due to the election in comments in Paducah, Ky., yesterday. "The post office is not in trouble," McConnell said. "We're going to make sure that they are able to deliver our ballots on time."
The House Oversight and Reform Committee is scheduled to question DeJoy on Monday. Postal Service Board of Governors Chairman Robert Duncan is to join DeJoy at that hearing.
The Democratic-controlled House is set to vote tomorrow on legislation to bar the post office from making any changes to its operations amid the coronavirus pandemic. The bill also would give the agency $25 billion in additional financing. McConnell has indicated that there were no plans to take up the legislation in the Senate, where Republicans hold the majority. Read more from Daniel Flatley and Todd Shields.
Mnuchin Politicized USPS, Ex-Official Claims: Trump sought to turn the Postal Service into a "political tool" that could be used to punish Amazon, and Treasury Secretary Steven Mnuchin led the campaign, a former member of the agency's board of governors told Congress yesterday. David Williams, vice chair of the board until he stepped down this year, said it was clear that the president "was determined that the Postal Service should inflict harm on Amazon delivery by sharply raising parcel shipping prices on everyone by 400% or more."
Trump has frequently complained that the USPS is losing money on Amazon "last-mile" deliveries—even though the post office has repeatedly said that it doesn't make a loss on the agreement. Williams didn't detail why he thought Trump's administration saw Amazon as a "political foe," but its chairman Jeff Bezos owns The Washington Post, which Trump claims is biased against him. Read more from Todd Shields and Skylar Woodhouse.
Trump Warns of Election Fraud: Trump called into a television program last night to claim there will be election fraud and assail Joe Biden just before his challenger was to accept the Democratic nomination. "This is going to be the most fraudulent election in history," Trump told Fox News host Sean Hannity, saying mail-in voting will lead to widespread cheating, even though there's been no evidence of that in previous elections. "They're trying to steal the election." Trump's interview was timed to counter-program the conclusion of the four-day Democratic National Convention, when Biden was delivering a prime-time speech. Read more from Josh Wingrove.
Pelosi Opposes Vote on Jobless Benefit Stabilizer: Speaker Nancy Pelosi (D-Calif.) said it'd be bad strategy to pass a standalone bill tomorrow favored by some House Democrats to extend the $600 weekly unemployment benefits with an extension linked to jobless rates. Pelosi said Republicans want to pass a bill that only tackles jobless relief and "forget" about other pandemic coronavirus-related funding needs, such as aid for states, Erik Wasson reports.
What to Watch:
Congress: The Senate Homeland Security and Governmental Affairs Committee hearing with DeJoy is at 9 a.m.
The Senate holds a pro forma session today at 11:15 a.m., and the House holds a pro forma session at noon. No votes are expected.
The House Rules Committee is slated to meet at 11 a.m. to consider legislation to deliver aid to the U.S. Postal Service.
The House will meet at 10 a.m. tomorrow to consider the postal measure, with final votes expected in the evening. Additional legislative items are possible, according to a schedule from House Majority Leader Steny Hoyer (D-Md.)
White House: The president is scheduled to deliver remarks at 11 a.m. at the 2020 Council for National Policy Meeting in Arlington, Va, according to the White House schedule.
Trump will also hold a funeral service for his brother Robert at the White House today, ABC reported. Robert Trump's body will be brought to the White House from New York for the ceremony, people familiar with the arrangements said.
The last time that remains of a private citizen were brought to the White House for a funeral was in 1936 for President Franklin Delano Roosevelt's adviser Louis Howe, Kasia Klimasinska reports.
Elections & Politics
Biden Scorns Trump as Failed President: Biden accepted the Democratic nomination to challenge Trump, urging Americans in a prime-time address last night to vote for new national leadership that will overcome deep U.S. political divisions.
The former vice president called his opponent a national embarrassment who left Americans vulnerable to the coronavirus pandemic and economic hardship. "Our current president has failed in his most basic duty to the nation. He has failed to protect us. He has failed to protect America," Biden said after squarely blaming Trump for the U.S. coronavirus outbreak, the worst in the world. "My fellow Americans, that is unforgivable," he said. "As president, I will make you a promise: I will protect America." Read more from Mark Niquette and Jennifer Epstein.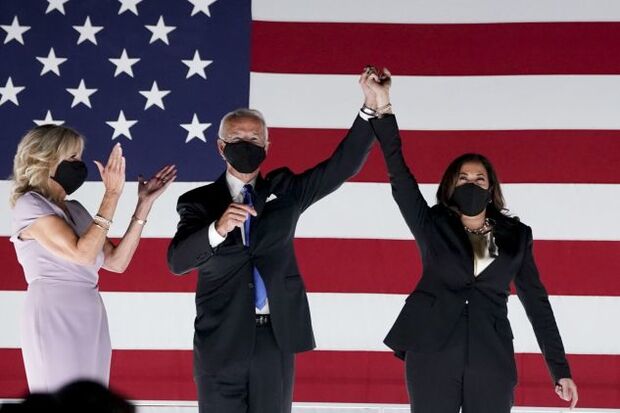 Trump's Convention to Feature Haley, Ernst, Scott: Next week's Republican National Convention will feature a number of rising GOP stars as its speakers, including former Ambassador to the United Nations Nikki Haley and Sens. Tim Scott (R-S.C.) and Joni Ernst (R-Iowa), according to a person familiar with the schedule.
Other speakers will include Nick Sandmann, who sued several press organizations for libel over the portrayal of his role in a confrontation with an American Indian group, and Mark and Patricia McCloskey, the Missouri couple who face charges from a local prosecutor after brandishing guns at Black Lives Matter protesters in their neighborhood. Read more from Mario Parker.
Senate Leadership Fund Gets $10M From Schwarzman: Blackstone Group co-founder Stephen Schwarzman gave $10 million to the Senate Leadership Fund, a super-PAC tied to McConnell, part of a $27 million haul it raised in July according to its latest filing with the Federal Election Commission. The super political action committee ended July with $117.5 million cash on hand, money that will be used to try to defend the Republican hold on the Senate. It outraised its Democratic counterpart, the Senate Majority PAC, or SMP, which took in $18.4 million and had $88.3 million in the bank. Read more from Bill Allison.
Ugly Harvest Is Latest Test for Farmers in Trump Country: Iowa's storm last week is just the latest blow to Midwestern farmers, pummeled first by the U.S.-China trade war and then by the pandemic. Coronavirus lockdowns served a serious hit to corn demand by delivering a knockout to the ethanol biofuel market. All that comes on top of years of stubbornly low prices and huge overhangs of inventory, which haven't eased much under the administration of Trump and his often-touted "love" for farmers. Read more from Kim Chipman and Isis Almeida.
The Coronavirus Pandemic
States Still Struggling to Use Virus Relief: While Congress wrestles with another round of Covid-19 relief, states are still figuring out how they can spend the last pot of money they received months ago. States have allocated 75% of federal funding received through the CARES Act that was signed in March, according to a survey from the National Association of State Budget Officers. But based on their latest reports to Treasury, the average state has only spent just 18% of the money.
While states continue to parse out how they're allowed to use funding—and whether scheduling spending before the end of the year qualifies as using it—many could run out of time well before they run out of money. Read more by Sam McQuillan.
J&J Plans Huge Vaccine Study, Pfizer Cites Rapid Enrollment: The race for a Covid-19 vaccine is getting closer to the finish line. Johnson & Johnson confirmed in an email yesterday that it plans to test its Covid-19 vaccine in as many as 60,000 people, twice the number of other big trials being conducted in the U.S. The company first posted the design for the trial on Aug. 10, and it is set to begin in late September. Meanwhile, Pfizer released favorable safety data from a Phase 1 trial of its vaccine. The company, which is developing its product with German partner BioNTech, hadn't previously released safety data on the shot it will move into a final-stage trial. Read more from Robert Langreth and Cristin Flanagan.
Virtual Classes Can't Stop Explosion Off-Campus: Even with more universities replacing in-person classes with virtual ones, the threat of Covid-19 lingers in college towns with their shared apartments, Greek houses and spirit of untrammeled off-campus freedom. At the University of Notre Dame in Indiana, a surge of more than 150 positive cases in two days among its 12,000 students prompted the school to move to virtual instruction for at least two weeks. Contact tracing efforts, however, found that most of those cases stemmed from seniors living off campus. Read more from Kristen V Brown and Janet Lorin.
Rising Virtual Doctor Rates Unsettle: Insurers and telehealth companies are tussling over rates for care delivered online or over a phone, but a shift in how doctors and other providers are reimbursed may ultimately help lower costs for patients, employers, and insurers. The Trump administration's decision to raise the rate at which it reimburses some telehealth services covered by Medicare is stirring concerns that it could shatter the promise of the cost savings long tied to telehealth. Read more from Sara Hansard.
Defense & Foreign Affairs
U.S. Trade Chief Lays Out Vision to Revive WTO: America's top trade official, Robert Lighthizer, laid out his vision for overhauling the World Trade Organization, which is confronting the most challenging period in its 25-year existence with a looming leadership void and the virtual paralysis of its core functions. Lighthizer, a former trade lawyer who has led an aggressive campaign to reshape the WTO, argued in a Wall Street Journal op-ed today that nations should replace the defunct WTO appellate panel — where disputes are settled — with a single-stage process "akin to commercial arbitration." Read more from Bryce Baschuk.
Trump Threatens Tariffs Against U.S. Firms: Trump threatened yesterday that if he's re-elected, he'll impose tariffs on U.S. companies that refuse to move jobs back to the U.S. from foreign countries. "We will give tax credits to companies to bring jobs back to America," he said, "and if they don't do it, we will put tariffs on those companies, and they will have to pay us a lot of money." Trump provided no explanation about how such a system of credits and tariffs would work, and it isn't clear if the White House is developing such a policy. Saleha Mohsin, Justin Sink and Mario Parker have more.
Farmers Worry Over Mexican Competitors: Farmers struggling with Covid-19's impact on the economy say cross-border competition threatens to bring an end to their business and want the White House to intervene. Officials representing the Agriculture and Commerce departments and the U.S. Trade Representative's office got an earful at the virtual hearing, and during one on Aug. 13, from more than 60 witnesses about how foreign trade practices could be harming seasonal and perishable produce growers. Read more from Megan U. Boyanton.
What Else to Know Today
Trump's Court Redo Is Set to Be Even Broader: Trump has reshaped the federal judiciary. If he wins another four years, he could transform it entirely. Trump heads into next week's Republican National Convention able to boast of having installed more than 200 judges, including 53 on the U.S. appeals courts and two Supreme Court justices. Republican appointees now constitute a majority of the full-time judges on seven of the 13 federal appeals courts, up from four when Trump took office in 2017. But those achievements could pale in comparison to the impact of a second Trump term, at least if Republicans also maintain control of the Senate. Read more from Greg Stohr.
Zuckerberg Questioned by FTC Officials: Facebook CEO Mark Zuckerberg was questioned by officials from the Federal Trade Commission this week as part of an antitrust investigation into the social media company, according to a person familiar with the matter. The FTC probe of the social media giant was disclosed last summer. It's under investigation for whether it's abusing its outsized share of the online advertising market, as well as whether its acquisition of Instagram and WhatsApp violates antitrust laws. Kurt Wagner and Ben Brody have more.
DOJ to Reorganize Antitrust Office: The Justice Department's antitrust division is planning to establish two new sections to monitor corporate conduct and compliance while it also revamps the structure for its media and finance merger investigations. The reorganization of the division's internal processes is aimed at ensuring more efficient enforcement, antitrust chief Makan Delrahim said. Read more from Victoria Graham.
Florida Methane Plume Probed by EPA: U.S. regulators are investigating whether a massive methane release over Florida they say likely occurred during maintenance on a natural gas compressor station this spring violated the nation's Clean Air Act. The mysterious plume of invisible gas, estimated to total 300 metric tons, was released north of Gainesville between May 2 and May 3, according to Bluefield Technologies, which analyzed data from the European Space Agency's Sentinel-5P satellite and was first reported by Bloomberg News. Read more from Naureen S. Malik and Aaron Clark.
Bannon Released on $5M Bond: Yesterday in a Lower Manhattan courtroom, Steve Bannon, a gadfly of the right and onetime top aide to Trump, pleaded not guilty to charges he conspired to commit fraud and launder money in the We Build the Wall project. A tanned Bannon, with long gray hair and wearing a white mask, was then freed on a $5 million bond. Read more from David Yaffe-Bellany, Christian Berthelsen, Bob Van Voris and Justin Sink.
Billionaire Smith Fighting U.S. Criminal Tax Inquiry: Billionaire Robert Smith has been pursued by Justice Department prosecutors and Internal Revenue Service agents for potential tax crimes, according to four people familiar with the matter. Federal authorities have spent four years examining whether Smith failed to pay U.S. taxes on about $200 million in assets that moved through offshore structures, some of those people said. Smith hasn't been charged, and prosecutors may conclude he owes no taxes on those assets. Read more from David Voreacos and Neil Weinberg.
Uber, Lyft Win Delay in Converting Drivers: Hours before Lyft and Uber were planning to suspend services in their home state of California yesterday, a state court gave them a reprieve, ruling that the companies can keep operating as normal while challenging a judge's order to comply with a state labor law. The law, in effect since January, mandates that the companies treat their workers in California as employees—a requirement that would upend the companies' business models. Read more from Joel Rosenblatt and Lizette Chapman.
To contact the reporters on this story: Zachary Sherwood in Washington at zsherwood@bgov.com; Brandon Lee in Washington at blee@bgov.com
To contact the editors responsible for this story: Giuseppe Macri at gmacri@bgov.com; Loren Duggan at lduggan@bgov.com; Michaela Ross at mross@bgov.com