What to Know in Washington: Debt Limit Talks Hit a Wall
Bloomberg Government subscribers get the stories like this first. Act now and gain unlimited access to everything you need to know. Learn more.
Debt limit talks reached a fresh impasse Tuesday with negotiators far apart on key issues — especially the spending cuts demanded by Republicans — and no sign that President Joe Biden and Speaker Kevin McCarthy have spoken since their Monday meeting at the White House.
House Republicans escalated their accusations that Biden lacked urgency in negotiations, while a Democratic aide called McCarthy (R-Calif.) unwilling to compromise across a wide spectrum of disputed points, threatening the legislative prospects of a deal.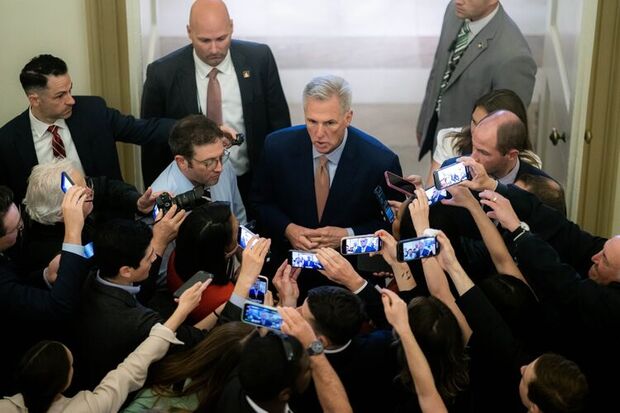 "Bottom line is that we're going to have to see some movement or some fundamental change in what they're doing," Rep. Garret Graves (R-La.), one of McCarthy's chief negotiators, said of the White House negotiating team following a two-hour meeting in the Capitol. "Right now, we don't have additional meetings set up."
McCarthy has told Biden that he did not intend to retreat from public refusals to accept additional taxes as part of an agreement, and has held that defense spending should increase while non-defense discretionary spending should be cut, according to a Democratic aide. Likewise, the White House has said Biden would flatly reject a proposal that imposes work requirements on federal health care programs, or any effort to repeal the president's signature Inflation Reduction Act legislation.
What Work Rules Republicans Want as Part of Debt Ceiling Deal
If a default does occur, economists project it could throw the US into recession, with widespread job losses and other economic consequences spilling into the coming election year.
McCarthy likely has little room to give, as he looks to hold together a fragile GOP coalition. Republicans want to slash domestic spending over as many years as possible, while Democrats have offered slimmer cuts over a couple of years.
Republicans believe McCarthy has leverage in the talks, assisted by Biden's initial refusal to negotiate over the debt ceiling. Polls show that Americans generally favor pairing spending cuts with raising the debt ceiling, though that approval drops when the programs that face cuts are detailed. Justin Sink and Ari Natter have the latest.
More Debt Limit Developments
Chris Condon outlines the Treasury's day-to-day timeline, beginning June 1, of projected cash flows and other key events based off of estimates for revenue and spending drawn from analysis by the Bipartisan Policy Center and Goldman Sachs.
A band of moderate House Democrats is preparing to help rescue McCarthy should he forge a bipartisan deal that sparks a revolt by ultra-conservatives.
The debt ceiling crisis is presenting immediate concerns for federal contractors, even before the government reaches the X-date of running out of funds to pay its obligations.
BGOV Webinar — The Debt Limit: Outlook, Concerns, and Strategies: On Thursday join BGOV's experts for a discussion about the debt limit crisis and how organizations can prepare for possible disruptions. BGOV's reporters and analysts will dive into possible outcomes and how they could affect strategies, budgets, government programs, and federal contracting. Register here.
BIDEN'S AGENDA
At 3:30 p.m. at the White House, the president and first lady mark the one-year anniversary of the school shooting massacre in Uvalde, Texas.
At 2:15 p.m., the White House Press Secretary Karine Jean-Pierre gives a briefing.
CONGRESS' SCHEDULE
The House is back at noon to vote on a resolution to cancel the Biden administration's student loan forgiveness plan and possibly on a resolution overriding Biden's veto on a solar panel measure.
Happening on the Hill
Republicans have increasingly seized on an arcane legislative procedure to put the spotlight on controversial Biden administration rules and force some Democrats in competitive states or districts to take positions that could prove politically difficult.
A group of House lawmakers is pushing sweeping immigration legislation with bipartisan support, a remarkable feat amid increasingly hostile border politics on Capitol Hill.
The House on Tuesday cleared a resolution to overturn an EPA rule on emissions standards for trucks, which the White House is expected to veto.
A slew of bills aimed at alleviating bottlenecks in the supply chain and targeting China's influence over the movement of goods in the US are moving toward consideration on the House floor.
Rep. Mike Gallagher (R-Wis.) — who leads an influential Chinese-focused Congressional committee — wants Changxin Memory Technologies placed on a blacklist that effectively bars dealings with American firms.
Jabari Wamble has asked the White House to withdraw his nomination to be a federal trial court judge in the District of Kansas.
Politics, Probes, and 2024
Public confidence in the Supreme Court slid amid a flurry of ethics controversies, including revelations that Justice Clarence Thomas got luxury vacations and other benefits from a Republican megadonor, according to a new Marquette Law School Poll.
Chief Justice John Roberts said he is "committed" to ensuring the Supreme Court adheres to the highest standards of conduct. Read more.
The Senate is built to skew grey — you can't even get in before the age of 30 and it can take decades to get the role you really want.
Elon Musk's plan to host Florida Gov. Ron DeSantis' (R) 2024 presidential campaign announcement on Twitter will mean promotion of the live audio event to the billionaire's more than 140 million followers on the platform he owns, underscoring the social network's shift toward a more partisan approach to political discourse.
Donald Trump is scheduled to go on trial March 25 in his criminal case in New York where he is charged with falsifying business records in connection with hush money payments over alleged sexual encounters.
Meanwhile, Trump's attorneys are seeking a meeting with Attorney General Merrick Garland related to a special counsel's probe of the former president. Read more.
More News We're Reading
The White House is hosting a forum for workers whose employers use automated systems to monitor them, and plans a broader effort to ask Americans what priorities the government should pursue regarding artificial intelligence as Biden weighs new regulations on emerging workplace technologies.
Pentagon officials are scrambling to get government staff on board with an automated future, pitching new technology platforms as job enhancers that can be trusted to work reliably — and to not take their jobs. Read more.
Residents and US military bases across Guam were warned to brace for a devastating impact from Typhoon Mawar as the Category 4-strength storm closed in on the Pacific island.
To contact the reporters on this story: Brandon Lee in Washington at blee@bgov.com; Michaela Ross in Washington at mross@bgov.com
To contact the editor responsible for this story: Kayla Sharpe at ksharpe@bloombergindustry.com
Stay informed with more news like this – from the largest team of reporters on Capitol Hill – subscribe to Bloomberg Government today. Learn more.