What to Know in Washington: Debt Ceiling Spotlights Biden Budget
Bloomberg Government subscribers get the stories like this first. Act now and gain unlimited access to everything you need to know. Learn more.
President Joe Biden's budget proposal is an opening salvo in the looming impasse with Republicans over raising the debt ceiling and funding the US government.
Biden is expected to defy GOP calls for deep spending cuts, instead proposing new taxes on corporations and Americans making more than $400,000 a year as he seeks to shore up entitlement programs and address budget deficits.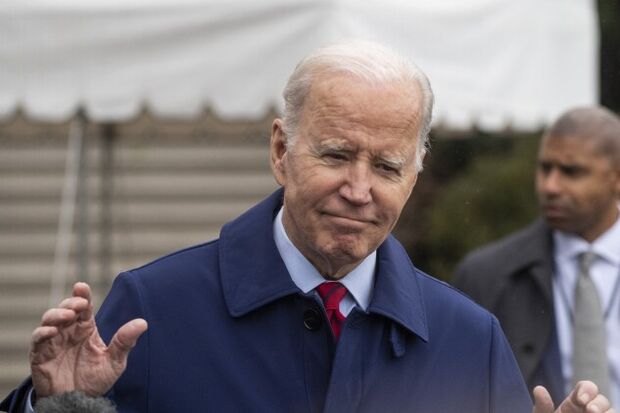 The White House wants the plan, to be released in full on Thursday, to provide political leverage in the approaching standoff with House Republicans, when the $31.4 trillion debt limit must be raised to avoid a US default. Here's what to expect:
Deficits: Biden is expected to propose specific measures to cut the deficit by at least $2 trillion over 10 years — and possibly even more. But that reduction is aided by the phasing out of pandemic programs that ratcheted up federal borrowing.
Taxes: Biden has already said his plan would raise Medicare taxes on wealthier Americans, and eliminate payroll tax loopholes for taxpayers who own businesses. He's likely to mirror those increases for Social Security and propose an expanded tax on stock buybacks. While these proposals would be dead on arrival in the Republican-controlled House, they matter for the 2024 presidential campaign and could be enacted if control of Congress flips again.
Markets: Neither Biden's plan or whatever Republicans propose has any chance of coming to fruition, with next year's spending levels requiring compromise. Yet the gulf between them also underscores the substantial challenges the US faces in avoiding a summer default or autumn shutdown.
Economy: The budget will reveal the Biden team's thinking on whether the US will enter a recession this year and when inflation will cool.
Erik Wasson and Justin Sink have more: Debt Ceiling Catapults New Biden Budget Into Market Spotlight
Biden is expected to propose a 5.2% raise for federal workers in his budget plan on Thursday, Washington Post reports, citing two unidentified federal officials. Aysha Diallo has more.
The Biden administration and Congress are on track to back a record US defense budget, signaling Pentagon spending is untouchable even as Democrats and Republicans squabble over how to reduce the debt burden, Roxana Tiron reports.
The budget includes what officials say is one of the nation's largest peacetime defense budgets, with $170 billion for weapons procurement and $145 billion for research and development, both recent records. Read more
Join Bloomberg Government's budget experts on Friday for a deep dive into Biden's budget request for fiscal 2024 and what it means with a divided Congress. Learn more here .
Happening on the Hill
CONGRESS' SCHEDULE
The House meets at noon to consider legislation on online censorship, among other measures
The Senate gathers at 10 a.m. to vote on blocking a Washington, D.C., criminal code law, as well as IRS and HHS nominations
Speaker Kevin McCarthy (R-Calif.) confirmed plans to meet with Taiwan's president in the US this year but stressed that meeting doesn't preclude a trip to Taiwan later.
Business groups are lining up in opposition to Julie Su's nomination to lead the US Labor Department, putting some vulnerable Democrats and Independents in the hot seat over whether they'll support the former California regulator.
Democratic lawmakers led by Sen. Ed Markey (D-Mass.) revived a legislative push to prevent the US government from using facial recognition technology that has sparked concerns over its potential for discrimination and privacy harms.
Eli Lilly's decision to cut the price of its insulin products has emboldened supporters who want to create a federal cap on prices of the diabetes medicine.
Legislation from Democratic senators to regulate the environmental effects of cryptocurrency mining faces a difficult road ahead, as debate over the measure broke down along partisan lines during the first ever Senate hearing on the topic.
A new bipartisan Senate proposal aimed in part at curbing Americans' access to TikTok's popular social media app reflects growing concern across the US over perceived security risks associated with its Chinese ownership.
Election, Politics & Probes
A growing divide between Republican leaders in the House and Senate played out in public view Tuesday over Fox News' controversial airing of security video from the Jan. 6 insurrection.
FoxChairman Rupert Murdoch testified he gave Donald Trump's son-in-law and senior advisor Jared Kushner a preview in 2020 of a Biden campaign ad, the latest sign of unusually close ties between the network and the former president.
House Republicans are insisting that a Treasury Department official answer questions under oath next week about why the agency hasn't turned over documents regarding Biden's family.
Citadel founder Ken Griffin said he would love to see Republican Governor Ron DeSantis of Florida run for president in 2024.
Around the Administration
BIDEN'S AGENDA
Biden has no public events scheduled
White House Press Secretary Karine Jean-Pierre holds a briefing at 12:30 p.m.
Federal accident investigators and railroad regulators are opening special investigations into Norfolk Southern's safety practices after a series of incidents involving the railroad.
The Federal Trade Commission plans to depose Elon Musk as part of its probe into Twitter, the social media platform that Musk bought for $44 billion last year, according to a person familiar with the investigation.
TSA takes emergency action to respond to cybersecurity threats against critical US infrastructure, including the aviation sector, according to a release from the agency.
The US is set to lift Covid-19 testing requirements for travelers from China as soon as this week, people familiar with the matter said, a significant step toward normalizing links between the two countries as the pandemic recedes.
Voters in three more states could consider legalizing marijuana after the latest effort failed in Oklahoma. Backers are working on potential pot initiatives in Florida, Nebraska, and Ohio.
To contact the reporter on this story: Michaela Ross in Washington at mross@bgov.com
To contact the editors responsible for this story: Giuseppe Macri at gmacri@bgov.com; Andrew Small at asmall@bgov.com
Stay informed with more news like this – from the largest team of reporters on Capitol Hill – subscribe to Bloomberg Government today. Learn more.