What to Know in Washington: Deadline Set for Stimulus Deal
The fate of additional stimulus for the U.S. economy before next month's election will be decided this week, with Speaker Nancy Pelosi (D-Calif.) setting a deadline of tomorrow to reach an agreement with the White House — though it remains doubtful that the Republican-controlled Senate will accept any deal they strike.
President Donald Trump said he's ready to match the $2.2 trillion spending levels demanded by Democrats — or go higher — despite repeated warnings by Senate Majority Leader Mitch McConnell (R-Ky.) that most GOP senators will oppose any coronavirus relief package that big.
"I want at a bigger number than she wants," Trump said of Pelosi during a campaign stop yesterday in Reno, Nevada. "That doesn't mean all the Republicans agree with me, but I think they will in the end."
But the price-tag isn't the only obstacle. Pelosi said yesterday on ABC's "This Week" that the two sides are still haggling over language on a national plan to control the virus. Differences also remain on several key issues, including aid to states and GOP demands for an employer liability shield, that have stalled a deal for months.
Tomorrow's deadline "only relates to if we want to get it done before the election, which we do," Pelosi said, indicating they could continue talking about passing a stimulus measure after Nov. 3.
While Pelosi and Treasury Secretary Steven Mnuchin and their staffs press on with negotiations, McConnell is moving ahead with a $500 billion Republican-only plan that would renew a small business loan program and provide expanded unemployment benefits, school aid and money for virus testing, among other provisions.
McConnell plans votes tomorrow on a standalone bill to give the Paycheck Protection Program more funding, and Wednesday on the other measures. Democrats are almost certain to block action. Read more from Billy House.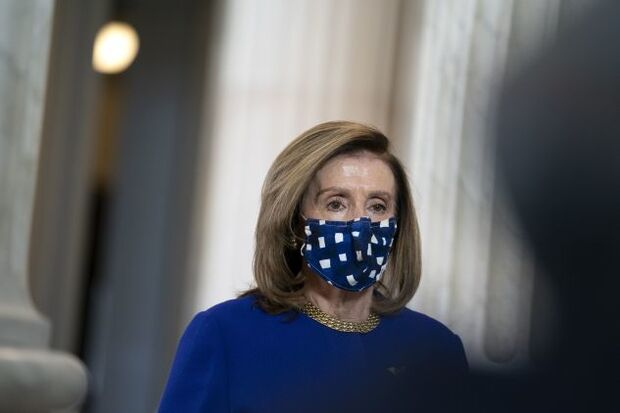 Race for the White House
K Street Buzzes Over Possible Shift: Washington's vaunted corps of lobbyists is bracing for the prospect of a win next month by Democratic presidential nominee Joe Biden. All across the nation's capital, companies and trade associations are laying plans for a potential Biden administration. They are strategizing on how to defend clients from an expected resurgence of regulation and marry their priorities with Biden's expected focus on stimulating the economy, expanding health care and overhauling corporate taxes.
It's a massive undertaking that much of K Street began early in the year and which has swelled along with Biden's polling lead over Trump and signs that Democrats could also gain control of the Senate. Not since 2008, when President George W. Bush was leaving the White House, have lobbyists planned for the possibility of so sweeping a change in Washington's corridors of power.
"There is a huge amount of planning going on in our client base for what this could look like," said Rich Gold, a lobbyist with Holland & Knight who represents the American Chemistry Council, education technology provider Zovio, agriculture giant Corteva, and a number of local governments. "It's highly likely the first six months of 2021 are some of the biggest legislative months I will have in my career in terms of things moving."
The presidential race remains tight in key states and the firms remain vigilant for another Trump victory like the one that caught many by surprise in 2016. But they are hedging their bets and increasingly planning around Biden's polling lead. Jennifer A. Dlouhy and Ben Brody have more.
Aides Rejoin Trump On Campaign Trail: Trump set off for a campaign swing to the Midwest and West with his largest contingent of advisers since a coronavirus outbreak swept through the White House—including key aides who fell ill with the virus themselves. Trump held rallies in Michigan and Wisconsin on Saturday and Carson City, Nevada, yesterday, with events set in Arizona today. Press Secretary Kayleigh McEnany joined Trump on Air Force One on Saturday, while Republican National Committee Chairwoman Ronna McDaniel and White House aides Hope Hicks and Stephen Miller were also aboard. Read more from Josh Wingrove.
Trump visited a Las Vegas church yesterday morning, receiving blessings and prayers from a crowd that largely neglected measures to slow the spread of the coronavirus, like wearing masks. "The Lord said to me, 'I am going to give your president a second win,'" Pastor Denise Goulet said to Trump, who was seated in the second row. She added later, "We're saying, that now there's an army, that we'll take this to the end. So we just bless you and we thank you." Read more from Wingrove.
'Lock Up the Bidens,' Trump Says: Trump called on Friday night for Biden and his family to be jailed, escalating his attacks on his Democratic opponent over unsupported accusations as he struggles to reverse his deficit in the polls. "Lock up the Bidens. Lock up Hillary," Trump declared at a rally in Macon, Ga., stoking the crowd that chanted "lock him up" in favor of the Democratic candidate's imprisonment. "We've learned over the last couple of months: Joe Biden is a corrupt politician," Trump said to his supporters, "and the Biden family is a criminal enterprise." Read more from Jordan Fabian.
Gov. Gretchen Whitmer (D) condemned behavior at another Trump rally on Saturday, saying chants of "lock her up" from the audience, and Trump's response, were "exactly the rhetoric" that's endangered her and her family. Whitmer doubled down yesterday in an appearance on NBC, calling it "incredibly disturbing" that Trump is "inciting this kind of domestic terrorism." Read more from Mario Parker and Josh Wingrove.
The FBI probed whether emails purportedly recovered from a laptop allegedly belonging to Biden's son are part of a Russian disinformation operation to interfere in the 2020 election, according to a person familiar with the matter. The New York Post reported on Oct. 14 that the emails suggest that Biden's son Hunter introduced his father, then the vice president, to an executive at a Ukrainian energy firm in 2015. Read more from Chris Strohm.
Trump Eyes Positive Spin on Fundraising Deficit: Trump is trying to put a positive spin on Biden's wide fundraising advantage weeks ahead of the election, telling supporters that he could raise money quickly if he needed to but he doesn't want to be beholden to his donors. The Trump campaign, long a fundraising juggernaut that touted its success as a sign of voter enthusiasm, has been eclipsed in recent months. Trump acknowledged the gap Saturday on the campaign trail. Read more from Josh Wingrove and Mario Parker.
Biden is on track to raise another $234 million before Election Day, after bringing in a record $383 million in September, his campaign manager said on Friday. If the estimate holds true, Biden and the Democratic National Committee would have raised more than $982 million in the final three months before the Nov. 3 election, surpassing the $942 million that President Barack Obama took in for his entire 2008 campaign. Read more from Max Berley.
Also in Elections & Politics
BGOV's Races to Watch Election Webinar: Join Bloomberg Government on Thursday at 1 p.m. for an election webinar on Nov. 3's biggest House and Senate races to watch. BGOV Senior Reporter Greg Giroux will discuss the current state of Congress, the evolving landscape in Washington, and more. Register here.
Botched New York Ballots Sap Confidence: A botched mailing to New York voters last month has shaken confidence that reforms enacted by the state after a chaotic primary have been sufficient to ensure a smoother election. As many as 100,000 ballots went out in September with return envelopes imprinted with wrong names — a problem because voters can't sign an envelope bearing someone else's name. "It doesn't give you confidence this is going to be the only mistake," said Suraj Patel, who conceded defeat in a Democratic congressional primary in June after legal struggles to get more mailed votes counted. Read more from Keshia Clukey and Todd Shields.
Trump Praises QAnon-Believing Candidate: Trump Friday praised a Georgia congressional candidate who has embraced the QAnon conspiracy theory, a day after he refused to disavow it. At a Friday night rally in Macon, the president said the candidate, Marjorie Taylor Greene, is "somebody that I just think is fantastic" who is "doing great" in her bid for a House seat. "This one, I never ever want to have her as my enemy: Marjorie Taylor Greene," Trump said. Jordan Fabian and Jennifer Jacobs have more.
Trump Wants Probe Into Ilhan Omar: Trump urged the Justice Department to investigate Rep. Ilhan Omar (D-Minn.) at the rally on Friday night, disparaging the freshman Democrat and repeating unsubstantiated allegations she married her brother and migrated to the U.S. illegally. Omar and other liberal, female lawmakers have been a frequent target in Trump's campaign speeches. Trump said he thinks he'll win Minnesota in the Nov. 3 election because of Omar, who was born in Somalia. Read more from Justin Sink and Jordan Fabian.
Oracle Chairman Donated to Lindsey Graham PAC: Oracle chairman and founder Larry Ellison donated $250,000 to a super PAC supporting Sen. Lindsey Graham (R-S.C.) Sept. 14, the same day that his company announced it was chosen as TikTok's U.S. "trusted technology provider," a Federal Election Commission filing shows. The "Security Is Strength PAC" has purchased ads in support of Graham's current re-election bid for the Senate, said The Verge, which first reported on the donation. Read more from Yueqi Yang.
Minnesota Voters Alliance Denied Standing: Minnesota Voters Alliance failed to convince a federal judge Friday to issue a temporary restraining order to stop Minneapolis from taking a private grant to assist with the cost of federal elections due to the pandemic, with the court ruling the group and its members lack standing. The group and its members sued the city in September, saying federal law preempts the municipality from using the Covid-19 Response Grant from the Center for Tech and Civic Life. Read more from David McAfee.
Post-Election Budget Committee Wrangling: Rep. Steve Womack (R-Ark.) won't seek to stay on as ranking member of the House Budget Committee in the next Congress because he's been selected to replace former Rep. Tom Graves (R-Ga.) as the top Republican on the House Appropriations Financial Services Subcommittee, Alexia Sikora, spokeswoman for Womack, said in an email Friday, Jack Fitzpatrick reports.
Rep. Bill Johnson (R-Ohio), vice ranking member of the budget panel, said he hopes to succeed Womack as the top Republican on the panel. "So, while I'm currently focused on winning my reelection and helping Republicans take back the House majority, should I win I do plan to make my case to House Republican Leadership and our Steering Committee to be the next top Republican on the Budget Committee in January," Johnson said in a statement Friday. Womack backs Johnson's bid, Sikora said.
Rep. Jason Smith (R-Mo.) hasn't ruled out a bid. He "has enjoyed the budgetary battles on the committee thus far and looks forward to the fights which clearly lie ahead," Mark Roman, Smith's chief of staff, said in an email Sunday. "That said, with only a few days before the biggest election of our lifetime, that's Rep. Smith's singular focus."
What Else to Know Today
SCOTUS to Hear Trump Census Dispute: The Supreme Court said it will hear arguments on Trump's effort to exclude undocumented immigrants from the 2020 census count in a clash that could determine the allocation of House seats and federal dollars. The court said it will hear arguments on Nov. 30. By then, the court is likely to have a 6 to 3 conservative majority, with Amy Coney Barrett on board as the newest justice. Read more from Greg Stohr.
Vaccine Hiccups Raise Queries About Method: Two Covid-19 vaccines stalled by potential side effects have one key feature in common: Both are based on adenoviruses, cold germs that researchers have leveraged in experimental therapies for decades with varying results. Johnson & Johnson said last week it would pause its trial to investigate an illness, which it didn't specify, in a study participant. Meanwhile, AstraZeneca's U.S. trial of the vaccine it's developing with the University of Oxford has been halted by regulators for over a month, after neurological symptoms arose in two volunteers. John Lauerman, James Paton, and Stephanie Baker have more.
Twitter Deletes Trump Adviser's Masks Claim: Twitter blocked a tweet from a contrarian medical adviser to Trump which stated that wearing masks doesn't help slow the spread of the coronavirus. "Masks work? NO," Scott Atlas said in a tweet removed as of yesterday by the social media site. The post, which linked to an article in the American Institute for Economic Research that argued against the effectiveness of masks, was in violation of the company's rules against sharing false and harmful information, Twitter told CNN. Read more from Ari Natter and Josh Wingrove.
White House Envoy Met Syrian Official Over Hostages: A top White House official went to Damascus this summer to negotiate the release of two American hostages, according to two people familiar with the matter, a rare sign of diplomacy between the U.S. and Syrian President Bashar al-Assad's regime. Kash Patel, a top White House counterterrorism official, met with an undisclosed Syrian official to discuss the release of American journalist Austin Tice, who was abducted eight years ago while on assignment in Syria, and Syrian-American therapist Majd Kamalmaz, who disappeared in 2017 after being stopped at a government checkpoint. Read more from Jennifer Jacobs and Sophia Cai.
Potential Turkish Test of S-400 Draws Criticism: A possible test by Turkey of its Russian-made S-400 missile launcher has drawn criticism from the U.S. and the North Atlantic Treaty Organization. On Friday, the Defense Department said it was aware of reports of a possible Turkish test of the S-400 system. "If accurate, the department strongly condemns the test," Pentagon spokesman Jonathan Hoffman said on Twitter.
"I am disappointed to see Turkey proceed with testing the S-400 missile defense system—an action that further increases its reliance on Russian military equipment," said Senate Armed Services Chairman Jim Inhofe (R-Okla.) in a statement. And House Foreign Affairs Chairman Eliot Engel (D-N.Y.) urged Secretary of State Michael Pompeo in a letter to increase pressure on Turkey in response to its "continued regional aggression and undemocratic behavior," Max Reyes reports.
Poland, U.S. to Sign Nuclear Cooperation Deal: Poland will sign an agreement with the U.S. today to cooperate on developing the country's first nuclear power plants, Dziennik Gazeta Prawna reported, citing presidential minister Krzysztof Szczerski. Energy Secretary Dan Brouillette will sign the document while meeting Poland's senior official in charge of energy security, Piotr Naimski, on the sidelines of a Three Seas Initiative conference in Tallinn. Read more from Marek Strzelecki.
To contact the reporters on this story: Zachary Sherwood in Washington at zsherwood@bgov.com; Brandon Lee in Washington at blee@bgov.com
To contact the editors responsible for this story: Giuseppe Macri at gmacri@bgov.com; Loren Duggan at lduggan@bgov.com; Michaela Ross at mross@bgov.com