What to Know in Washington: Deadline Looms for Stimulus Talks
The White House and congressional Democrats are running up against a self-imposed Friday deadline to strike a deal on a virus relief package with little sign they've narrowed most fundamental differences.
Neither side indicated they would walk away from negotiations if an agreement can't be reached. But Treasury Secretary Steven Mnuchin and White House Chief of Staff Mark Meadows said unless some compromise can be found soon, more negotiations may be fruitless.
"Our objective is to try to reach an understanding of the major issues by Friday," Mnuchin told reporters after meeting with Speaker Nancy Pelosi (D-Calif.) and Senate Minority Leader Chuck Schumer (D-N.Y.) yesterday. "If we can't reach an agreement on the major issues, it's going to be hard to complete a deal."
Meadows said the administration and Republicans have already given more ground than Democrats in talks. He said if a deal was still out of reach by the end of the week, President Donald Trump was prepared to use executive authority to provide forbearance on student loans, impose a moratorium on evictions and extend supplemental unemployment insurance.
"I've been working around the clock to look at the options that the president has at his disposal that's within the confines of his legal authority," he said.
As part of that, the administration is asking agencies about money that hadn't yet been spent from the $2 trillion stimulus passed in March that might be redirected, according to a person familiar with the matter. Mnuchin said in July there was at least $1 trillion in such funds.
After more than a week of negotiations with Mnuchin and Meadows, Schumer and Pelosi said they still have significant differences to bridge, including the enhanced unemployment benefit that was in the last stimulus bill but now has expired.
"I feel optimistic that there is light at the end of the tunnel," Pelosi told reporters. "But how long the tunnel is remains to be seen." Read more from Erik Wasson, Billy House and Laura Litvan.
Trump Backs Effort for Airlines: Trump said he supports efforts in Congress to provide U.S. airlines with more aid to avert massive job losses, which could start Oct. 1 when restrictions expire from a prior round of federal assistance. "I think it's very important that we keep the airlines going," Trump told reporters at a White House briefing. "We don't want to lose our airlines, so if they're looking at that, whether they're Republican or Democrat, I'd be certainly in favor." Read more from Alan Levin, Ari Natter, and Mary Schlangenstein.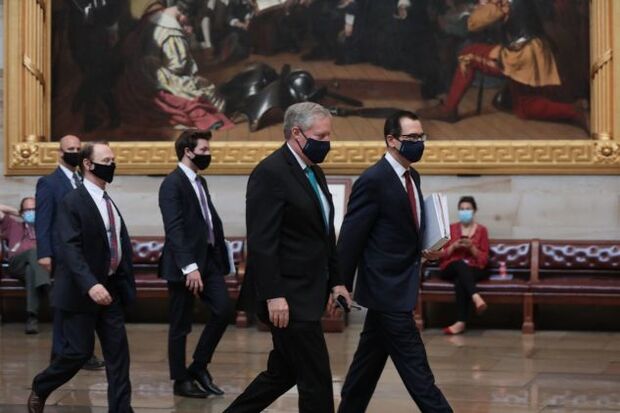 Cops' Legal Cover in Question in States
State legislators debating police reform after a summer of protests are facing increasing pressure to scale back special protections for police officers often referred to as the Law Enforcement Officers Bill of Rights. At least 20 states have some version of the law.
The laws vary greatly but largely focus on how non-criminal investigations of police officers must be conducted. Community activists say the laws often allow officers to skirt punishment, including when deadly force is improperly used.
Many of the lawmakers who originally sponsored protections for police officers were ex-cops and received contributions from police unions—the same organizations now pushing back against reform. Those relationships could complicate efforts to revisit the laws. Read more from John Dunbar and Andrew Wallender.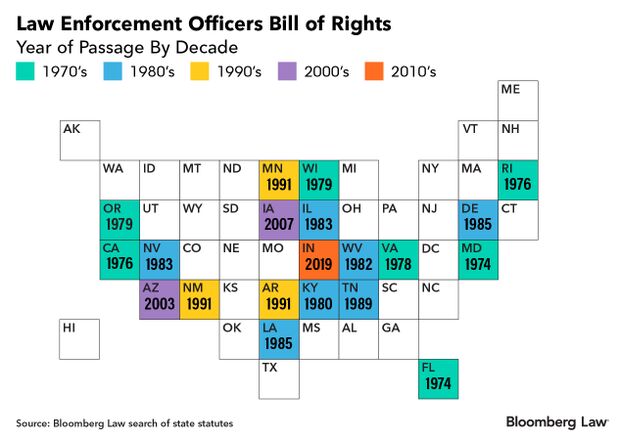 The Coronavirus Pandemic
School Reopening Push Gets Panel Scrutiny: Children can transmit Covid-19, a Johns Hopkins public health expert will tell the House Select Subcommittee on the Coronavirus Crisis, in a challenge to Trump's push to open schools in the fall. "We can say with confidence that outbreaks in schools are likely," said Caitlin Rivers, assistant professor at the Environmental Health and Engineering Department at Johns Hopkins Bloomberg School of Public Health, in prepared remarks.
"Our classrooms are a petri dish," Angela Skillings, an Arizona second-grade teacher plans to say at the hearing. Many school districts this week began in-person classes for the fall semester. Others—including 12 of the country's 15 largest districts—have rejected White House calls to reopen, opting to hold classes virtually.
Rivers will urge lawmakers to pass legislation to study how children spread the disease, which mitigation measures are most critical, and how to make remote learning more effective. Senators are discussing the details of another stimulus package. The GOP plan released last week provides $70 billion for K-12 schools but attach most of that aid to physical school reopenings. Read more from Andrew Kreighbaum.
Twitter, Facebook Block Trump Video Citing Misinformation: Twitter and Facebook blocked a video shared by accounts linked to Trump for violating their policies on coronavirus misinformation.
The Trump re-election campaign's Twitter account, @TeamTrump, was briefly banned from sending new tweets after it posted a clip of an interview Trump did yesterday with Fox News in which he said children were "virtually immune" from the Covid-19 coronavirus. "[Children] don't have a problem, they just don't have a problem," Trump said in the video as part of an argument for why schools should reopen. "It doesn't have an impact on them. I've watched some doctors say they're totally immune."
Trump posted the same video to his account on Facebook, which removed the clip shortly before Twitter froze the campaign's account. Read more from Kurt Wagner and Sarah Frier.
Demands for Gilead Drug Seizure Misread Law, Lawyers Say: The attorneys general pushing the U.S. government to flex its might on the only approved Covid-19 treatment misunderstood the 40-year-old law that they rely upon, according to intellectual property lawyers. The high cost of Gilead's remdesivir isn't enough for the U.S. to step in and seize the patent, licensing it to other companies for production, they said. Read more from Valerie Bauman.
SCOTUS Lifts Order Aimed at Curbing Virus at Jail: The U.S. Supreme Court lifted a lower court order that required specific steps to curb Covid-19 at four southern California jail facilities that have seen more than 400 cases since the outbreak began. Voting 5-4 along ideological lines, the high court granted a request from officials at the Orange County Jail, as the facilities are collectively known. The officials said a federal trial judge had overstepped his authority by ordering spacing, cleaning protocols and inmate testing. Greg Stohr has more.
Rodney Davis Tests Positive: House Administration ranking member Rodney Davis (R-Ill.) said on Twitter yesterday he tested positive for the coronavirus and will work from home.
Coronavirus & the Economy
Jobs Report to Mark Slowdown in Labor Recovery: After a surge in coronavirus cases across the U.S., all signs point to a slowdown in job gains last month — or worse. Tomorrow's employment report is forecast to show a 1.5 million increase in nonfarm payrolls in July, the median estimate in projections ranging from a 600,000 decline to a gain of 3.2 million. That's following a combined rise of 7.5 million in May and June, which just started to make up the 22 million drop over the first two months of the pandemic. The unemployment rate is projected to fall to 10.5% — still triple the pre-crisis level — from 11.1%. Read more from Reade Pickert and Maeve Sheehey.
Misery Ranking Will Show U.S. Getting Worse: The U.S. is projected to see the worst reversal of fortune this year in a ranking of global economic misery, underscoring just how much havoc the pandemic has wrought. America fell 25 spots, from the No. 50 spot to No. 25, on Bloomberg's Misery Index, which tallies inflation and unemployment outlooks for 60 economies. The drop comes as Trump fights for re-election while millions of Americans remain unemployed. Only Iceland, Israel, and Panama were even close to that level of deterioration in the annual rankings. Almost all of the economies surveyed are projected to be more miserable this year amid Covid-19, with analysts expecting increased joblessness and tepid growth. Read more from Catarina Saraiva and Michelle Jamrisko.
Paid Sick Leave Gaps Draw States' Attention: The gaps in paid sick leave availability are getting a fresh look from state lawmakers, as worker advocates and public health experts continue pushing paid leave as a tool to quell the surging 5-month-old Covid-19 pandemic. Lawmakers in California, Massachusetts, Michigan, Nevada, and Pennsylvania are considering new or revised mandates to fill the gaps in emergency paid sick leave left by the exemptions in the federal Families First Coronavirus Response Act, which one policy group has estimated exempts the employers of 100 million workers. These proposals follow a handful of other states that already extended virus-specific paid leave via legislation or governors' orders this year, including a recently enacted Colorado law. Read more from Chris Marr.
Elections & Politics
Super PACs Stalk Obama Voters Who Flipped to Trump: Super PACS are pouring millions of dollars into advertising to target white, rural and working class voters who swung from Barack Obama in 2012 to Donald Trump in 2016, a bloc that is critical to winning the White House this year. Nowhere is this more evident than in Pennsylvania, which so-called Obama-Trump voters narrowly turned red in 2016. More than $11.4 million in ads have been booked to run there in August, more than in any other state.
The two biggest spenders this month in the critical battleground, pro-Trump America First Action and AB PAC, which supports Joe Biden, are targeting their messages to that narrow segment of persuadable voters who could again help determine who wins the White House in November. Biden leads Trump in the Keystone State, 49.4% to 43.4%, according to the RealClearPolitics average of polls. It's a state Trump won by less than 1 percentage point in 2016 after Democrats won it for the six straight previous elections. Read more from Bill Allison and Gregory Korte.
Trump Seeks Earlier Debate With Biden: Trump is seeking a fourth debate with Biden, or for one of the three planned debates to be held earlier, as voters prepare to begin casting their ballots. In a statement yesterday, the Trump campaign acknowledged that three debates have already been set, but invoked the coronavirus in calling for Trump and Biden to meet early in September, instead of the first scheduled debate on Sept. 29. Trump, behind in the polls, is eager for debates before early voters begin returning mail-in ballots. Read more from Josh Wingrove.
Biden's Scorn of Saudis Is a Warning Shot: Saudi Arabia reveled in Trump's decision to make the kingdom his first overseas destination as president. It will have to decide how welcoming to be for Biden if he wins the White House in November. Trump's May 2017 visit was marked by claims of $100 billion in arms sales, a traditional sword dance and a glowing orb meant to signal pan-Arab cooperation with the U.S. in the fight against terrorism. Since then ties have only become closer, with the U.S. pulling out of the 2015 nuclear deal with Iran, the president declining to implicate Saudi's crown prince in the 2018 murder of columnist Jamal Khashoggi and the Pentagon sending forces to bolster Riyadh. Biden would be a change. Read more from Glen Carey.
Trump Supporters Spread 'Sleepy Joe': Trump may be lagging in the polls, but his nickname for his opponent is finding traction on social media sites. "Sleepy Joe" even garnered more posts than the Super Bowl and the musical "Hamilton" so far this year, according to new research from Clemson University. The researchers found that "Sleepy Joe" has been spread by Trump supporters on Twitter and Facebook's Instagram, the same platforms that were influential in the 2016 contest. But this time around, TikTok is playing a key role, particularly among a younger audience. Read more from Alyza Sebenius.
Sanders Tweets He Wants to Tax Titans: Sen. Bernie Sanders (I-Vt.) said he will introduce legislation to tax what he called the "obscene wealth gains" from billionaires during the coronavirus crisis. Sanders, a self-described democratic socialist, made the announcement in a Twitter post yesterday. Last year, while running for the Democratic nomination, Sanders embraced a proposal that would tax fortunes above $32 million at 1%, with an increasing rate that would top out at 8% over $10 billion. Read more from Berber Jin.
U.S. Offers Reward for Election Interference Tips: The State Department said yesterday that it's offering a $10 million reward for information on foreign cyber interference in American elections. The bounty program came the same day the Department's Global Engagement Center highlighted threats of disinformation from Russia in a report. The U.S. has determined Russia interfered in the 2016 presidential election by hacking and releasing emails meant to damage Democratic candidate Hillary Clinton. Read more from Eric Newcomer.
What Else to Know Today
Beijing Warns of 'Measures' If U.S. Denies Chinese Media Visas: China repeated it would take measures if Washington didn't renew visas for Chinese journalists working in the U.S., amid questions over whether it will make a tit-for-tat move against American reporters in Hong Kong. "We learned that relevant Chinese journalists applied for visa extensions but none of them have received a clear reply from the U.S. side," Chinese Foreign Ministry spokesman Wang Wenbin told a daily briefing in Beijing today, echoing comments he made earlier this week. "If the U.S. is bent on going down the wrong path, China will take necessary and legitimate measures to defend its interests." Read more.
U.S. Seeks UN Vote on Iran Arms: Secretary of State Michael Pompeo said the U.S. plans to hold a United Nations Security Council vote next week in its campaign to extend the U.N.'s arms ban on Iran. "There are nations lining up to sell weapons that will destabilize the Middle East," he said. "We're using every diplomatic tool we have in the toolkit." The U.S. circulated a draft resolution on Tuesday that seeks to stop all sales of weapons to and from Iran, according to a copy of the text seen by Bloomberg News. Read more from David Wainer.
Kodak Under SEC Scrutiny Over Disclosure of Loan Plan: Eastman Kodak is under investigation by the Securities and Exchange Commission over whether the company broke the law by telling media outlets about a planned government loan before informing investors, according to a person familiar with the matter. The regulator is also looking into stock awards granted by Kodak days before plans for the $765 million loan were announced, said the person, who requested anonymity because the probe isn't public. Read more from Matt Robinson.
Boeing Hit With $1.25 Million Proposed Fine: Federal aviation regulators are seeking fines against Boeing of $1.25 million over allegations that employees of the company acting on the government's behalf faced "undue pressure." The Federal Aviation Administration announced the proposed civil penalties in a release yesterday. Read more from Alan Levin.
To contact the reporters on this story: Zachary Sherwood in Washington at zsherwood@bgov.com; Brandon Lee in Washington at blee@bgov.com
To contact the editors responsible for this story: Giuseppe Macri at gmacri@bgov.com; Loren Duggan at lduggan@bgov.com; Michaela Ross at mross@bgov.com