What to Know in Washington: D.C.'s Dysfunction Delayed Vital Aid
A giant fiscal jolt for the U.S. economy finally won approval in Washington yesterday, but the half-year of political dysfunction that preceded the deal showcased a near-breakdown in American politics that President-elect Joe Biden will now be challenged to address.
In a year marked by President Donald Trump's impeachment trial and the government's inability to suppress the deadly pandemic, the bitter Republican-Democratic fight over another Covid-19 relief package served as the final 2020 example of national interest being held hostage to political maneuvering.
After six months of fruitless, on-again, off-again negotiations, lawmakers were forced into action this month. With Covid-19 the number-one cause of death for Americans in recent weeks and the job market's recovery coming to a halt, the consequences of inaction became too great for either side to head home for the holidays without a deal.
Congressional leaders were able to agree on a plan only at the 11th hour, after a frantic weekend of deal-making and staring down the end of the legislative term, even though it has been clear since at least September that the winter would bring more economic pain. Read more from Mike Dorning and Steven T. Dennis.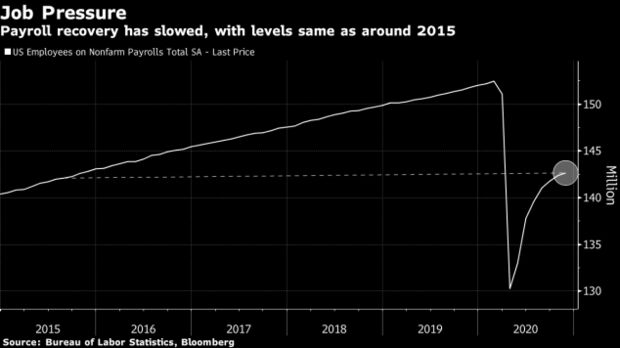 Congress Passes Virus Relief, Federal Funding: Congress last night passed the second-biggest economic rescue package in U.S. history as part of a massive year-end spending bill. In addition to funding government operations for the rest of the fiscal year, the legislation will provide aid for small businesses, supplemental unemployment benefits and $600 stimulus payments to most Americans and their children starting as soon as next week. It also includes money for schools, airlines and for distribution of vaccines.
The Senate followed the House late last night in passing by overwhelming margins the $2.3 trillion bill, just hours after lawmakers got their first look at the 5,593 pages of text. The White House has said Trump will sign it. Trump earlier signed a seven-day government spending bill, averting a federal shutdown as the White House awaits formal paperwork on the full bill from Congress. Read more from Erik Wasson, Laura Litvan and Billy House.
What's in the Spending Bill: Agencies and programs would receive $1.4 trillion in fiscal 2021 under the spending portion of H.R. 133. The spending portion of the agreement would provide increased funding for most agencies and programs, including the Health and Human Services Department, Environmental Protection Agency, Internal Revenue Service, and Transportation Department. Bloomberg Government's legislative analysts have summarized each portion of the spending package. Read the BGOV Bill Summary here.
What's in the Aid Package: More than $900 billion would be provided for unemployment aid, direct payments, and business loans under the Covid-19 relief portion of the bill. The measure would provide funding for vaccines and testing, airline payroll support, farmers, and broadband. It would extend a moratorium on evictions through Jan. 31 and expand food aid programs. It would also provide additional funds for the Paycheck Protection Program and allow businesses to obtain a second loan. Bloomberg Government's legislative analysts have summarized the complete aid package. Read the BGOV Bill Summary here.
Happening on the Hill
Calendar for 2021: The House and Senate have largely wrapped up work for the remainder of the 116th Congress, with the exception of a potential veto override vote on a defense policy measure. Both chambers are set to return on Jan. 3 to start the 117th Congress. The Senate last night released its calendar for 2021. The House released its calendar earlier this month. The House meets Thursday at 9 a.m. for a pro forma session. The Senate will meet for a pro forma session on Thursday as well, at 10 a.m.
Lawmakers Set Votes for Possible NDAA Veto Override: Lawmakers yesterday set up votes in the House and Senate next week in the event Trump follows through on his promise to veto the fiscal 2021 defense policy measure. The House yesterday adopted a procedural motion setting up a vote on Dec. 28. If the House overrides the veto, which would take a two-thirds majority, the Senate will hold its vote on Dec. 29, according to an agreement in that chamber. The Senate sent the measure to Trump on Dec. 11. The president has repeatedly said he would veto the package on various grounds, including his opposition to renaming bases that honor Confederate generals, and his insistence that it should strip away liability protections for social media companies.
Georgia Runoff Turnout Nears 1.5 Million: Almost 1.5 million Georgia voters have already cast ballots in Senate runoffs next month, signaling a competitive race that could break the record for runoff voting in the state set in 2008. Democrats have a slight advantage among those who have participated in early voting, which started Dec. 14, according to an analysis from TargetSmart, a Democratic political data firm. The TargetSmart model shows 48.2% of early and absentee voters are likely Democrats, compared with 45.5% for Republicans. Read more from Billy House and Gregory Korte.
The Presidential Transition
McConnell Says He'll Consider Biden's Nominees: Senate Majority Leader Mitch McConnell (R-Ky.) yesterday said he'll allow Biden's Cabinet nominees to get consideration by the chamber. Biden's selections "aren't all going to pass on a voice vote, and they aren't all going to make it, but I will put them on the floor," McConnell told a commentator in the Louisville Courier-Journal. McConnell claimed he didn't intend to "bring the administration to its knees" the way he said that Senate Minority Leader Chuck Schumer (D-N.Y.) did by requiring cloture votes for many of Trump's nominees to overcome filibusters. Read more from Max Berley.
Biden is poised to nominate Miguel Cardona as his education secretary, CNN reports, citing two unidentified people familiar with the matter. A formal announcement could come as early as today. Cardona, Connecticut's education commissioner, would be another high-profile Latino in the Cabinet if confirmed by the Senate.
Thune Downplays Challenge to Biden Win: The Senate's No. 2 Republican said yesterday that any attempt by a handful of House conservatives to challenge the Electoral College's results proclaiming Joe Biden the next president is "going down like a shot dog." Sen. John Thune (R-S.D.) said he knows of no senators who have committed to join an effort by several House Republicans to challenge Biden's election when Congress convenes Jan. 6 to count certificates of electoral votes, usually a ceremonial process. "The thing they've got to remember is, it's just not going anywhere. I mean, in the Senate it would go down like a shot dog," Thune told reporters. "And I just don't think it makes a lot of sense to put everybody through this when you know what the ultimate outcome is going to be." Read more from Billy House and Laura Litvan.
Biden Camp Presses EU to Slow China Deal: The European Union came under mounting pressure to slow down its push for a major investment deal with China, as opposition grew to any agreement with Beijing that fails to tackle forced labor. Jake Sullivan, national security adviser to Biden, weighed in with a tweet late yesterday referencing a story on the proposed EU-China accord. He urged "early consultation with our European partners on our common concerns about China's economic practices." Read more from Colum Murphy.
Federal Circuit Untouched by Trump's Nominations: Biden may get to shape the Federal Circuit in a way that eluded his predecessor since there hasn't been a vacancy on the court in five years. The U.S. Court of Appeals for the Federal Circuit, the nation's top patent court, is the only federal appeals court that didn't have any judicial vacancies during Trump's presidency. President Barack Obama played a large role in shaping the current court, adding judges with a diversity of background and experience. But the court is still the only federal appeals court that has never had a Black judge, which Biden may seek to change. Read more from Perry Cooper.
What Else to Know Today
Hackers Targeted Treasury Officials: Systems at the Treasury Department used by senior officials were accessed by hackers in a widespread cyberattack on federal agencies, according to Sen. Ron Wyden (D-Ore.). "According to Treasury staff, the agency suffered a serious breach, beginning in July, the full depth of which isn't known," Wyden, the top Democrat on the Senate Finance Committee, said in a statement yesterday. "Treasury still does not know all of the actions taken by hackers, or precisely what information was stolen." Read more from Laura Davison.
Kushner, Israeli Officials Leave Tel Aviv for Morocco: Israeli officials and a U.S. delegation led by Trump's senior adviser Jared Kushner boarded a first commercial flight to Morocco from Tel Aviv today to hammer out details of Israel's normalization agreement with the North African country, Alisa Odenheimer reports.
Struggles of Black Air Force Members: Black troops in the Air Force and Space Force face widespread disparities in opportunities and treatment compared to fellow service members, and many feel the services are racist and biased against them, according to an inspector general report released yesterday. The review found enlisted Black troops are 57% more likely to face courts-martial and are promoted less often. In a survey of 123,000 Air Force members, one-third of Black respondents said the Air Force and Space Force do not provide them the same opportunities as White peers. Read more from Travis Tritten.
BioNTech to Boost Vaccine Capacity: Pfizer partner BioNTech is pursuing all its options to make more Covid-19 vaccine doses than the 1.3 billion the companies have promised to produce next year, according to the German firm's chief executive officer. The companies will probably know by January or February whether and how many additional doses can be produced, Ugur Sahin said late yesterday in an interview. "I am confident that we will be able to increase our network capacity, but we don't have numbers yet." Read more from Naomi Kresge.
Who Should Avoid a Covid-19 Vaccine: Severe allergic reactions to Pfizer's Covid-19 vaccine in a handful of cases have prompted questions over whether certain people should avoid getting inoculated. The Centers for Disease Control and Prevention has identified six cases of anaphylaxis out of more than 270,000 doses of Pfizer-BioNTech's vaccine administered as of Dec. 18. Moderna's vaccine, whose rollout begins this week, contains similar components as Pfizer's. But unless someone is allergic to an ingredient in the vaccine, the CDC recommends that they should still get the shot. Anyone with a history of bad reactions to other vaccines or injectible medicines should take certain precautions. Jeannie Baumann takes a look at the few who should avoid the vaccine.
To contact the reporters on this story: Zachary Sherwood in Washington at zsherwood@bgov.com; Brandon Lee in Washington at blee@bgov.com
To contact the editors responsible for this story: Giuseppe Macri at gmacri@bgov.com; Loren Duggan at lduggan@bgov.com; Michaela Ross at mross@bgov.com