What to Know in Washington: Covid May Surge Without Booster Push
New report warns of Covid surge without fall booster campaign
Biden meets with DeSantis on Hurricane Ian recovery in Florida
Covid-19 deaths and hospitalizations could soar four-fold at the current vaccination rate under an upcoming winter surge, according to an analysis released Wednesday.
The report from the Commonwealth Fund underscores the need for a fall booster campaign that the study authors say could save tens of thousands of lives and billions of dollars in medical costs over the next six months.
Despite advances in vaccine development against Covid-19, uptake has dwindled and federal funding for vaccine roll-out is in jeopardy, Alison Galvani, one of the study authors, said in a statement.
"A major contributor to these phenomena is the perception that the COVID-19 pandemic is over," said Galvani, who's the director of the Center for Infectious Disease Modeling and Analysis at Yale School of Public Health. "We project that a fall 2022 surge is to be expected, based on the dynamics of waning natural and vaccine-induced immunity." Read more.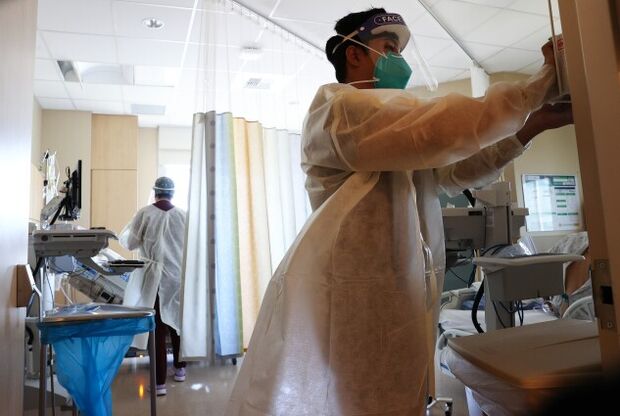 Biden Hands Pandemic Policy Opponents Leg Up in Legal Disputes: President Joe Biden's litigation opponents are seizing on his remark that the pandemic is "over" as they challenge policies adopted in response to the public health crisis. Litigants say Biden's remark bolsters their argument that the administration is using the pandemic purely to service his political agenda.
Republican attorneys general in six states noted Biden's comment to "60 Minutes" last month in a Sept. 29 suit challenging his plan to eliminate federal student loan debt for more than 40 million Americans. Similarly, a federal appeals court judge asked during oral arguments on Sept. 21 how it could impact a case challenging the government's vaccine mandate for federal contractors. Read more.
Fauci Open to Testifying If GOP Wins Either Chamber: Fauci said he has no problem testifying before a Republican-led House or Senate panel next year, Jeannie Baumann reports.
The White House chief medical adviser and longtime director of the NIH's infectious disease institute plans to step down from his US government roles at the end of the year, but Republicans have said they want to call him back to ask about the origins of the coronavirus pandemic and other questions about the coronavirus response.
"I am a big believer in oversight, and I have testified before Congress literally hundreds of times. I have no problem testifying before Congress," Fauci said Tuesday during an online event.
Elections & Politics
A majority of US women age 50 and over — one of the largest and most reliable voting blocs — is still undecided in the final weeks leading to the midterms, casting uncertainty on the outcome of a critical election year.
Justice Ketanji Brown Jackson invoked the original meaning of the US Constitution in her first days of Supreme Court arguments, suggesting that she's willing to engage with a constitutional doctrine traditionally associated with conservatives.
Biden warned that Republicans want to institute a nationwide ban on abortion after a report that Herschel Walker, the Republican US Senate candidate locked in a tight race, paid for a girlfriend's abortion 13 years ago.
Around the Administration
PRESIDENT'S SCHEDULE
Biden will travel to Florida and begin surveying the damage from Hurricane Ian at 1 p.m. At 2 p.m., he will receive a briefing on response efforts by federal, state and local officials.
At 2:35 p.m., the president will meet with local business owners and residents.
At 3:15 p.m., Biden will deliver remarks on the recovery, then depart at 4:40 p.m.
Biden responded to North Korea's most recent missile launch with a pledge to work closely with Japan and South Korea. In a sign of his pessimism about a bigger breakthrough, he held off promising much more.
White House officials have asked the US Energy Department to analyze whether a ban on exports of gasoline, diesel and other refined petroleum products would lower fuel prices, an indication the controversial idea is gaining traction in some corners of the Biden administration.
The US isn't considering an additional release from the Strategic Petroleum Reserve despite expectations that OPEC+ nations could cut production by as much as 2 million barrels per day as they meet in Vienna on Wednesday.
Two veteran policy experts joined the White House's climate and energy team on Wednesday, bringing new leadership to the Biden administration's resilience and chemical safety efforts
Future guidelines for artificial intelligence and automated systems should include built-in privacy protections, stronger safety measures, and checks against discrimination, according to a blueprint released Tuesday by the Biden administration.
Trump's Legal Fights
The thousands of documents seized from former President Donald Trump's Florida home included a mix of government, business and personal affairs, including analysis about who should get a pardon, call notes marked with a presidential seal, retainer agreements for lawyers and accountants, and legal bills, according to newly disclosed logs created by federal investigators.
Former President Donald Trump sought US Supreme Court intervention in the fight over government papers seized at his Mar-a-Lago home, asking the justices to let a court-appointed special master review 100 documents with classified markings.
A writer who claims Trump sexually assaulted her during an interview and a former saleswoman who says he groped her on an airplane are among the witnesses whose testimony in a defamation suit he is seeking to put on hold.
A United Arab Emirates official said Tom Barrack would be a "great envoy for us" in a December 2016 chat expressing hopes that the longtime friend of Trump might even become US secretary of state.
What Else to Know
To contact the reporters on this story: Katrice Eborn in Washington at keborn@bgov.com; Michaela Ross in Washington at mross@bgov.com
To contact the editor responsible for this story: Giuseppe Macri at gmacri@bgov.com