What to Know in Washington: Covid Aid Stalls in Border Rule Spat
Covid relief hits hurdle after Republicans demand border rule vote
Vulnerable House incumbents sent home $10 million in earmarks
A hard-fought $10 billion emergency Covid compromise agreement hit a last-minute snag in the Senate Tuesday as Republicans demanded a deal to propose amendments. Republicans want to force a vote on the Biden administration's repeal of "Title 42," a pandemic-related restriction on border crossings, a move likely to create headaches in the Democratic caucus.
Other Republicans, including Sen. Joni Ernst (Iowa), said that they have amendments they want considered as well. Sen. Mitt Romney (R-Utah), the lead GOP negotiator on the pandemic funding, urged his caucus to vote against a procedural motion on the bill, essentially stalling it until the two parties can agree on the parameters for floor debate. That procedural move failed to get the 60 votes needed, but lawmakers said the standoff could be resolved quickly.
Once there is an agreement on amendments, "then I'll be all in favor of moving ahead, again, because the underlying bill, from what I can tell is quite broadly supported in the Republican caucus as well as in the Democratic caucus," Romney told reporters.
The White House has pushed Congress to act quickly on the Covid-19 funding bill, which is less than half of the $22.5 billion President Joe Biden initially requested. "The bill is a start. It should pass immediately, but it's exactly that: just a start," White House pandemic response czar Jeff Zients told reporters on Tuesday. "Congress must keep working to immediately provide additional funding for our remaining domestic needs so we are prepared for whatever comes" and "importantly, to act with urgency to fund our global Covid-19 response." Read more from Alex Ruoff and Erik Wasson.
A vote on an amendment that seeks to restore Title 42 would likely stir tension in the Democratic caucus, with at least four members opposed to ending the policy. Notably, Sen.

Joe Manchin

(D-W.Va.), who last week called the end of Title 42 a "frightening decision," said Title 42 wouldn't affect his vote on the pandemic relief package. But fellow moderates sounded less certain, Ellen M. Gilmer reports.
The Biden administration is on the hook to pay Pfizer nearly $5 billion for pills it has already ordered to treat Covid, meaning that up to half of a scaled-back Covid funding bill the Senate is debating is already spoken for, officials familiar said. The true purchasing power of the package will be even less due to commitments the government's already made, according to the officials. Read more from Josh Wingrove.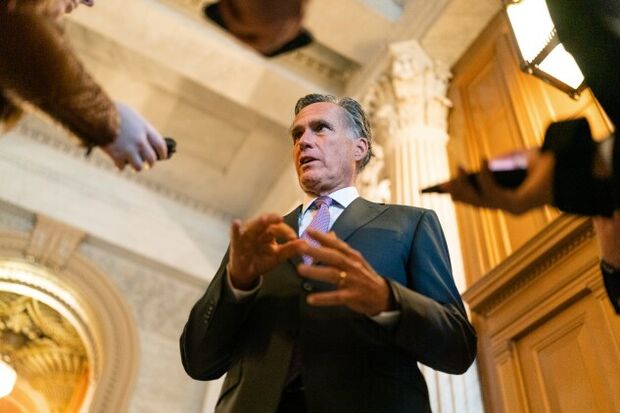 Also Happening on the Hill
CONGRESSIONAL SCHEDULE:
The House meets at 10 a.m. and plans to debate a resolution recommending former top Trump administration officials be found in contempt of Congress for refusing to comply with subpoenas from the Jan. 6 committee.
Senators convene at 10 a.m. to resume debate on Ketanji Brown Jackson's Supreme Court nomination.
Executives at some of the world's biggest oil companies will tell a congressional hearing on high gasoline prices that they need the government's help in securing more drilling permits to help lower consumers' costs. Darren Woods, chief executive officer of Exxon Mobil, and Gretchen Watkins, president of Shell's U.S. division, said in prepared testimony that their companies don't own gas stations and therefore don't set fuel prices. The oil giants said they need the government's help to produce more crude and meet rising demand, thereby leading to lower gasoline prices. Read more from David Wethe, Ari Natter and Kevin Crowley.
Kathi Vidal, Biden's pick to lead the U.S. Patent and Trademark Office, was confirmed by the Senate by voice vote Tuesday. Vidal is the second woman to hold the dual roles of undersecretary of Commerce for intellectual property and USPTO director. Read more from Samantha Handler.
A greater number of cheaper, interchangeable versions of insulin and other costly brand-name biologics can help to combat rising drug costs significantly, senators said at a hearing Tuesday. Members of the Senate Health, Education, Labor, and Pensions Committee questioned industry representatives at a discussion on the latest round of user fee agreements between the FDA and the prescription drug, generic, biosimilar, and medical device industries. Celine Castronuovo has more.
A panel advanced a bill to re-up a law governing the Labor Department's workforce development programs, a package that would allow for $74 billion through 2028. The Workforce Innovation and Opportunity Act bill, approved by the House Education and Labor Committee on Tuesday, would provide funding and support services for job training programs overseen by the Labor Department and the Department of Education. Read more from Paige Smith.
Two Republican lawmakers are calling for the cancellation of federal government contracts with Citigroup after the banking giant vowed to cover travel costs for employees seeking abortions. Citigroup provides the credit cards that House members use to pay for flights, supplies, and other goods. Reps. Mike Johnson (La.) and Rodney Davis (Ill.) pressed House Chief Administrative Officer Catherine Szpindor to cancel the contract, saying the legislative branch has a longtime policy of not using taxpayer dollars to fund abortion. Read more from Jenny Surane.
Both parties agreed at a hearing that mitigating wildfires requires improved forest management, but remain split on the root causes that lead to worse fires. Democrats on the House Natural Resources Subcommittee on National Parks, Forests, and Public Lands maintained that the bipartisan infrastructure package signed into law last year made an exclusive boost to the Agriculture Department's Forest Service and the Interior Department, as climate change worsens fires. But Republicans cited bureaucracy in the government and litigation from environmental groups as major obstacles. Read more from Zach Bright.
A House panel has moved a bill that would boost SECURE Act 2.0 retirement security legislation the House passed last week. The House Committee on Education and Labor Tuesday approved the Protecting America's Retirement Security Act along party lines, 29-21, setting the stage for more retirement access legislation on the House floor. The bill includes Democratic retirement policy objectives left out of the bipartisan Securing a Strong Retirement Act of 2022. Austin R. Ramsey has more.
Treasury Secretary Janet Yellen will warn on Wednesday that the war in Ukraine threatens to inflict "enormous economic repercussions" globally, just as governments impose fresh sanctions on Russia and economists cut growth forecasts. "Russia's actions, including the atrocities committed against innocent Ukrainians in Bucha, are reprehensible, represent an unacceptable affront to the rules-based global order, and will have enormous economic repercussions for the world," Yellen will tell the House Financial Services Committee, according to a copy of her prepared remarks. Read more from Simon Kennedy and Christopher Condon.
Two senators urged Biden to remove 25% tariffs on Ukrainian steel imposed by his predecessor to help the war-torn nation stabilize and rebuild its economy. Dianne Feinstein (D-Calif.) and Pat Toomey (R-Pa.) wrote to Biden in a letter on Tuesday, saying that the move would be in line with his efforts to punish Russia and help Ukraine counter the invasion. Metal production is a "cornerstone" of Ukraine's economy, the senators said. The country is the world's 13th-largest steel producer, and the metal and related sectors account for 12% of Ukraine's GDP, they said. Read more from Eric Martin.
MORE ON THE WAR IN UKRAINE:
Elections, Politics & Probes
Senior appropriators for the first time in over a decade allowed lawmakers to officially request funding for specific projects in their states or districts. Lawmakers barred earmarks in 2011 after several corruption scandals highlighted abuses of the process. Now, lawmakers in elections that could decide control of Congress this fall are embracing it as a way to woo voters. That includes Reps. Matt Cartwright (D-Pa.), Henry Cuellar (D-Texas), and a dozen more who secured funding for projects in their state or district in the recent government funding bill. Read more from Zach C. Cohen.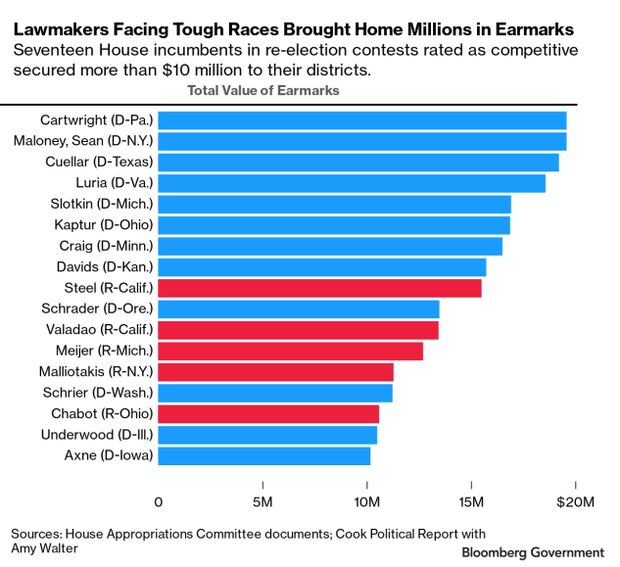 The House panel investigating Jan. 6 questioned Ivanka Trump for eight hours on Tuesday, asking about her recollections of that day inside the White House with her father, Donald Trump. Chair Bennie Thompson (D-Miss.) told reporters Trump is answering questions. "I mean, not in a broad, chatty term, but she's answering questions," he added. Ivanka Trump, who was a senior White House adviser during her father's presidency, testified virtually. Read more from Billy House.
A super PAC backing Conor Lamb started airing the first negative TV ad in the Democratic Senate primary in Pennsylvania, portraying his top rival, Lt. Gov. John Fetterman, as too liberal and a "risk we can't afford." The spot was first aired Tuesday, six weeks before the May 17 primary and the same day Fetterman announced raising $3.1 million in the first quarter of 2022. The figure underscored his strength in the election for the seat being vacated by Sen. Pat Toomey (R), which is crucial for control of the Senate, currently split 50-50. Read more from Kenneth P. Doyle.
Georgia's legislature passed a measure giving criminal investigators new powers to probe election fraud, a win for backers of Donald Trump. The measure would allow the state's Bureau of Investigation to investigate election fraud complaints without being asked to do so by the secretary of state. A similar measure died in a Senate committee last month. Trump has repeatedly made unfounded claims of fraud in Georgia after his 2020 loss to Biden. Gov. Brian Kemp, who is in a Republican primary battle against Trump-backed opponent David Perdue, is expected to sign the bill. Margaret Newkirk has more.
The Arizona Supreme Court decided not to take a case brought by the Arizona Republican Party to end the state's vote-by-mail system used by the majority of voters. Chief Justice Robert Brutinel wrote in an order that the court declined jurisdiction. The suit against Secretary of State Katie Hobbs (D) and Arizona asked the court to rule no-excuse early voting unlawful, alleging the state Constitution requires voting "at the polls." Brenna Goth has more.
Around the Administration
BIDEN'S SCHEDULE
The president is scheduled to deliver remarks to union leaders at 12:45 p.m.
At 4:15 p.m., Biden is scheduled to sign a postal service overhaul measure (H.R. 3076).
Press Secretary Jen Psaki holds a press briefing at 2:30 p.m.
The U.S. lagged behind China on energy efficiency and carbon reduction policies, a group assessing international efforts to address climate change reported. The U.S. scored 54 out of 100 possible points overall, behind China's 57.5 points, according to the latest American Council for an Energy-Efficient Economy scorecard, which ranks the top 25 energy-consuming countries. The Trump administration's push to roll back fuel economy standards, as well as lackluster investments in public transit, contributed to a lower U.S. score than in the previous report in 2018, the group said. Read more from Kellie Lunney.
The U.K., U.S. and Australia said they're working on developing hypersonic weapons, military technology already deployed by Russia in Ukraine, as part of a new trilateral security pact called AUKUS. Their plan is to "accelerate development of advanced hypersonic and counter-hypersonic capabilities," according to a joint statement. The alliance wants to counter the threat of such weapons, which can evade traditional missile defense systems and travel five times faster than the speed of sound, and develop its own as a deterrent, a U.K. official said on condition of anonymity. Read more from Joe Mayes and Ben Westcott.
Agriculture Secretary Tom Vilsack said he doesn't expect major export losses for American poultry producers from a bird flu outbreak that has spread to 24 states. While the outbreak has prompted more than 80 countries to curb imported U.S. products, Vilsack said the restrictions have been limited to poultry raised in affected counties or states . Read more from Mike Dorning.
An all-star panel of Covid experts will convene this week to hash out how and when vaccines should be updated to address future variants as the virus continues to rapidly mutate. The meeting of Food and Drug Administration advisers should provide some of the first hints of its strategy to craft a more proactive plan for developing strain-specific boosters. Fiona Rutherford and Robert Langreth have more.
The U.S. and Germany seized what they called the world's largest darknet market, which traffics illegal goods and services. The Hydra Market's servers were shut down and cryptocurrency wallets containing $25 million worth of Bitcoin were confiscated by German police Tuesday. The Department of Justice announced criminal charges against Dmitry Pavlov, a 30-year-old Russian resident, for conspiracy to distribute narcotics and conspiracy to commit money laundering in connection with his operation and administration of Hydra's servers. Read more from Andrew Martin.
To contact the reporters on this story: Giuseppe Macri in Washington at gmacri@bgov.com; Brandon Lee in Washington at blee@bgov.com
To contact the editors responsible for this story: Loren Duggan at lduggan@bgov.com; Michaela Ross at mross@bgov.com