What to Know in Washington: Covid Aid Slips From Congress Agenda
Ukraine, inflation put Covid aid on Congress' back burner
Biden taps Cold War law on formula as House passes aid
Congressional leaders this week are rushing to tackle one crisis after another, poised to again leave town without new funds for the most deadly among them.
A $10 billion Covid emergency funding package will likely remained stalled until at least mid-June, aides and lawmakers said this week. Replenishing federal coffers to buy more Covid vaccines and antivirals will have to wait. The package has gotten caught up in a separate partisan battle over immigration.
With continuing war in Ukraine and lingering US baby formula shortages, Democrats also say getting more Covid funding simply isn't the most pressing issue. "Everybody is scattered," Rep. Madeleine Dean (D-Pa.) said. "There's so much demand for our resources, for our time, for our energy. Ukraine being really urgent among them—these elections," she added, referring the primary elections in Pennsylvania on Tuesday.
The Centers for Disease Control and Prevention announced Tuesday that one million people in the US have died of Covid-related illnesses since 2020, a massive death toll that makes the virus one of the largest killers of Americans over the last two years.
Competing priorities means there's little pressure for Democrats and Republicans to break the stalemate on Covid, something that would require one or both sides to compromise on federal immigration policy. Read more from Alex Ruoff and Emily Wilkins.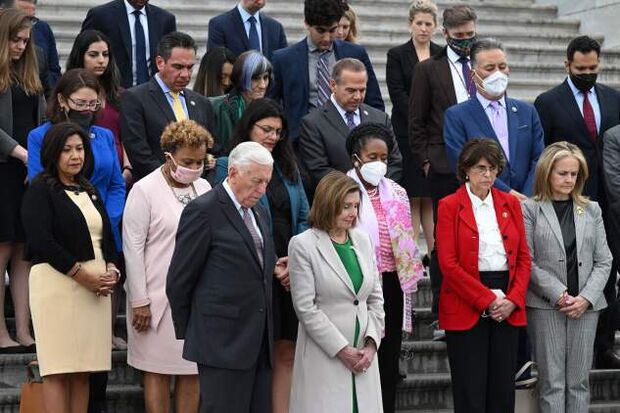 Biden Taps Defense Law to Ease Formula Shortage
President Joe Biden invoked emergency powers under the Defense Production Act to try and boost production of baby formula, while ordering the use of government planes for imports to alleviate shortages. The administration said in a statement that the move would allow domestic manufacturers to obtain needed ingredients and speed shipments of foreign stocks. The president also announced "Operation Fly Formula" to ship in supplies from other countries.
"I know parents all across the country are worried about finding enough infant formula to feed their babies. As a parent and as a grandparent, I know just how stressful that is," Biden said in a video posted to Twitter. He said he was invoked the DPA "to ensure that manufacturers have the necessary ingredients to make safe, healthy infant formula here at home."
Biden is under pressure from both Republicans and Democrats in Congress to act quickly to ease the formula shortage, which has been months in the making and could soon ease as production restarts at a key plant. Read more from Jordan Fabian and Josh Wingrove.
House Appropriations Chairwoman

Rosa DeLauro

(D-Conn.) plans to grill the Food and Drug Administration's chief Robert Califf about plans to reopen an Abbott Laboratories infant formula plant without first addressing a whistle-blower's allegations at a House Appropriations Agriculture-FDA Subcommittee hearing today. Read more from Anna Edney.
The House passed a $28 million emergency funding bill for the FDA to address the shortage and provide tighter oversight of the industry. The legislation was approved Wednesday on a 231-192 vote. Republicans opposed the bill (H.R. 7790), saying that it gives a blank check to the FDA without securing an immediate boost in formula supply.
The fate of the measure in the Senate isn't clear, given the level of House Republican opposition and the need for the support of at least 10 Republicans for it to pass the 50-50 chamber. Appropriations ranking Republican

Richard Shelby

(Ala.) said he's studying to see if the bill is necessary, as did the Senate Labor-HHS-Education ranking Republican,

Roy Blunt

(Mo.). Read more from Erik Wasson.
Also on Lawmakers' Radars
CONGRESS' SCHEDULE:
The House meets at 9 a.m., as it continues work on gas price gouging legislation.
The Senate meets at 10 a.m. to continue consideration of a Ukraine aid package.
Many Democrats blame price-gouging companies for the worst surge in Americans' cost of living in more than a generation. But several left-leaning economists disagree. Desperate to avoid a wipeout in November congressional elections, House Democrats are preparing to vote Thursday on a bill they present as a centerpiece of their response to record high gas prices. It would confer power to bar the sale of consumer fuels at "unconscionably excessive" prices. Molly Smith and Erik Wasson have more.
Two senators want the Federal Trade Commission to investigate the meatpacking industry under an obscure authority last invoked in the 1920s. The joint resolution – to be introduced Thursday by Senators Elizabeth Warren, a Massachusetts Democrat, and Mike Rounds, a South Dakota Republican – would, if enacted, order the FTC to look into potential price-fixing, monopolization or other antitrust violations in the beef industry, Leah Nylen reports.
Senate Majority Leader Chuck Schumer and two fellow Democrats, Warren and Raphael Warnock (Ga.), pitched Biden to go big with student loans forgiveness during a White House meeting Wednesday. The trio, who have been leading the effort in the Senate, support $50,000 in debt relief—five times what Biden has indicated he'd support. Read more from Jarrell Dillard.
Anti-hunger advocates called on Congress to revisit a food stamp rule dating back half a century that keeps recipients from paying for hot foods with their government benefits. The Agriculture Department's Supplemental Nutrition Assistance Program reached more than 1 in 10 Americans in 2021, but proponents argue that the program hasn't adjusted to Americans' changing food habits since the 1970s. Read more from Maeve Sheehey.
Sen. Lindsey Graham wants to increase the retirement age for pilots, a move backed by some aviation groups facing labor challenges. Graham (R-S.C.) said his bill would extend pilots' mandatory retirement age by "a couple of years." Lawmakers are honing in on the pilot shortages, holding hearings and considering solutions as airlines increasingly delay and cancel flights, while also jacking up fares. Read more from Lillianna Byington.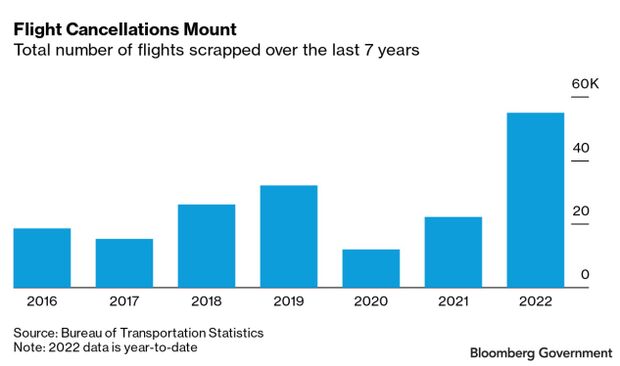 The federal watchdog agency estimated that tax disparities exist across gender, race, and ethnicity, but that US agencies do not share enough data between themselves to determine that conclusively. Although the GAO estimated in its report, which was requested by Senate Finance Chairman Ron Wyden (D-Ore.), that there are unintended differences in tax outcomes for different groups, the watchdog said legal restrictions on data sharing meant it could not definitively say if the tax code produces different outcomes for different demographic groups. Colin Wilhelm has more.
Legislation to authorize improvements to US waterways and investments in flood control and coastal resiliency projects—the 2022 Water Resources Development Act—now moves to the House floor after the House Transportation and Infrastructure Committee on Wednesday approved the package. Kellie Lunney has more.
A panel advanced a bill to crack down on wage and hour violations by strengthening the Fair Labor Standards Act. The House Education and Labor Committee voted 27-19 Wednesday to approve H.R. 7701, known as the "Wage Theft Prevention and Wage Recovery Act," and send the legislation to the full House for consideration. Read more from Paige Smith.
The Senate confirmed Elizabeth Watson to be the Department of Labor's liaison to Capitol Hill after taking no action on her nomination last year. Her nomination was confirmed by a 50-45 vote Wednesday. Read more from Paige Smith.
Elections, Politics & Influence
New York's court-appointed special master-drawn congressional map has spurred hundreds of comments, largely criticizing his district lines, which must be finalized Friday. The draft released by Special Master Jonathan Cervas is the basis for replacing a congressional district plan that the Court of Appeals, the state's highest court, struck down as unconstitutional gerrymandering. Read more from Keshia Clukey.
Next week's three-way race for the Republican Senate nomination in Alabama has drawn more than $20 million in super PAC spending, as candidates vie for a nomination that will almost certainly lead to a Senate seat. The retirement of Richard Shelby, the top Republican on the Senate Appropriations Committee, set off a crowded May 24 contest for the safe GOP seat. It's led by Shelby's former chief of staff Katie Britt and includes Rep. Mo Brooks and Mike Durant, a former Army helicopter pilot involved in the 1993 "Black Hawk Down" incident in Somalia. Read more from Kenneth P. Doyle.
The company behind Donald Trump's startup social media platform Truth Social has a new top lawyer in former Department of Homeland Security official Scott Glabe. Trump Media & Technology Group Corp. has hired Glabe as general counsel, according to a securities filing this week. Read more from Brian Baxter.
Meanwhile, Texas officials say a law barring social media platforms such as Twitter and Facebook from moderating content is needed to protect free speech for conservatives. "Once these businesses became 'dominant digital platforms,' they began to deny access to their services based on their customers' viewpoints," Texas's Attorney General Ken Paxton argued in a brief filed with the US Supreme Court on Wednesday. Read more from Elizabeth Wasserman.
Elon Musk, Tesla CEO and would-be buyer of Twitter, has given himself a new title: Republican. The world's richest man said in a tweet Wednesday that he is switching to the GOP. Patrick McHale and Mario Parker have more.
Around the Administration
PRESIDENT'S SCHEDULE:
At 9:15 a.m., Biden meets with the Swedish and Finnish prime ministers.
At 10:30 a.m., the three will deliver brief remarks from the White House.
At 11:30 a.m., Biden begins his trip to South Korea, with a stop in Alaska.
Biden plans a show of support for Sweden and Finland's desire to join NATO in a Thursday meeting at the White House, as opposition from Turkey has imperiled their bid. Biden, Finnish President Sauli Niinisto and Swedish Prime Minister Madgalena Andersson will discuss the two countries' applications for membership in the alliance, sparked by Russia's invasion of Ukraine. Jordan Fabian has more.
Nearly three months after Vladimir Putin sent his troops into Ukraine, Russia faces more sanctions than any other country. But thanks to surging prices for its exports of oil and gas, the Kremlin has been able to steady the ruble and limit the impact on consumers and the war effort—for now. Though they won't say so publicly, Finance Ministry officials have foreseen biggest economic contraction in a generation this year. Read more.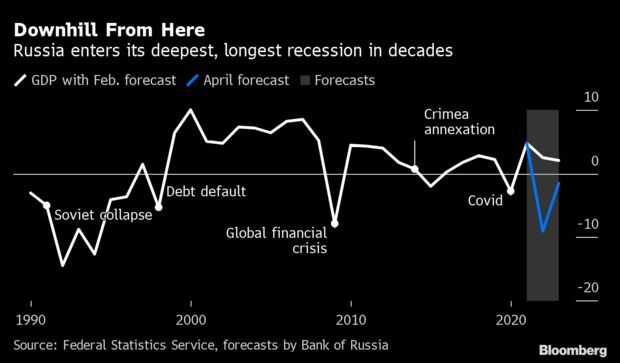 The Biden administration has chosen the top staff negotiators to help lead talks on a long-awaited economic initiative for Asia that it plans to inaugurate during his trip to the region that begins on Friday, according to people familiar with the plans. Sharon Yuan, a Treasury Department veteran who worked on the abandoned Trans-Pacific Partnership, was picked to oversee staff work on the main points of the Indo-Pacific Economic Framework, according to the people granted anonymity to discuss those arrangements, Eric Martin and Jenny Leonard report.
As Biden prepares to land in Seoul on Friday, the White House has already made clear he won't be heading to the DMZ. What's more, there's little he can do to convince Kim Jong Un to return to the negotiating table as the North Korean leader prepares to launch another intercontinental ballistic missile and possibly conduct his first nuclear test since 2017, Jon Herskovitz reports.
China's chief diplomat warned the US it is heading down the "wrong road" in its support for Taiwan, comments accompanied by Beijing again sending military aircraft toward the island. "If the US side insists on playing the Taiwan card and goes further and further down the wrong road, it will certainly lead the situation to a dangerous point," Yang Jiechi, Beijing's top diplomat, said in a call with National Security Advisor Jake Sullivan. Read more from Bloomberg News.
Supreme Court justices will get around-the-clock security at home following the leaked draft opinion advocating overturning abortion rights. Attorney General Merrick Garland directed the US Marshals Service to ramp up the personal protection for the nine justices last week, according to the Department of Justice, Chris Strohm reports.
US health officials are investigating 180 pediatric hepatitis cases, up from an earlier count of 109, as reports of illnesses with no known cause climb. Concern about the mysterious cases of hepatitis in kids has been growing since the CDC issued an alert in April regarding a cluster of nine cases in Alabama. Read more from Madison Muller.
Top Contracting Markets to Watch in 2022—BGOV Webinar: Over one in four federal procurement dollars is spent in the six markets featured by BGOV analysts during an in-depth May 17 webinar. Appropriated money, agency mission statements, the legislative landscape, and regulatory oversight reporting can point contractors toward issues an agency may have—and how to solve them. BGOV's Paul Murphy, Kerry Burgott, and Amanda H. Allen have more. Watch the webinar recording and download the slides on BGOV.com.
To contact the reporter on this story: Brandon Lee in Washington at blee@bgov.com
To contact the editors responsible for this story: Giuseppe Macri at gmacri@bgov.com; Loren Duggan at lduggan@bgov.com; Michaela Ross at mross@bgov.com