What to Know in Washington: Covid-19 Relief Deal Delayed
Bloomberg Government subscribers get the stories like this first. Act now and gain unlimited access to everything you need to know. Learn more.
Senate Majority Leader Mitch McConnell and Speaker Nancy Pelosi have given no sign yet that they're ready to directly engage in negotiations to sort through competing pandemic relief proposals — a step that many lawmakers say will be necessary to complete a deal this month.
The Senate GOP leader is now on board with a $916 billion proposal released Tuesday by Treasury Secretary Steven Mnuchin, while the House speaker sees a rival $908 billion plan still being drafted by a bipartisan group of lawmakers as the best path to a deal to aid the struggling U.S. economy.
Their positioning shows consensus emerging on an overall price tag. But the proposals differ on key features. Although their proxies are engaged in negotiations, the top congressional leaders haven't yet planned a tete-a-tete to resolve the outstanding issues.
With just over a week to go before a deal likely needs to be done, any hint of a meeting will be key to investors who've bid stocks up and then down in recent days on headlines emanating from the Washington Covid-19 relief talks.
The biggest holdups for months have been a McConnell quest for a liability shield for employers facing coronavirus-related lawsuits that congressional Democrats don't want, and a push by Pelosi for a substantial amount of state and local government aid that's anathema to many Republicans in both chambers.
Pelosi continues to say the best chances for a deal are bipartisan Senate talks where a handful of rank and file Republican are open to just a pause in liability lawsuits instead of the changes McConnell wants. The Senate leader wants to defer to the separate White House's offer, believing only the muscle of President Donald Trump will sway most Republicans to back a trillion dollar aid package.
The clock is ticking, with lawmakers working toward a year-end spending deal by Dec. 18 that could contain any final pandemic aid for the year — a package many see as an important bridge before a renewed debate for further help after President-elect Joe Biden takes office in January. Read more from Laura Litvan and Erik Wasson.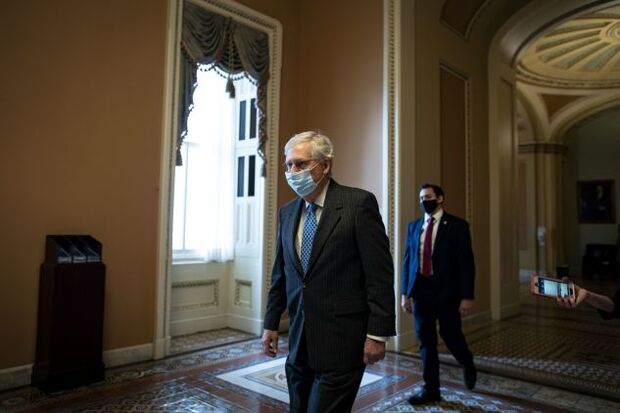 Also Happening on the Hill
House Passes One-Week Stopgap Bill: The House passed a one-week stopgap spending bill yesterday to avert a government shutdown as congressional negotiators try to finalize federal funding for the rest of the fiscal year. The temporary measure passed 343-67 and now heads to the Senate where it is expected to easily pass. Trump has indicated he would sign it before current funding runs out Dec. 11. Read more from Erik Wasson.
Senate Rejects Measures Seeking to Block F-35 Sale: The Senate voted against the consideration of two resolutions to block the sale of F-35 fighter planes, Reaper drones and other advanced weapons to the United Arab Emirates, paving the way for the deal to progress before Trump leaves office next month. The senators who unveiled the measures, two Democrats and one Republican, said they were concerned about an arms race among nations in the Middle East and objected to what they called the rushed nature of the arms sales. Daniel Flatley and Nick Wadhams have more.
Durbin Must Give Up Defense to Lead Judiciary: Senate Democrats approved a caucus rule change yesterday that would require Senate Minority Whip Dick Durbin (D-Ill.) to choose between either a leading role as a defense appropriator or the Judiciary Committee, according to two Democratic aides. The amendment, sponsored by Tim Kaine (D-Va.), says the caucus whip can only be a chair or ranking member on a single committee or subcommittee. Read more from Maidson Alder.
Additional internal rules changes aim to give each member the chance to take the lead role on at least one subcommittee, a Democratic aide said. A new conference rule says that no member who currently is a chairman or ranking member of an "A" committee such as Appropriations or Judiciary can become a subcommittee chairman or ranking member until all members have the opportunity to claim a leadership role on a committee on which they serve, Nancy Ognanovich reports.
Biden to Campaign for Ossoff, Warnock: Biden plans to visit Atlanta next week to campaign for the two Democratic Senate candidates in Jan. 5 runoffs that will determine control of the chamber, Kathleen Hunter reports. Biden's campaign announced the Dec. 15 trip in which the incoming president will stump for Jon Ossoff and Raphael Warnock. Polls indicate both Ossoff and Warnock are in tight races with Republican incumbents: Sens. David Perdue and Kelly Loeffler.
DHS Whistle-Blower to Testify: Brian Murphy, a former Department of Homeland Security official who said he was ordered to suppress intelligence on Russian interference in the 2020 election and white supremacists' threats, is scheduled to appear privately before a House committee this week. The closed-door interview by Intelligence Committee staffers was confirmed by Rep. Denny Heck (D-Wash.), who serves on the panel, and two committee officials. Murphy's complaint alleged he was ordered to downplay the threats—after being told they made Trump "look bad"—by officials including acting DHS Secretary Chad Wolf, interim DHS Deputy Secretary Kenneth Cuccinelli and National Security Adviser Robert O'Brien. Read more from Billy House.
Trump's 5-Year Budget Plan for Navy Would Add 82 New Vessels: The Trump administration's long-term shipbuilding plan, required by Congress, projects spending $167 billion over five years to boost the Navy's fleet as it confronts a rising China in the Pacific. The shipbuilding budget would increase to $27 billion in fiscal 2022, a 33% boost over this fiscal year, then to $28.5 billion in fiscal 2023, reaching $38.5 billion in fiscal 2026, according to a senior administration official who asked not to be named because the plan isn't public. Read more from Roxana Tiron and Tony Capaccio.
Doctors Build Support for Blocking Medicare Pay Cuts: Nearly 330 lawmakers are moving to prevent new Medicare physician payment cuts from taking effect on Jan. 1, with bipartisan support building to include such a provision in the year-end spending package. Lawmakers of both chambers and parties have either co-sponsored legislation or written to leadership and HHS seeking to halt the Medicare payment cuts in the 2021 Medicare physician fee schedule, according to the Surgical Care Coalition. Tony Pugh has more.
The Presidential Transition
Cloud Looms Over Biden With Hunter Probe: President-elect Biden is set to take office with his son under federal criminal investigation, creating immediate practical and ethical challenges for his nascent administration while giving ammunition to his political enemies. Biden's transition team attempted to control the narrative yesterday by issuing a short statement that the U.S. attorney in Delaware is investigating Hunter Biden's tax affairs, saying they only learned about it this week.
But the investigation into Hunter Biden's foreign business dealings has been underway since 2018, and involves not only the Justice Department but also the Internal Revenue Service, according to two people familiar with the matter who discussed the sensitive inquiry on condition of anonymity. The probe is focusing on Hunter Biden's business dealings with China, as CNN reported earlier, and Joe Biden isn't a target, according to a third person. Read more from Chris Strohm and Laura Davison.
Biden Taps House Senior Counsel for U.S. Trade Envoy: Biden tapped senior House staffer Katherine Tai to become U.S. trade representative, two people familiar with the matter said. Biden plans to nominate Tai, who currently serves as chief trade counsel on the House Ways and Means Committee, to lead his trade agency. Tai was a key figure in negotiations with the Trump administration and House Democrats on the North American Free Trade Agreement overhaul, which passed both the House and Senate with overwhelming bipartisan majorities and was signed by Trump in early 2020. Read more from Jenny Leonard and Jennifer Epstein.
Vilsack's USDA Return Spurs Praise, Concern: Former Agriculture Secretary Tom Vilsack is poised to return to lead the agency for a third presidential term under Biden, eliciting concern from environmental groups and welcomes by the agriculture industry and lawmakers.
Vilsack's stance as a moderate has left activist organizations and progressives wanting, said Sean McBride, founder of DSM Strategic Communications and a former vice president of the Grocery Manufacturers Association, now known as the Consumer Brands Association. "Some have accused him of being too close to the food and agriculture industry and the companies that make up those sectors." However, the nominee's strength lies in that "he is generally willing to listen to and consult with a wide spectrum of stakeholders in food, nutrition, and agriculture that have vastly different views of food policy and regulation," which has earned the industry's appreciation, McBride said. Read more from Megan U. Boyanton and Nancy Ognanovich.
Kerry Says Paris Deal Not Strong Enough: Biden's climate envoy John Kerry told NBC News that he wants to bolster the Paris climate accord, a pact he helped negotiate and which Trump had the U.S. exit. Kerry said that Americans wouldn't have to sacrifice to fight climate change. "Moving to address the climate crisis does not mean you have to sacrifice, or lose your quality of life," Kerry said, adding, "we will have more jobs and better paying jobs, and I believe live a higher quality of life as a result of the changes that are here." Read more from Max Reyes.
What Else to Know Today
College Enrollment Falls Among High School Grads: The number of graduating high school seniors immediately enrolling in college slumped during the coronavirus pandemic as jobless numbers grew nationwide. High school graduates who went straight to college fell by 21.7% compared with 2019 graduates, the National Student Clearinghouse Research Center found. The drop-off was even larger among minority students and those at low-income high schools. Read more from Andrew Kreighbaum.
Mnuchin 'Likely' to Back Changes to Fannie-Freddie: Treasury Secretary Steven Mnuchin said he would likely back changing a key agreement that outlines his department's support of Fannie Mae and Freddie Mac, though he stopped short of providing any specifics. Speaking to reporters yesterday, Mnuchin said he supports amending the companies' bailout agreements "to set them on the right direction." Revamping the accords, established after the government took control of Fannie and Freddie at the height of the 2008 financial crisis, is key to releasing them from U.S. control. Read more from Joe Light.
Proving Facebook Has a Monopoly May be Hard: The antitrust cases against Facebook face an uphill battle as the Federal Trade Commission and a coalition of state attorneys general look to prove the tech giant has an anticompetitive monopoly in social networking when users don't pay for its products. The cases hinge on the ability to prove that Facebook bought companies, including Instagram and WhatsApp, in order to kill off upstart rivals, and to convince the court that the social media industry would be more competitive if the deals had not been consummated. Read more from Jon Reid and Victoria Graham.
Lame-Duck Executions Preface About Face by Biden: The Justice Department is scheduled today to execute the second federal inmate since Election Day, continuing the first lame-duck executions since the 19th century, even as the coronavirus pandemic has infected inmates and prison staff. Since resuming federal executions in July after a 17-year break, the Trump administration has put eight federal inmates to death, and has shown no signs of slowing down in its waning days. Read more from Jordan S. Rubin.
Powell's Fraud Lawsuit Dismissed in Arizona: A federal judge in Arizona became the latest to dismiss a lawsuit brought by Trump's former campaign lawyer Sidney Powell on behalf of disgruntled Republican voters alleging a vast and implausible election-fraud conspiracy. U.S. District Judge Diane Humetewa in Phoenix granted a dismissal request by Arizona Secretary of State Katie Hobbs, who argued that the complaint wasn't backed by any evidence. Humetewa agreed saying the plaintiffs' allegations "are sorely wanting of relevant or reliable evidence." Read more from Erik Larson.
China to Sanction U.S. Officials: China said it will sanction more U.S. officials and place new travel restrictions on American diplomats in retaliation for measures taken by the Trump administration over Hong Kong. Chinese Foreign Ministry spokeswoman Hua Chunying didn't provide specific names of those sanctioned, but said they included people in the executive and legislative branches and their immediate families, as well as non-government organizations. China would also revoke visa-free entry to Hong Kong and Macau for U.S. diplomatic passport holders, Hua told a regular briefing in Hong Kong today. Read more.
U.K. to Drop Tariffs on U.S. Goods in Airbus-Boeing Dispute: The U.K. government said it will drop the tariffs that the EU had imposed on $4 billion of U.S. goods, part of the long-running dispute over illegal aid to aircraft manufacturers Boeing and Airbus. Read more from Joe Mayes, Shawn Donnan and Charlotte Ryan.
Trump Envoy Laments North Korea Progress: Trump's top North Korea envoy urged Kim Jong Un to return to talks, while expressing disappointment that negotiations since the two leaders first met didn't achieve more. Deputy U.S. Secretary of State Stephen Biegun made his appeal in a speech today in Seoul that appeared intended to bolster the Trump administration's legacy of unprecedented engagement with Pyongyang. Biegun expressed continued belief in the need for a "complete recasting of relations" between the two longtime enemies, while acknowledging it "has yet to deliver the success we hoped for." Read more from Jeong-Ho Lee.
With assistance from Nancy Ognanovich
To contact the reporters on this story: Zachary Sherwood in Washington at zsherwood@bgov.com; Brandon Lee in Washington at blee@bgov.com
To contact the editors responsible for this story: Giuseppe Macri at gmacri@bgov.com; Loren Duggan at lduggan@bgov.com; Michaela Ross at mross@bgov.com
Stay informed with more news like this – from the largest team of reporters on Capitol Hill – subscribe to Bloomberg Government today. Learn more.