What to Know in Washington: Court's Conservative Shift Hits Bump
Bloomberg Government subscribers get the stories like this first. Act now and gain unlimited access to everything you need to know. Learn more.
Even with a 6-3 conservative majority, the U.S. Supreme Court has its limits.
With two rulings yesterday, the court added a note of moderation to what has been a rightward shift since the arrival of three Donald Trump appointees. The court rejected the latest Republican attack on the Affordable Care Act and gave religious-rights advocates only a narrow victory in a clash over Philadelphia's foster-care program and same-sex parents.
Together, the rulings mean the court potentially will close out Justice Amy Coney Barrett's first term with no watershed conservative victories. Although the court still has 15 remaining cases, including a clash over the Voting Rights Act, the term's theme so far has been more incrementalism than revolution.
Whether that trend continues is another matter. The court under Chief Justice John Roberts has already scheduled showdowns over abortion and gun rights for the nine-month term that starts in October. The abortion case could gut the landmark 1973 Roe v. Wade ruling.
"What we saw today is the product of several justices — the chief justice among them — working to build consensus and avoid making big waves," said Allison Orr Larsen, a professor and director of the Institute of the Bill of Rights Law at William & Mary Law School. "This may be a short-lived strategy, though, given the hot-button cases already on the docket for next term." Read more from Greg Stohr.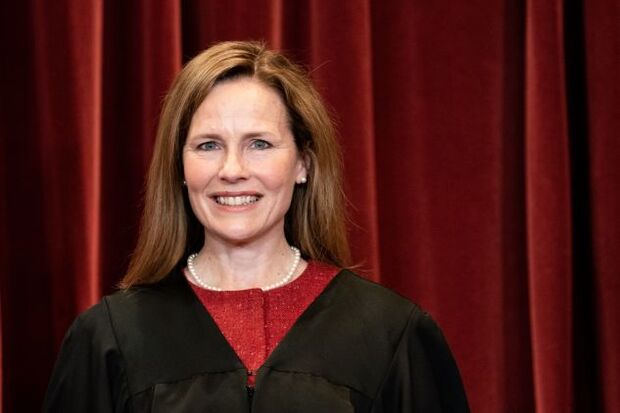 Barrett Channels Roberts' 'Go-Slow' Approach: The court's newest justice is showing signs that she's more aligned with Roberts and Brett Kavanaugh in the center than she is with her other conservative colleagues, refusing to support broad rulings that could shake the court's credibility. Barrett is "starting to show her stripes" as a moderate who prefers small movements in the law, not huge shifts, South Texas College of Law Houston professor Josh Blackman said.
The big test for Barrett will be the next term's cases on guns, abortion, and possibly affirmative action. "It is a very conservative Court, even if we will only get glimpses of it this year," said UC Berkeley law school Dean Erwin Chemerinsky. Read more from Kimberly Strawbridge Robinson.
Sweeping Obamacare Challenges Are Over: The road to a broad-stroke constitutional challenge to Obamacare is more or less closed, but smaller pokes at the law are still expected after the Supreme Court's 7-2 ruling yesterday to uphold it. "There will not be a big omnibus challenge to the entire statute, but there will continue to be ongoing litigation about the administration and enforcement of the law, and that will go on for some time," said Jonathan Adler, a law professor at Case Western Reserve University School of Law.
Adler said there's room for new litigation, but it will likely focus on how the administration uses with the law to propel its goals. "Like any big regulatory statute, it's got tons of provisions, it's got tons of moving parts, there are tons of things in the law which can create legal conflicts and questions, and those provisions will be the subject of litigation," he said. Read more from Lydia Wheeler.
Happening on the Hill
Schumer's Plan for Biden Agenda Hits Hurdles: Senate Majority Leader Chuck Schumer's (D-N.Y.) plan to advance President Joe Biden's economic agenda on two tracks hit stumbling blocks yesterday, as moderate Democrats said they're still working on the details of a bipartisan infrastructure plan and balked at a separate proposal for a $6 trillion follow-up as too costly.
Some of the Democrats involved in negotiating a bipartisan framework for a $579 billion infrastructure package said the details haven't been settled, including how to pay for it. Meanwhile, some of the same Democrats balked at a $6 trillion plan proposed by Senate Budget Chairman Bernie Sanders (I-Vt.) with the aim of passing the rest of Biden's jobs and family proposals as well as other priorities via the fast-track budget process known as reconciliation to bypass Republican opposition.
Sen. Mark Warner (D-Va.), who was part of the bipartisan group working on the infrastructure compromise, said that even though 11 Republicans and 10 Democrats back the general contours of the plan, they haven't agreed on all the specifics. He said it may be a "challenge" to draw full Democratic support. Read more from Steven Dennis and Erik Wasson.
Schumer Sets Vote to Advance Election Bill: Schumer said he will hold a vote on Tuesday on whether to advance sweeping voting-rights legislation to the Senate floor, and the lone Democrat who's withheld his support said he could stick with his party to start debate. Senate Democrats met behind closed doors yesterday to strike a compromise acceptable to Sen. Joe Manchin (D-W.Va.), who has put forth a series of modifications to the election law proposal. Read more from Laura Litvan and Steven Dennis.
Manchin Bashes FDA on Alzheimer's Drug Approval: Manchin, a moderate Democrat considered a crucial vote within the party's slim Senate majority, said Janet Woodcock, the acting head of the FDA, should be quickly replaced with a permanent leader. Manchin blasted an FDA decision to approve the controversial Alzheimer's therapy Aduhelm despite conflicting evidence that the Biogen drug works and a negative vote against the therapy by agency advisers. Read more from Anna Edney.
Democrats Want Biden to Ban Some Arbitration: Forty House Democrats want Biden to ban the use of mandatory arbitration clauses for employees of federal contractors, arguing that the alternative resolution process deprives workers of the ability to seek justice in the workplace. The members pressed the president in a letter yesterday to use his authority under the Procurement Act to issue an executive order. Read more from Paige Smith.
Republicans Seek Info on IRS Data Leak Probe: A group of Senate Judiciary Committee Republicans want information from the Justice Department and FBI investigations into the anonymous leak of taxpayer data that led to a ProPublica report on the tax information of America's billionaires. Sen. Chuck Grassley (R-Iowa), committee ranking member, led the group in asking about the scope of the investigations. Read more from Sony Kassam.
Democrats Aim to End Support for Police in Schools: Legislation introduced by House and Senate Democrats yesterday would block the use of federal funds to hire police in K-12 schools. It would establish a $5 billion fund to instead add new counselors and social workers on campuses, Andrew Kreighbaum reports. The bill was introduced by Sen. Chris Murphy (D-Conn.), Sen. Elizabeth Warren (D-Mass.), and Sen. Tina Smith (D-Minn.), along with Rep. Ayanna Pressley (D-Mass.), Rep. Jamaal Bowman (D-N.Y.), and Rep. Ilhan Omar (D-Minn.).
What Else to Know Today
Agencies Scramble After Juneteenth Bill Signing: Across the federal government, agencies struggled to determine who would and wouldn't be working today and what functions would continue as Biden signed legislation making Juneteenth the first new federal holiday in nearly four decades. The Office of Personnel Management that oversees the civilian workforce of more than 2 million people tweeted yesterday morning that most federal workers would have Friday off with pay. That's because June 19 — the formal date commemorating the end of slavery in the U.S. — falls on Saturday. Read more from Susan Decker, Ari Natter, and Todd Shields.
Today's Agenda: Biden will deliver remarks at 2:15 p.m. on the Covid-19 response and vaccination efforts. The president will leaver for Wilmington, Del., for the weekend at 2:55 p.m.
Biden Kicks Off Effort to End Discrimination in Home Appraisals: The Biden administration is seeking to to tackle the decades-old problem of home appraisals undervaluing properties in Black communities, but the initial proposals are seen as incremental steps needing further action in the future. A HUD-led task force that includes bank and housing finance regulators will convene later this month to begin a thorough review of the home appraisal process and recommend regulatory and legislative steps to reduce racial disparities. Some of the early ideas discussed include increased use of automated valuations to reduce opportunities for human bias and mandatory data reporting that could be used to root out bad actors in the appraisal industry. Read more from Evan Weinberger.
EPA Aide Moves to White House Council: A veteran EPA official who has overseen an agency panel on combating environmental injustice is taking on a new role in Biden's new White House environmental justice council. Karen Martin is leaving as EPA's coordinator to the National Environmental Justice Advisory Council—formally, a designated federal official to the council—for a similar role in the Environmental Justice Advisory Council that Biden created via executive order. Dean Scott has more.
Meanwhile, the Biden administration reconstituted a scientific advisory committee that guides the EPA's air quality work, after a purge of members designed to shrink industry's influence on the panel. The EPA announced seven new members of the Clean Air Scientific Advisory Committee, including four who had served on the panel previously. Read more from Jennifer A. Dlouhy.
Key Climate Talks Are Headed for Trouble: Global leaders say they want decisive action on tackling climate change at a crunch UN summit this year. The behind-the-scenes arguing among Group of Seven delegates — when progress was blocked by last-minute nerves, political tensions and a shortfall of funding — shows just how far they have to go. Diplomats and ministers working toward the COP26 UN climate talks starting in Scotland in October worry that the summit's chances of success may be in jeopardy. One senior British figure privately said the vital gathering is likely to disappoint. Read more from Tim Ross, Alberto Nardelli and Jessica Shankleman.
Biden's Focus Shifts From Putin to Xi: Biden's first trip abroad as president saw him meet with scores of U.S. allies as well as a top adversary, leaving him poised to confront the country he's called America's most serious global competitor: China and its leader, Xi Jinping. The world's second-largest economy was on the agenda throughout Biden's meetings the past week with the Group of Seven industrialized nations, NATO, the European Union and even Russian President Vladimir Putin — whose country, the U.S. president remarked, is "getting squeezed by China." Read more from Peter Martin and Josh Wingrove.
Kim Jong Un Opens Door for Dialogue: North Korean leader Kim Jong Un said he's ready for "both dialogue and confrontation," offering an opening for talks as Biden's new nuclear envoy heads to the region to build support for a strategy toward Pyongyang. The comments, made in a plenary meeting of the Central Committee of his ruling Workers' Party of Korea yesterday, are the first high-level suggestion of talks since Biden replaced Donald Trump, who met with Kim three times. Pyongyang has so far rebuffed Biden's requests for dialogue and lambasted the U.S. president's comments that were critical of North Korea's arms buildup. Read more from Jon Herskovitz and Maria Jose Valero.
EU Lifts Travel Curbs on Vaccinated Americans: The European Union lifted travel restrictions for U.S. residents, in the latest step toward a return to normalcy despite concerns over the spread of potentially dangerous coronavirus variants. EU governments decided today to add the U.S., along with Albania, Hong Kong, Lebanon, Macau, the Republic of Northern Macedonia, Serbia, and Taiwan to a so-called "white list" of countries from which non-essential travel is allowed. Read more from Nikos Chrysoloras.
With assistance from Andrew Kreighbaum
To contact the reporters on this story: Zachary Sherwood in Washington at zsherwood@bgov.com; Brandon Lee in Washington at blee@bgov.com
To contact the editors responsible for this story: Giuseppe Macri at gmacri@bgov.com; Loren Duggan at lduggan@bgov.com; Michaela Ross at mross@bgov.com
Stay informed with more news like this – from the largest team of reporters on Capitol Hill – subscribe to Bloomberg Government today. Learn more.