What to Know in Washington: Court Term Hints at Shift to Right
Justice Amy Coney Barrett's first U.S. Supreme Court term revealed divides among the court's conservative wing, even while giving a taste of its potential to transform American law in the coming years.
In a nine-month term that took place entirely behind closed doors because of the coronavirus pandemic, the justices bolstered property and religious rights, established limits on the Voting Rights Act and agreed to consider potentially blockbuster abortion and gun cases next term.
But the justices also gave indications of just how complicated any march to the right will be as Barrett and two other Donald Trump appointees settle in. The court's conservatives took turns aligning with the three Democratic-appointed justices to control the outcomes of other cases, including a ruling that preserved the Affordable Care Act.
Along the way, Barrett hinted that, at least for now, she may be more interested in incremental changes than far-reaching overhauls. She joined Chief Justice John Roberts and Brett Kavanaugh to restrain the more sweeping instincts of their fellow conservatives on health care and religious rights. Read more from Greg Stohr.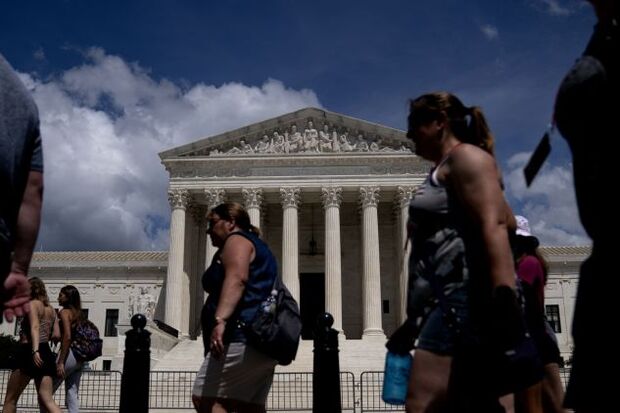 Voting Rights Battles Move to States: A Supreme Court decision weakening protections for ballot access under the Voting Rights Act is likely to result in a series of heated state-by-state fights over how elections are conducted.
The 6-3 ruling from the court's conservative majority comes as Republican opposition in the Senate has blocked two Democratic proposals that would set national standards on voting and re-empower federal review of restrictions. That means most of the coming action on voting rights will play out in legislatures, state courts and even corporate boardrooms, as executives become increasingly outspoken against proposed restrictions. In some states, the battles may move to the polling place itself, as advocates put ballot measures before voters. Read more from Ryan Teague Beckwith.
Happening on the Hill
Rail Fights Primed for Infrastructure Talks: Rail looms as a sticking point in transportation negotiations as lawmakers split over how much money to spend, and over how tightly to regulate freight trains. The House voted yesterday along near-party lines to approve a five-year surface transportation and water bill. House Democrats aim to use it in talks with the Senate and White House over President Joe Biden's signature infrastructure package. The House adopted several amendments from Democrats to upgrade high-speed trains, including creation of an authority for rail in New England. Congress is working to reauthorize surface transportation programs while also negotiating the broader infrastructure plan Biden wants. Progressives are demanding sizable funding for passenger rail as more climate-friendly than relying on cars. Read more from Nicole Sadek and Lillianna Byington.
Panel Advances Funding Bump for EPA, Interior: House appropriators advanced a $43 billion spending bill that would give both the Environmental Protection Agency and Interior Department a roughly $2 billion increase for the next fiscal year. The legislation, approved by the Appropriations Committee on a 32-24 vote, would give the EPA $11.3 billion for fiscal 2022, $2.1 billion above fiscal 2021. Interior would receive $15.6 billion under the bill, an increase of $2.3 billion above fiscal 2021. Read more from Kellie Lunney.
Top Antitrust Lawmakers Push FTC on Facebook: The Democratic and Republican leaders of the House and Senate Judiciary antitrust subcommittees are calling for the Federal Trade Commission to continue its effort to hold Facebook accountable for potential antitrust violations following a judge's dismissal of the agency's complaint this week. Sens. Amy Klobuchar (D-Minn.) and Mike Lee (R-Utah), heads of the Senate Judiciary antitrust panel, and Reps. David Cicilline (D-R.I.) and Ken Buck (R-Colo.), the leaders of the House Judiciary antitrust panel, wrote to FTC Chair Lina Khan urging her to pursue enforcement actions against Facebook, according to the letter provided to Bloomberg Government. Read more from Rebecca Kern.
GOP Group Urges Biden to End Trump Trade War: A group of Republican lawmakers asked Biden to end the "self-inflicted harm" his GOP predecessor, Donald Trump, caused in starting a multi-front trade war with Beijing and European allies. Seven Republican senators sent a letter to the administration asking Biden to repeal tariffs and other trade barriers that Trump implemented during his time in office affecting a wide range of industries, such as agriculture, carmakers and manufacturers. Laura Davison has more.
Separately, a bipartisan group of senators asked U.S. Trade Representative Katherine Tai to continue trade talks with Taiwan seen as a possible predecessor to a free trade agreement, according to a letter. More than three dozen senators want Tai to prioritize talks under the Trade and Investment Framework Agreement and "take steps to begin laying the groundwork for negotiation of a free trade agreement," the letter says, Brody Ford reports.
Politics & Influence
'Hillbilly Elegy' Author Joins Race for Ohio Seat: JD Vance, the bestselling author of "Hillbilly Elegy," joined the crowded Republican field in Ohio to replace retiring Sen. Rob Portman in a key 2022 midterm race, saying the country needs "a new politics for a new generation." Vance, who grew up in poverty but went on to Yale Law School and a career as a venture capitalist, said he would be a "smart" fighter for causes such as breaking up big technology monopolies, raising taxes on companies that shift jobs overseas to the detriment of middle-class workers, and opposing "woke" initiatives such as critical race theory. Read more from Mark Niquette.
Democrats Face Judge's Pushback on Trump Subpoena: A judge in Washington expressed skepticism over the latest efforts by Democrats in the House of Representatives to obtain Trump's financial records from his accounting firm. At a hearing yesterday, U.S. Judge Amit Mehta quizzed a lawyer for the Democrats on whether the materials the House is seeking from Mazars USA are truly essential to its legislative goals. Read more from David Yaffe-Bellany.
Former Trump Aide Starts Social-Media Platform: A former adviser to Trump is launching a new social-media platform, but the former president isn't involved and has no plans to join, a person familiar with the situation said. Jason Miller, who played roles in Trump's two campaigns and worked beside him after he returned to private life, took over a technology startup company that's behind the launch of Gettr, another person said. Read more from Mark Niquette and Jennifer Jacobs.
Trump CFO's Luxury Perks Could Lead to Long Prison Sentence: Trump Organization Chief Financial Officer Allen Weisselberg made $940,000 a year from 2011 to 2018, but much of that was "off the books," Manhattan prosecutors claim. Trump's longtime right-hand man was furnished with a luxury Upper West Side apartment, leased Mercedes for him and his wife, private-school tuition for his grandchildren and other perks totaling $1.76 million which he and his employer hid from tax authorities, according to the 15-count indictment by Manhattan District Attorney Cyrus Vance. Read more from David Voreacos and Greg Farrell.
Around the Administration
Today's Agenda: Biden will host the Los Angeles Dodgers at the White House today for a ceremony celebrating their 2020 World Series victory. The president will greet members of the team in a ceremony at 11:40 a.m. in the East Room, the White House said. Vice President Kamala Harris — who previously represented California in the Senate, and whose husband, Doug Emhoff, is a Dodgers fan — will also be there, Justin Sink reports.
Before the meeting, Biden will speak at 10:15 a.m. on the month jobs report. A 711,000 increase in payrolls is forecast for the month, based on the median estimate in a Bloomberg survey of economists, Olivia Rockeman and Vince Golle report.
Biden at 2:30 p.m. will participate in a naturalization ceremony to welcome U.S. citizens ahead of Independence Day.
The president and First Lady Jill Biden will speak at 5 p.m. to the National Education Association's annual meeting and representative assembly at Washington's Walter E. Washington Convention Center.
Biden Says Surfside Families 'Realistic' About Rescue: Biden said families of those missing after the collapse of a condominium tower in Surfside, Fla., know the possibility of finding anyone alive in the wreckage is diminishing. "They're realistic," Biden said yesterday after meeting with family members and first responders in South Florida. "It's bad enough to lose somebody," he said. "But the hard part, the really hard part, is to not know." Read more from Nancy Cook and Jordan Fabian.
Biden to Tap Miami Politician to Oversee Jobless Aid: Biden will nominate José Javier Rodríguez, a union attorney and former Florida state senator, to head the U.S. Labor Department agency that oversees the federal-state unemployment insurance system and other programs supporting struggling workers, according to two sources familiar with the plans. Read more from Ben Penn.
Biden White House Hires Majority Women: More than half of the White House staff appointed by Biden are women and there's near parity in salaries between genders, according to an administration report released yesterday. As of yesterday, 60% of Biden's White House appointees are women, according to a fact sheet accompanying a report to Congress detailing the names, titles, and salaries of their staff. Women earn an average of $93,752 and men earn $94,639, the report says. Read more from Jennifer Epstein.
U.S. Attorney General Imposes Moratorium on Federal Executions: U.S. Attorney General Merrick Garland ordered a halt to federal executions pending a review of the Justice Department's death penalty policies and procedures. "The Department of Justice must ensure that everyone in the federal criminal justice system is not only afforded the rights guaranteed by the Constitution and laws of the United States, but is also treated fairly and humanely," Garland said in a statement last night. "That obligation has special force in capital cases." Read more from Bill Faries.
Obstacles Remain Despite Global Tax Overhaul Consensus: The Biden administration and global allies pushing for a new, more balanced international corporate tax system scored a big victory yesterday but still face several significant obstacles to completing an ambitious plan years in the making. The jolt came during a round of talks hosted by the OECD, where 130 countries endorsed a plan to set a minimum corporate tax. Read more from Christopher Condon and William Horobin.
Trump Officials Blamed for Policy Lapses in College Deal: An internal government watchdog report backed Democrats' charges that Trump officials improperly aided the sale of a for-profit college chain whose eventual collapse cost the government hundreds of millions of dollars. The report reignited a debate over how Trump policed the for-profit sector, as the Department of Education prepares for expansive new rules on federal student loans and college oversight. Read more from Andrew Kreighbaum.
'Made in USA' Cheats to Face Fines as FTC Steps Up Enforcement: Companies inaccurately using "Made in USA" labels will be subject to fines under a Federal Trade Commission rule that requires marketers prove their products are "all or virtually all" made in the country. Every violation will be subject to civil penalties of as much as $43,280, the regulator said in a statement. Read more from Brody Ford.
DOJ Pulls Out of Realtor Antitrust Pact: The Justice Department said it was pulling out of an antitrust settlement struck during the Trump administration with the National Association of Realtors that resolved a government lawsuit accusing the trade group of inhibiting competition among brokers. The DOJ's antitrust division said yesterday that it was withdrawing from the November 2020 deal because its terms prevent the DOJ from continuing to investigate association rules. Read more from David McLaughlin.
U.S. Asks Nations to Take Afghans Seeking Visas: The Biden administration has asked three Central Asian nations to temporarily house some 9,000 Afghan citizens who worked with the U.S. as they look to flee the Taliban before NATO forces withdraw by Sept. 11, according to two people familiar with the discussions. The U.S. has asked Kazakhstan, Tajikistan and Uzbekistan to take in the Afghans who assisted with the American military's invasion and occupation of the country before the completion of the withdrawal, said the people, who asked not to be identified discussing private deliberations. Read more from Peter Martin, Nick Wadhams and Jennifer Jacobs.
Publishing Note: Bloomberg Government's What to Know in Washington will not publish Monday, July 5 in observance of the Independence Day federal holiday. We'll resume publication Tuesday, July 6.
To contact the reporters on this story: Zachary Sherwood in Washington at zsherwood@bgov.com; Brandon Lee in Washington at blee@bgov.com
To contact the editors responsible for this story: Giuseppe Macri at gmacri@bgov.com; Loren Duggan at lduggan@bgov.com; Michaela Ross at mross@bgov.com