What to Know in Washington: Court Picks Face Tricky Senate Path
Bloomberg Government subscribers get the stories like this first. Act now and gain unlimited access to everything you need to know. Learn more.
The Senate Democrats' pace of muscling through judicial confirmations may slow down as the chamber pivots to more controversial nominees and vacancies where Republicans can throw up roadblocks.
Until recently, Democratic leadership was able to confirm President Joe Biden's nominees at a rapid clip largely because they came from more Democratic states or were consensus picks.
These days Senate Majority Leader Chuck Schumer (D-N.Y.) is expending more floor time on nominees that squeak through on party-line votes, while senior senators and the White House are engaged in negotiations over vacancies in GOP strongholds in the South.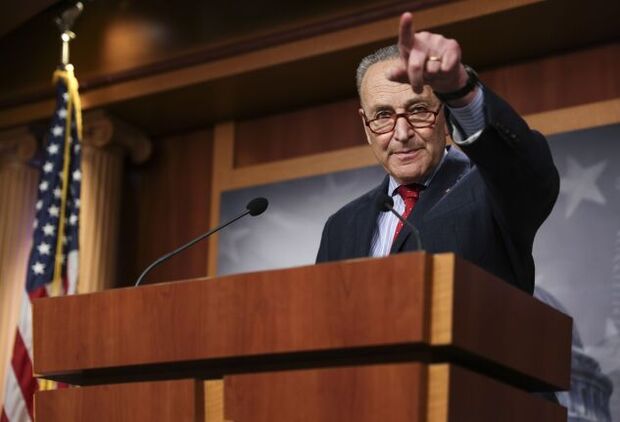 "The number of vacancies that are left that President Biden and the Senate Democrats can move forward with without Republican objection is narrowing," said Chris Kang, co-founder and chief counsel of the progressive group Demand Justice.
With the prospect they could well lose control of the Senate after the 2024 elections, Democrats are under a time pressure to populate the federal judiciary with like-minded judges. They have been seeking to shift the ideological balance of the judiciary after Republicans were able to fill key vacancies during the Donald Trump years.
Biden has already seen his nominees for the US Court of Appeals for the First Circuit and Kansas' district court withdrawn in the last month. He also allowed his judicial selection for the Eastern District of Wisconsin to lapse this year in the face of Sen. Ron Johnson's (R-Wis.) opposition.
Schumer has teed up floor votes this week on Dale Ho, director of the ACLU's Voting Rights Project, more than a year and a half after Biden nominated him to be a judge for the Manhattan-based Southern District of New York.
The Democratic leader's move to advance Ho and Nancy Abudu — who the Senate narrowly confirmed last month to the US Court of Appeals for the 11th Circuit — follows the return of Sens. Dianne Feinstein (D-Calif.) and John Fetterman (D-Pa.) from extended health-related absences.
With those senators back, the leaders now have a little more room to maneuver in tight floor votes as more moderate Democrats facing tough re-elections, such as Sen. Joe Manchin (W.Va.), start to oppose Biden's more controversial nominees. Zach Cohen previews the Senate pivot to filling federal benches.
CONGRESS' SCHEDULE
House meets at noon take up the first of two bills to preserve gas stoves.
Senate returns at 3 p.m. to vote on an Energy Department nominee.
BIDEN'S AGENDA
The president convenes a Cabinet meeting with Vice President Kamala Harris at 2:15 p.m.
Press Secretary Karine Jean-Pierre holds a press briefing at 1 p.m.
Defense Spending & Foreign Affairs
The House Armed Services Committee will consider the annual defense authorization bill on June 21, weeks after it was initially scheduled but postponed so that Congress and the White House could strike a deal on the debt ceiling.
Committee Chair Mike Rogers (R-Mich.) said his panel will use the $886 billion level for defense in the debt ceiling bill rather than try to pass a bill at a higher level. Read more
Senior US and Chinese officials held "candid" talks in Beijing, days after the two countries' defense chiefs squared off at a fraught security forum exposing limits in mending the bilateral relationship.
Military interception maneuvers by Chinese ships and planes suggest a "growing aggressiveness" from Beijing and risk an accident that could result in injury, the White House said Monday. "It won't be long before somebody gets hurt," White House National Security Council spokesperson John Kirby told reporters at the White House. Read more.
The US and India have made a new pledge to deepen defense-industry ties, including by sharing cutting-edge technology, amid a broader campaign by both nations to counter China's increased assertiveness in the region.
South Korean President Yoon Suk Yeol said South Korea and the US have elevated their alliance to "nuclear based," as he praised a deal struck with Washington on the deployment of America's atomic arsenal to deter North Korea.
The US and Saudi Arabia are looking beyond last year's oil spat to focus on billions of dollars worth of defense and aviation deals and the prospect of diplomatic relations between the kingdom and Israel.
Republicans Target FBI, Immigration
House Republicans plan to hold a contempt of Congress hearing against FBI Director Christopher Wray on Thursday, escalating a probe into Biden's actions as vice president. The dramatic move comes after Wray's refusal to comply with a subpoena for unclassified FBI-held documents that Republicans say link Biden to a $5 million "bribery scheme" involving an unnamed foreign national.
US Immigration and Customs Enforcement acting director Tae Johnson is stepping down, straining border and immigration leadership ranks already stretched thin at the Biden administration's Department of Homeland Security.
California officials blame Florida Gov. Ron DeSantis (R) for sending two chartered flights of undocumented migrants to the state capital of Sacramento, ahead of the Republican's fundraising event there on June 19.
What Else We're Reading
Rep. George Santos (R-N.Y.), who is charged with fraud and money laundering, urged a judge to keep secure the identities of three people guaranteeing his $500,000 bail bond, arguing they'd suffer great distress, might lose their jobs, and might be hurt if their names are revealed.
Funneling farm production away from highly deforested areas could lower the carbon impact of agriculture globally, environmental researchers contend in a report out today.
Worker advocates are hoping to build on the success of the #MeToo movement to further curtail a procedural tactic they say creates an uneven playing field against employees with race discrimination claims: mandatory arbitration.
To contact the reporter on this story: Giuseppe Macri in Washington at gmacri@bgov.com
To contact the editor responsible for this story: Kayla Sharpe at ksharpe@bloombergindustry.com
Stay informed with more news like this – from the largest team of reporters on Capitol Hill – subscribe to Bloomberg Government today. Learn more.