What to Know in Washington: Court Pick Sets Midterm Proxy Fight
Democrats to move fast, Republicans to fight over Supreme Court pick
No public events today for Biden; Vice President Harris in Honduras
Democrats will try to move fast in an effort to fill retiring Supreme Court Justice Stephen Breyer's seat on the bench, as Republicans gear up for a fight over the forthcoming nomination.
Some Republicans are promising a pitched battle over President Joe Biden's Supreme Court nominee, with hearings set to become a proxy fight for the high-stakes battle for control of Congress in the November election. "It would be political malpractice if Republicans let this nomination go through without a fight," said Kyle Plotkin, a GOP strategist and former chief of staff to Sen. Josh Hawley (R-Mo.).
Election-year fights over judges in recent years have helped Republicans charge up the anti-abortion voters in their party's base, something Senate GOP Leader Mitch McConnell (R-Ky.) noted in 2018 when the party kept Senate control after the confirmation of Justice Brett Kavanaugh.
But the nomination presents a political opportunity for Democrats, who have suffered blistering disappointments in their attempts to clear Biden's economic agenda and broad voting rights legislation. Biden should nominate "someone who is not hostile to the fundamental right to vote, who respects precedents like Roe v. Wade, who believes in the science of vaccines, and who respects the constitutional prerogatives of Congress," Rep. Mondaire Jones (D-N.Y.), a progressive, said in a statement. Read more from Laura Litvan, Steven T. Dennis and Zach C. Cohen.
MORE ON THE COURT PICK:
Senate Majority Leader Chuck Schumer wants to confirm Biden's choice to replace Breyer on an expedited timeline that would take only weeks to finish, Laura Litvan and Steven T. Dennis report.

Schumer

(D-N.Y.) plans to move Biden's nominee through the process on a timetable similar to that used by Republicans to confirm Justice Amy Coney Barrett in 2020, according to a person familiar with his plans. She was confirmed 30 days after then-President Donald Trump made the nomination.
Biden has a chance to mend ties with Black voters by following through on his promise to nominate the first Black woman to the Supreme Court, Mario Parker reports. The pick could energize a key constituency before November's midterms, when his party will be trying to cling to its narrow hold on Congress. Biden has often credited Black voters for his victory in 2020. But frustration has grown over his failure to achieve voting rights protections and a policing revamp law.
The president could also inject new lived experience into the Supreme Court and change expectations about who lands on the federal bench should he nominate the first Black woman justice, advocates and scholars say. The "overdue" nomination of the first Black woman justice "can't help but influence the way that the law is interpreted, and to enrich and make the law make sense to whole communities who have been shut out," said Aimee Allison, founder of She the People, a group that pushes for more political representation for women of color. Read more from Jennifer Hijazi.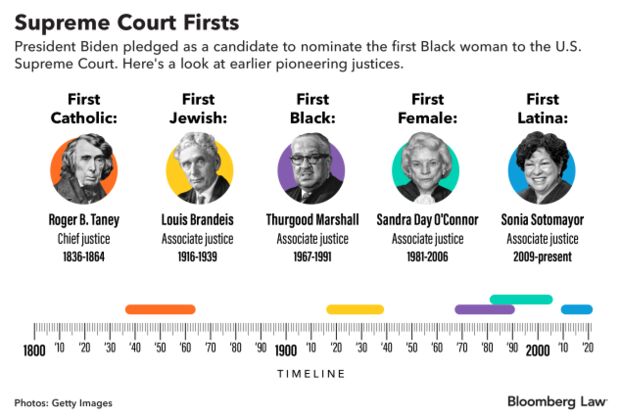 ALSO HAPPENING ON THE HILL:
Vulnerable Democrats are seizing on a bill to boost U.S. competitiveness with China to help address voters' concerns about inflation and supply chain issues ahead of the election. More than two dozen Democrats sent a letter to Speaker

Nancy Pelosi

(D-Calif.) and Majority Leader

Steny Hoyer

(D-Md.) yesterday urging them to bring that bill to the House floor next week, so it can quickly pass and go to conference with legislation the Senate passed in June. The House bill has taken on fresh importance to Democrats who face challenging re-election bids. Read more from Emily Wilkins.
IRS Commissioner Chuck Rettig said the agency needs $80 billion from Biden's economic agenda to fund federal tax laws, a measure Republicans in Congress have criticized, despite the fact Rettig is an appointee of Donald Trump. Fear mongering about new funding stream is overblown with people saying, "my God, there are going to be Storm Troopers on the streets," Rettig said. "This agency is a long ways from being overstaffed and over funded." Read more from Laura Davison.
Around the Administration
BIDEN'S SCHEDULE:
White House Press Secretary Jen Psaki holds a press briefing 12:30 p.m.
Vice President Kamala Harris travels to Honduras today for the inauguration of President Xiomara Castro amid political turmoil in the country. Harris has sought to address endemic violence and corruption fueling migration from Central America by bolstering government reforms in the region and combating poverty with private investment. But the trip risks underscoring the difficulty in delivering change to a region beset by corruption and chaos. Read more from Justin Sink.
The impasse over Biden's immigration wish list on Capitol Hill has increased pressure on a Department of Homeland Security official working to revamp the system through regulation. The White House last year tapped Harvard Law School professor Cass Sunstein to advise on DHS regulations. The scholar is best known for his role as the Obama White House's rulemaking chief and his writings on behavioral economics—not the finer points of homeland security—but Biden wanted someone equipped for the regulatory challenges the agency faces, Sunstein said in an interview. Ellen M. Gilmer has more.
Russia gave a critical initial response to U.S. security proposals aimed at defusing a crisis over Ukraine, saying they failed to address Moscow's demands to prevent NATO expansion, though the Kremlin indicated talks are likely to continue. While President Vladimir Putin has read the documents and will take time to study them, "it cannot be said that our views were taken into account, or that a readiness to take our concerns into account was demonstrated," Kremlin spokesman Dmitry Peskov told reporters today.
The U.S. handed over its response yesterday to Russia's demands for binding security guarantees following weeks of intense diplomacy over a buildup of more than 100,000 Russian troops on Ukraine's border. The U.S. and the European Union have warned of swift and severe sanctions if Russia invades Ukraine. Moscow says there are no plans to attack, though Russia continues to mass forces near the border. Read more from Ilya Arkhipov.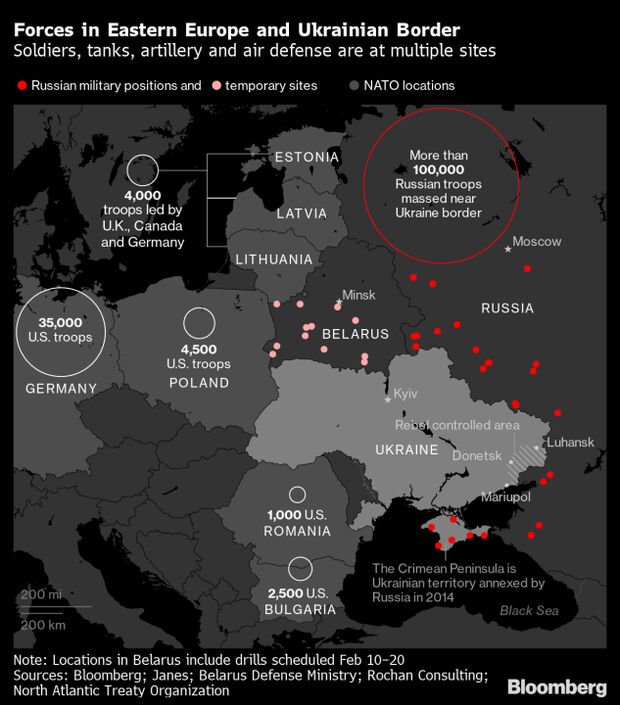 A new national road strategy will be unveiled by Transportation Secretary Pete Buttigieg and Second Gentleman Doug Emhoff. The plan, to be promoted at the department's headquarters later today, is aimed at combating a surge in fatal crashes last year. The plan will push to re-engineer roads to slow down vehicles, add speed safety cameras, and set "context-appropriate speed limits" to reverse the trend of road fatalities. An estimated 20,160 people died in crashes in the first six months of last year—the largest number of projected deaths in that time frame since 2006—the department said in October. Read more from Lillianna Byington.
The White House is highlighting efforts in tackling environmental inequities, even as advocates continue to bemoan slow progress on tools to measure progress and the vacuum triggered by the recent loss of a top environmental justice official. Brenda Mallory, chair of the White House Council on Environmental Quality, said yesterday CEQ's environmental justice team has grown to six in the last year and is "fiercely determined" to ensure there isn't a loss of momentum after the departure weeks ago of Cecilia Martinez, CEQ's first-ever senior director for environmental justice. Read more from Dean Scott.
The U.S. and other nations with "populist" governments mishandled the Covid-19 pandemic in 2020 and caused unnecessary deaths with relatively lenient policies, according to an academic research paper. Excess mortality—the number of deaths beyond those that could be expected without the pandemic—was more than twice as high on average in populist-governed countries such as the U.S., Britain and Brazil, Michael Bayerlein, a researcher at the Kiel Institute for the World Economy and one of the authors of the paper, said in a press release today. Read more from Iain Rogers.
Chinese Foreign Minister Wang Yi accused the U.S. of flouting agreements reached during a November summit between Biden and Xi Jinping, in the latest signal that efforts to ease tensions had stalled. Wang protested what he said were U.S. efforts to interfere with the Beijing Olympics next week in a call with Secretary of State Antony Blinken, according to a statement posted on the Foreign Ministry's website today. The senior Chinese diplomat also cited U.S. support for Taiwan, as well as Washington's efforts to build "small circles" of like-minded nations to counter Beijing. Read more.
North Korea fired what were believed to be two short-range ballistic missiles, adding to one of its biggest barrage of tests since Kim Jong Un took power a decade ago. South Korea's Joint Chiefs of Staff said the military "detected two projectiles that appeared to be short-range ballistic missiles," fired at around 8 a.m. Thursday from around North Korea's eastern city of Hamhung. Read more from Jeong-Ho Lee and Shinhye Kang.
To contact the reporters on this story: Zachary Sherwood in Washington at zsherwood@bgov.com; Brandon Lee in Washington at blee@bgov.com
To contact the editors responsible for this story: Giuseppe Macri at gmacri@bgov.com; Loren Duggan at lduggan@bgov.com; Michaela Ross at mross@bgov.com