What to Know in Washington: Court Lets Texas Abortion Ban Stand
A sharply divided U.S. Supreme Court refused to block a Texas law outlawing most abortions after six weeks of pregnancy, letting a measure that went into effect yesterday remain in force as the strictest restriction in the nation.
Voting 5-4, the justices turned away calls from abortion providers to put the law on hold while the legal fight goes forward. The challengers say the measure will ban abortion for at least 85% of patients in the state and force many clinics to close.
The rejection marks a watershed moment, allowing a law at odds with Supreme Court precedents that protect abortion rights until much later in pregnancy. The order raises new questions about the durability of those precedents, including the landmark 1973 Roe v. Wade ruling, which opponents are seeking to overturn in a case the court will consider in a few months.
The majority said the challengers had "raised serious questions regarding the constitutionality of the Texas law" but hadn't shown they could overcome a thicket of procedural obstacles stemming from the law's unusual delegation of enforcement powers to private parties.
"In light of such issues, we cannot say the applicants have met their burden to prevail in an injunction or stay application," the court said in its one-paragraph explanation.
Chief Justice John Roberts joined the court's liberals in dissent. Justice Sonia Sotomayor called the order "stunning" in an opinion joined by Justices Stephen Breyer and Elena Kagan. "Presented with an application to enjoin a flagrantly unconstitutional law engineered to prohibit women from exercising their constitutional rights and evade judicial scrutiny, a majority of justices have opted to bury their heads in the sand," Sotomayor wrote. She called the law a "breathtaking act of defiance — of the Constitution, of this court's precedents, and of the rights of women seeking abortions throughout Texas." Read more from Greg Stohr.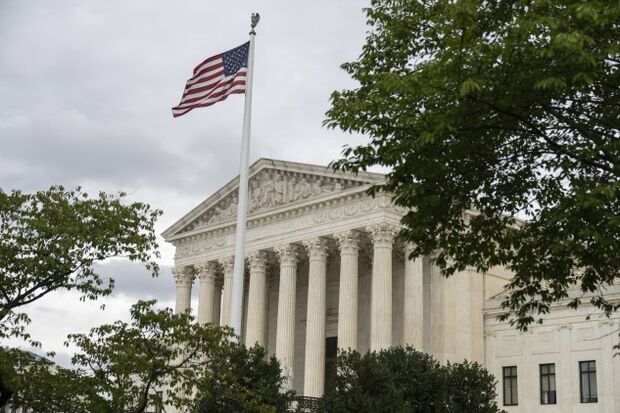 Texas's Lurch to Right May Hurt Image With Business: In the past decade, Texas attracted almost 4 million people and a cavalcade of employers thanks to low taxes, lax regulation and thriving cities. But a defiant attitude toward Covid restrictions, new limits on voting access and now the nation's strictest abortion law could undermine its appeal for future moves.
Companies including Apple, Toyota and Tesla have moved operations and college-educated, creative-class workers to Texas in recent years; enclaves like Austin and Houston's Montrose neighborhood felt a little like San Francisco with withering humidity. Now, those workers find themselves in a state taking far-right stances in a culture war with national ramifications for women's autonomy and presidential politics. Read more from Catarina Saraiva and Brendan Case.
Happening on the Hill
Lawmakers Add $25 Billion for Pentagon in Defense Bill: The Pentagon would be authorized to spend $25 billion more than President Joe Biden's recommended level for the next fiscal year, as House lawmakers cited a need to counter an emerging China and demanded that Congress receive detailed accounting and periodic updates on Afghanistan after a messy withdrawal. More than a dozen Democrats on the House Armed Services Committee defied Biden by joining with Republicans to increase the Pentagon's budget to $740 billion from the $715 billion the White House requested. The provision is part of the fiscal 2022 defense authorization bill. The funding authorization is similar to the defense policy bill the Senate Armed Services Committee approved in July.
The House Armed Services Committee approved the defense policy bill 57-2 early this morning. The full House will have to consider the measure next. The Senate also has to approve its own version of the bill before it heads for final negotiations with the House. Roxana Tiron runs down what's in the bill.
GOP to Target Oil, Gas Fees at Markup: The House Natural Resources Committee begins work today on the first portion of Democrats' $3.5 trillion economic and social spending plan, with Republicans set to offer a slew of amendments to a measure they say punishes fossil fuel companies at the expense of domestic energy security and production. The panel's $31 billion measure to boost climate resilience, drought relief, and conservation programs is just one plank in a legislative package that Democrats aim to pass in both chambers this fall, using the budget reconciliation process to advance the measure without the need for Republican support in the Senate.
Democrats are likely to advance today's measure, but not before Republicans make their opposition clear. "There are so many bad things about the bill, I really can't find anything good in it," said the committee's ranking member, Bruce Westerman (R-Ark.), during a briefing yesterday with reporters.
But Rep. Jared Huffman (D-Calif.), chairman of the panel's Waters, Oceans, and Wildlife Subcommittee, said the bill "will really do a lot of good on the ground" for climate resiliency, public lands and waters, and national parks. "This funding is very important," he said in an interview. Read more from Kellie Lunney.
Foreign Farmworkers Triple, Boosting Immigration Push: The number of legal foreign farmworkers picking crops in American fields tripled over the past decade, a statistic that could help lawmakers pushing to make the temporary worker program more attractive. Laborers participating in the H-2A temporary agricultural worker program spiked to 258,000 in 2019 from 79,000 in 2010, according to a new report by the Agriculture Department's Economic Research Service. Read more from Megan Boyanton.
Politics & Influence
Trump Organization Workers to Testify to Grand Jury: Matthew Calamari Jr., the Trump Organization's corporate director of security, will testify this week before a Manhattan grand jury investigating former President Donald Trump's company and its business affairs, a person familiar with the matter said. Calamari, 28, who's also the son of the company's chief operating officer, Matthew Calamari Sr., was subpoenaed by prosecutors with Manhattan District Attorney Cyrus Vance's office, the person said. The younger Calamari has been granted immunity for his testimony, a move that signals prosecutors don't plan to indict him. Read more from Patricia Hurtado.
Trump Picks Ex-Envoy's Rival in Pennsylvania Race: Trump has picked his candidate in one of the most-watched 2022 U.S. Senate races, endorsing Sean Parnell in Pennsylvania's Republican primary. Trump picked Parnell, a U.S. Army veteran, over Carla Sands, who was his ambassador to Denmark. Trump said in a statement that Parnell "will always put America first." Read more from Mark Niquette.
Barrack UAE Influence Case Said Involves National Security: The criminal case against Tom Barrack, the businessman accused of acting as an unregistered agent of the United Arab Emirates, involves national security information, according to a court filing yesterday. Prosecutors didn't spell out the nature of the secret data, but said the case will involve the Classified Information Procedures Act, known as CIPA. Read more from David Voreacos and Patricia Hurtado.
Newsom Likely Keep Job, Poll Shows: California Gov. Gavin Newsom (D) will probably survive this month's recall election, according to a poll by the Public Policy Institute of California. With about two weeks to go before voting concludes on Sept. 14, the survey holds goods news for the Democrat trying to prevail in the second gubernatorial recall in the state's history. Just 39% of likely voters say they back his removal from office, and 53% approve of the first-term governor's performance. Read more from Romy Varghese.
Around the Administration
Today's Agenda: Biden will deliver remarks at 11:30 a.m. on his administration's response to Hurricane Ida. At 1:45 p.m., the president will participate in a virtual meeting with rabbis to commemorate the upcoming Jewish holidays.
Louisiana Grapples With Fuel Shortage After Ida Shut Refineries: As utility crews strive to restore power to New Orleans, one of hurricane-ravaged Louisiana's most pressing needs is fuel. "It's impacting all of our recovery efforts," Gov. John Bel Edwards said yesterday in a press conference. "Fuel just isn't available to us the way we would want it to be." It's a painful irony for a state that, most of the time, supplies much of the U.S. with gasoline and diesel. Louisiana's refineries represent nearly one-fifth of the country's crude-processing capacity. Biden plans to visit Louisiana tomorrow. Read more from David R. Baker and Will Wade.
Biden Takes Time Weighing Next Pick for D.C. Circuit: Biden has a second seat to fill on the federal appeals court in the District of Columbia with less pressure to select a nominee quickly, a number of names circulating in the legal community, and one group pushing for the first Hispanic member. D.C. Circuit Judge David Tatel says he'll step down once a replacement is appointed, which immediately lowers the temperature on the nomination to the court considered the second most-powerful in the country. Read more from Madison Alder.
Gensler Orders Review of Funds' ESG Disclosures: The Securities and Exchange Commission is considering more stringent disclosure requirements for investment funds amid concerns that some in the industry are making unfounded ESG claims. "Many funds these days brand themselves as 'green,' 'sustainable,' 'low-carbon,' and so on," SEC Chairman Gary Gensler said yesterday, according to the text of a speech delivered to the European Parliament Committee on Economic and Monetary Affairs. "I've directed staff to review current practices and consider recommendations about whether fund managers should disclose the criteria and underlying data they use to market themselves as such." Read more from Steven Arons.
U.S. Weighs Quota System in Bid to End EU Steel Fued: Biden's administration is considering a quota system as it prepares a proposal for the European Union to resolve a dispute over steel and aluminum imported from the bloc. The Office of the U.S. Trade Representative and the Commerce Department also are looking at increased monitoring of the origins of metals produced in the EU as a potential part of the solution, according to people familiar. Eric Martin and Joe Deaux have more.
DOJ Readying Google Antitrust Suit Over Ad-Tech Business: U.S. antitrust officials are preparing a second monopoly lawsuit against Alphabet's Google over the company's digital advertising business, according to a person familiar with the matter, stepping up the government's claims that Google is abusing its dominance. The DOJ has accelerated its investigation of Google's digital advertising practices and may file a lawsuit as soon as the end of the year, said the person. David McLaughlin has more.
Moderna Seeks U.S. Authorization for Booster Shot: Moderna said that it had filed initial data with the FDA for clearance of a third-dose booster of its Covid-19 vaccine, adding fuel to a debate over the need for additional doses. In a statement yesterday, the company said its booster, using a reduced dose of 50 micrograms, which is half the dose used in the existing vaccine, raised antibody levels against the more infectious delta variant by more than 40-fold in clinical trials. Read more from Robert Langreth.
Kerry Calls for China to Step Up Emissions Cuts: China is using talks with climate envoy John Kerry to push the U.S. to commit to an improvement in their broader relationship, with one report saying he will meet Beijing's top diplomat during his visit to the port city of Tianjin. Chinese Foreign Minister Wang Yi told Kerry in a video call yesterday that Washington must take the first step to improve ties that frayed during the Trump administration, when a trade war erupted and the nations started bickering over issues from the technology industry to visas for journalists and students. Read more.
To contact the reporters on this story: Zachary Sherwood in Washington at zsherwood@bgov.com; Brandon Lee in Washington at blee@bgov.com
To contact the editors responsible for this story: Giuseppe Macri at gmacri@bgov.com; Loren Duggan at lduggan@bgov.com; Michaela Ross at mross@bgov.com