What to Know in Washington: Congress to Tackle Biden's Agenda
Bloomberg Government subscribers get the stories like this first. Act now and gain unlimited access to everything you need to know. Learn more.
Congress returns this week as House and Senate Democratic leaders begin a push to enact President Joe Biden's long-term economic strategy built around massive infrastructure and manufacturing investments.
After first enacting a $1.9 trillion Covid-19 recovery plan without Republican support, Biden and Democrats may look to strike deals with the GOP as they work to advance a multi-part plan that could total more than $3 trillion.
Senate Majority Leader Chuck Schumer (D-N.Y.) also wants action this spring and summer on Biden's noneconomic domestic priorities that the House has already passed, including ambitious changes to federal laws on voting, civil rights, health care, and gun ownership rules.
In the House, Speaker Nancy Pelosi (D-Calif.) is planning votes on legislation on worker protections and immigration.
Democrats are weighing different strategies to push through the president's agenda, including using budget rules to enact bills on simple majorities and upending the long-standing Senate filibuster rule that requires 60 votes to pass most bills in the chamber. But bipartisan deals still could be in the offing, as Biden seeks at least 10 Republicans to join Democrats in the evenly split 50-50 Senate. Nancy Ognanovich and Emily Wilkins preview the spring congressional agenda.
Bloomberg Government previews all the major issues to watch in the Spring Hill Watch.Click here to download the Spring 2021 Hill Watch.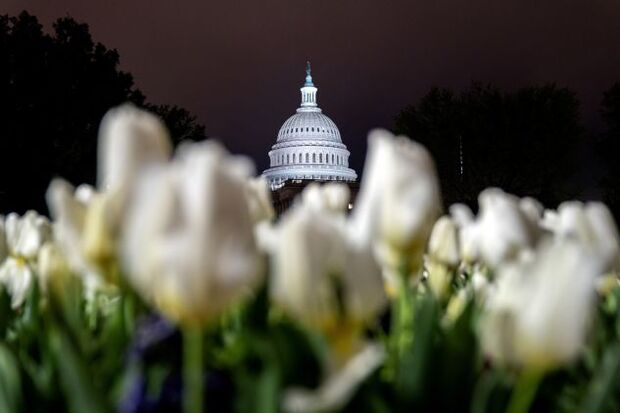 Congress Pushes Back on Infrastructure Plan: Biden wants to boost the American economy and compete with China with a $2.25 trillion infrastructure and public works package. The package calls for investing in a wide variety of projects, from traditional spending on roads and bridges, to funds aimed at improving care for the elderly and people with disabilities.
But GOP opposition could drive Democrats to turn to budget reconciliation once again to sidestep a potential filibuster, which would require a supermajority of 60 senators to break. The plan includes about $620 billion for transportation and resilience; $580 billion for workforce development, research, and manufacturing; $400 billion for elder and disability care; and $650 billion for initiatives aimed at better quality of life at home, including lead-free pipes, broadband, and housing. Lillianna Byington sets the stage for the fights ahead on infrastructure.
Biden will meet with both Republican and Democratic members of Congress today to discuss his plan to build U.S. infrastructure, an early test of political support for the proposal. White House Press Secretary Jen Psaki said Friday that lawmakers from both the House and Senate have been invited to the meeting, Jenny Leonard reports.
Related: Democrats Prepare to Tackle Biden's Sweeping Spending Package
Politics & Influence
CEOs Weigh Donation, Investment Pullback: A consortium of chief executive officers and other leaders of major U.S. corporations held an hour-long Zoom call on Saturday to discuss ways to push for greater voting access amid new restrictions enacted or pending in Georgia, Texas and other states. Among the options they're considering: re-evaluating donations to candidates supporting restrictions on voter access and reconsidering investments in states that act upon such proposals, according to non-profit Coalition for Inclusive Capitalism, which co-hosted the meeting with Jeffrey Sonnenfeld, a Yale School of Management professor, and Leadership Now Project. Read more from Yueqi Yang and Katia Dmitrieva.
Ocasio-Cortez, Allies Court Establishment: Leading progressives like Rep. Alexandria Ocasio-Cortez (D-N.Y.) had a choice after they won election in 2018 and expanded their ranks in 2020: challenge Democratic leaders from the sidelines, or get in the game. Now their decision to play by Congress' rules is giving them clout in a government under unified Democratic control with Biden.
Members of Ocasio-Cortez's so-called Squad are taking leadership roles in the House and building experience on Capitol Hill, turning them into not just ideological purists but also strategic legislators. They're gently pushing a bolder Democratic strategy and meeting regularly with White House aides, bringing liberal dreams like a $15 federal minimum wage and a permanent child tax credit within reach. Read more from Jarrell Dillard.
Boehner Calls Jordan, Cruz 'Political Terrorists': John Boehner says a tendency toward being "political terrorists" is stronger in his own Republican Party than among Democrats, and named Sen. Ted Cruz (R-Texas) and Rep. Jim Jordan (R-Ohio) as among the offenders. The former House Speaker, who left Congress in 2015, was interviewed on CBS's "Sunday Morning" as part of media tour for his new memoir. Boehner spoke of the rise of hyper-partisan lawmakers who reject any compromise as weakness or selling out, and how it undermined his ability to make deals with the Obama administration when he was Speaker. Read more from Ros Krasny.
Trump Rips Into McConnell: Donald Trump criticized Senate Minority Leader Mitch McConnell (R-Ky.) and other Republicans over his election loss, even while telling GOP donors in a Saturday-night speech that the party will retake control of Congress in the 2022 midterm elections and the White House in 2024. Speaking at his Mar-a-Lago club in Palm Beach, the former president called McConnell a "dumb son of a bitch" for not fighting to overturn Biden's victory, according to a person who attended the event. Read more from Mark Niquette.
Explaining Biden's Supreme Court Commission: Biden created a 36-member bipartisan commission to study potential changes to the U.S. Supreme Court, fulfilling a promise he made on the campaign trail. The Presidential Commission on the Supreme Court of the United States will look at "the contemporary public debate for and against Supreme Court reform," the White House said in a statement on Friday. Kimberly Strawbridge Robinson explains what you need to know.
Around the Administration
Biden Seeks to Boost Civil Rights Funding: Biden sought to elevate funding for civil rights offices across more than a half-dozen federal agencies in his first budget proposal, a move advocates say could mark a tangible step toward equality if Congress agrees. Offices for civil rights at the departments of Agriculture, Transportation, Education, Heath and Human Services, Homeland Security, Justice, and the Environmental Protection Agency would all get budget hikes under Biden's $1.5 trillion discretionary spending request to Congress on Friday. The administration has made racial equity one of its top priorities, and said it would be embedded across all federal agencies. Read more from Lillianna Byington.
White House to Hear From Companies Vying for Scarce Chips: Top Biden administration officials today will hear from companies vying with each other for a sharply constrained global supply of semiconductors, as the White House tries to figure out how to relieve a shortage that's idled automakers worldwide. More than a dozen chief executives, including the leaders of General Motors, Ford and Alphabet's Google, are expected to participate. The meeting is likely to revolve around their grievances and isn't expected to result in substantive outcomes or a path forward on the shortage, people familiar with the planning said. Read more from Jenny Leonard and Keith Laing.
Biden to Name Inglis as National Cyber Director: The Biden administration plans to name Chris Inglis, a former NSA deputy director, as the first national cyber director today, the Washington Post reports, citing unidentified U.S. officials. Biden also plans to name Jen Easterly, a former NSA intelligence officer who helped stand up U.S. Cyber Command more than a decade ago, to head the DHS's Cybersecurity and Infrastructure Security Agency. The president is expected to nominate Robert Silvers, DHS assistant secretary for cyber policy in the Obama administration, as undersecretary for policy at DHS. All three are expected to face smooth confirmations, Max Zimmerman reports.
Cindy McCain is undergoing vetting to be nominated for U.S. ambassador to the United Nations World Food Programme, Politico reports, citing two sources with knowledge of the matter.
Powell Says Economy Poised for Stronger Growth: Federal Reserve Chair Jerome Powell said the U.S. economy was at an "inflection point" with stronger growth and hiring ahead thanks to rising vaccinations and powerful policy support, but that Covid-19 remains a threat. "We feel like we're at a place where the economy is about to start growing much more quickly and job creation coming in much more quickly," Powell told CBS's "60 Minutes" in an interview conducted Wednesday that aired yesterday. Read more from Alister Bull.
Whitmer Urges Vaccine 'Surge': The federal government needs to urgently "surge" vaccine doses into the state of Michigan in order to combat a spike in coronavirus cases there, Gov. Gretchen Whitmer (D) said. More contagious variants, widespread pandemic fatigue, and large numbers of people who have never been exposed to Covid-19 have created a critical infection situation in the state, she said in an interview on CBS's "Face the Nation." Read more from Tom Schoenberg and Kristen V. Brown.
Vaccination requirements are fast becoming facts of life in the U.S. Brown, Notre Dame, and Rutgers are among universities warning students and staff they'll need shots in order to return to campus this fall. Some sports teams are demanding proof of vaccination or a negative test from fans as arenas reopen. A Houston hospital chain recently ordered its 26,000 employees to get vaccinated. Read more from David R. Baker.
OSHA Rule Protecting Workers From Covid Expected Soon: The Biden administration is poised to reinstate masking and other social distancing rules in the workplace. The federal Occupational Safety and Health Administration is preparing to issue new short-term regulations to protect workers from catching Covid-19 on the job, according to lawyers tracking the agency's efforts. They could be made public as early as this week, these lawyers say, and take effect soon after that. Read more from Robb Mandelbaum.
Biden Eyes Potential Threat of Digital Yuan Plan: The Biden administration is stepping up scrutiny of China's plans for a digital yuan, with some officials concerned the move could kick off a long-term bid to topple the dollar as the world's dominant reserve currency, according to people familiar with the matter. Read more from Saleha Mohsin.
Blinken Warns China: Secretary of State Antony Blinken warned China against encroaching on Taiwan, and blamed secrecy by the government in Beijing for helping to hasten the spread of Covid-19. In an interview with NBC News, Blinken voiced concern about tension fomented by Chinese "aggressive actions" in the Taiwan Strait and said the U.S. stands by its commitments to ensure the island's self-defense. "It would be a serious mistake for anyone to try to change the existing status quo by force," Blinken said on "Meet the Press" yesterday, adding that he wouldn't speculate about possible U.S. responses. Read more from Tom Schoenberg and Tony Czuczka.
Ukraine urged Russia to pull back troops from its border as Blinken warned the U.S. would impose "costs" on any Kremlin aggression. Read more from Daryna Krasnolutska.
Meanwhile, Blinken is set to return to Brussels next week for more meetings with NATO and European officials, according to people familiar with the matter, as the U.S. grows increasingly concerned about Russian troop movements near Ukraine, Nick Wadhams reports.
Iran's top atomic official said an incident at the country's largest uranium enrichment facility was an act of "nuclear terrorism" by opponents of talks between the Islamic Republic and world powers to revive a landmark 2015 accord. China, Russia, the European Union, Iran and the U.S. will reconvene for the next round of talks on Wednesday, Arsalan Shahla and Golnar Motevalli report.
White House Puts Police Oversight Commission on Hold: The White House is putting the establishment of a national police oversight commission on hold, Politico reports, citing a statement by Domestic Policy Council Director Susan Rice. The White House consulted national civil rights organizations and police unions before making the decision, Max Zimmerman reports.
To contact the reporters on this story: Zachary Sherwood in Washington at zsherwood@bgov.com; Giuseppe Macri in Washington at gmacri@bgov.com
To contact the editors responsible for this story: Giuseppe Macri at gmacri@bgov.com; Loren Duggan at lduggan@bgov.com
Stay informed with more news like this – from the largest team of reporters on Capitol Hill – subscribe to Bloomberg Government today. Learn more.