What to Know in Washington: Congress Seeks Afghanistan Briefings
Bloomberg Government subscribers get the stories like this first. Act now and gain unlimited access to everything you need to know. Learn more.
The House Intelligence Committee is to receive a classified briefing on Afghanistan on Monday from representatives of several intelligence agencies, an official familiar with the plans said.
Administration officials will discuss the situation on the ground in Afghanistan, how circumstances evolved in advance of Kabul's fall and what might lie ahead, the person said. The Monday session will follow an unclassified briefing scheduled for today for all House members. But members of Congress from both parties have requested further briefings.
The hearings come as President Joe Biden continues to face criticism from all sides on Capitol Hill over the U.S.'s chaotic withdrawal from the war-torn country.
Rep. Seth Moulton (D-Mass.), a former Marine who served four tours in Iraq, said the Biden administration's handling of evacuating U.S. citizens and Afghan allies out of the war-torn nation was "absurd," and said the Department of State should drop "bureaucracy" and deal with visa issues later. "This is the greatest foreign policy disaster we've seen in a very long time," he said.
Biden, meanwhile, defended the U.S. pullout in an interview with ABC News that aired yesterday. Biden also said he believes that the Taliban are in the midst of an "existential crisis" about their role on the international stage, but added that he did not believe the group had fundamentally changed its course.
"I think they're going through sort of an existential crisis about, 'Do they want to be recognized by the international community as being a legitimate government?'" the president said in the interview. "I'm not sure they do."
Biden's remarks to ABC's George Stephanopoulos point to a looming question of whether the U.S. will recognize the Taliban as Afghanistan's government after they swiftly took control of the country, including the capital city of Kabul. The U.S. has already taken steps to block money from flowing to the Taliban and could negotiate relief from economic sanctions if they agree to stop international terrorist groups such as al-Qaeda and protect the rights of women and minorities.
Biden this week has been defending his high-stakes bet that U.S. voters want to end American's 20-year war in Afghanistan and will forgive him for the searing images of desperate Afghans trying to flee. In earlier excerpts from the interview, Biden said U.S. troops would stay in Afghanistan until all Americans are able to flee the country, even if it breaks his Aug. 31 deadline to withdraw. Read more from Justin Sink and Jennifer Jacobs.
Read live updates about the ongoing situation in Afghanistan from Bloomberg News here.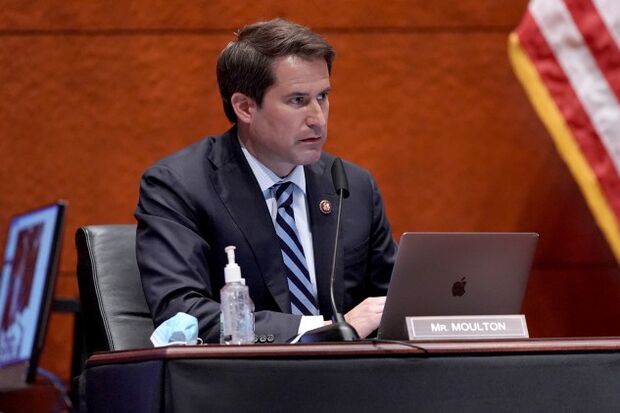 Today's Agenda: Biden and Vice President Kamala Harris are scheduled to meet with their national security team today at 10:45 a.m. to hear updates on the situation in Afghanistan. At 1 p.m. Biden will deliver remarks on the evacuation of U.S. citizens and vulnerable Afghans.
What to Watch Next Week
Rules Panel to Meet on Budget, Infrastructure, Voting Rights: The House Rules Committee is scheduled to meet Monday to consider several pieces of legislation, including the vehicles carrying the Senate-passed bipartisan infrastructure bill (H.R. 3684), the John R. Lewis Voting Rights Advancement Act (H.R. 4), and the budget resolution (S. Con. Res. 14) setting up a reconciliation process that would allow Democrats to pass a $3.5 trillion spending and tax package without Republican support.
Speaker Nancy Pelosi (D-Calif.) has said that she plans votes next week on the budget measure and voting rights legislation, while a group of moderate Democrats have pushed her to vote on the infrastructure package.
Also on Lawmakers' Radars
Lawmakers Demand Answers on Trafficking of Teen Migrants: Members of Congress of both parties demanded answers from the White House on a multiagency investigation into potential labor trafficking of unaccompanied migrant children released from government custody. They reacted to a Bloomberg Law story yesterday that federal officials are probing whether the Department of Health and Human Services released teens to labor traffickers who forced them to work in poultry-processing facilities.
Democratic Rep. Lou Correa (D-Calif.) called the report "intolerable," demanding a briefing from HHS for more details. Meanwhile, Republicans blamed Biden's immigration priorities for the surge in unaccompanied minors along the border. Biden halted most border wall construction on his first day in office, while U.S. authorities started exempting unaccompanied children from Title 42, a public health authority allowing for the expulsion of migrants during the pandemic.
"Reports of potential labor trafficking of unaccompanied minors in my hometown of Enterprise are horrendous and demonstrate that no area of our country is safe from President Biden's dangerous border policies," Rep. Barry Moore (R-Ala.), whose district includes the city, said in a statement. He said he's reached out to the Alabama attorney general's office on the issue and is seeking more information, while Rep. Clay Higgins (R-La.) called for a congressional probe. Gilmer and Penn have more.
Three Senators Test Positive in Breakthrough Cases: Three U.S. senators tested positive for Covid-19 despite being vaccinated, bringing to at least six the number of members of Congress to announce recent infections. Sens. Roger Wicker (R-Miss.), Angus King (I-Maine), and John Hickenlooper (D-Colo.) revealed positive tests yesterday. All three said they're symptomatic. Their cases come the same month Sen. Lindsey Graham (R-S.C.) also tested positive, Laura Litvan reports.
Jordan Launches Probe of DHS Extremism Effort: Rep. Jim Jordan (R-Ohio), the top Republican on the House Judiciary Committee, is launching an investigation into the Homeland Security Department's reported plans to hire a contractor to analyze Americans' social media for red flags of extremist threats. Jordan told DHS in a letter to hand in internal documents surrounding its domestic surveillance work after the Wall Street Journal reported that an outside firm would be involved, Ellen M. Gilmer reports.
Bomb Threat Suspect Near Capitol Surrenders: A North Carolina man who claimed to have explosives in his truck near the U.S. Capitol surrendered to police yesterday after an hours-long standoff, authorities said. The man, identified as Floyd Ray Roseberry, 49, gave up without incident, Capitol Police Chief Thomas Manger said. The pickup truck that he had parked on the sidewalk near the Library of Congress was searched. Capitol Police said no explosive device was found. Read more from Billy House.
Republicans Slam Districts Being Drawn by Race: States that go beyond the minimum requirements of federal law to preserve minority voting power will be sued for "racial gerrymandering," a national GOP group said. The National Republican Redistricting Trust said it's preparing to bring lawsuits in several states, especially targeting those with independent redistricting commissions, like California. It could delay maps that are meant to be ready before the 2022 elections, Alex Ebert and Ayanna Alexander report.
Pot Industry Vexed to Be Pulled Into Congress' Vaping Effort: Cannabis businesses are fearful a congressional mandate lumping them in with tax and shipping restrictions meant for nicotine vaping devices could change their legal treatment forever, resulting in more headaches, and bigger bills. The Prevent All Cigarette Trafficking Act imposes arduous registration requirements, strict noncompliance fines, and shipping bans. Read more from Isabelle Sarraf.
The Coronavirus Pandemic
Booster Review Delayed by CDC as Debate Swirls: The U.S. Centers for Disease Control and Prevention has pushed back by one week a meeting by a group of outside advisers who were set to review Covid-19 booster shots as debate swells about the need for a new shot. The Advisory Committee for Immunization Practices, initially scheduled to meet and possibly make a recommendation about the need for boosters on Aug. 24, is now set to convene the following week. Read more from Rebecca Torrence.
Deaths Hit February Level as ICUs Overflow: Covid-19 patients are dying in U.S. hospitals at levels not seen since February, and the numbers could worsen as intensive-care units overflow in parts of the South. In Alabama, there are now more people in ICUs statewide than there are staffed beds available, data from the Health and Human Services Department show. Florida, Mississippi, Georgia and Texas are all using more than 90% of their ICU capacity. Read more from Jonathan Levin.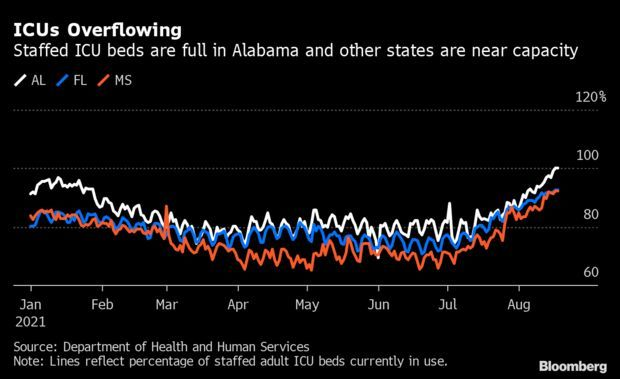 Biden 'Warning Shot' on Masks Raises Legal Stakes: The Biden White House is exploring using the courts and federal funding to push states to stop prohibiting masks in classrooms, in a sign of flaring tensions between governors and the U.S. government over how to deal with rising coronavirus cases. The Department of Education announced it may launch a civil rights investigation into state policies that prohibit masks in classrooms. The Department of Justice could also get involved, education attorneys said.
A faster way to press states may lie in how the Education Department spends stimulus dollars, which are tied in part to reopening schools safely. Education Secretary Miguel Cardona sent letters to multiple GOP governors warning them against interfering with investments in campus safety allowed by violating the conditions of the March stimulus law (Public Law 117-2), but stopping short of saying the department would take the money away. Read more from Andrew Kreighbaum and Courtney Rozen.
Navy's Vaccine Push Has Lessons for Corporate World: The Navy is the pride of the U.S. military when it comes to inoculation: 76% of active duty members are fully vaccinated, the highest rate of the main four branches, according to data provided by each. And at a rate of 56%, the broader U.S. population has a ways to catch up. The Navy has taken a more-stick-than-carrot approach with its members, eschewing gift cards and instead making life more difficult for unvaccinated sailors, Rebecca Torrence reports.
Delta Could Require More Jobless Aid, Walsh Says: The spread of the delta variant could force even U.S. states that cut off extra unemployment benefits early, like Florida, to offer additional jobless aid, Labor Secretary Marty Walsh said. "If Florida has to shut down—let's say the numbers continue to climb in the next week or two, and it gets to the point where people are just afraid to go outside," Walsh said, "then there's gonna have to be a safety net there." Katia Dmitrieva, Josh Eidelson, and Ben Penn have more.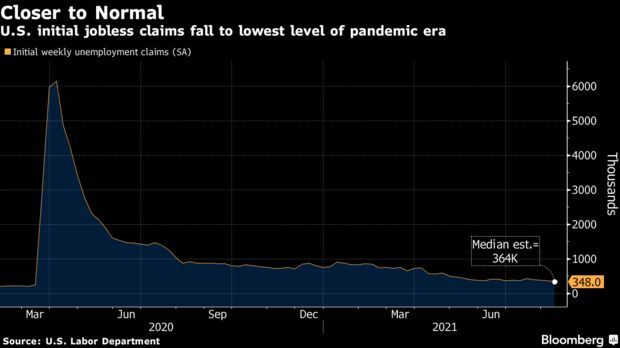 Immigrant Domestic Employees Slip Through Relief Cracks in U.S.: As the U.S. economy recovers and labor-market conditions improve, one category of workers still has a ways to go: domestic employees. Based on recent surveys, more than a quarter of the 2.2 million cleaners, nannies and other caregivers who work in private homes may still be out of work. Most of those who have jobs say they aren't working as many hours as they'd want. The resurgence of Covid-19 and the prospect of remote work in the longer run has brought further hardship on a segment of the labor force—predominantly women of color—that was poorly paid and little protected even before the pandemic hit. Read more from Augusta Saraiva.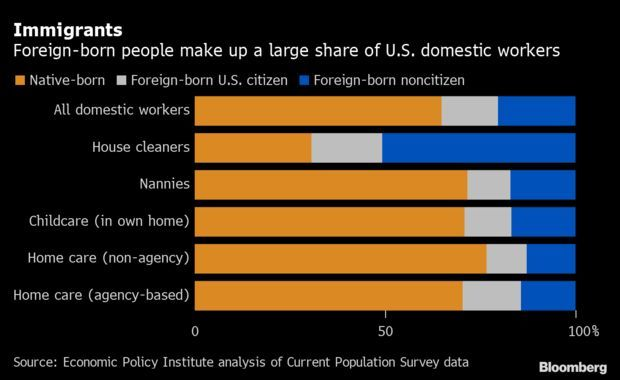 Around the Administration
Biden Sends Nuclear Envoy Amid North Korea Threats: Biden's point man for North Korea was set to arrive in Seoul this weekend, days after Pyongyang threatened a "security crisis" over U.S.-led military drills. Sung Kim, the U.S. special representative for North Korea, will make a four-day trip starting tomorrow to discuss issues including denuclearization on the peninsula, the South Korean Foreign Ministry said in a statement. It's his second visit since June. Sung Kim's visit comes as North Korea appears to be stepping up a pressure campaign on Moon to push for sanctions relief before the pro-engagement president leaves office next year. Read more from Jeong-Ho Lee.
Harris Heading to China's Backyard in Diplomacy Reboot: Vice President Harris will look to bolster economic and military cooperation in China's backyard as she visits Singapore and Vietnam this weekend in the Biden administration's most high-profile trip yet to the continent. The White House has gone on a diplomatic offensive in Southeast Asia after years of passive U.S. engagement, recently dispatching top diplomats to Asia—with vaccines in tow. Philip Heijmans and Jenny Leonard have more.
U.S. Must Restart Trump's Wait-in-Mexico Asylum Rule: A federal appeals court ordered the Biden administration to reinstate the widely criticized Trump-era policy requiring asylum seekers at the southern border to wait in Mexico for their cases to be processed. The appellate court rejected the new administration's plea to suspend the Saturday reinstatement deadline—imposed last week by a judge in Texas—for at least seven days to give the White House time to ask the U.S. Supreme Court to intervene. Biden's homeland security chief is expected to rush to the high court to stall re-implementation while the legal fight continues. Read more from Laurel Brubaker Calkins.
Judge Blocks Biden Policies on Migrant Detainers: U.S. immigration officials across the country must immediately start locking up unauthorized immigrants who have been convicted of certain crimes and any non-citizen awaiting final deportation, a federal judge in Texas ruled. It's another major setback on immigration for Biden's White House, which had made arrests of immigrants awaiting deportation, and those who have completed felony sentences, less of a priority. Read more from Laurel Brubaker Calkins.
U.S. Sanctions Cuban Officials For Violence Against Protesters: The U.S. imposed additional sanctions on Cuban military and security leaders in response to the country's violent suppression of peaceful assembly and free expression following protests from July 11, U.S. Secretary of State Antony Blinken said in a statement. Read more from Max Zimmerman.
Facebook Hit by New Antitrust Case in FTC Do-Over: Federal antitrust officials refiled their monopoly lawsuit against Facebook, trying to salvage the landmark case that a judge tossed in June. The Federal Trade Commission yesterday filed the new complaint in federal court in Washington, alleging Facebook violated antitrust laws by buying Instagram and WhatsApp in order to eliminate them as competitors. As in the prior complaint, the FTC wants the court to unwind the acquisitions. David McLaughlin has more.
USDA to Provide Millions for Dairy Farmers: The Agriculture Department yesterday said it would provide $350 million for dairy farmers affected by lower prices due to the coronavirus, part of a broader $6 billion pandemic assistance program announced in March. Sen. Patrick Leahy (D-Vt.) at a June appropriations hearing asked Agriculture Secretary Tom Vilsack for immediate help for his state's dairy farmers, Anna Yukhananov reports.
Disabled Student Borrowers Get $5.8 Billion in Debt Cancellation: Disabled student borrowers will receive a total of $5.8 billion in automatic debt relief through new regulations, the Department of Education said yesterday. It also said it plans to drop income verification requirements that could be burdensome for borrowers after they qualify for relief. Over 323,000 borrowers will benefit from the automatic loan cancellation. Read more from Andrew Kreighbaum.
With assistance from Ellen M. Gilmer and Anna Yukhananov
To contact the reporters on this story: Michaela Ross in Washington at mross@bgov.com; Brandon Lee in Washington at blee@bgov.com
To contact the editors responsible for this story: Giuseppe Macri at gmacri@bgov.com; Zachary Sherwood at zsherwood@bgov.com
Stay informed with more news like this – from the largest team of reporters on Capitol Hill – subscribe to Bloomberg Government today. Learn more.