What to Know in Washington: Congress Returns in Marathon Stretch
Bloomberg Government subscribers get the stories like this first. Act now and gain unlimited access to everything you need to know. Learn more.
Congress returns this week for a marathon stretch with lawmakers aiming to make headway on a range of legislation including addressing freight rail accidents, transgender athletes, firefighter assistance and war powers authorization.
The work period leading up to the July 4 break will give leaders a chance to whittle down their wish lists before delving into what is likely to be a divisive and time-consuming debate over raising the debt limit, which Republicans want linked to federal program cuts. One or both chambers will be in session each week from now until the two-week break begins in late June.
Leaders in both chambers are still confronting obstacles. Senate Democrats face the continued absence of Sen. Dianne Feinstein (Calif.), whose lack of presence on the Judiciary Committee has held up key judicial confirmations. Feinstein has agreed to be replaced on the panel, but that would require the approval of a number of Republicans.
Related: Feinstein Needs to Decide Her Future in Senate, Klobuchar Says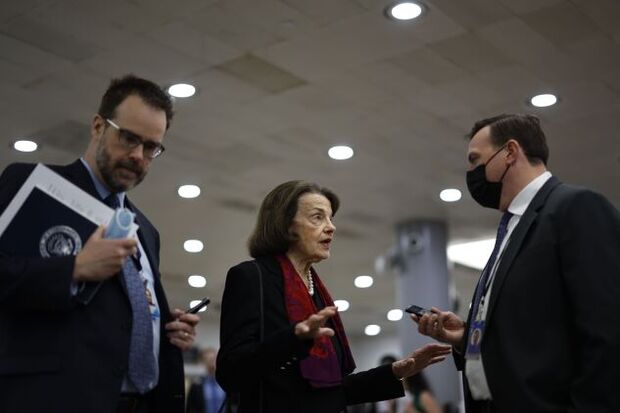 House Republicans are struggling to bridge the ideological divide in their conference over a budget and other issues such as immigration.
But leaders hope there are areas where they can fashion some bipartisan or unified party support and ease tensions before the difficult negotiations ahead on debt limit and spending bills.
Related: Tax Day Cash Will Indicate Just How Close the US Is to Default
The pace may pick up in the Senate as a number of lawmakers who have been sidelined with injuries or illnesses will be returning to the chamber. Minority Leader Mitch McConnell (R-Ky.) who sustained a concussion and a fractured rib from a fall last month at a GOP fundraiser, said he will be back. Democratic Sen. John Fetterman (Pa.) also plans to be on Capitol Hill after being treated for depression. Read more from Zach C. Cohen.
Meanwhile, the new IRS plan for how it will spend $80 billion it got in the tax-and-climate law will likely be the topic du jour among congressional taxwriters when they return this week, but there won't be much time to digest it before the debt ceiling fight and reauthorization bills steal the spotlight. Read more
The linked presentation highlights the 2023 congressional calendar, key dates and deadlines to watch, the outlook for action on major legislative items, and top targets for oversight.
CONGRESSIONAL AGENDA:
The Senate meets at 3 p.m. for a procedural vote on the nomination of Radha Iyengar Plumb to be a deputy undersecretary of Defense for acquisition and sustainment.
House lawmakers return at 2 p.m. to debate three suspension bills related to US security in telecommunications, airspace and drones.
BIDEN'S AGENDA:
The president has no public events scheduled today.
Race for 2024 Picks Up Speed
President Joe Biden concluded his tour through his ancestral home country of Ireland by declaring his intention to seek re-election, capping a journey of intense personal nostalgia with a look toward the next chapter of his political life.
Republican lawmakers are making it harder for students to cast ballots where they attend school, after the GOP suffered stinging recent electoral losses largely due to a historic surge in turnout from younger voters backing Democrats.
Mike Pence was greeted with boos in his home state of Indiana, as the former vice president, former governor and potential 2024 Republican candidate delivered remarks at the National Rifle Association's annual conference, hours before his ex-boss and possible rival Donald Trump spoke.
A political group aligned with Florida Governor Ron DeSantis (R) launched video attack ads against Trump, striking back at the former president for scathing criticism of DeSantis and ratcheting up hostilities between the rivals for the Republican presidential nomination.
Attempts by Iowa Democrats to fix their broken caucus system have set off a partisan squabble over election rules that could ultimately impact the closely watched Republican presidential contest next year — possibly to the benefit of Trump.
On the Fundraising Front
Trump has raised $15.4 million in the days since his unprecedented indictment by a Manhattan prosecutor, his campaign said, thanks to a surge of support from small-dollar donors.
Meanwhile, Trump values his business empire at a minimum of $1.2 billion, a federal document released Friday showed, as he cashed in from speaking engagements and ventures such as digital trading cards after he left office. Read more
Senator Tim Scott (R-S.C.) has a nest egg that would allow him to seek the Republican nomination.
Nikki Haley's political committees took in $8.3 million in the first quarter of 2023, but only $5.1 million of it went to her presidential campaign, according to the latest filings with the Federal Election Commission.
A top Republican donor said he won't back a presidential bid by DeSantis because of his stance on social issues, the Financial Times reported.
Thomas, Trump, Fox Face Probes, Pressure
Supreme Court Justice Clarence Thomas reported income from a real estate firm founded by his wife and her family, even after the company ceased to exist, The Washington Post said.
Meanwhile, two Democratic lawmakers call on the Judicial Conference to refer Thomas to the US Attorney General for potential violations of the Ethics in Government Act of 1978 for failing to disclose luxury trips, gifts and property sales linked to a Republican donor. Read more
Thomas intends to amend his financial disclosure forms to reflect the 2014 real estate deal he made with the GOP donor, CNN reports. Read more.
Fox News and Dominion Voting Systems are accelerating settlement talks on the eve of trial in the voting-machine maker's $1.6 billion defamation suit against the conservative news network, according to people familiar with the matter.
Evan Corcoran, a member of Trump's legal team, has stopped working on the federal criminal investigation into alleged mishandling of classified documents in light of his recent appearance before a grand jury, according to a person familiar with the situation.
Intel Leak Fallout & More Foreign Affairs
Lawmakers have complained for years about the Pentagon classifying too much information, but now that a 21-year-old airman with a junior job is charged in the biggest US intelligence leak in a decade, Congress faces a new dilemma: deciding who should have access to sensitive national security information.
Republican Senator Lindsey Graham (R-S.C.) questioned why the low-ranking airman had access to the information and demanded people lose their jobs over the security failure.
The House Ways and Means Committee will vote Wednesday on legislation that would repeal the Biden administration's move to delay import tariffs of solar panels from four Asian nations, according to notice made public Friday.
Sen. Marco Rubio (R-Fla.) on Friday called on US regulators to protect the interests and fiduciaries of American investors given recent efforts by China to erode auditor independence.
Tensions over China will be high on the agenda as top diplomats from Group of Seven nations meet through Tuesday in Japan, according to a senior State Department official.
Other News We're Reading Today
Justice Samuel Alito put a five-day hold on new court-imposed restrictions on a widely used abortion drug, giving the US Supreme Court more time to decide how to handle the Biden administration's request for a longer delay.
The Biden administration has received more than 200 applications from companies for funds from a $39 billion US program to promote semiconductor production, Commerce Secretary Gina Raimondo said.
The US Federal Trade Commission's proposed non-compete ban would apply to deals where workers are forced to pay back their companies for training, the agency's chair Lina Khan said Friday.
As energy bills in the US rise, a key energy official is pumping the brakes on the push from industry and policymakers to accelerate power grid expansion, flexing his muscle as a swing vote on an evenly divided commission.
The US Supreme Court's decision allowing the FTC and SEC's in-house litigation defendants to sue the regulators is the latest dent in the continued attenuation of federal agencies' enforcement powers.
To contact the reporter on this story: Michaela Ross in Washington at mross@bgov.com
To contact the editor responsible for this story: Brandon Lee at blee@bgov.com
Stay informed with more news like this – from the largest team of reporters on Capitol Hill – subscribe to Bloomberg Government today. Learn more.