What to Know in Washington: Congress Returns for Lame-Duck Push
Congress returns to Washington today in an unsettled political environment that will serve as the backdrop for a robust year-end push on spending, taxes and, potentially, raising the debt limit.
Republicans appear on course to gain a narrow House majority next year, putting Democrats under enormous pressure to finish fiscal 2023 spending bills and enact priorities like enshrining same-sex marriage rights into law.
In the Senate, Democrats have secured control in the next Congress, lessening the urgency for a rush on judicial confirmations. That bodes for more action on legislation, including the debt ceiling, in the weeks ahead. "I'm going to sit down and talk to my caucus about broadening the agenda for the lame-duck session," Senate Majority Leader Chuck Schumer (D-N.Y.) told reporters on Sunday.
President Joe Biden wants to see the same-sex marriage bill, legislation bolstering federal electoral procedures, the annual defense policy bill and an energy permitting bill supported by Sen. Joe Manchin (D-W.Va.) passed in the coming weeks, White House press secretary Karine Jean-Pierre told reporters last week.
Republican leaders in both the House and Senate are facing potential revolts from within their rank over the disappointing GOP showing in the midterm election. Senate GOP leader Mitch McConnell's (R-Ky.) decision on how far he can go in cooperating with Democrats and still keep his support will shape bills in the coming weeks. Read more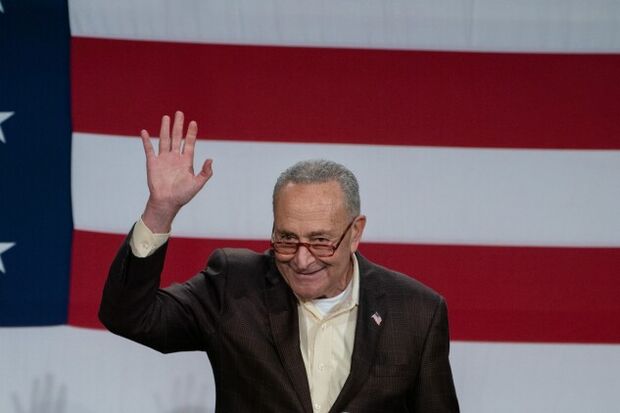 Photo by David Dee Delgado/Getty Images
House Speaker Nancy Pelosi (D-Calif.) signaled that Democrats will seek to extend the federal debt ceiling during the lame-duck session of Congress, avoiding a potential fight with Republicans that she said could threaten the US's credit rating.
Meanwhile, Pelosi she'll "always have influence" over Democrats in the House, while declining to say whether she'll seek another term later as their top leader. Read more
On the Senate GOP side, a growing number of Republicans want a delay of next week's party leadership elections after the party's unexpectedly poor showing in the Senate midterms. Read more
Also on Lawmakers' Radars
CONGRESS' SCHEDULE
The House meets at 2 p.m. for legislative business with votes beginning at 6:30 p.m. The chamber is set to consider 29 bills under suspension of the rules.
The Senate will meet at 3 p.m. and at 5:30 p.m. will vote on whether to advance Maria del R. Antongiorgi-Jordan to be a federal district court judge for Puerto Rico.
Democrats defied political forecasts and historical trends to keep control of the Senate in a win for Biden, as voters rejected a handful of candidates backed by Donald Trump.
Sen. Catherine Cortez Masto put the Democrats over the top on Saturday after the AP and networks declared her the winner in a closely fought election in Nevada, following fellow incumbent Mark Kelly's projected win in Arizona and a victory by John Fetterman in Pennsylvania that snared a seat previously held by a retiring Republican.
Control of the House is still undecided but Republicans have an edge with 212 seats won of 218 needed for a majority. Democrats have won 204 seats. GOP control of the House would be enough to snuff out any hopes of Biden delivering on a sweeping legislative agenda over the next two years.
Still, by retaining their Senate majority, Democrats can act as a bulwark against GOP attempts to roll back Biden's initiatives from the past two years. They'll also be able to stop Republicans from enacting their own tax and regulation initiatives ahead of 2024. Crucially, Democratic Senate control also keeps the path clear to confirm Biden's nominees for federal agencies and the judiciary.
STATUS OF STATE & LOCAL ELECTIONS
Trump has sued to block a subpoena for his testimony issued by the special congressional committee investigating the Jan. 6 insurrection. He filed the suit in federal district court in West Palm Beach on Friday seeking an order declaring the subpoena invalid and unenforceable. The panel gave Trump until today, or soon after, to testify.
A protracted legal fight threatens to run out the clock on the committee's authority, set to expire at the end of the congressional term in early January. If Republicans take control of the House, that would likely end any chance for the committee to extend its investigation and could end the court case without a resolution. Republicans would likely withdraw the subpoenas.
Meanwhile, a New York author who says Trump raped her in the 1990s plans to file a fresh defamation suit against the former president over a Truth Social post in which he doubled down on remarks he made about her. Read more
Lobbyists for the racehorse, rum manufacturing, and tuna canning industries are gearing up their efforts to get temporary tax benefits extended, but their fate hinges on negotiations over year-end legislation.
Biden at G-20 Summit
Joe Biden and Xi Jinping shook hands on Monday to kick off the first in-person meeting between the leaders of the US and China since the pandemic began, with both calling for reduced tensions between the world's largest economies.
The two men met shortly after 5:30 p.m local time on the sidelines of the Group of 20 summit in Bali, Indonesia. "Good to see you," Biden said to Xi before they joined US and Chinese officials. The two sides sat at long conference tables with a display of flowers between them.
"We share responsibility in my view to show China and the United States can manage our differences, prevent competition from becoming anything ever near a conflict, and to find ways to work together on urgent global issues that require our mutual cooperation," Biden said at the start of the meeting.
Xi told Biden, "It's good to see you," and echoed his counterpart's remarks through an interpreter. "Humanity is confronted with unprecedented challenges. The world expects that China and the United States will properly handle the relationship."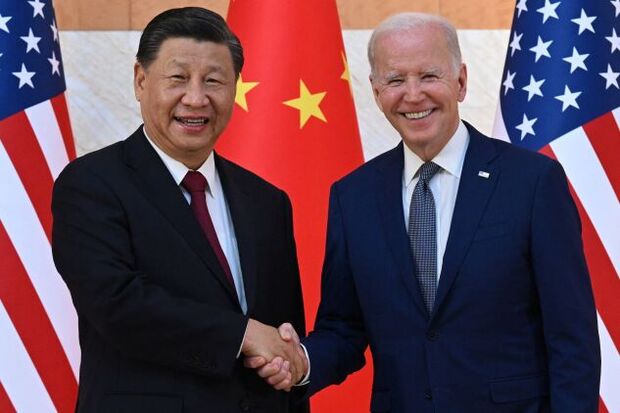 The summit is one of the most momentous G-20 meetings in years. It will also test whether Biden's domestic standing translates into global influence, as the president will be forced to confront questions about the G-20 itself.
Russia and the US failed to agree on language for a joint statement following a multilateral summit in Cambodia, making it unlikely the G-20 nations will reach a consensus in Indonesia either this week.
Russia's withdrawal from the Ukrainian city of Kherson is an "extraordinary victory" for Kyiv, White House National Security Adviser Jake Sullivan said Saturday. Read more
Yellen said it's "very likely" European sanctions will force Russia to offer some of its crude oil exports at a price set by the US and its allies, if Moscow wishes to prevent a shut-in of some supplies. Read more
Saudi Arabia defended its decision to lower oil production and said its relationship with the US was strong enough to survive the fallout. Read more
MORE IN DEFENSE & FOREIGN AFFAIRS
Around the Administration
PRESIDENT'S SCHEDULE
Biden is in Bali, Indonesia, for meetings with President Joko Widodo, and separately Chinese President Xi Jinping. After their meetings, the president is scheduled to deliver remarks and take questions at 9:30 p.m. CIT.
The commissioner of Customs Border Protection resigned Saturday after saying he had been pressured to step down by Homeland Security Secretary Alejandro Mayorkas amid a record number of migrant crossings at the US-Mexico border.
The Affordable Care Act doesn't prohibit discrimination in health care on the basis of gender identity or sexual orientation, a federal district court in Texas ruled.
Republican EEOC Commissioner Andrea Lucas is deploying a rarely used agency procedure to silently initiate targeted discrimination probes against at least three companies providing their employees with abortion travel benefits, five attorneys who have seen the charges told Bloomberg Law.
More than half of women ages 15 to 49 who use a common arthritis drug risk losing access under restrictive state abortion laws, according to a new study based on nationwide health-care data.
The White House said Friday it was closely monitoring the collapse of digital-asset empire FTX, citing its bankruptcy filing as proof the cryptocurrency industry required strong regulation.
Yellen said the US and other leading economies must be cognizant of "spillovers" stemming from their responses to economic challenges.
Twitter's wave of executive turnover risks bringing a fine for the company and personal liability for new owner Elon Musk over potential data privacy and security lapses.
Former Theranos CEO Elizabeth Holmes should spend 15 years in prison for committing one of the most serious white-collar crimes in Silicon Valley history, prosecutors told the judge who will sentence her.
To contact the reporters on this story: Brandon Lee in Washington at blee@bgov.com; Michaela Ross in Washington at mross@bgov.com
To contact the editors responsible for this story: Giuseppe Macri at gmacri@bgov.com; Loren Duggan at lduggan@bgov.com