What to Know in Washington: Congress Preps Afghanistan Oversight
Congress is preparing to question officials from President Joe Biden's administration about its handling of the U.S. withdrawal from Afghanistan as criticism mounts from lawmakers of both parties.
House Foreign Affairs Chairman Gregory Meeks (D-N.Y.) announced yesterday that he invited Secretary of State Antony Blinken and Defense Secretary Lloyd Austin to appear before his committee to explain the White House's strategy for evacuating U.S. citizens, Afghan allies and other vulnerable people from the country in the wake of a Taliban takeover that has unfolded with shocking speed.
"The situation in Afghanistan is rapidly changing and it is imperative that the administration provide the American people and Congress transparency about its Afghanistan strategy," Meeks said in a statement. He said he wants Blinken and Austin to tell Congress what Biden's plan is to safely evacuate Americans, people with special immigrant visas and "vulnerable Afghans from the country, and to understand our broader counter terrorism strategy in South Asia."
Meek's statement comes just hours after Senate Foreign Relations Chairman Bob Menendez (D-N.J.) issued one of the harshest statements about Biden's decisions of any member of the Democratic Party on Capitol Hill. "I am disappointed that the Biden administration clearly did not accurately assess the implications of a rapid U.S. withdrawal," Menendez said in a statement, laying blame for the situation at the feet of both Biden and former President Donald Trump.
"We are now witnessing the horrifying results of many years of policy and intelligence failures," he said. Menendez said that his committee will seek a "full accounting" of what happened but that, in the meantime, the focus must be on getting out allies who helped the U.S. during the two-decade war in Afghanistan.
All the Republicans on the Foreign Relations Committee except one have written a letter to Menendez urging him to hold hearings on Afghanistan as soon as the Senate returns, citing insufficient updates from the Department of State. "The Taliban's ascendance and the fall of Kabul threaten U.S. national security interests on a variety of important fronts," the senators said. "It is vital that the committee conduct a public hearing the first week we are back in session." Read more from Daniel Flatley.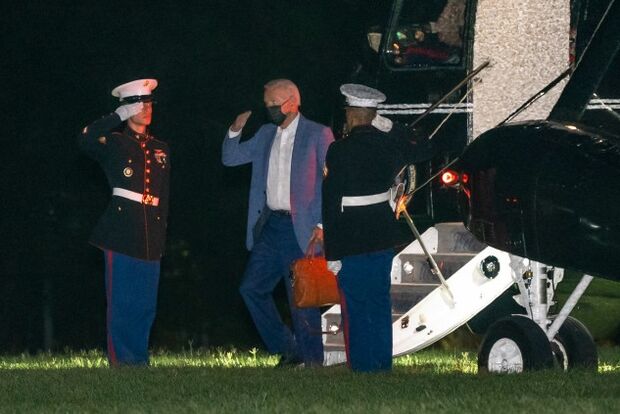 Afghan Allies of U.S. in Desperate Race to Flee Reach of Taliban: Biden's rapid pullout from Afghanistan has left thousands of Afghans who worked as translators and guides for the U.S. military in a desperate race to escape the country to avoid being targeted by the Taliban.
Amid the chaotic U.S. withdrawal, Afghan allies are having to navigate complicated logistics and an overburdened bureaucracy to get visa paperwork in front of U.S. officials. Those same documents are both a ticket out of their war-torn homeland but also potentially incriminating if the Taliban discovers them.
With some 3,500 U.S. troops currently on the ground securing the airport in Kabul, and more expected to arrive in the coming days, the Pentagon said it expects to be capable of evacuating 5,000 to 9,000 people a day. But they have to be able to make their way past Taliban checkpoints to get there. Read more from Daniel Flatley and Sophia Cai.
Afghan Airlift Deadline Must Be Extended, Lawmakers Say: 40 House lawmakers spanning the political spectrum are imploring Biden to keep U.S. troops in Afghanistan until they finish evacuating allies fleeing the Taliban. The bipartisan push, which includes long-time war critics alongside GOP hawks, underscores the growing unease on the Hill about the chaotic pullout. Authors include Reps. Jason Crow (D-Colo.) and other members who've served tours in Afghanistan. Daniel Flatley has more.
Some Democrats Discuss Adding Refugee Funding to Budget: Some congressional Democrats are discussing putting money to help resettle Afghan refugees in the $3.5 trillion tax and spending package currently being drawn up, according to officials familiar with the discussions. The funding would be in addition to the $1 billion for evacuations, visas and other refugee processing that is part of a supplemental security bill Congress has already passed, but no dollar figure was agreed on. Read more from Billy House.
Biden, U.K.'s Johnson Agree to Hold G-7 Meeting: Biden and U.K. Prime Minister Boris Johnson agreed to hold a G-7 leaders' virtual meeting next week to discuss a common strategy and approach on Afghanistan, the administration said in a statement. Biden and Johnson discussed the need for close coordination on Afghanistan policy, including ways to offer more humanitarian assistance, and support refugees and other vulnerable Afghans, Se Young Lee reports.
U.S. Freezes $9.5 Billion in Afghan Central Bank Assets: The U.S. has frozen nearly $9.5 billion in assets belonging to the Afghan central bank and stopped shipments of cash to the nation as it tries to keep a Taliban-led government from accessing the money, a White House official said yesterday. The official said that any central bank assets that the Afghan government has in the U.S. will not be available to the Taliban, which remains on the Treasury Department's sanctions designation list. Saleha Mohsin has more.
Afghanistan's international reserves would be out of reach of the Taliban after the U.S. move to freeze the country's central bank assets, Ajmal Ahmady, the acting head of the authority who fled the country as Kabul fell, said in a series of tweets. The Taliban are now facing a cash crunch and will have to implement capital controls, limiting access to the dollar, he added. Read more from Angela Cullen.
Taliban Pledges Safe Passage to Kabul Airport, Sullivan Said: The Taliban have told U.S. diplomats that they will allow for safe passage to the airport in Kabul, and the White House is urging Americans in the city to go there for transport out of Afghanistan, National Security Advisor Jake Sullivan said. "The Taliban have informed us that they are prepared to provide the safe passage of civilians to the airport, and we intend to hold them to that commitment," Sullivan said at the White House. Justin Sink has more.
U.S. Reaffirms Commitment to Taiwan, Israel After Afghanistan: The U.S. has said it remains committed to Taiwan and other allies, pushing back at concerns about its resolve after its departure from Afghanistan. "We believe that our commitments to our allies and partners are sacrosanct and always have been," Sullivan also said yesterday during a press conference in Washington. "We believe our commitment to Taiwan and to Israel remains as strong as it's ever been." Read more from Kari Lindberg.
Read live updates about the ongoing situation in Afghanistan from Bloomberg News here.
More Coverage:
Also on Lawmakers' Radars
Pelosi Pressures Moderates in Face-Off Over Budget: Speaker Nancy Pelosi (D-Calif.) and her top lieutenants said they will press ahead with votes next week to advance the Senate's $3.5 trillion budget blueprint, calling the bluff of a group of moderate Democrats who are demanding the House first pass a separate bipartisan infrastructure package. Hours later, Rep. Josh Gottheimer (D-N.J.), a leader of that moderate group, signaled he may be open to striking a deal.
During a private call with House Democrats earlier yesterday, Pelosi and Majority Leader Steny Hoyer (D-Md.) laid out a schedule for votes on Monday and Tuesday to move ahead on the budget resolution and the $550 billion infrastructure package—which are central to Biden's economic agenda—as well as a voting rights measure, according to officials on the call.
In a letter to Democratic colleagues yesterday, Pelosi said that Biden has endorsed her plan to pass the budget framework next week, adding that it would "maximize the leverage of our caucus" in the budget process. "While the bipartisan infrastructure bill offers important progress, it is not reflective of the totality of Democrats' vision" and House Democrats need to assure that they can "deliver" the larger budget package in the Fall, Pelosi wrote. Read more from Billy House.
Meanwhile, Treasury Secretary Janet Yellen termed the Biden administration's two-track push for infrastructure and social programs as "the most important economic project in recent history," countering objections that such bills will amount to "overinvesting." In an opinion piece published by Yahoo, she said the infrastructure bill and budget resolution would help reverse decades of underinvestment in infrastructure, education and childcare. Read more from Christopher Condon.
DeFazio Urges Support for Budget Resolution: Through reconciliation, the House Transportation and Infrastructure Committee will work "to remedy the largest flaws of the Senate's bipartisan infrastructure bill," including adding programs that lower carbon emissions from surface transportation as well as boosting transit and high-speed rail spending, said Rep. Peter DeFazio (D-Ore.), the panel's chair, in a "Dear Colleague" letter sent Monday.
"The Senate has had unilateral control over the infrastructure bill," DeFazio wrote. "If we want House priorities to be considered, we cannot let the same thing happen in reconciliation." DeFazio, who had previously been pushing for a conference to merge the infrastructure deal with surface transportation legislation the House passed in July, said that though the Senate bill "falls short on many priorities," he's pushing for a reconciliation process with key input from the House before a final infrastructure deal passes.
DeFazio said he will also be looking for a path for the 1,475 surface transportation earmarks his committee vetted and approved in the House highway bill, Lillianna Byington reports.
Revamped Voting Rights Bill Introduced Ahead of Floor Vote: House Democrats introduced a revamped version of voting rights legislation yesterday, setting up a promised vote next week on a bill they argue is needed to counter restrictive voting laws being passed in GOP-led states. The bill "takes the necessary steps to respond to the flawed U.S. Supreme Court challenges to the 1965 Voting Rights Act," Hoyer said.
A top purpose of the measure is to restore a federal "pre-clearance" requirement for state laws that have a discriminatory impact on minority voters. The Supreme Court in 2013 threw out pre-clearance requirements for certain jurisdictions—mostly in Southern states—saying the formula for selecting these jurisdictions was outdated. Congress has been deeply divided since then about how to respond to the court's decision.
Republicans say the type of voting discrimination seen in the 1960s has been eradicated and oppose Democratic efforts to revive pre-clearance and other provisions. "We have come a long way from one of the most shameful chapters in this country's history," said Rep. Mike Johnson (R-La.) at a House Judiciary subcommittee hearing Monday—one of a series of hearings held to build a record for reinstating federal pre-clearance and other provisions, Kenneth P. Doyle reports.
House Panel Leaders Demand EPA Answer Chemical Concerns: Three senior House committee and subcommittee leaders told the EPA yesterday to promptly answer allegations that it pressured staffers to downplay health concerns about chemicals so they would appear safer than they may be. Rep. Frank Pallone (D-N.J.), chair of the House Energy and Commerce Committee, and two subcommittee leaders demanded a briefing and answers by Aug. 31 from the EPA in a letter. Read more from Pat Rizzuto.
Biden's Employee Benefits Nominee Boasts Outsider Perspective: Biden's nominee to oversee private-sector employee benefits would be a Washington newcomer, but Lisa Gomez is armed with a wealth of experience representing the very union-backed plans the administration has pledged to protect. Gomez was nominated late last month to serve as assistant secretary for the Employee Benefits Security Administration. Read more from Austin Ramsey.
The Coronavirus Pandemic
Biden Poised on Boosters Amid First-Shot Shortage Abroad: Biden is set to unveil a plan to give more Americans coronavirus vaccine booster shots to head off the delta variant, a move that is stoking criticism that the U.S. is hoarding doses while poorer nations continue to languish under the pandemic. Under Biden's plan, which he's set to discuss in a speech today about the broader Covid-19 response, high-risk groups including health-care workers and the elderly may be able to get a third dose of Pfizer and Moderna vaccines as soon as September, or eight months after they received their second shot. Read more from Josh Wingrove and Antony Sguazzin.
Biden is set to give remarks about coronavirus vaccinations at 4:30 p.m. The White House Covid-19 Response Team and public health officials will give a press briefing at 11 a.m.
Vaccinations Rise to Levels Not Seen Since Spring: The number of people getting a first dose of a Covid-19 vaccine has grown to almost half a million a day, a level last seen at the end of May when the U.S. vaccination campaign was still in full swing in much of the country. But unlike the spring rollout, the new jump in vaccinations has been driven by counties in the South, which earlier this year were among the most resistant to vaccines and still have comparatively low vaccination coverage. Drew Armstrong has more.
Hospitals in Mississippi and Alabama are sending patients across their borders to Kentucky even as Bluegrass State officials warn their hospitals are running short on available staff and beds. "We're very close to having all of our hospitals full," Gov. Andy Beshear (D) of Kentucky said yesterday during a media conference in Frankfort. "By the end of this week we expect to have more people in the hospital battling Covid than we've ever had in this pandemic." Read more from Alex Ebert.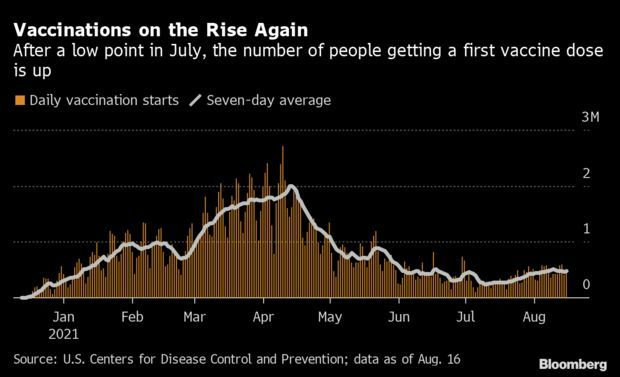 Three-Shot Guidance Baffles Some J&J Vaccine Recipients: Those with weakened immune systems who received the Johnson & Johnson vaccine are feeling frustrated and forgotten after federal health officials said recommendations for a booster dose don't apply to them. The FDA and Centers for Disease Control and Prevention last week said immunocompromised people who got the Pfizer or Moderna vaccine should get a third dose, but there's not enough data yet to recommend another shot for J&J recipients. The guidance left many debating whether they should just go ahead and get it anyway, and some doctors are giving patients a green light. Jeannie Baumann and Lydia Wheeler have more.
Mask Mandate for U.S. Travelers Extended to Jan. 18: U.S. transportation and health agencies are extending the mask mandate for air passengers and other travelers until mid-January as the delta variant continues to jump. The mandate for public forms of transportation was set to expire Sept. 13. The Transportation Security Administration said it plans to extend that until Jan. 18. Mask rules have driven a surge in unruly passenger incidents, the Federal Aviation Administration has said, Alan Levin reports.
CDC Gives $47 Million for Vaccines in Poorer Nations: The Biden administration will provide approximately $47 million dollars to a nonprofit providing health-care services to developing countries to expand access to Covid-19 and influenza vaccines. The CDC is funding the Task Force for Global Health to also help prepare for vaccine deployment in future pandemics, according to a notice in the Federal Register. The $47 million is part of a five-year total poised to hit $100 million, the CDC said. Read more from Ian Lopez.
Abbott, Foe of Masking, Has Breakthrough Case: Texas Governor Greg Abbott (R), who has used executive orders and court rulings to combat mask mandates and other anti-pandemic measures, tested positive for a Covid-19 breakthrough case. He is isolating in the governor's mansion in Austin and is receiving monoclonal antibody treatment, his office said. The diagnosis comes a day after Texas' Supreme Court sided with Abbott in temporarily halting mask mandates around Dallas and San Antonio, Joe Carroll reports.
Commissioner Says Schools Defied DeSantis Order: Two Florida school districts that have mandated masks should be forced to comply with an executive order issued by Gov. Ron DeSantis (R) that blocks schools from mandating students wear face coverings, the state's commissioner of education said. "Every school board member and every school superintendent have a duty to comply with the law, whether they agree with it or not," Commissioner Richard Corcoran said. Nic Querolo and Danielle Moran have more.
On the federal level, the National Park Service is mandating masks for crowded outdoor spaces and buildings "regardless of vaccination status or community transmission levels." In a statement on Monday, Shawn Benge, deputy director of the park service, cited the large degree of domestic and international travel that visitors will undertake before and after their trip, as well as high transmission due to the delta variant. Vincent Del Giudice has more.
Pandemic Molding 'Extraordinary Generation,' Powell Says: Federal Reserve Chair Jerome Powell predicted U.S. students who have been forced to cope with the pandemic will become an "extraordinary generation" that will mature faster and have a bigger impact on society. "You will see the world differently than your predecessors. You have been forced, sooner than most people, to consider what in life is truly important," Powell said in remarks ahead of a town hall yesterday. Read more from Steve Matthews.
Billions From Biden Relief Left Untapped by Money-Flush States: Tens of billions of dollars that U.S. states got as a lifeline from the Biden administration is sitting idle in local coffers already flush with cash. Officials nationwide are grappling with how to spend an unprecedented infusion, all while their coffers have been replenished by an economic rebound that is generating billions more in revenue than expected. Putting the aid to work was key to several of Biden's goals, Amanda Albright and Danielle Moran report.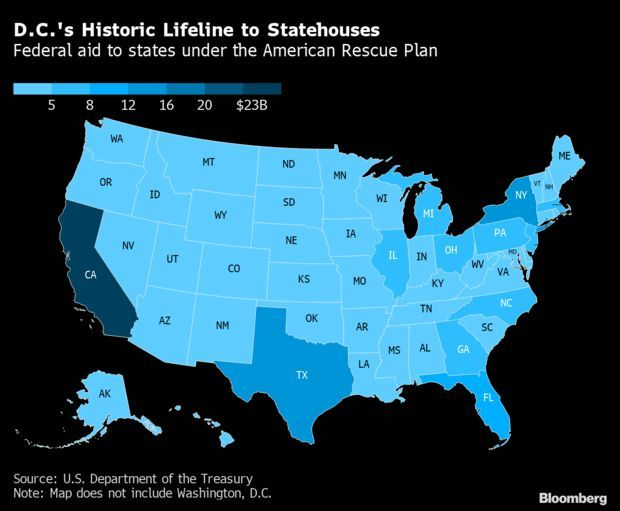 Politics and Influence
Election-Map Challenges to Test Fine Line Between Race, Politics: State legislators' new electoral maps redrawn this year will be the first since Supreme Court decisions that the U.S. Department of Justice no longer has the right to vet the new maps, and that partisan gerrymandering claims aren't subject to federal court review. With the Census data showing that population growth since 2010 has been largely driven by minorities, particularly Hispanics, election lawyers and watchdogs say they're watching for so-called racial packing. But the line between gerrymandering based on creating partisan advantage, which is legal, and based on race, which is not, isn't easy to draw. Read more from Ayanna Alexander.
Tribal Counts and Census; FBI Warns on Election Officials: Tribal political clout will be a dynamic to watch now that 2020 Census data has changed the nation's racial portrait. Americans were allowed to check multiple boxes to reflect mixed heritage, and there was an 85% jump in respondents identifying as American Indian or Native Alaskan. Now, the Native American Rights Fund said it's looking at Census figures to identify where tribes will be able to make a strong case for more accurately drawing political districts. Meanwhile, FBI agents are ready to pay a visit to anyone sending threats or harassing messages to elections workers, U.S. Justice Department officials said at a meeting of the National Association of State Election Directors. Read more about redistricting and elections in this week's Ballots & Boundaries newsletter from Bloomberg Government.
NRA Must Be Dissolved, N.Y.'s James Says: The National Rifle Association hasn't cleaned up rampant financial and managerial misconduct as it claimed over the past year, illustrating the need for the gun advocacy group to be dissolved, New York Attorney General Letitia James said in a court filing. A failed bid for bankruptcy protection earlier this year exposed the hollowness of the organization's claim to have revamped mismanagement, James said in a lawsuit. Neil Weinberg and David Voreacos have more.
What Else to Know Today
Iran Lifts Production Capacity of Uranium: Iran has nearly doubled its enrichment capacity dedicated to purifying uranium close to the levels required for nuclear weapons, signaling it won't de-escalate its atomic activities before meeting again with world powers. Inspectors verified on Aug. 15 that Iran introduced a second cascade of nuclear centrifuges to produced uranium enriched to 60% purity at a fuel plant in Natanz, the International Atomic Energy Agency said in reply to questions. Read more from Jonathan Tirone.
Biden EPA Ramps Up Voluntary Efforts as Climate Crisis Worsens: The Biden administration is doubling down on decades-old voluntary climate programs, as environmentalists wonder whether such industry-friendly outreach is the right move as the world approaches a climate cliff. Such voluntary approaches "will play a critical role alongside the agency's regulatory programs," EPA Administrator Michael Regan wrote in a foreword to a report to be released today. Read more from Dean Scott.
Escalating U.S.-China Solar Rift Threatens Biden Green Goals: The first big test of Biden's lofty clean-power ambitions may not be sweeping climate legislation that needs congressional approval, but managing a solar supply chain that's being shaken by the seizure of imported Chinese panels. Multiple companies have now had solar components detained at U.S. ports in the aftermath of a Biden administration ban on equipment that may have used raw materials originally from Hoshine Silicon Industry Co., according to people familiar with the situation. Read more from Brian Eckhouse and Jennifer A. Dlouhy.
Biden Pressed to Cut Down Big-Rig Pollution: Now that he's outlined tough new emissions requirements for automakers, Biden is facing pressure to enact similarly stringent rules for larger trucks still operating under standards that environmentalists say are too lax. Climate change activists urged Biden to match requirements California proposed last year that call for truck companies to cut nitrogen oxide emissions from big trucks by about 75% below current standards starting in 2024. Read more from Keith Laing.
Binance Hires U.S. Cybercrime Expert: Binance has named Greg Monahan, a former U.S. government criminal investigator, to lead global money laundering reporting at the cryptocurrency firm. Monahan will be responsible for an existing team, according to the world's biggest crypto exchange. He spent the bulk of his career leading cybercrime investigations at the IRS. Read more from Joanna Ossinger and Jesse Hamilton.
With assistance from Lillianna Byington and Kenneth P. Doyle
To contact the reporters on this story: Michaela Ross in Washington at mross@bgov.com; Brandon Lee in Washington at blee@bgov.com
To contact the editors responsible for this story: Giuseppe Macri at gmacri@bgov.com; Zachary Sherwood at zsherwood@bgov.com