What to Know in Washington: Congress Poised to Avert Shutdown
Bloomberg Government subscribers get the stories like this first. Act now and gain unlimited access to everything you need to know. Learn more.
President Joe Biden is poised to avoid a disruptive shutdown of the federal government, but deal-making continues on his economic agenda before a planned vote today on an infrastructure package that underscores deep divisions among Democrats.
The Senate will vote this morning—the eve of the new fiscal year—to extend government funding until Dec. 3, sending the package to the House and ultimately to Biden's desk for signature with just hours to spare.
Stripped of Republican-opposed language suspending the debt ceiling, the stopgap funding bill is expected to pass both chambers with bipartisan support. That will be the easiest item on Biden's legislative to-do list.
Fresh off a trip last night to the Congressional Baseball Game where he distributed Dove ice cream bars printed with the presidential seal to players from both parties, Biden will continue his efforts to break a Democratic deadlock that has stalled progress on his $4 trillion economic vision. At the same time, he must work with his party to avoid a government default now less than three weeks away.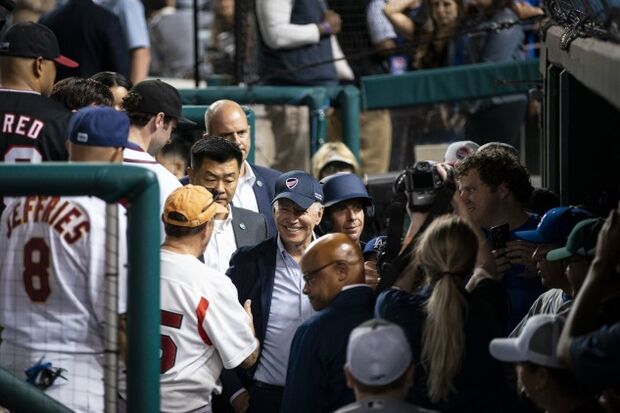 Biden canceled a planned trip yesterday to Chicago to step up attempts to strike a compromise between warring progressive and moderate Democrats whose differences over the size and scope of a tax and spending bill worth as much as $3.5 trillion threaten to sink his entire domestic agenda.
Speaker Nancy Pelosi (D-Calif.) and Senate Majority Leader Chuck Schumer (D-N.Y.) met with Biden at the White House yesterday afternoon. Pelosi afterward affirmed her plan to bring to the House floor today the $550 billion infrastructure bill that Biden negotiated earlier this year and which now has become a focal point of tension between the two wings of the party.
The White House said last night that Biden had also spoken by telephone with "additional lawmakers," but did not name them.
Separately, Biden dispatched three top aides—counselor Steve Ricchetti, legislative liaison Louisa Terrell and National Economic Council Director Brian Deese—to meet with Sen. Kyrsten Sinema (D-Ariz.), a moderate, whose vote is crucial for passage but has said the $3.5 trillion price tag is too high.
Another moderate, Sen. Joe Manchin (D-W.Va.), made clear yesterday that negotiations on the tax and spending bill, known as reconciliation, would not be completed before the House's planned vote on the infrastructure bill.
House progressives have threatened to vote against the public works measure if it comes to the House floor before the larger package, which includes much of their priorities, passes both chambers.
"I didn't know I was on their timetable," Manchin said of the House progressives.
The progressives have said they have enough votes in the House to sink the infrastructure package, which has already passed the Senate. But Pelosi appeared undeterred.
"The plan is to bring the bill to the floor," she told reporters after returning from the White House.
Progressives however are digging in to their demand for a deal on the larger package.
"There are no votes to pass anything without passing the full agenda," Rep. Ilhan Omar (D-Minn.) said yesterday. Read more from Erik Wasson, Laura Litvan, and Billy House.
BGOV OnPoint: Agencies Dust Off Shutdown Plans as Deadline Nears
Vulnerable Democrats Warn Bill Failures Spell Defeat in 2022: The Democrats most in danger of losing their seats in next year's midterm elections are warning their fellow lawmakers that Congress must find a way forward on the infrastructure and social spending bills or risk losing the House.
Lawmakers from swing districts said in interviews they're growing concerned about the current deadlock among Democrats on how to proceed with these massive spending measures. Progressives are insisting that both bills be considered at the same time, while some moderates want to vote on infrastructure as leaders continue negotiating the social spending package.
"Quite honestly if we can't deliver we can lose the majority," Rep. Susan Wild (D-Pa.) said. "And we'll be the minority party, and we're not going to be talking about working on any of these things. The Republicans will be working on tax cuts for the super wealthy." Read more from Emily Wilkins and Alex Ruoff.
Happening on the Hill
Today's Agenda:
The Senate is scheduled to vote on a stopgap measure to fund the government past midnight tonight.
The House is scheduled to vote on the Senate-passed bipartisan infrastructure bill. The chamber could also vote on the government funding measure, if the Senate passes it first.
Click here for a complete list of today's hearings and markups.
House Advances Debt Limit Bill: The House passed stand-alone legislation to suspend the federal debt limit through December 2022, but the bill is expected to go nowhere in the Senate in the face of solid Republican opposition. The measure was passed on a mostly party-line vote of 219-212. Senate Republicans have twice blocked debt ceiling measures from advancing in the 50-50 chamber, where 60 votes are needed to proceed on most legislation.
The debt ceiling was suspended for two years under the Trump administration and snapped back into place in August. Although much of the recent increase in federal debt occurred when Republicans controlled the White House and Congress, the GOP is tying the debt limit increase to Democratic efforts to pass a tax and spending package of as much as $3.5 trillion. Read more from Billy House.
Jan. 6 Panel Issues New Subpoenas for Witnesses: The Democratic-led House committee investigating the Jan. 6 attack on the U.S. Capitol issued a second round of subpoenas yesterday seeking evidence from some of those who helped organize a rally that day for supporters of former President Donald Trump. "The inquiry includes examination of how various individuals and entities coordinated their activities leading up to the events of Jan. 6," Chair Bennie Thompson (D-Miss.) said in a statement. The 11 subpoenas focused on a group called Women for America First, which the committee said "organized the Jan. 6th, 2021, rally on the Ellipse, rallies at Freedom Plaza on Nov. 14th and Dec. 12th, 2020, and two 'March for Trump' bus tours that generated interest and attendance at the Washington rallies." Read more from Billy House.
Facebook Defends Instagram's Mental Health Impact: Facebook released internal research outlining Instagram's mixed impact on the way young people feel about themselves, part of a campaign aimed at discrediting recent media reports that portray the app as harmful to teens and cast the company's products in a negative light. The research, presented in two slide decks, include data about Instagram's impact on users related to a number of mental health issues, including body image, sleep and anxiety. One study also explored whether Instagram made users feel better or worse about themselves. The slides were posted with Antigone Davis, Facebook's global head of safety, set to appear today before the Senate Commerce, Science and Transportation's Subcommittee on Consumer Protection, Product Safety, and Data Security. Read more from Kurt Wagner.
Around the Administration
Today's Agenda: The president has no public events scheduled.
Protests of School Covid-19 Protocols Spur Request for Federal Help: Teachers and students facing threats from opponents of school mask mandates and other Covid-19 mitigation policies need federal law enforcers to intervene, a national education group told the White House in a letter today. The National School Boards Association is seeking help from the FBI, Justice and Homeland Security departments, and other law enforcement agencies to assess threats to schools and coordinate on possible responses. The group said intimidation and harassment resulting from schools' pandemic measures could be considered a form of domestic terrorism. Read more from Andrew Kreighbaum.
EU, U.S. Seek to Avert Chip-Subsidy Race: European Union and U.S. officials yesterday discussed ways to address the global chip shortage without racing to provide government subsidies while also fostering collaboration among their respective semiconductor industries. Bolstering the supply chain for chips was a key focus area for EU and U.S. trade and commerce chiefs who gathered in Pittsburgh for the inaugural meeting of the Trade and Technology Council. Read more from Alberto Nardelli and Eric Martin.
Former FTC Officials Back Privacy Boost: Former Federal Trade Commission officials lined up behind a Democratic proposal in Congress to boost agency resources for policing consumer privacy as the tech industry's collection and use of data outpaces enforcement. The commission is underfunded and understaffed, especially when it comes to having in-house technologists who can oversee companies' data handling and their compliance with agency enforcement orders, said David Vladeck, a law professor at Georgetown University who previously directed the FTC's consumer protection bureau. Read more from Andrea Vittorio and Rebecca Kern.
Disability Advocates Target SEC Board Diversity Rules: The SEC is warming up to calls to include people with disabilities in the agency's diversity reporting rules for public company boards. Allison Lee, a Democratic SEC commissioner, said there is merit to counting individuals with disabilities as diverse members of boards, as women and ethnic minorities often are. "It does seem to me potentially that disability is a group that makes a lot of sense to include," Lee told Bloomberg Law. Lydia Beyoud and Andrew Ramonas have more.
Superfund Poised for Historic Funding Boost: For years, the EPA's Superfund program has struggled to keep up with backlogged cleanups and complaints that communities have been shut out of decisions to remedy polluted sites. But several proposed funding increases could change that. The White House's efforts to cut through the backlog of cleanups includes a $328 million boost for Superfund efforts in fiscal 2022, bringing the total to a record $1.5 billion. Even more money could be on its way from Congress. Read more from Dean Scott.
Kim Jong Un Vows Greater Nuclear Capability: North Korean leader Kim Jong Un sent a fresh warning to the U.S., saying that he would boost the country's nuclear capabilities — just a day after Pyongyang claimed it had successfully tested a new "hypersonic missile" that could evade U.S. missile defenses. "As the actions of the past eight months of the new U.S. administration have clearly shown, the U.S. military threat and hostile policy toward North Korea has not changed at all," Kim said in a speech on the second day of a parliament meeting, the official Korea Central News Agency reported. Read more from Jeong-Ho Lee.
Trump Replaces Lewandowski With Bondi at Helm of Super PAC: Trump replaced Corey Lewandowski as head of a super political action committee supporting the former president, following a report that a donor accused Lewandowski of making unwanted sexual advances. Trump adviser and former Florida Attorney General Pam Bondi will take over for Lewandowski overseeing Make America Great Again Action, which was set up in early March. Lewandowski "will no longer be associated with Trump World," Taylor Budowich, a spokesman for Trump, said on Twitter. Read more from Mark Niquette.
To contact the reporters on this story: Michaela Ross in Washington at mross@bgov.com; Zachary Sherwood in Washington at zsherwood@bgov.com
To contact the editors responsible for this story: Giuseppe Macri at gmacri@bgov.com; Loren Duggan at lduggan@bgov.com
Stay informed with more news like this – from the largest team of reporters on Capitol Hill – subscribe to Bloomberg Government today. Learn more.