What to Know in Washington: Congress Moves to Fast-Track Aid
Democrats yesterday put President Joe Biden's $1.9 trillion stimulus plan on a fast track to passage, increasing the likelihood that it eventually passes on a party-line vote.
With a 50-49 vote last night, the Senate opened debate on a budget resolution for fiscal 2021, a maneuver that would clear a way for the president's relief plan to pass in the chamber with a simple majority rather than the 60-vote threshold for most legislation. The Senate will continue debate on the resolution today, and begin the process for final adoption tomorrow.
Senate Majority Leader Chuck Schumer (D-N.Y.) said the process, called reconciliation, is open to Republican participation and the stimulus package can still be tweaked with their input. But he said Democrats won't risk moving slowly or timidly to strengthen the economy. "We're not going to dilute, dither or delay," Schumer said on the floor.
Democrats are moving ahead with the reconciliation process in the House, as well, with plans today to consider a budget resolution with similar instructions. Members voted 216-210 yesterday in favor of a rule for consideration of the measure, indicating Democrats have enough votes to adopt the resolution. Read more from Erik Wasson.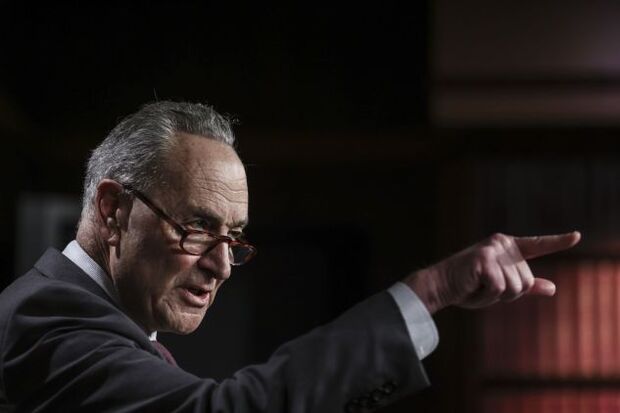 U.S. Economy Is Improving, Complicating Biden's Stimulus Plans: The U.S. economy is showing some scattered signs of picking up from an end-of-year slowdown, muddying Biden's efforts to win congressional passage of a $1.9 trillion stimulus package. New claims filed for unemployment benefits have fallen for two straight weeks, while January payrolls are forecast to rebound from a December swoon in data out on Friday. Selected high frequency data, such as weekly consumer confidence readings and restaurant bookings, also point to some strengthening, as virus infections ebb and business restrictions are eased. Read more from Rich Miller.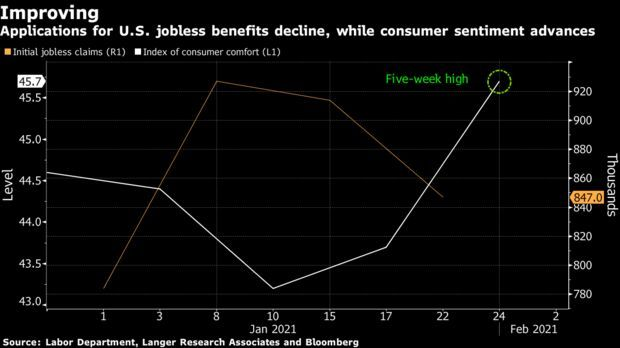 Biden Payments Would Go to High-Income Families: Many well-off households would get sizable stimulus payments under Biden's stimulus plan but not under the smaller Republican alternative, according to a report that could reinforce opposition to a larger bill. Over three-quarters of households with incomes from $110,650 to $156,978 would get an average $1,417 payment under Biden's plan, according to analysis from the Tax Foundation, a right-leaning think tank. Read more from Laura Davison.
Democrats Plan Debt Limit Suspension With Budget Move: House Democrats plan to act later this year to suspend the debt ceiling through September 2022 using a process that ties the measure to a vote on a budget resolution, according to a committee aide. They intend to use a House rule that treats a vote to adopt a budget resolution also as a vote to lift the debt ceiling for the full fiscal year, a spokeswoman for House Budget Democrats said in an email. Read more from Jack Fitzpatrick.
Also Happening on the Hill
Cheney Gets GOP Senators' Support: Senior Senate Republicans lined up behind Rep. Liz Cheney (R-Wyo.) as several House Republicans are expected to air grievances in a conference meeting today about her vote to impeach Trump. In a tweet yesterday, Sen. Lindsey Graham (R-S.C.) echoed Minority Leader Mitch McConnell's (R-Ky.) statement on Monday lauding Cheney's leadership and conservative credentials. Sen. Chuck Grassley (R-Iowa) warned his colleagues about punishing members of their conference over a difference of opinion. Read more from Emily Wilkins.
Discussions on Greene's Committee Assignments: The House Rules Committee is set to meet today on a resolution that would strip Rep. Marjorie Taylor Greene (R-Ga.) of her spots on the Education and Labor Committee and Budget panel, after several controversial remarks from the freshman gained attention, including saying that the Parkland school shooting was a "false flag" operation and endorsing violence against Democrats. Greene met last night with Minority Leader Kevin McCarthy (R-Calif.), who also had discussions with members of the Republican Steering Committee, according to Bloomberg News' Billy House. For more on that measure, read the BGOV Bill Summary by Adam M. Taylor.
Pelosi Steps Up Security for Traveling Members: Speaker Nancy Pelosi (D-Calif.) says security is being stepped up for representatives traveling to and from Washington in the wake of the attack on the U.S. Capitol last month. In a letter to colleagues last night, Pelosi said that the House sergeant-at-arms and the U.S. Capitol Police were partnering with the Transportation Security Administration, Federal Air Marshal Service and the Washington Metropolitan Airports Authority to protect lawmakers when they travel. Billy House and John Harney have more.
House Imposes Fines for Dodging Metal Detectors: The House yesterday adopted a resolution to charge members a fine if they do not complete a security screening, which currently includes a metal detector scan, before entering the House floor, Emily Wilkins reports. The fines are $5,000 for the first offense and $10,000 for subsequent offenses. The fines cannot be paid from a lawmaker's campaign funds or official funds, such as those in a lawmaker's allowance. For more on the measure, read the BGOV Bill Summary by Loren Duggan.
Judiciary Panel Plans Hearing With FBI's Wray: The Senate Judiciary Committee will hold an oversight hearing with FBI Director Christopher Wray March 2 to review the assault on the U.S. Capitol. Sens. Dick Durbin (D-Ill.) and Grassley wrote a letter to Wray and acting Attorney General Monty Wilkerson to gauge "the adequacy of preparations" by federal agencies ahead of the Jan. 6 attack, Peyton Forte reports.
Pelosi Announces More Committee Members: Pelosi announced new Democratic members to a number of House committees, including Agriculture, Education and Labor, Natural Resources, and Veterans' Affairs. Read the list here.
House Ways and Means Chair

Richard Neal

(D-Mass.) announced subcommittee assignments for his panel yesterday in a release.
In the Senate, Schumer announced Democratic committee memberships for the 117th Congress, which have been agreed upon by the Democratic Conference but must still be ratified by the full Senate. Click here for the complete list.
From the White House
Biden Orders Review of Trump Immigration Policies: Biden ordered a review and possible repeal of Trump-era policies intended to deter illegal migration at the U.S.-Mexico border and make it harder to legally obtain immigrant visas. The triplet of directives, which Biden signed yesterday, also establishes a task force led by the Homeland Security Department to reunite families separated by Trump's "zero-tolerance policy" against illegal immigration that Biden decried as a "moral and national shame." Read more from Jordan Fabian and Josh Wingrove.
Zients Could Define Early Months of Biden's Presidency: Two weeks after Biden became president, his administration announced its biggest breakthrough yet in distributing Covid-19 vaccines. But Biden didn't share the good news himself. Instead, yesterday's briefing came from former business executive and Biden ally Jeff Zients. The arrival of Zients as Biden's Covid-19 czar comes as the president has put beating the pandemic — an incredibly complex and demanding goal — at the top of his priority list. It's a posting that will test a reputation Zients has built with Democrats inside the Washington Beltway as the go-to-guy when things go awry. Read more from Anna Edney and Josh Wingrove.
Fudge Will Get Committee Vote on Feb. 4: The Senate Banking, Housing, and Urban Affairs Committee will meet tomorrow to vote on Biden's nominee for HUD chief, Rep. Marcia Fudge (D-Ohio). The panel will also consider the nomination of Cecilia Rouse, Biden's choice to be the head of the White House Council of Economic Advisers, Peyton Forte reports.
Five of Biden's nominees are also set for votes or hearings in the Senate today:
Gina Raimondo, Biden's pick to lead the Commerce Department, is scheduled for a confirmation vote;
Jennifer Granholm, tapped to be energy secretary, is also set for a vote;
Michael Regan, Biden's choice to be Environmental Protection Agency administrator, will face senators on the Senate Environment and Public Works Committee in his confirmation hearing;
Connecticut Commissioner of Education Miguel Cardona's nomination to lead the Education Department will be considered by the Senate Health, Education, Labor and Pensions Committee; and
The Senate Small Business and Entrepreneurship Committee plans a hearing on the nomination of Isabella Casillas Guzman to lead the Small Business Administration.
Tai Chooses Senate Staffer for Top USTR Lawyer: Katherine Tai, Biden's nominee to be U.S. Trade Representative, has chosen a lawyer from the Senate committee responsible for trade to serve as her general counsel, according to people familiar with the decision. Tai appointed Greta Peisch, who's served the past six years as an international trade counsel on the Senate finance committee, according to the people. Read more from Eric Martin.
Biden Eyes Climate Pledge With Rules Office Pick: Biden picked Obama-era environmental official Alex Barron as senior counselor in the White House regulatory review office, adding a climate scientist to the team that will vet and sign off on rules written by agencies across the federal government. Barron is now the No. 2 political appointee in the Office of Information and Regulatory Affairs, according to a spokesman for the Office of Management and Budget. Read more from Courtney Rozen.
Supply Chain Review Sought After Shortages: Biden will order a government-wide review of critical supply chains, in an effort to reduce U.S. reliance on foreign nations, such as China, for essential medical supplies, according to people familiar with the matter. The administration's goal is to shield government and private sector supply chains to prevent future shortages and limit other countries' capacity to wield leverage over the U.S. Read more from Jenny Leonard.
NLRB Lawyer Ditches Second Tranche of Trump Rules: A second batch of Trump-era NLRB policies landed in the dustbin yesterday, as the agency's new top lawyer tossed out directives discouraging the use of investigative subpoenas and restricting labor board personnel from speaking to the public. Read more from Robert Iafolla.
With assistance from Andrew Kreighbaum
To contact the reporters on this story: Zachary Sherwood in Washington at zsherwood@bgov.com; Brandon Lee in Washington at blee@bgov.com
To contact the editors responsible for this story: Giuseppe Macri at gmacri@bgov.com; Loren Duggan at lduggan@bgov.com; Michaela Ross at mross@bgov.com