What to Know in Washington: Climate Law to Spur Rulemaking Grind
Biden signing of climate package kicks off regulatory marathon
Cheney vows to keep up fight against Trump after primary loss
President Joe Biden's signing of Democrats' signature spending package on Tuesday caps nearly two years of efforts to pass sweeping climate legislation. But the real work is just getting started.
For federal regulators, the moment Biden signed the bill was effectively the starting gun for a race to write new policies to implement its clean energy tax credits, climate programs and environmental mandates. It's a monumental task that will involve regulators at nearly every federal agency.
"We've been able to get an incredible thing done, but it is just the beginning," said Andrew Reagan, executive director of Clean Energy for America, a group that advocates on behalf of clean energy workers. "All of the hard work over the next 10 years by folks in the government and folks in the private sector is going to be what makes this successful."
The Department of Transportation must fashion a new grant program to propel sustainable aviation fuel projects. The Department of Energy will need to vet applications for billions of dollars' worth of federal loan guarantees. And at the Environmental Protection Agency, regulators must create new programs to curb methane emissions and standardize how companies report on greenhouse gas releases.
Massive investment hangs in the balance. Much of it is tethered to policies that will be written by the Internal Revenue Service, which must develop new guidance for dozens of new and expanded tax credits. Some companies lured by those tax incentives—but wary of mistakes that could forfeit them—will be waiting for the IRS documents before signing off on new renewable power ventures, manufacturing plants and hydrogen projects.
"Certain projects may be delayed as taxpayers wait for additional guidance on how these programs are going to be implemented and enforced," said Tony Grappone, a partner at tax adviser Novogradac & Co. It will probably take at least six months and could stretch to a year or more for the IRS to issue guidance on key incentives created or adjusted by the law, he said. Read more from Jennifer A. Dlouhy.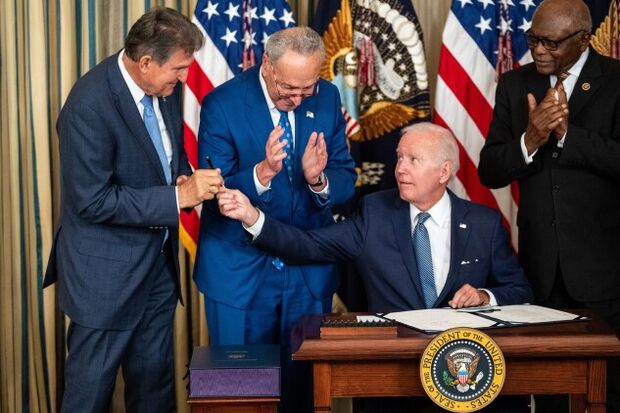 MORE ON THE NEW LAW
Cheney Vows to Keep Fighting Trump
Rep. Liz Cheney (R-Wyo.) called on Americans to unite across party lines to keep Donald Trump from winning the White House again following her crushing defeat on Tuesday to a primary challenger backed by the former president.
Cheney, who has served three terms in Wyoming's sole US House seat, lost to conservative lawyer Harriet Hageman in Tuesday's Republican primary primary, and made a point of conceding to her opponent—something she's long criticized Trump for never doing after the 2020 election.
Speaking to supporters on the grounds of a ranch not far from her own home as the sun set on the Teton Mountains, she warned the Jan. 6 insurrection and the refusal of Trump and other top Republicans to tamp down the rage behind it put the nation at risk. "Our nation is barreling once again toward a crisis of lawlessness and violence," she said, putting the blame squarely on Trump.
"I have said since Jan. 6 that I will do whatever it takes to ensure Donald Trump is never again anywhere near the Oval Office," she said. "And I mean it."
Cheney was once a rising Republican star until she stood up to Trump. After she voted to impeach Trump in the aftermath of the attack on the US Capitol by a mob of his supporters, the political costs for Cheney's defiance mounted. The Wyoming Republican Party voted to censure her and asked her to resign. Then she was removed as the third-ranking House Republican leader by her colleagues, who accused her of abandoning the party.
That culminated in her loss Tuesday to Hageman by a two-to-one margin with half the votes counted. In her concession speech Cheney hinted that she was not stepping away from the political arena—but didn't explicitly say what would come next. She will continue to have a forum until January for her campaign against Trump as vice chair of the committee investigating the former president's role in the insurrection.
Hageman's primary victory all but assures her of winning the general election in November in a state where registration data show Republicans outnumber Democrats nearly 5-to-1. Read more from Billy House.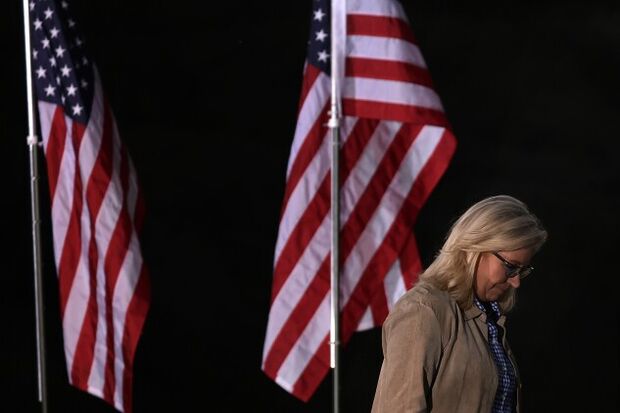 Sen. Lisa Murkowski and Kelly Tshibaka—a former state official backed by Donald Trump—both advanced to a general election race under a new format that may have helped save the incumbent's candidacy. With over half of all votes counted as of Tuesday night, Murkowski (R-Alaska) had a narrow lead of about 1,500 votes over Tshibaka, according to results published by AP. Murkowski was one of seven GOP senators who voted to convict Trump after the Jan. 6 insurrection. Mark Niquette has more.
Georgia Republican Senate candidate Herschel Walker holds a campaign rally today as he tries to make up ground against incumbent Democrat Raphael Warnock, Zach C. Cohen reports. Walker will appear with whom his campaign described as "notable women leaders"—without naming them—in the Governor's Gun Club in Kennesaw in hopes of appealing to women voters in Atlanta's northern suburbs.
Polling over the last month have consistently shown Warnock, who is up for re-election after narrowly unseating then-Sen. Kelly Loeffler (R) in 2020, leading Walker by single digits. In the weeks since the Supreme Court overturned Roe v. Wade, abortion has registered as an important issue for voters in the state, albeit behind economic concerns. In one SurveyUSA poll conducted late last month, Warnock led Walker among women by 17 points, especially among those who listed abortion as the top issue.
MORE IN POLITICS & PROBES
Also on Lawmakers' Radars
CONGRESS' SCHEDULE
Both chambers are on recess.
Top House Democrats accused the Homeland Security Department's embattled watchdog of failing to comply with requests for documents in their investigation of missing texts related to the Jan. 6 insurrection. House Oversight Chair Carolyn Maloney (D-N.Y.) and Bennie Thompson (D-Miss.) sent a letter to DHS Inspector General Joseph Cuffari demanding he cooperate by Aug. 23—the latest salvo in a bitter feud over the watchdog's handling of the probe. Ellen M. Gilmer has more.
The National Transportation Safety Board would have the power to investigate major space crashes under a bipartisan bill unveiled on Tuesday. NTSB Chair Jennifer Homendy said the measure, which her office supports, "is needed to clarify our role in commercial space." She is visiting Virgin Galactic on Wednesday as part of efforts for space operators to get to know the agency. Read more from Lillianna Byington.
Around the Administration
PRESIDENT'S SCHEDULE
Biden has no public events scheduled.
The White House, spurred by House and Senate Democrats, is moving to expand the "medically necessary" circumstances under which Medicare will cover dental services. While federal law excludes Medicare coverage of routine dental services, the proposal, if finalized, would allow reimbursement for oral and dental care needed to treat more types of injuries and diseases covered by Medicare, like diabetes and heart disease. Read more from Tony Pugh.
The White House asked a judge to dismiss a Texas case challenging a federal mandate that emergency abortions in hospitals take priority over state bans on the procedures, calling the rule "reasonable and reasonably explained." The guidance is needed to protect the lives of pregnant patients facing medical emergencies, after the US Supreme Court overturned the constitutional right to abortion, the Justice Department said. Erik Larson has more.
Almost 30 million US adults impacted by hearing loss will now have simpler access to hearing aids under a final rule from the FDA permitting them to be purchased over the counter. The action, which finalizes an October 2021 draft rule, would establish a separate medical device category for certain air-conduction hearing aids used among people 18 years old and older with mild to moderate hearing issues. Read more from Celine Castronuovo.
MORE AROUND THE WHITE HOUSE
Defense & Foreign Affairs
Ukrainians and Afghans who fled to the US are now facing a murky pathway to permanent residence. Bloomberg Government reporters will chat about the US government's long-term plans, Wednesday at 10:30 a.m. ET. Tune in to BGOV's Twitter Space for the live conversation and to submit questions on this story.
China called on the US to refrain from sailing naval vessels through the Taiwan Strait, saying Beijing would take further action in the wake of House Speaker Nancy Pelosi's (D-Calif.) visit to Taipei. China's ambassador to Washington, Qin Gang, said Tuesday that Beijing viewed such Taiwan transits as an escalation by the US and an effort to support the "separatist" government in Taipei. Read more from Iain Marlow and Rebecca Choong Wilkins.
Earlier, Beijing's envoy to Washington said US congressional visits to Taiwan are inflaming regional tensions, and the White House shouldn't underestimate China's resolve on the issue. Read more from Iain Marlow.
The Taliban seized billions in equipment from former Afghan military, despite the US military removing or destroying nearly all weapons and equipment used by American troops in Afghanistan prior to the withdrawal, the Pentagon's internal watchdog said in a new assessment. The estimated seized equipment includes $4.1 billion in ground vehicles and $923.3 million in aircraft, according to the congressionally mandated quarterly assessment, Tony Capaccio reports.
MORE IN FOREIGN AFFAIRS NEWS
The White House is weighing Iran's response to a European proposal aimed at reviving the 2015 international nuclear deal, with officials on both sides signaling a deal could emerge after months of false starts. Courtney McBride has more.
South Korea doesn't back the use of force to bring down the North Korean regime, President Yoon Suk Yeol said, adding he is open to speak with leader Kim Jong Un if he's willing to end his atomic ambitions. Read more from Jeong Ho-Lee.
With assistance from Andrew Small, Katrice Eborn, and Zach C. Cohen
To contact the reporter on this story: Brandon Lee in Washington at blee@bgov.com
To contact the editors responsible for this story: Giuseppe Macri at gmacri@bgov.com; Loren Duggan at lduggan@bgov.com