What to Know in Washington: Chips, Security Focus of Biden Trip
Biden to tour Samsung plant in first trip to Asia as president
Regional economic framework, security threats also priorities
President Joe Biden arrived in South Korea, where he's set to visit a Samsung Electronics semiconductor complex Friday as he seeks to bolster supply chains that reduce reliance on China.
Biden's first trip to Asia as president, which runs through Tuesday, also includes Japan. He'll meet with regional leaders in a bid to firm up support for his plans to help Ukraine fend off Russia's invasion and counter security threats posed by China and North Korea, which may conduct its first nuclear test since 2017 with Biden nearby.
Biden's trip to the Samsung facility underscores the emphasis he's placed on strengthening semiconductor alliances among the world's largest chip making countries to try to ease shortages that have dragged on the global economy. The Biden administration has been pushing Congress to approve a broad China competition bill (H.R. 4521) that includes $52 billion in funding for domestic semiconductor research and manufacturing.
Lawmakers, meanwhile, still have to work out differences between the Senate- and House-passed versions of the legislation, a process that could take until the end of the summer. Read more from Sohee Kim and Jenny Leonard.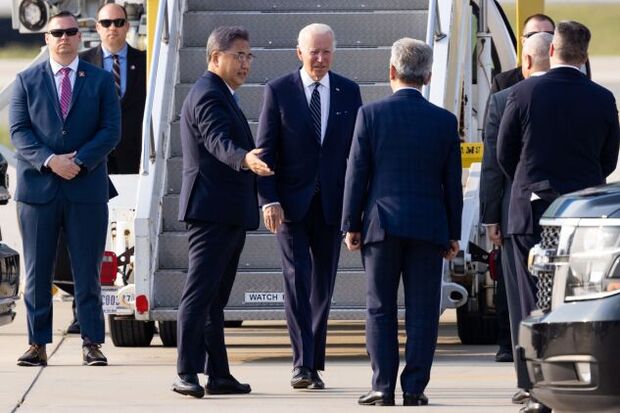 The last time a US president visited Seoul in 2019, Donald Trump and Kim Jong Un agreed to restart nuclear talks during an impromptu meeting at the heavily fortified demilitarized zone. The White House hasn't indicated Biden will be heading to the DMZ. And there's also little he can do to convince Kim to return to the negotiating table as the North Korean leader prepares to launch another intercontinental ballistic missile and possibly conduct his first nuclear test since 2017.
The US push to isolate Russia over Vladimir Putin's war in Ukraine, coupled with increasing animosity toward China, has allowed Kim to strengthen his nuclear deterrent without fear of facing more sanctions at the UN Security Council. There's little chance Russia or China would support any measures against North Korea, as they did in 2017 following a series of weapons tests that prompted Trump to warn of "fire and fury." Read more from Jon Herskovitz.
Asian nations are asking for more information on Biden's economic framework for the region, US Ambassador to Japan Rahm Emanuel said. Biden is set to arrive Sunday in Tokyo, where he's expected to unveil the Indo-Pacific Economic Framework with other regional leaders. Few specifics have been revealed, except that the deal won't include more access to the US market, Isabel Reynolds reports.
Happening on the Hill
CONGRESS' SCHEDULE:
Both chambers are out. The Senate returns Tuesday to consider nominations.
House committee work is scheduled next week, but no floor votes are planned.
The Senate cleared legislation to provide emergency authority to relax regulations on baby formula purchases for a program that serves low-income women and children. The legislation passed the House on Wednesday, and the Senate's action sends the bill to Biden for his signature. The bill would give the Agriculture Department more flexibility in carrying out the Special Supplemental Nutrition Program for Women, Infants, and Children. Read more from Laura Litvan and Maeve Sheehey.
Senate Majority Leader Chuck Schumer has told colleagues he plans to bring an antitrust bill to the floor in early summer that would crack down on major tech firms, a person familiar with the matter said. Schumer (D-N.Y.) met Wednesday with Sens. Dick Durbin (D-Ill.) and Amy Klobuchar (D-Minn.), the two lead Democratic sponsors, and pledged to put the revised bill on the Senate floor for a vote early this summer, the person said. The bill advanced on a bipartisan 16-6 vote out of the Judiciary Committee in January. Read more from Leah Nylen and Steven T. Dennis.
The FDA's director Robert Califf told lawmakers his agency needs more resources to speed reviews of e-cigarettes and is avoiding making hasty decisions that might incite lawsuits from the industry. Lawmakers grilled Califf on an update the agency gave last week that it likely will not be able to finish its review of e-cigarette marketing until 2023. Celine Castronuovo has more.
Senate Judiciary Republicans are making an unusual request for a rehearing on Biden's judicial pick for a New York district court, saying she provided conflicting statements to the committee. The nominee, Nusrat Jahan Choudhury, is legal director at the ACLU of Illinois and is selected to serve as a district judge on the US District Court for the Eastern District of New York. Read more from Madison Alder.
Elections, Politics & Probes
Republicans are attempting to address concerns over the environment and climate change as they compile plans for what to pitch to voters this fall and address next year should they win the House majority. It's not an issue the party's known for—its 2016 platform stated it's an "illusion" that there's an environmental crisis, and Trump announced five months after being sworn in as president that the US would leave the Paris Climate Accord.
But as concerns grow over energy security as a result of the Russian invasion of Ukraine, as gas prices continue to climb, and as the party pushes to win as many seats as possible this year, Republicans plan to put forward proposals in a broad "Commitment to America" plan supporting renewable energy and environmental protections. Rep. Garret Graves (R-La.), head of the plan's Energy, Climate, and Conservation task force, said finding an agreement within the conference on basic policies might be the easy part. The real hurdle, Graves said, is telling voters about it. Read more from Emily Wilkins.
Heading into the hotly contested midterm elections, the American political right has a new rallying cry: Down with ESG. Conservatives have identified the popular investing strategy, which accounts for environmental, social and governance risks, as part of a broader narrative about left-wing overreach and " wokeness" run amok. If it works, it will firmly ensconce ESG in the culture wars, galvanize voters and weaken the resolve of big asset managers to act on climate change. Jeff Green and Saijel Kishan have more.
Rep. Barry Loudermilk is being asked to answer some questions before the House committee investigating the Jan. 6 attack about a group tour of the US Capitol he led the day before the riot. Chair Bennie Thompson (D-Miss.) said in a letter to Loudermilk (R-Ga.) that public reporting and witness accounts have indicated some individuals and groups were working "to gather information about the layout of the U.S. Capitol." Read more from Billy House.
Federal prosecutors have asked for hundreds of witness interviews from the House Jan. 6 panel, adding to the intrigue over whether Trump may face criminal charges just weeks after a judge said Trump "more likely than not" committed fraud connected to the 2020 election. The decision on whether to bring charges on any former president won't be made solely on the strength of the case, former prosecutors and defense attorneys said. Read more from John Holland.
MyPillow CEO Mike Lindell was ordered to pay legal fees and costs incurred by a voting machine maker that he accused in a "frivolous" suit of rigging the 2020 presidential election. A federal judge in Washington on Thursday levied sanctions on Lindell, an outspoken Trump supporter, and his former lawyers as part of a decision throwing out the CEO's lawsuits against Dominion Voting Systems and Smartmatic. Read more from Erik Larson.
Around the Administration
PRESIDENT'S SCHEDULE:
At 7:40 a.m. Washington time, Biden is scheduled to arrive in Seoul after touring a Samsung Electronics Plant earlier in the day.
Biden's decision on whether to forgive student debts will be personal for many of his aides, who are among the millions of Americans carrying loans for college and graduate schools. At least 30 senior White House staffers have student loan balances, according to 2021 financial disclosures Bloomberg News obtained from the Office of Government Ethics. About one in five White House aides required to file a disclosure reported student loans, and more than half are people of color. Read more from Josh Wingrove.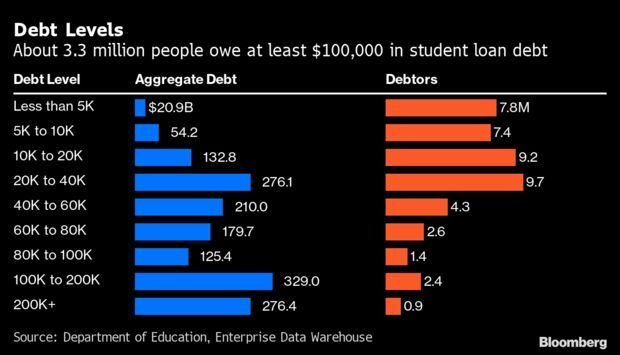 Pfizer and BioNTech's Covid booster shot for children 5-11 gained backing from a panel of US health advisers, a crucial step in making the shot available to school-aged kids, as contagious omicron subvariants spread across the country. Director Rochelle Walensky has the final say on making the advice official. The FDA authorized the Pfizer booster for that cohort of kids earlier this week. Read more from Fiona Rutherford.
The Pentagon is ramping up its war games and planning exercises to better understand climate change risks, two Defense Department officials said Thursday. Those efforts and others, detailed during a briefing convened by the Brookings Institution, underscore how seriously the Pentagon is taking the issue. Read more from Stephen Lee.
The Biden administration is making a first-ever ask of the health-care industry: to act on climate change. But the pledge is voluntary, spurring researchers and advocates to question how effective it will be. The Health and Human Services Department called on hospitals, health suppliers, drug companies, and other industry participants to pledge to slash their emissions to be net zero by 2050, as the US health-care industry by one estimate accounts for 8.5% of America's greenhouse gas emissions. Read more from Shira Stein.
The FTC warned makers of educational technology tools for kids to limit their collection and use of data to ensure compliance with the federal Children's Online Privacy Protection Act. The Federal Trade Commission voted unanimously Thursday to approve a policy statement clarifying how COPPA applies to "edtech" tools that gather data about children who use them. Read more from Andrea Vittorio.
The cryptocurrency sector must establish its own guardrails against illicit use or face the risk of punishing US sanctions, the head of the Treasury Department's Office of Foreign Assets Control told a blockchain conference in New York Thursday. "Our preference is for industry to police itself so that we don't have to," OFAC chief Andrea Gacki said. Read more from Daniel Flatley.
To contact the reporter on this story: Brandon Lee in Washington at blee@bgov.com
To contact the editors responsible for this story: Giuseppe Macri at gmacri@bgov.com; Loren Duggan at lduggan@bgov.com; Michaela Ross at mross@bgov.com