What to Know in Washington: Chips Bill Picks Up Steam in Senate
Senators plan first vote on the bill today
Biden mulls climate emergency declaration
A drive in the Senate to quickly pass $52 billion in grants and incentives for US semiconductor manufacturing picked up steam in Congress despite last-minute lobbying for changes.
Senate Majority Leader Chuck Schumer (D-N.Y.) said yesterday that Democrats and Republicans were "hashing out the final details on a bill so we can move forward this week."
He set a procedural vote for today.
The Biden administration, lawmakers from both parties and the semiconductor industry have called the chips incentives urgent amid a global shortage and supply chain disruptions that have affected industries including automobiles, electronics and appliances.
"This is a matter of national security," Sen. Debbie Stabenow (D-Mich.) said. Read more from Daniel Flatley and Erik Wasson.
The White House supports prohibiting semiconductor companies from expanding certain investment in China if they take new subsidies to build plants in the US under the legislation.
"We continue to support strong guardrails" in the bill, White House Press Secretary Karine Jean-Pierre said, referring to a provision in the legislation to restrict Chinese investments for firms that financially benefit from the legislation. Jenny Leonard and Daniel Flatley have more.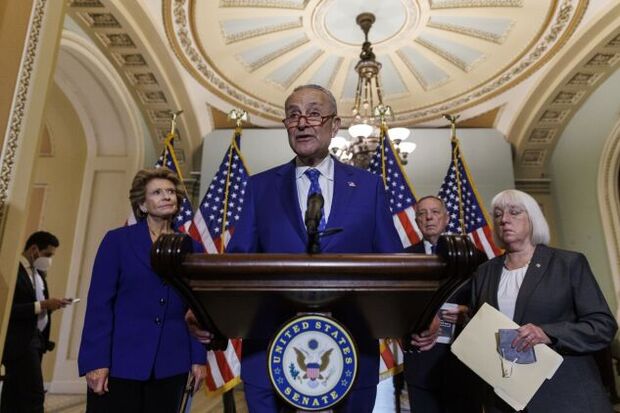 Also Happening on the Hill
CONGRESS' SCHEDULE:
The House meets at 10 a.m. to vote on a same-sex marriage bill, and begin considering a 6-bill minibus spending package.
Senators convene at 10 a.m. to process federal judge nominations and hold a procedural vote on the chips bill.
Senate Democrats are urging the White House to declare a "climate emergency" while dismissing any optimism that a climate change package could be moved swiftly through Congress in September. "The potential to enact the legislation is dead," Senator Jeff Merkley (D-Ore.) told reporters on Capitol Hill Monday evening. "This then frees up the president to use the full powers of the executive branch. And those full powers certainly include a climate emergency." Ari Natter has more.
Biden is considering declaring a national climate emergency as soon as this week, the Washington Post reports, citing three unidentified people familiar with the matter, Natalie Choy reports.
Sen. Joe Manchin's decision to slam the brakes on climate legislation until the fall is leading some green and industry groups to ready for a potential post-midterm crackdown by the White House on fossil fuel development. The need for

Manchin

(D-W.Va.) on the climate bill has been seen as a reason the White House has delayed making its preferences public regarding two major oil and gas proposals in the Gulf of Mexico and Alaska. Read more from Bobby Magill and Dean Scott.
US Senate Armed Services Committee released its defense policy bill for fiscal year 2023 that would increase authorization for national security spending by $45 billion over the amount requested by Biden, Roxana Tiron reports. The legislation omits many PFAS provisions found in a House version that drew numerous industry objections.Read more from Pat Rizzuto.
China vowed to take a "resolute and strong" response to any Taiwan visit by House Speaker Nancy Pelosi (D-Calif.), setting the stage for a possible showdown over the reported landmark trip. Pelosi's plan to lead a delegation to Taipei next month, which was reported by the Financial Times, would have a "grave impact" on US-China ties, Foreign Ministry spokesman Zhao Lijian said Tuesday. Read more.
The House committee investigating the Jan. 6 attack on the US Capitol, which had planned to finish its inquiry by September, will instead keep operating beyond that because more information keeps coming in, Chair Bennie Thompson (D-Miss.) told reporters, Billy House reports.
Matt Pottinger, a former deputy national security adviser in the Trump administration who resigned after the assault on the US Capitol, will testify at a televised hearing of the House committee investigating the attack, according to a person familiar with the matter. House has the latest.
Steve Bannon's trial on contempt charges of defying a subpoena from the House Jan. 6 panel got underway in federal court with jury selection. So did a new defense bid to halt evidence unless the committee's chairman testifies. Sabrina Willmer has more.
The Select Committee on the Modernization of Congress plans to consider upgrades to Capitol and district offices in a meeting Tuesday, as more staffers return to in-person work. Those make up the bulk of the package of 29 recommendations the panel will vote on, including expanding meeting spaces, updating office furniture, and installing WiFi in all district offices. Read more from Emily Wilkins.
Sen. Rand Paul said that his decision to reject a bipartisan deal to nominate a conservative lawyer who supported abortion restrictions to a district court seat in his state came down to process. Paul (R-Ky.) said Monday that he withheld his support for Chad Meredith—despite actually backing him—because Senate Republican Leader Mitch McConnell (R-Ky.) didn't consult with him early enough. Read more from Zach C. Cohen and Madison Alder.
Senate Judiciary members want MLB Commissioner Rob Manfred to explain how the professional baseball league's antitrust exemption affects minor league players and teams. The lawmakers asked Manfred to answer questions such as justification for a general antitrust exemption for Major League Baseball that no other US professional leagues have. Read more from Se Young Lee.
Democrats may unveil this week a bill to provide legal status to millions of immigrants who are longtime US residents. Reps. Zoe Lofgren (D-Calif.) and Norma Torres (D-Calif.) said they'll introduce a proposal to update the Immigration and Nationality Act's registry provision, allowing immigrants to adjust their legal status if they have been in the US since a certain date. Ellen M. Gilmer has more.
Meanwhile, visa applicants facing protracted wait times for benefits like work permits and travel authorization are increasingly turning to the courts for solutions. Read more from Andrew Kreighbaum.
Vernon L. Simms, the former chief of staff and advisor for more than 20 years to the late Rep. Elijah Cummings (D-Md.) died over the weekend, according a statement offering condolences from House Majority Leader Steny Hoyer (D-Md.)
BGOV OnPoint: Senate Panel Considers Finland, Sweden NATO Bids
Around the Administration
PRESIDENT'S SCHEDULE:
Biden has no scheduled public events. At 3 p.m., Press Secretary Karine Jean-Pierre will give a briefing.
Reproductive health researchers shouldn't have to turn over data to law enforcement in states with post-Roe abortion bans thanks to a federal statute—but legal experts caution it's an added layer of protection and not a guarantee. Read more from Jeannie Baumann.
Meanwhile, a West Virginia county judge said she would block the state from enforcing a 150-year-old law criminalizing abortions, according to attorneys fighting in state court in the wake of the US Supreme Court decision to overturn Roe. Jennifer Kay has more.
The Department of Education vowed to protect students from discrimination after a judge in Tennessee temporarily blocked Biden administration rules ensuring transgender people at schools and workplaces have access to bathrooms, locker rooms and sports teams. Read more from Erik Larson.
A US airstrike killed two members of an al-Qaeda-affiliated group in Somalia in the first major action by American forces in the East African nation since Biden sent Special Operations troops back there in May. US Africa Command said it conducted the strike in coordination with the government of Somalia on Sunday. Read more from Tony Capaccio and Bill Faries.
National Cyber Director Chris Inglis is hosting a summit on filling a critical shortage in the nation's cybersecurity workforce, the administration announced. The White House said there are roughly 700,000 open cybersecurity positions as the public and private industry face rising threats of ransomware and other kinds of attacks from hackers. Andrea Vittorio has more.
The contracting community is at odds over the use of facial recognition technology—used for activities like streamlining entry at security checkpoints—as the federal government appears willing to continue to pay for it. Read more from Josh Axelrod.
The Pentagon says it reached "a handshake agreement" for the next batch of 375 F-35 jets, according to an emailed statement. Tony Capaccio has more details.
To contact the reporters on this story: Brandon Lee in Washington at blee@bgov.com; Michaela Ross in Washington at mross@bgov.com
To contact the editors responsible for this story: Giuseppe Macri at gmacri@bgov.com; Loren Duggan at lduggan@bgov.com